The basement is one extra piece of real estate in your home that is only limited by your imagination.
From use as cellars to storage space for utilities like water heaters, breaker panel, air-conditioners, electrical and cable TV system or even as a car park, basements are handy utility spaces that can be anything you want them to be.
In areas where land is abundant and cheap, use of the basement typical default to being a general-purpose storage space area. However, in cities with significantly higher property prices, or for more space-conscious homeowners, basements often serve a more practical purpose.
You can create a basement laundry room, a playroom for kids, or fit-out that space with standard home decor for use as extra living space. Hence, you do not have to let your basement degenerate into a jumble of clutter and neglect.
The Case for Basement Laundry Rooms
Basement laundry rooms are some of the best use cases you can apply to your unused sub-floor space.
While many homeowners would love to have their laundry spot close to the bedroom for convenience, you cannot argue with the practicality of a basement laundry room.
First, basement laundry rooms keep your filthy T-shirts and socks out of sight and stored away underneath the house. Since the basement is one of the rarely visited parts of the house, this setup is perfect for both aesthetic and health reasons.
Furthermore, fitting your laundry room on the top floor of your home often necessitate significant structural changes to your home, big enough to register as a renovation project. On the other hand, basements are relatively unused spaces that only require some cosmetic sprucing up to act as the new home for your washer, dryer, and folding station.
The Makeover from Basement to Basement Laundry Room
For many homeowners in the U.S., the term basement is synonymous with storage for miscellaneous items. Hence, it is no surprise that for many readers, the term "basement laundry room" immediately brings up images of a filthy and drab corner for your washer.
However, your basement laundry room does not have to be dull and boring. With a little creativity and some minor embellishments, you can turn your basement into a practical yet aesthetic laundry room and one of your new favorite spaces in your home.
One big positive of opting for the basement laundry room makeover is that you often do not have to make any structural changes. With a little color and some patterns, you can make the perfect space for all your clothes cleaning tasks.
On this page, you will find several styles and design ideas that are sure to spark your imagination and help you create your ideal laundry room.
However, for every basement laundry room makeover, there are some universal basics you must take care of, and one of these is fixing up the walls.
Wall and Color Scheme
Upgrading your unused basement space into the perfect laundry setup begins with design. Hence, the first point of call is choosing the wall paint or wallpaper, and the overall color scheme.
Since the basement in many homes are small spaces with drab walls and flooring, a great first step is to lighten up the room with light and neutral colors. For example, the basement laundry room below uses a white wall that immediately makes that space lighter, airier, and a lot more inviting.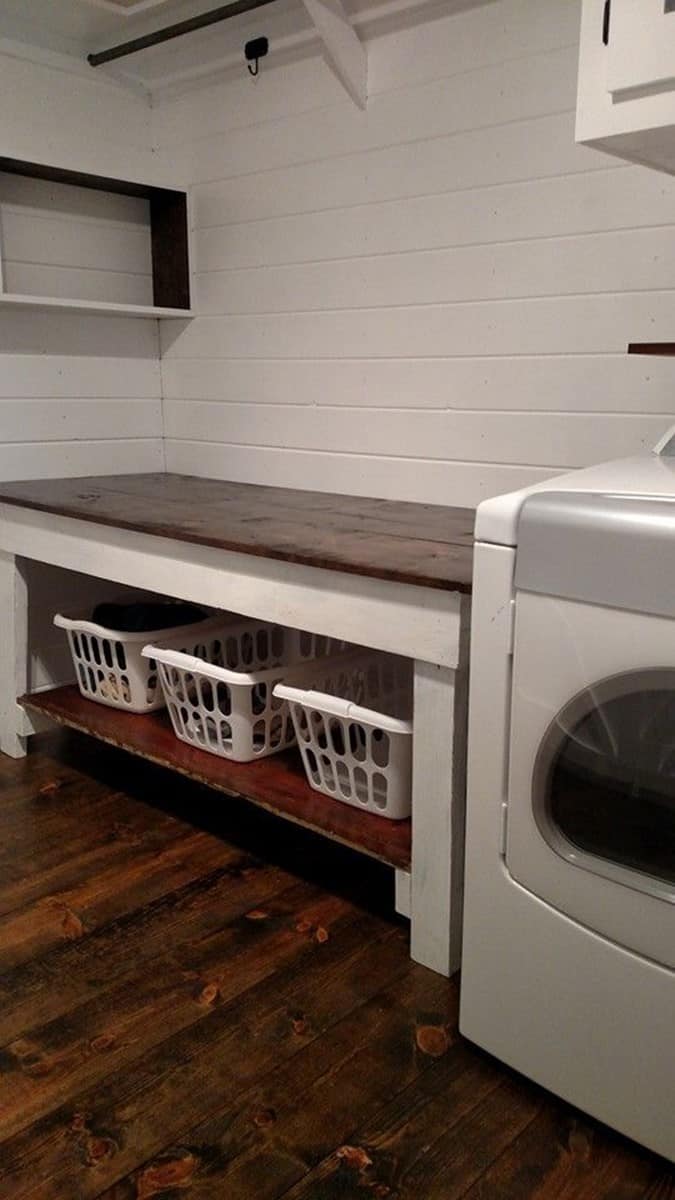 The wall also contrasts nicely with the dark wood floors and cabinetry.
White is also the perfect starting color as it gives you significant creative freedom to play with the other decorative elements in the room.
Alternatively, you can flip the aesthetic and opt instead for darker shades on your walls if you have a bright floor.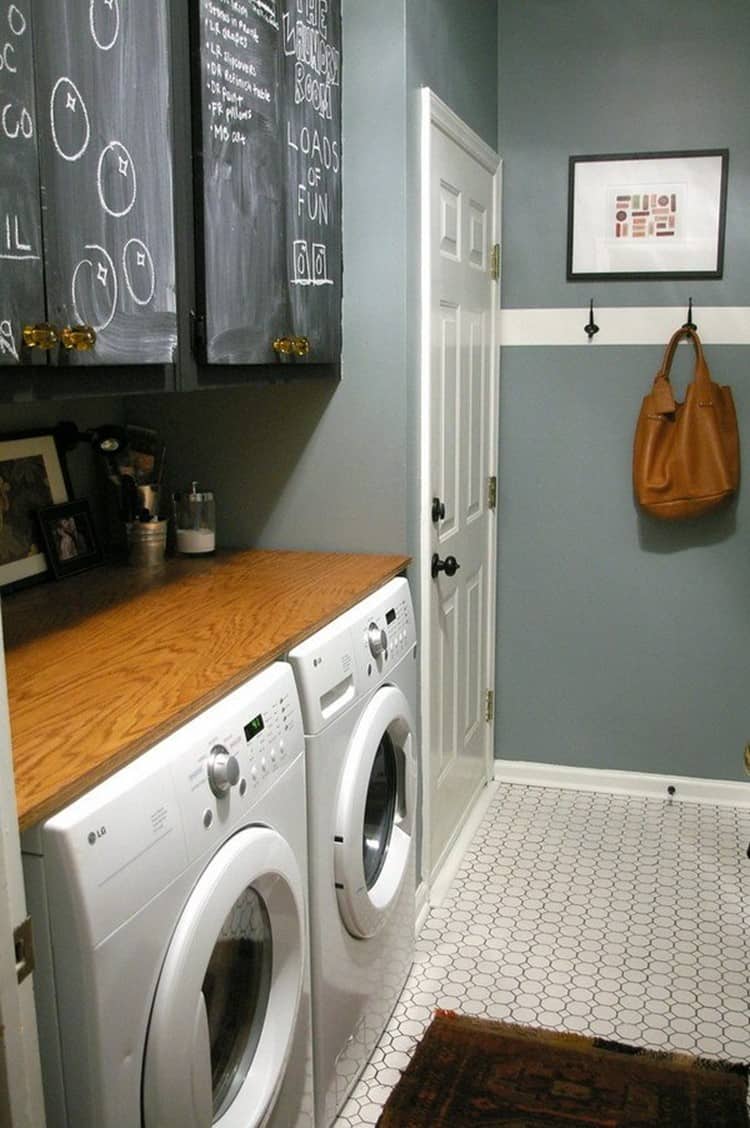 However, there are no hard rules when it comes to selecting the color scheme of your basement laundry room. Pick colors or a color pattern that will match your taste and you are good to go.
Nevertheless, we recommend that you stick with brighter colors for significant portions of your laundry. Light colors will help to counteract the often drab feel of basements no thanks to the typical shortage of natural lighting.
The exceptions where all dark colors work is if you have a higher basement that has access to natural light or if you plan to use extensive artificial lighting solutions.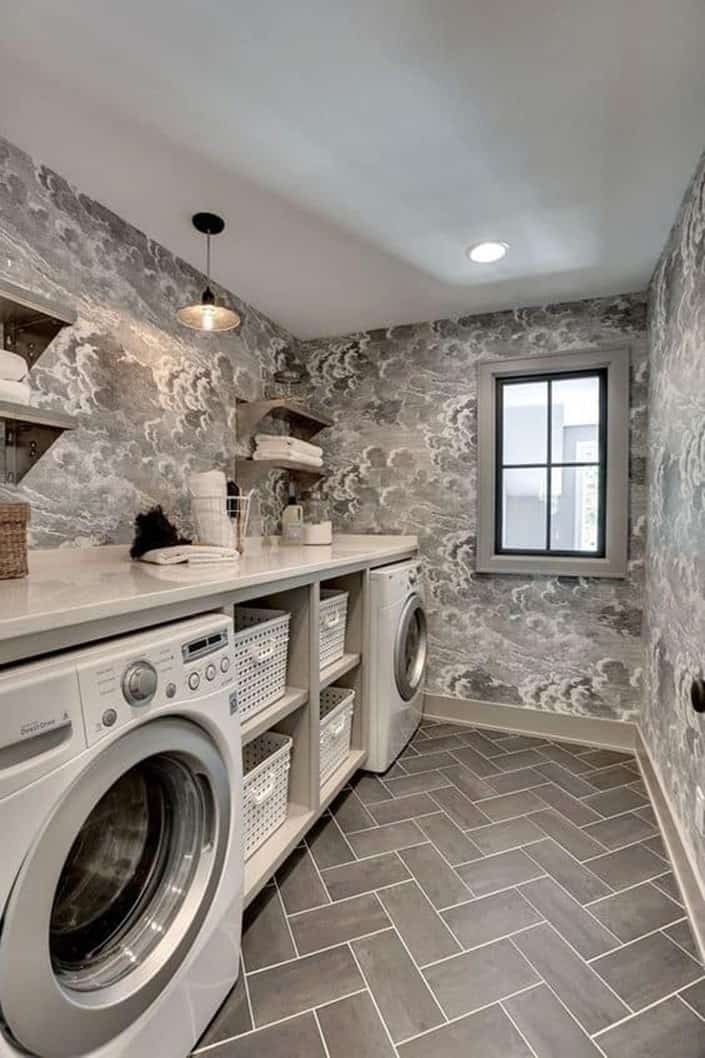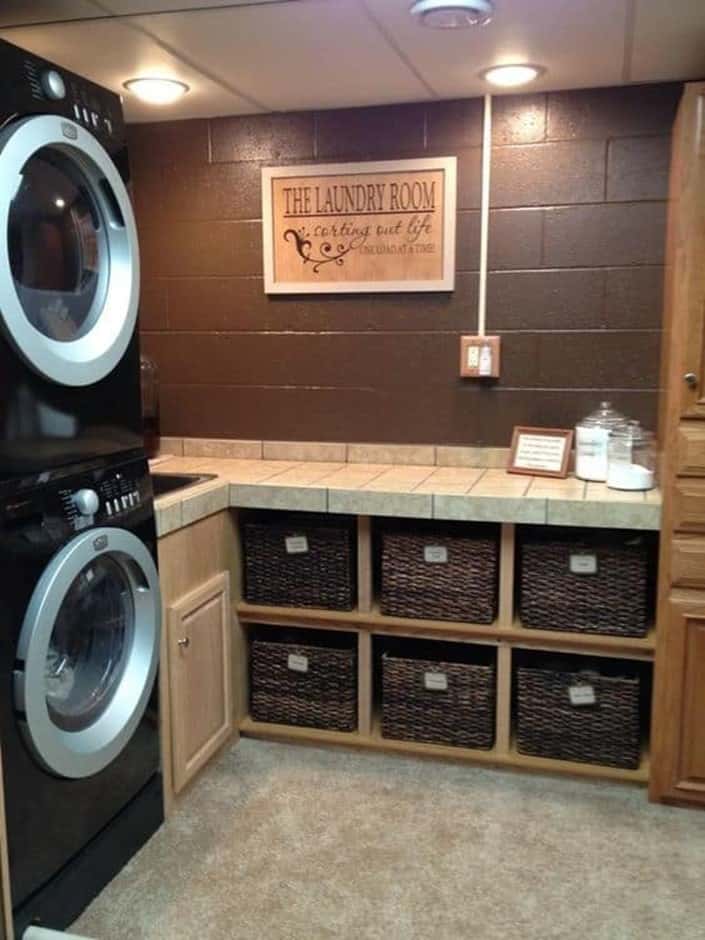 Lighting
Next to the design of the room, one of the most important factors to consider when repurposing your basement is the lighting.
When lighting up your new basement laundry room, you have to work against two realities. First, many basements are sub-ground level and have little to no access to natural sunlight. Second, basements tend to have ceilings that are lower than the rest of the house which can further hamper the lighting installation process.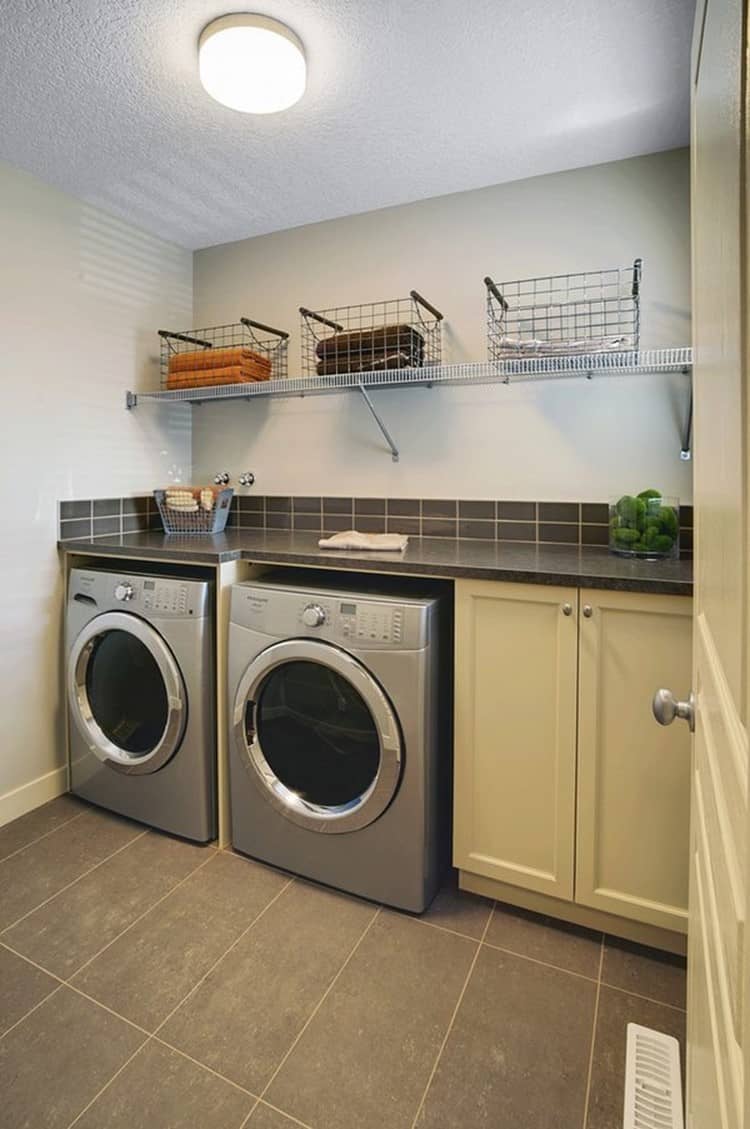 Hence, with basements that have low access to natural light, you must make provision for ample lighting to enhance your laundering experience.
Furthermore, to adjust for lower ceilings, you should consider space-saving lighting options like recessed fixtures or flush lights that can keep the room well-lit without getting in the way.
Storage
Getting your basement laundry room to look fantastic and match your aesthetic needs is the easy part. Setting up the space to keep it uncluttered while ensuring it maintained a practical and optimal function setup is the bigger challenge for most people.
Since the arrangement of your laundry space significantly impacts the workflow of your laundering activities, you must get this right.
The best way to approach the placement of items in your basement laundry room is to optimize the amount of space you have available. For tight, small basement spaces, the optimal setup may involve stacking your washer/dryer, storage cabinets, and folding station in one axis.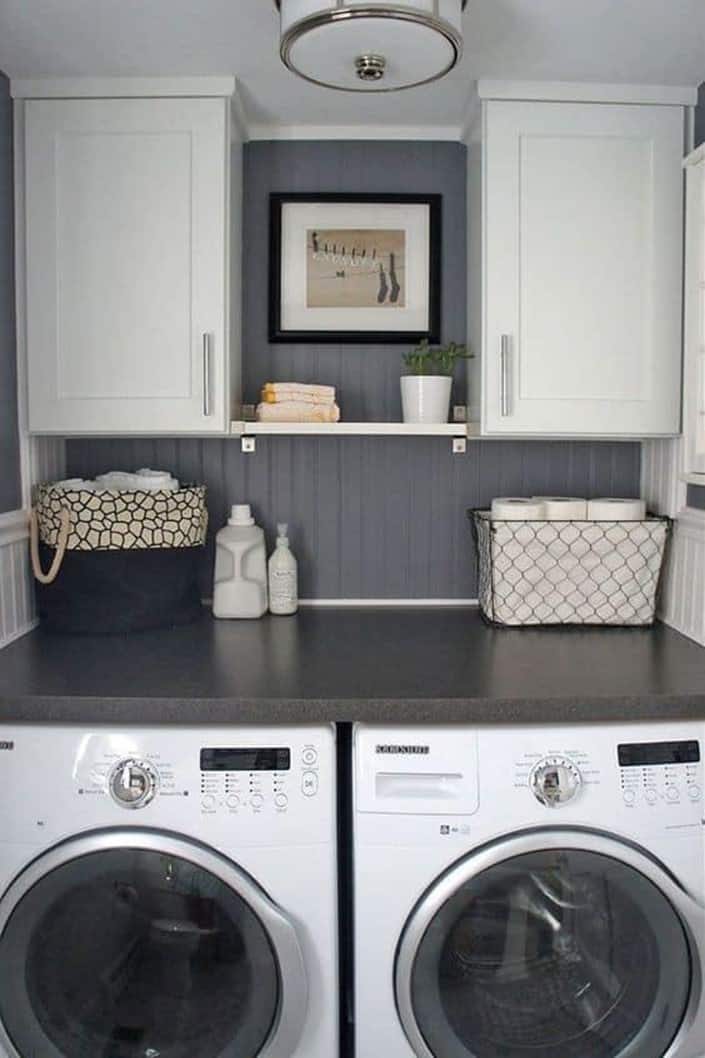 Open shelves and cages are also an excellent addition to small spaces, whether to conserve space or to add a touch of class.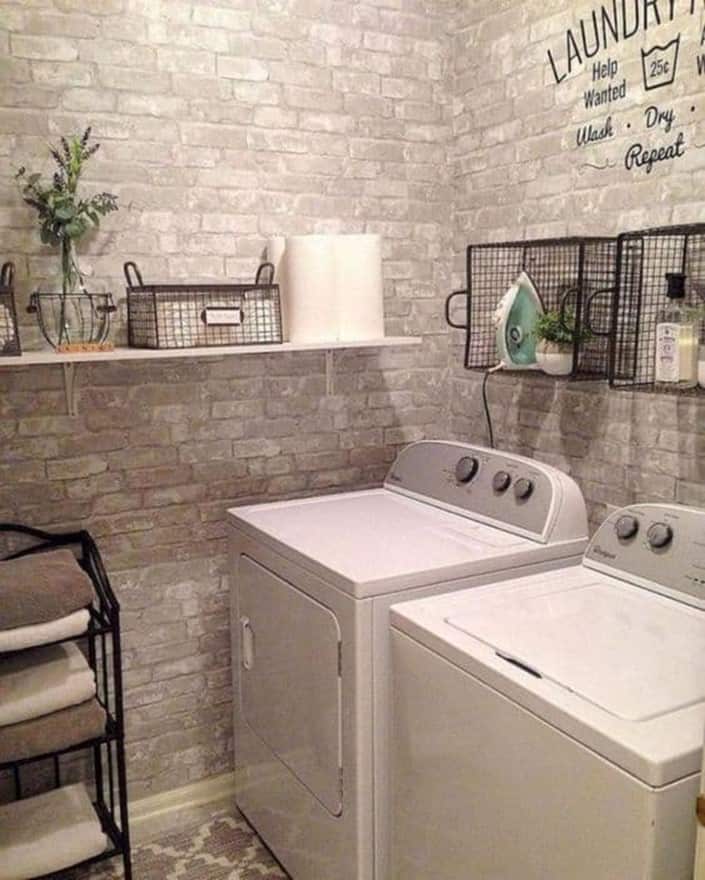 On the other hand, larger spaces give you more leeway over the placement of items and allow for a more spaced out setup. However, with larger spaces, you have to consider logistics to avoid unnecessary complications in your workflow.
For example, cloth storage should be as close to the machines as possible to reduce unnecessary movement.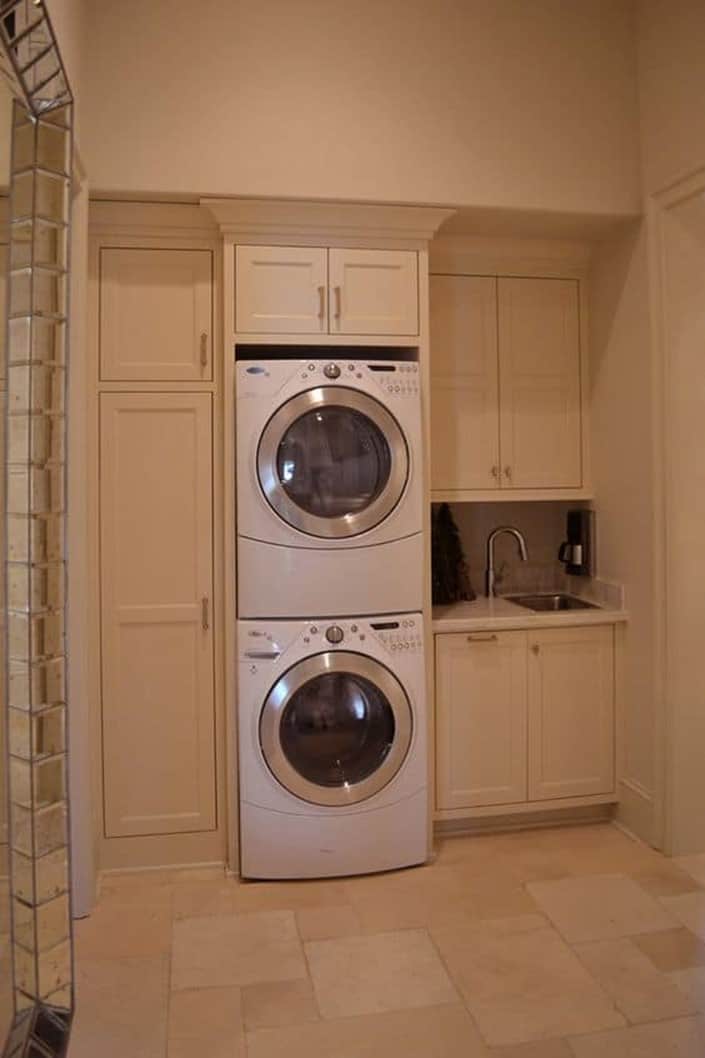 Furthermore, you should also play to any added features of your basement. For example, the high ceiling in the large basement above makes the stacked machines and the storage cabinets on all sides an excellent setup.
Basement Laundry Room Ideas for Small Spaces
When you have a small basement or have only a small portion of your basement available for use as a laundry room, you do not have to worry about logistics.
Since washer, dryer, and storage units will inevitably be close to each other, you should not have any issues with workflow management. Hence, when designing a small basement laundry room, your main goal should be getting all the components of the laundry to fit.
One excellent way to conserve space is for you to stack the washing machine and dryer side by side. This setup leaves the rest of the wall, up to the ceiling, for other components like storage cabinets, racks, and folding boards.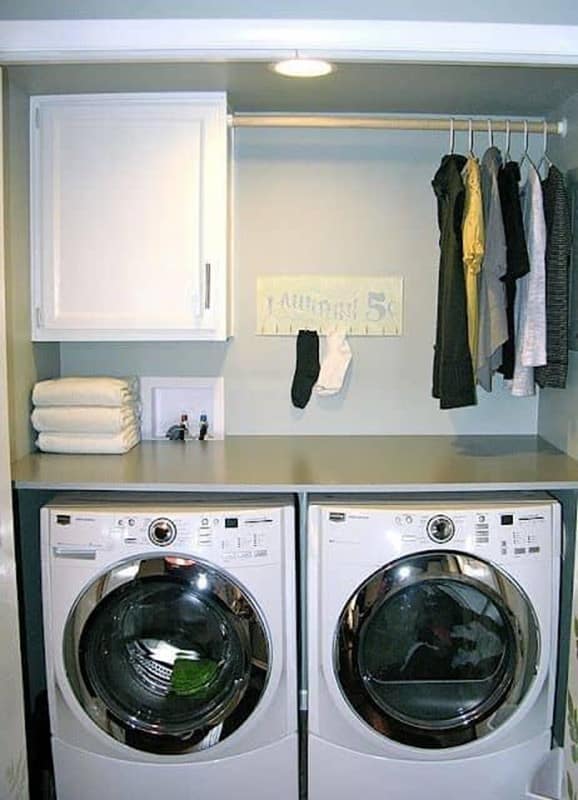 Furthermore, for extremely cramped basements with low ceilings, you should avoid stacking the washer and dryer horizontally. While this setup could work in slightly larger spaces, it could create issues in very small ones.


Another feature that is perfect for small basement laundry rooms is open shelves. Open storage does not take as much room as cabinets; hence, they can help your further save space. Furthermore, open shelves help create a minimalist aesthetic that is both easy on the eyes and a perfect fit for small areas.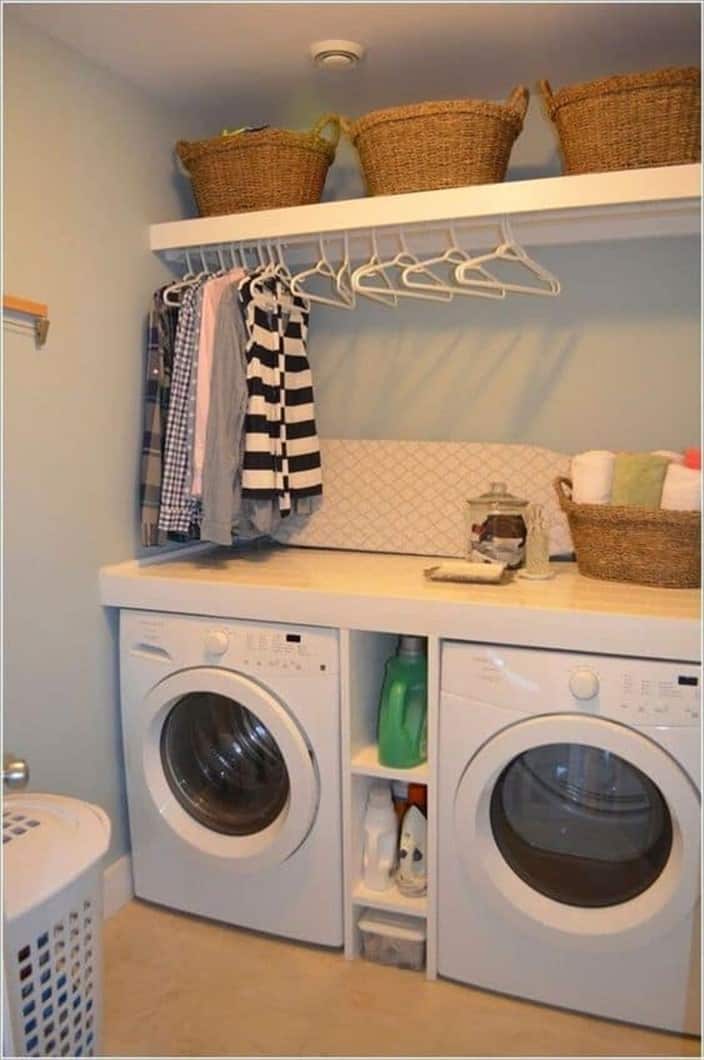 In a small basement laundry room, space is everything. Hence, you must use every hack you can muster to make the best use of every small bit of real estate.
Some popular hacks include hanging a drying rack or a wire storage rack for supplies from the ceiling, using retractable ironing boards, using baskets both inside and outside your cabinets, and add storage racks to the back of doors.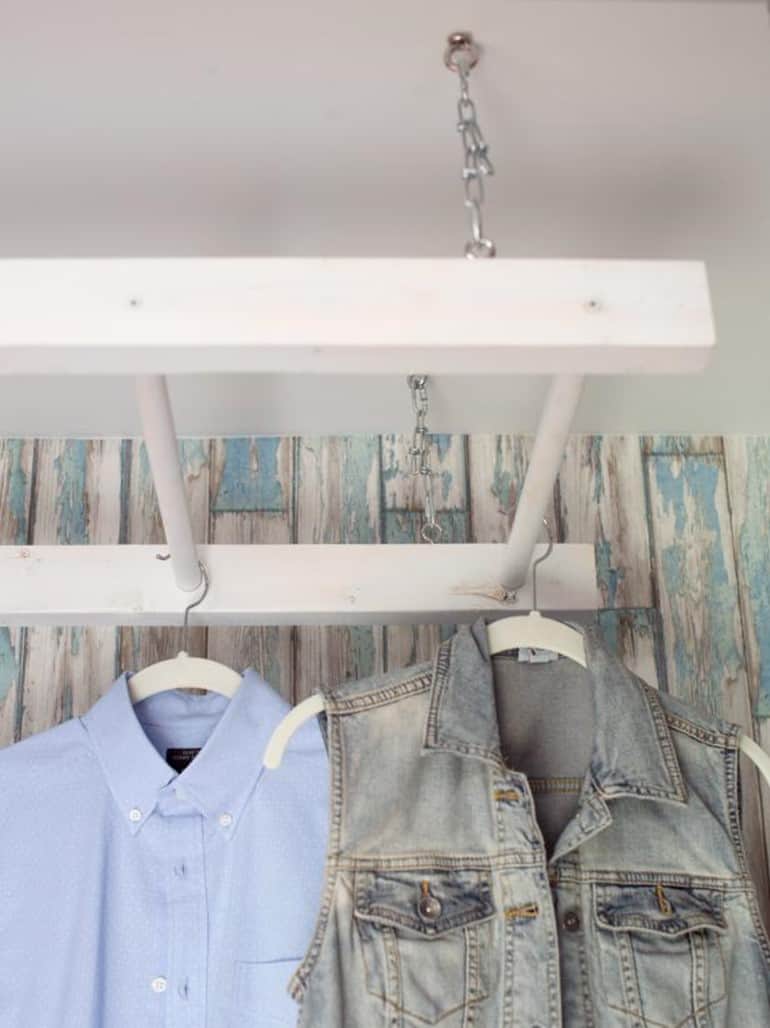 Basement Laundry Room Ideas for Large Spaces
A bigger basement laundry room gives you a lot more options and creative freedom. Here, you can choose to vary your setup by lining the washing machine and the dryer side by side, with cabinets and other storage features on one side, up top, or even on all sides.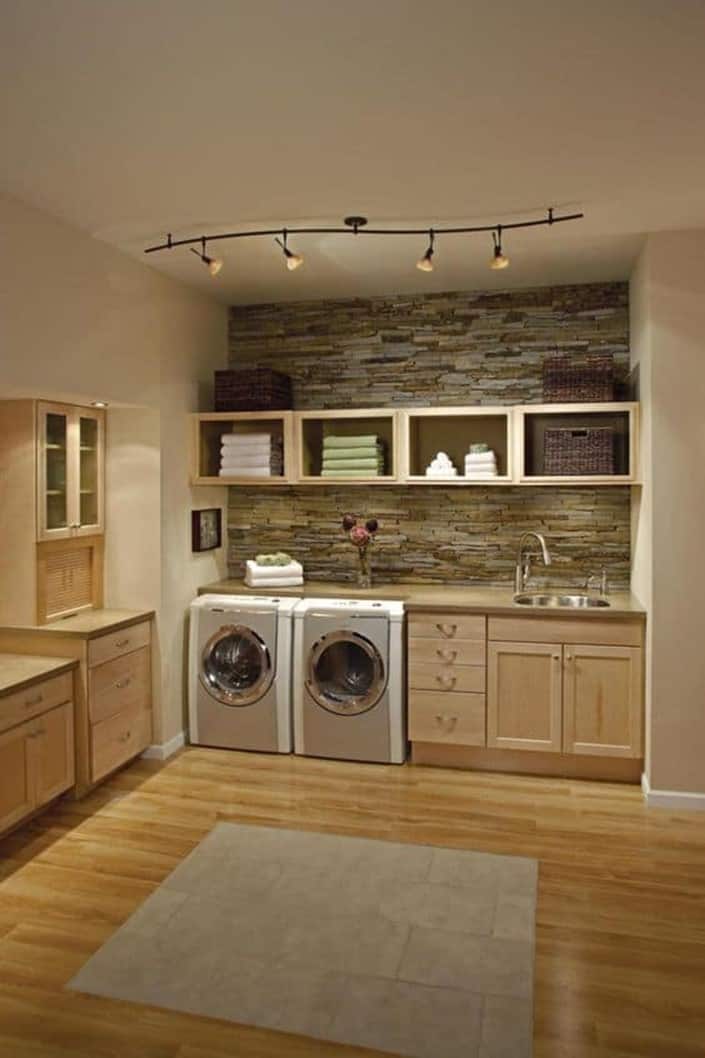 Since you don't have to save space in this case, you can place the cloth storage on the side where they are easier to reach. Furthermore, you can add a hanging rod up to fit other laundry pieces. This simple setup is optimal for laundry workflow and it looks good too.
Furthermore, since space is not a factor, you can opt for a more luxurious basement laundry room that includes extra features like full-featured cabinets, artwork, plants, or even a refrigerator.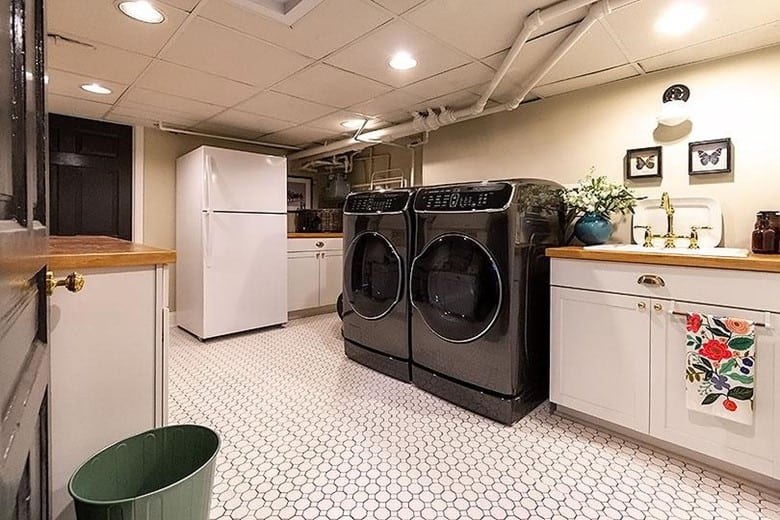 Unique Basement Laundry Room Ideas
1. Bright and Groovy Basement Laundry Room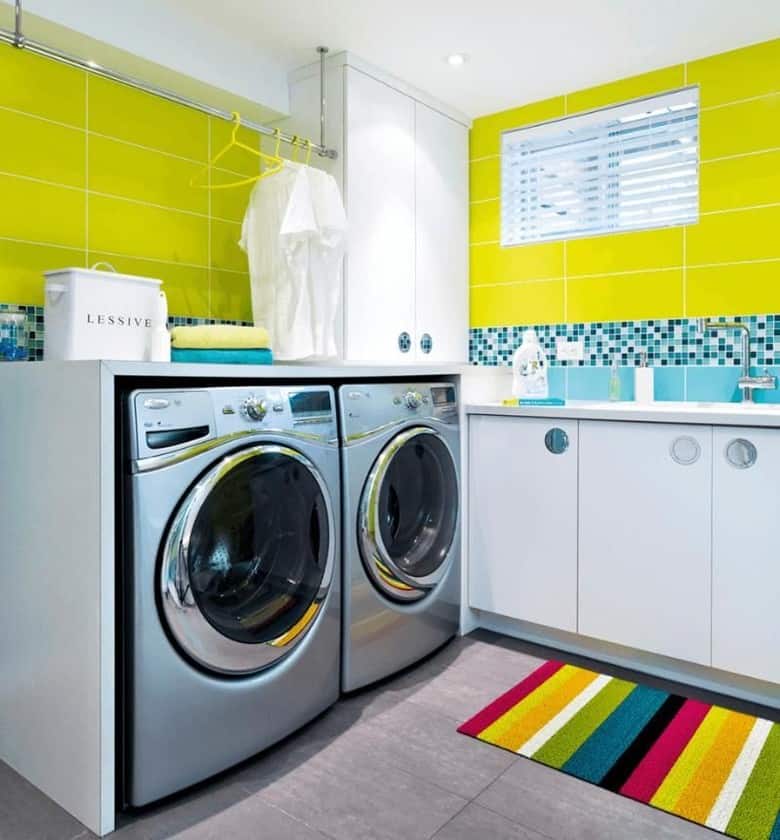 Laundry rooms do not have to be drab and boring, and this hip patchwork basement laundry room makes that point perfectly. Don't be afraid of a little color, and incorporate bright colors if they match your preferred aesthetic.
The white cabinets and accessories act as a solid backbone for the aesthetic, while the aqua glass-ceramic wallpaper gives the room a bright and playful vibe.
2. Vintage Basement Laundry Room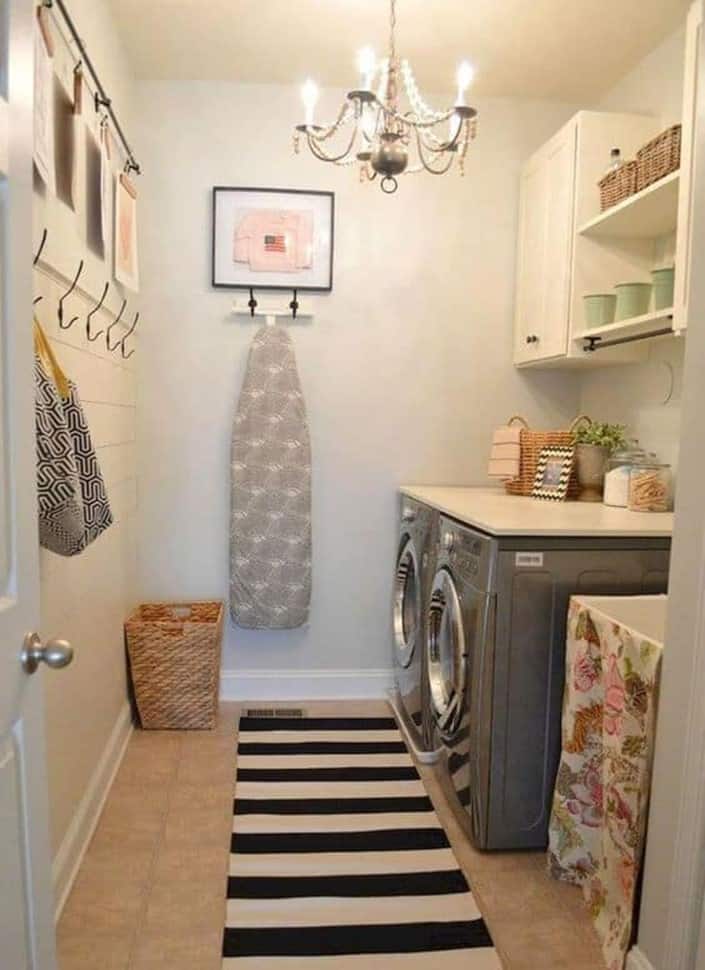 Or you could go the other direction and aim for something like this classic vintage laundry room. All you need are dusty and warm whites, an elaborate lighting fixture, some patterned cloth and rug adornments, and a couple of baskets.
3. Laundry/Bathroom Combo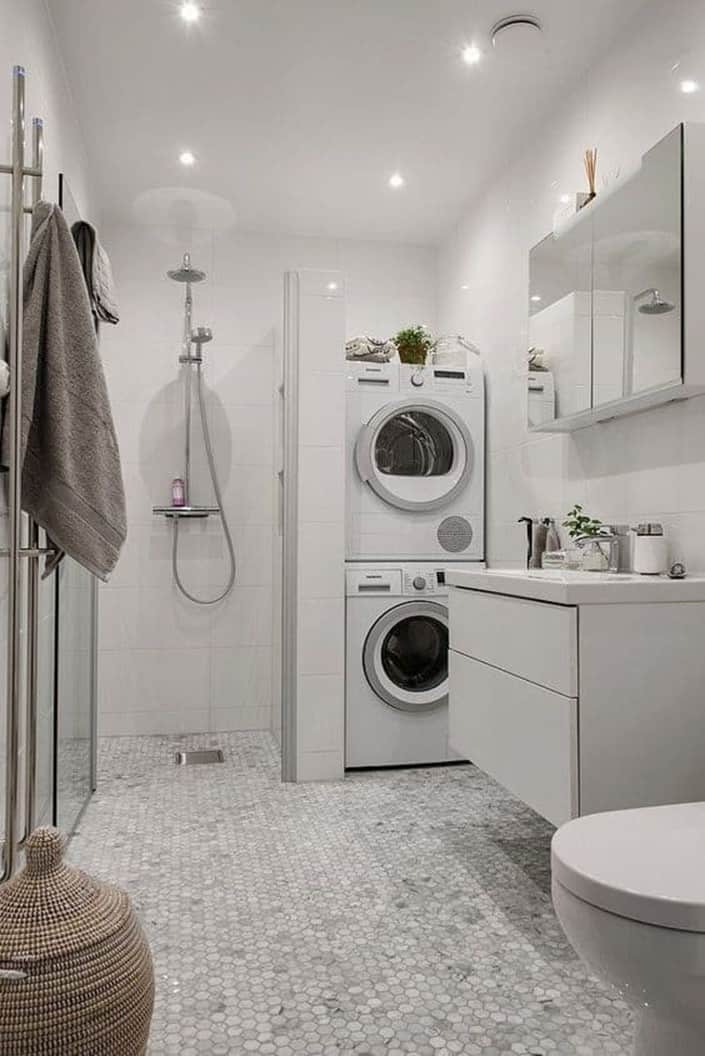 Laundry/bathroom combinations are pretty commonplace in many homes. Hence, if you plan on installing a bathroom in your basement, you could move your laundry room in as well.
A well-designed laundry setup should only take up a small portion of the bathroom, so you won't have any space issues.
4. Basement Laundry Room with Island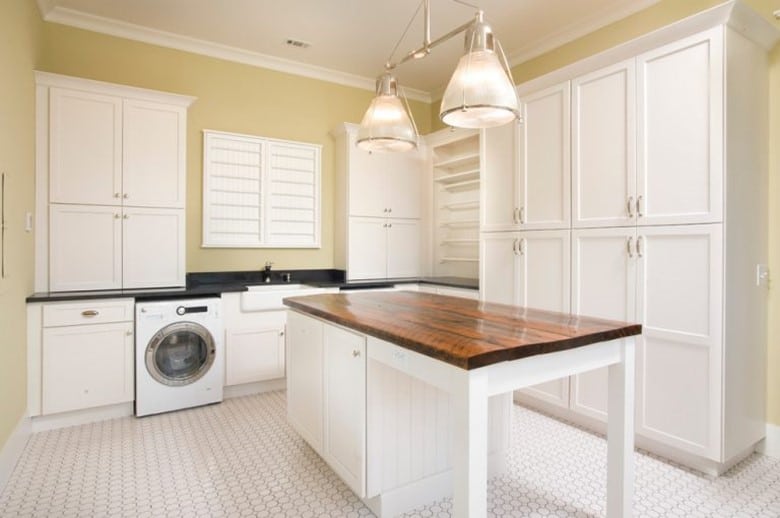 If you are dealing with an extremely large space and do not like wide empty spaces, you can toss in an island unit in the middle of your basement laundry room. The island can serve both as an extra folding space and as a unique aesthetic addition.
5. Extra Uses
With large basement laundry rooms, you can adapt the extra space to serve another purpose, killing two birds with one-stop. For example, you can set up a home office.

Another excellent option is to create a play space for children with the extra room. You can never have too much playroom, and one in the basement is a home feature your children will love.
Alternatively, in dog-friendly homes, you can build a doghouse into you laundry room that offers superior comfort for the resident canine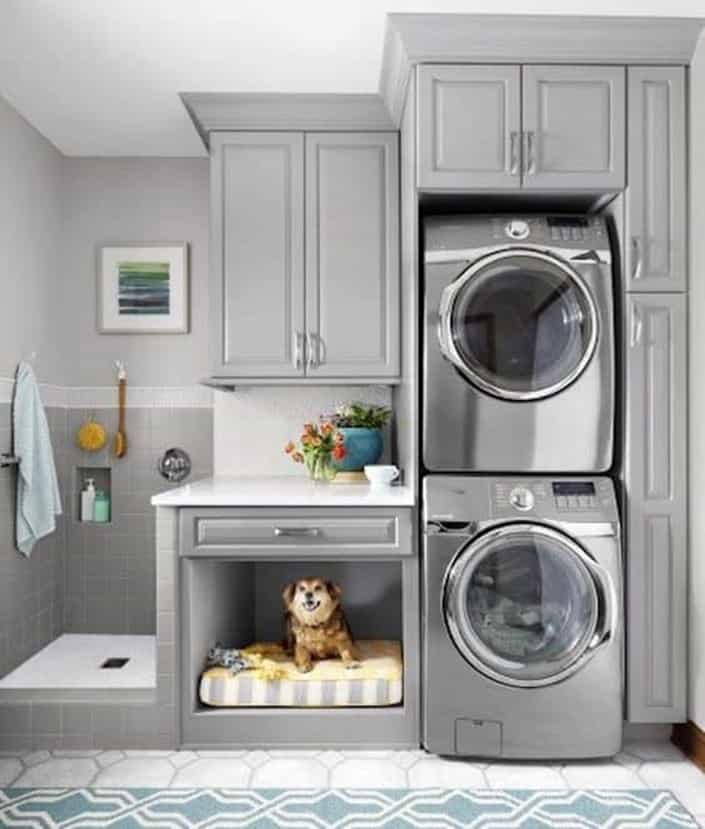 6. Basement Laundry Room Makeover Ideas
This basement laundry room has a nice set of shelves that are well-structured. It will help you doing laundry and make the process nicer even though it this done in basement space. You can place one set of a machine which is a washing machine and dryer to stand side by side in the middle. The arrangement looks very nice with the well-structured open shelves.
The logistics planning of this laundry room is very well planned with small features like the basket on each side to place the laundries. The entire feature in this room is a perfect match for each other and created a nice workflow for the laundry.
7. Basement Laundry Room Flooring Ideas
This is one of the basement laundry rooms that have a unique design. If you want to make a really nice and cool laundry room, you might need this. The attraction in this room is the unique arrangement of the wall design and flooring. Isn't it cool? Say no more to the boring plain layout basement laundry room.
The pattern used in this room is a nice view for those who enter the room. You can enjoy a nice view while doing laundry. You get nice storage to help with your laundry in the middle. There are also two small shelves on each side of the counter you can use. The arrangement of features and accents in this room would improve the workflow of the laundry.
8. Basement Laundry Room Storage Ideas
If you happen to have a small room for the laundry room, this design might suit you. The basement laundry room looks nice and spacious enough with the help of light and a soft blue color combination of the wall. These color details help the room look nicer.
The open structure storage suited the laundry room. It features two machines for laundry, three baskets for your storage at the top and small shelves in the middle for the laundry equipment. The counter above the machine can be used for all the tools that you might need for the laundry.
Such a nice simple design for smaller space. This design also can be used for those who don't want a complex design for their laundry room.
9. Design Ideas Basement Laundry Room
To make the laundry spot right beside the window is the smartest move. If you have a bit darker color of the wall, the window will help the lighting of the room since the small space laundry room usually needs bright lighting and a light color wall.
To maximize all the space in the small room, you have to make a smart placement for all the storage. Use this wooden open shelf will help the workload of the laundry. All the space should not be wasted and unused.
10. Laundry Room Decorating Ideas Cupboard
I had suggested you do not stack the machine if you have a small space as you read above. However, this situation is different since the laundry room has a tall ceiling that can adapt to a vertical concept. Hence, you can have more spaces vertically. This concept will suit a tall house.
This room has a closed cabinet and sinks features in it that you can use to hide your laundry stuff. The laundry room looks neat and comfortable to see. For those who like a tidy concept room would like this design.
11. Laundry Room Wallpaper Ideas
This room looks so good with the brick element on the wall, however, this is a wallpaper with a brick pattern on it. You can get this kind of wallpaper in the home improvement store. This addition is a nice improvement to your room.
This unique placement of the small steel cage is a good addition to the room. You can use it to hold your laundry stuff, irons, and tissue rolls. It is a cool and functional decoration.
12. Old-Fashioned Basement Laundry Room Ideas
For people who like an old and rustic style, this old-fashioned laundry room idea will suit your taste. The wood element in this room is such an awesome feature, so does the rustic pattern cabinet. It's a great combination to show the rustic atmosphere in this room.
The picture is actually used for kitchen design. However, you can adapt the concept to your laundry room. All the features and elements in this room will make a stunning design for your laundry room.
13. Wall Cabinets
If you have a dog in your house, this laundry room design is an impressive idea. The space used for the doghouse is a nice place for your dog. You can take your house to accompany you in the basement laundry room if you need some company. This design is a good way to maximize the available space and add more functionality in the laundry room to satisfy your needs.
The small utility sink can be used to showering your dog regularly and maybe you need some space for manual hand-washing. The rug helps to make a comfortable vibe in this room, as well as the light color scheme, add some warmth to the room.
14. Paint Colors
The most crucial features of the laundry room are the storage. It is so important to have some storage. Create some useful and effective storage for all your needs to help you with the laundry activity is a must. Some neat and nice storage design will make an improvement to your room.
Although you can have an open counter and shelf, the clean look design will be a nice option to choose for a small laundry room.
16. Lockers Plans
Some space that will help you sorting and organizing the laundry will be a good feature in your basement laundry room. This locker design is a good complement to your laundry room. It will surely help you to organize the clothes based on the family member or type of clothing. As seen in the picture, the 12 space of storage can be filled with your clothing and other stuff according to your needs.
16. Fantasize Laundry Room Design Ideas
This hidden ironing storage is a clever design for the basement laundry room ideas. You can use it to hide your ironing space or you have a hard time ironing on the counter. This hidden space is a good solution for you. You can just pull the drawer under the counter and have an ironing pad available anytime you need it.
17. Rusty Chic Laundry Room Decor
This hidden ironing storage is a clever design for the basement laundry room ideas. You can use it to hide your ironing space or you have a hard time ironing on the counter. This hidden space is a good solution for you. You can just pull the drawer under the counter and have an ironing pad available anytime you need it.
18. Natural Basement Laundry Room Ideas
This hidden ironing storage is a clever design for the basement laundry room ideas. You can use it to hide your ironing space or you have a hard time ironing on the counter. This hidden space is a good solution for you. You can just pull the drawer under the counter and have an ironing pad available anytime you need it.
19. Farmhouse Laundry Room Ideas
This farmhouse style laundry room is so gorgeous. The white walls, black cabinet, big window, and some rattan baskets portrayed the farmhouse style very well together. With this big window, you don't have to worry about the lighting anymore. This will provide you with bright lighting for the day. You can also add some little plant decoration to make the room look nicer.