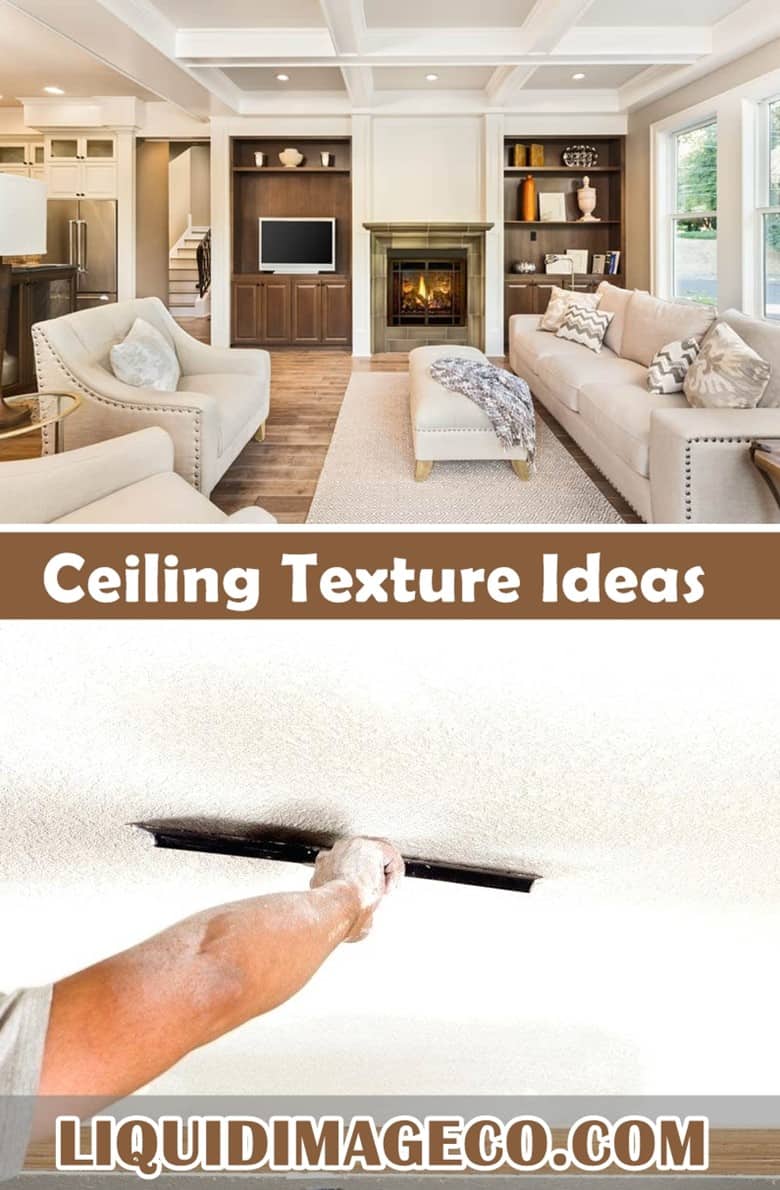 While you plan your perfect home, don't forget the ceiling. Instead of just swiping a paintbrush or a roller over the fifth wall, think creative. There are so many ways to add texture to it. Some options are low cost, and some require a sizeable budget. So, here are some ceiling texture ideas.
1. Modular Ceramic Ceiling Panels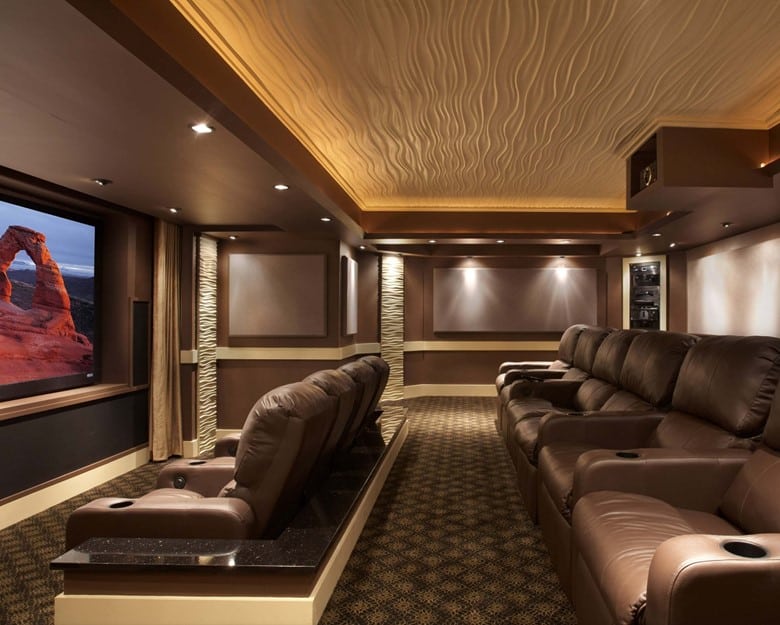 One look at this home theatre seems like some artist has sculpted every inch of this ceiling by hands. The effort involved is in the installation. The panels are ready to install. You have the freedom to choose any texture you like. For example, here, the ceiling has wave-like tiled panels. These tiles are ceramic. Which means installation should be careful. The tiles are on the heavier side. So, you will need lots of drywall mud and sanding to get the perfect seamless look. In this home theatre, the lighting accentuates the texture of the ceiling tiles. Wood beams border the ceiling, and it seems to be in a recess. The rich stain of the wood balances the white color of the topside covering. But of course, you can work with any color of textured tiles you like. If you choose colored textured tiles, you can skip the wood beam border. Just lighting will be enough to elaborate on the texture. Though it will be better to choose neutral colors. Pale gray, tan, cream, beige, and light mocha will work great. Anything too dark will have the opposite effect.
Here are some tips for painting textured ceilings
2. Plaster Ceiling Texture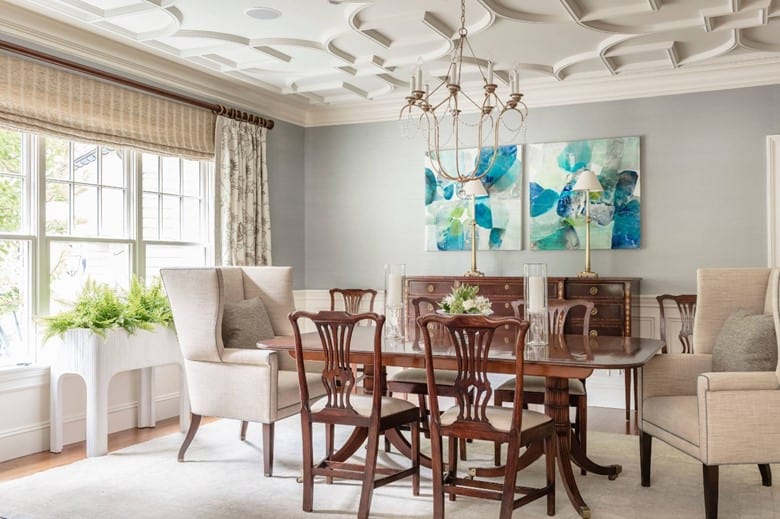 Sometimes a room is nothing but painted walls. If walls are completely bare, then it is a good idea to give attention to the fifth wall. This dining room has a ceiling with gypsum work. Ornamental gypsum is cheap and easy to install. If you want, you can first paint the ceiling. Then install the plaster trim screens. At this point, if you want a white look, then no need to paint again. But, if you are inclined towards some other color, then repaint the textured ceiling. Such plasterwork is a great way to introduce architectural themes. For example, this dining room has Moroccan inspired gypsum work. You can experiment with more patterns too. Sometimes, some homeowners also create a contrast of the trim and the ceiling. You can paint the ceiling in one color. And paint the trim in another. Mocha colored ceiling with white gypsum work looks chic and cozy. It will be better if you avoid a deep hue with a busy pattern. Otherwise, the ceiling's look will be overwhelming.
3. Popcorn Ceiling Texture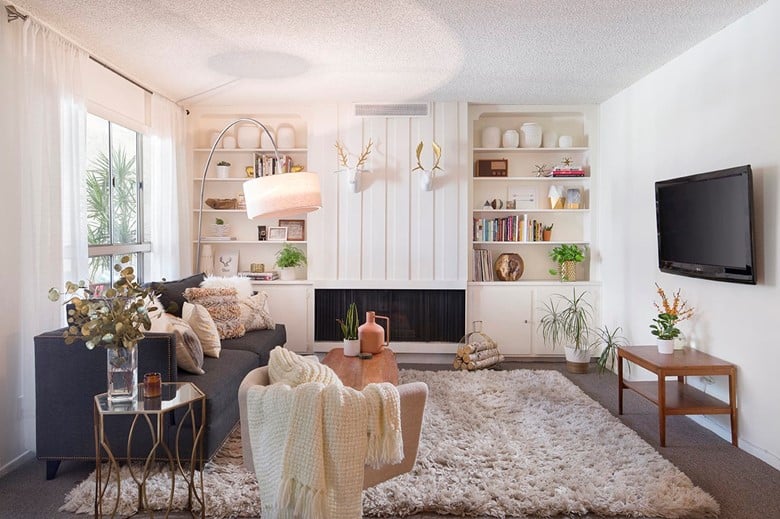 A popcorn ceiling, as the name suggests, is a texture that resembles a bed of popcorns. This ceiling can be found mostly in old homes. A lot of homeowners find ways to cover this type of topside covering. But you can embrace a popcorn ceiling. For example, in this living room, the texture of the fifth wall is accompanied by a furry rug. The accent wall has a white panel of board and batten. The curtains are sheer white. A popcorn ceiling will look bad only if its visual appearance isn't balanced. There is also another way to enhance the look of popcorn texture. You can throw light on it with a lamp. This room has a drum-shaped floor lamp. The popcorn texture looks better with the illumination. Now let's talk about the color. Popcorn texture is already a brave choice. So, it will be better if you keep it white. Colored popcorn texture might not be an easy feature to handle. You can decorate effectively and cut costs of covering it if you keep it white.
4. Beadboard Ceiling Texture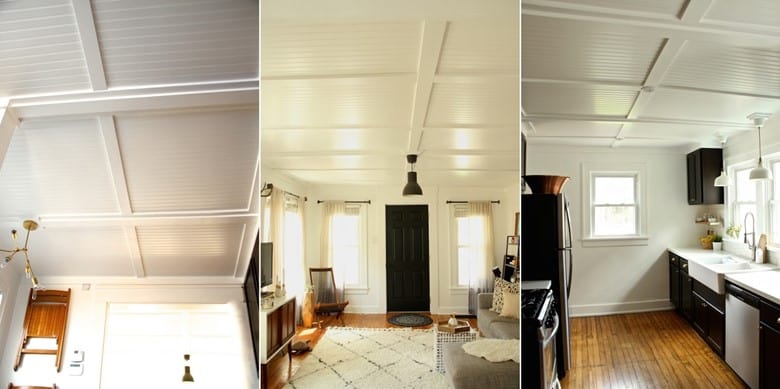 Tongue and groove coverings are popular for walls. But you can also use it on your home's ceilings. There are many homes with oddly textured ceilings. So beadboard, also known as tongue and groove, can come to the rescue. It is easy enough to install on your own. If your ceiling is uneven, you can cover it with beadboard. You will have to use shims as fillers between the top wall and the beadboard panels. Tongue and groove panels can give your abode an instant cottage-like feel. You can bring versatility in such a ceiling texture. You can change the breadth of the boards. To add more support to the beadboard, you can add coffers.
Here is a video guide for installing a tongue and groove ceiling
Usually, beadboards are white. But you can paint them too. Beadboard covers are famous for porches. But you can extend their use to other rooms inside your home as well. Beadboard looks fabulous in a laundry room or a sunroom. Design a cottage bedroom with tongue and groove panels. A painted beadboard cover will look cheerful in a kitchen.
Here is a tutorial for painting a tongue and groove ceiling
5. Embossed Tin Tile Ceilings Texture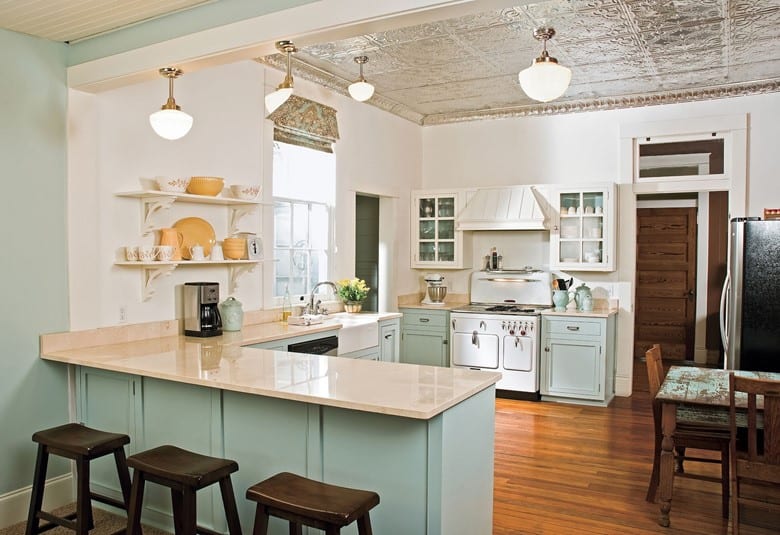 Tin tiles are a blast from the past. They were first used in the '80s. In those times, tin was used as a heat resistant and a low budget material. Though with changes in everything, tin tiles have improved as well. While they still have vintage patterns, their quality has improved. Tin tiles are usually made with metals such as steel, aluminum, or copper. They have tin plating on top of their surface. Some tiles can be easily installed on your own, as well. You will be amazed to know, there are faux embossed tin tiles as well. You can peel and stick them to your ceiling. No extensive amount of labor and labor costs required. You can find tin tiles in other colors as well. This kitchen in the picture has traditional silver tin tiles. The mint cabinetry looks perfect with the tin ceiling. The fifth wall looks ornate and elegant at the same time. Let's say you don't want a full cover of tin tiles. In that case, you can cover the center of the ceiling. To make it presentable, add a trim to the edges. The trim can be of any material. You can use gypsum or wood. And maybe cover it in a coat of metallic paint. Experiment with different looks. If there is a recess in the ceiling, elaborate it with tin tiles.
6. Coffered Ceilings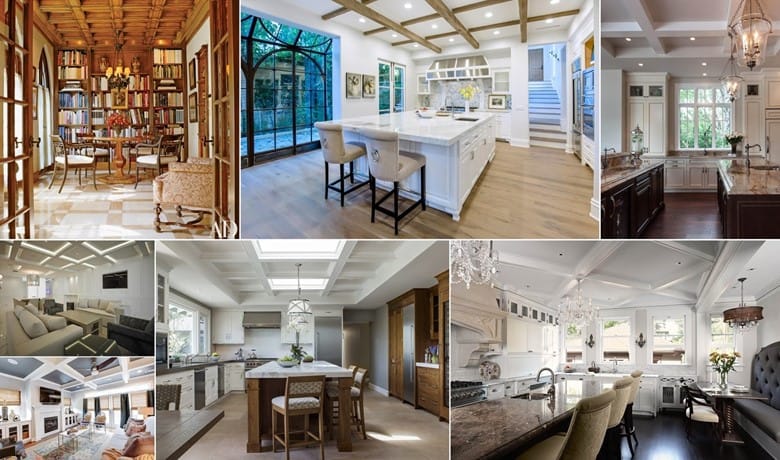 When we think of coffered ceilings, large houses cross our minds. But in reality, this is not the case. Large houses only give you the liberty of increasing the scale of the recesses in coffers. Otherwise, if you scale down the size, coffered ceilings can look amazing in small homes as well. Coffered ceilings are of many types. You can add a coffered look to your existed painted ceiling with wood beams. Gypsum coffers are also quite popular. If you want to give a log cabin rustic look to any room in your home, go for an all-wood coffered ceiling. For coffers that are built at the time of construction, you can play with different colors of the coffers and the recesses. Tongue and groove also look beautiful with coffers. To enhance the look of your coffered ceiling, you can use LED light strips. This will not only add visual interest but will improve the lighting of your room as well. While there is no rule for the use of coffers popularly, they are used in living rooms. Coffered ceilings usually have square, diamond-shaped, or octagon recesses. But you can experiment with any shape you like. If you don't want to splurge on the coffered ceiling, you can do it yourself as well.
Here is how to build a coffered ceiling on your own
7. Wood Latticework Illuminated Ceiling Texture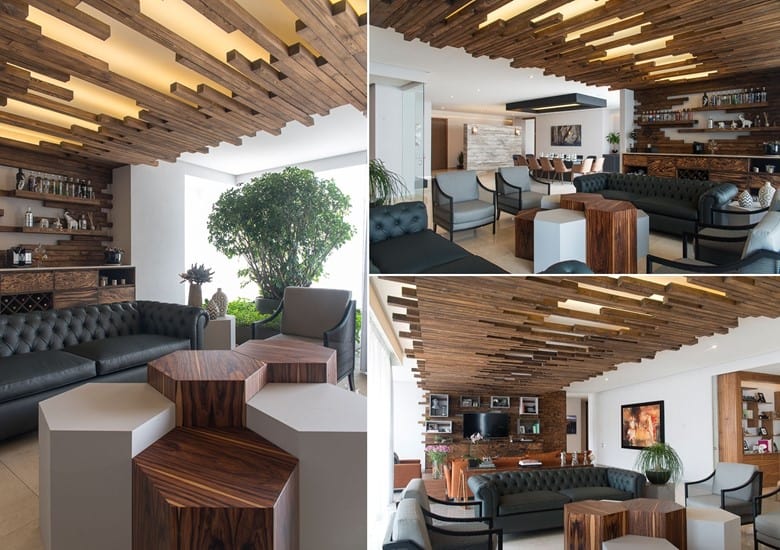 This ceiling has a unique design. As you can see, it not only has woodwork, but it is illuminated from behind as well. Firstly, there is a frosted screen installed behind in which there are lights. Secondly, it has a structure of wood beams. Light is coming out through the gaps between the wood beams. The square wood logs are arranged to form an abstract pattern. The attraction of this wooden structure is that it is intricate but orderly. The lighting is visible mostly in the middle part of the ceiling. The edges of the woodwork panel have spikes of beams coming out. A fun part is when the wooden screen extends on the wall of a home bar. The only difference is, there are shelves in place of lights on the wall. The extension of the woodwork to the wall creates a unified feel in this living room. The same wood logs are extended to the opposite wall, as well. There are no gaps, but shelves, and a TV screen. If you like the idea of making a structure of wood beams on your plain ceiling but want to remain in a smaller budget, then you can skip the lighting. Instead of backlit frosted screens, you can install LEDs or even pendant lamps.
8. Woven Bamboo Ceilings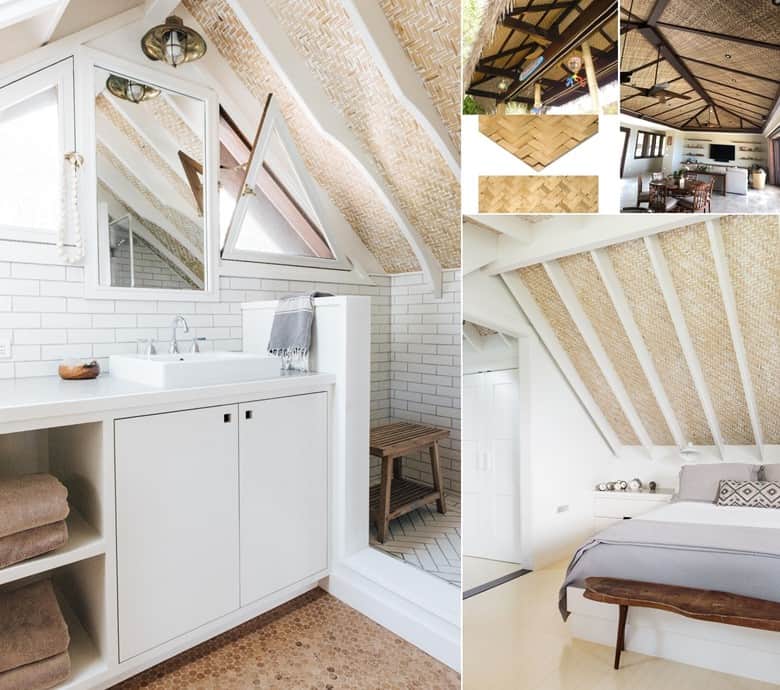 Nothing speaks tropical more than bamboo. You can clad the fifth wall of any room in your home with woven bamboo mats. It will look incredible on a porch too. If you have a garden gazebo, you can cover its ceiling's surface with woven bamboo. For indoor, you can use plaster along with the woven bamboo screens. This will not only give it more durability but will also add beauty and texture to the bamboo weaving. A plaster 'grouted' bamboo screen can also be used in your bathroom. A bathroom has more humidity compared to other rooms, so if you opt for just bamboo, use a wood sealer. This way, your bathroom's ceiling treatment will last many years. You can choose between pale to warm shades of the woven bamboo matting.
9. Embossed Wallpaper Ceilings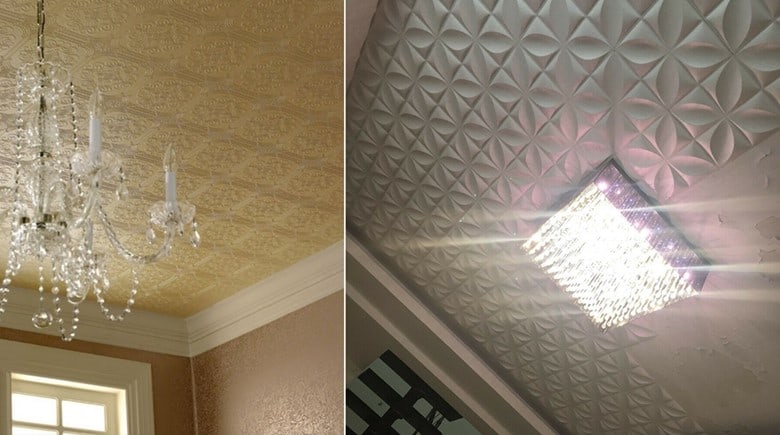 If your ceiling is already in good condition, then you can bring texture to it with embossed wallpaper. Embossed wallpapers are available in a myriad of colors and designs. They are usually made with lightweight polyvinyl. You will only have to peel and stick the wallpaper after cutting it to the desired dimensions. We think embossed wallpaper is an affordable option for a textured ceiling. You can use textured wallpaper in any room of your house. If you want to achieve a Hollywood regency look, you can get a metallic textured wallpaper. Team it up with a chandelier, and see the magic. If you want a contemporary look, go for a geometric textured wallpaper in white.
10. Baffle Ceiling Texture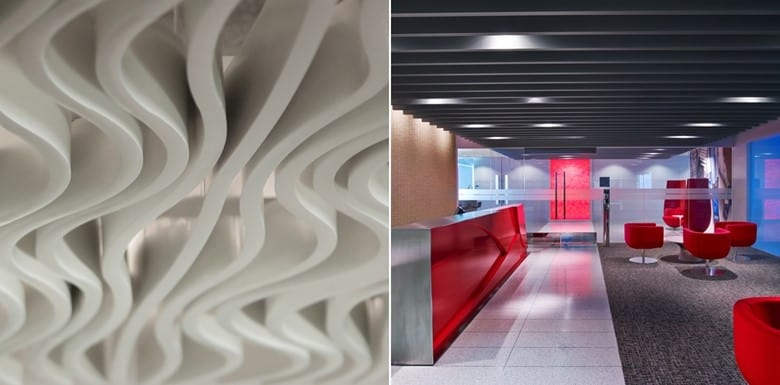 Baffle ceilings have another purpose, along with adding texture. They are used for absorbing unwanted air carried sound. If you live in a noisy place or even by the seaside, you can install such a ceiling. You can also look through the baffles as the roof is visible. So, if you install lighting on the bare fifth wall, it will come out through baffles. It will create a charming effect. Some companies also offer baffle ceilings with heating and cooling. This increases the functionality of this textured ceiling option even more. The baffles can be traditional bars or even with a curved design. The type of baffles is up to you. If you install basic baffles, then you can spruce the texture with paint.
11. Wood Block Tile Ceiling Texture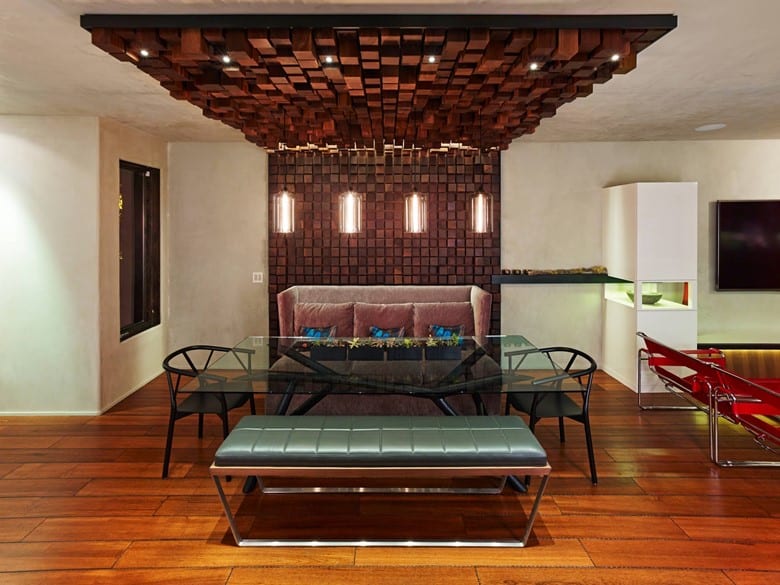 If you want to get a wooden ceiling, then think of wooden tiles. If you create a panel of wood blocks in varied thicknesses, you can get an astounding textured ceiling. Depending upon the size of the room, choose big or small scale blocks. You can also make it appear comfortable and cozy with a darker wood stain. Extend the ceiling's texture to the wall for an even luxe look. If you want to cut down the budget, you can cover a part of the fifth wall too. Elaborate the wood tiles with an assortment of lighting fixtures.
Here are some more wood ceiling ideas you might want to check out