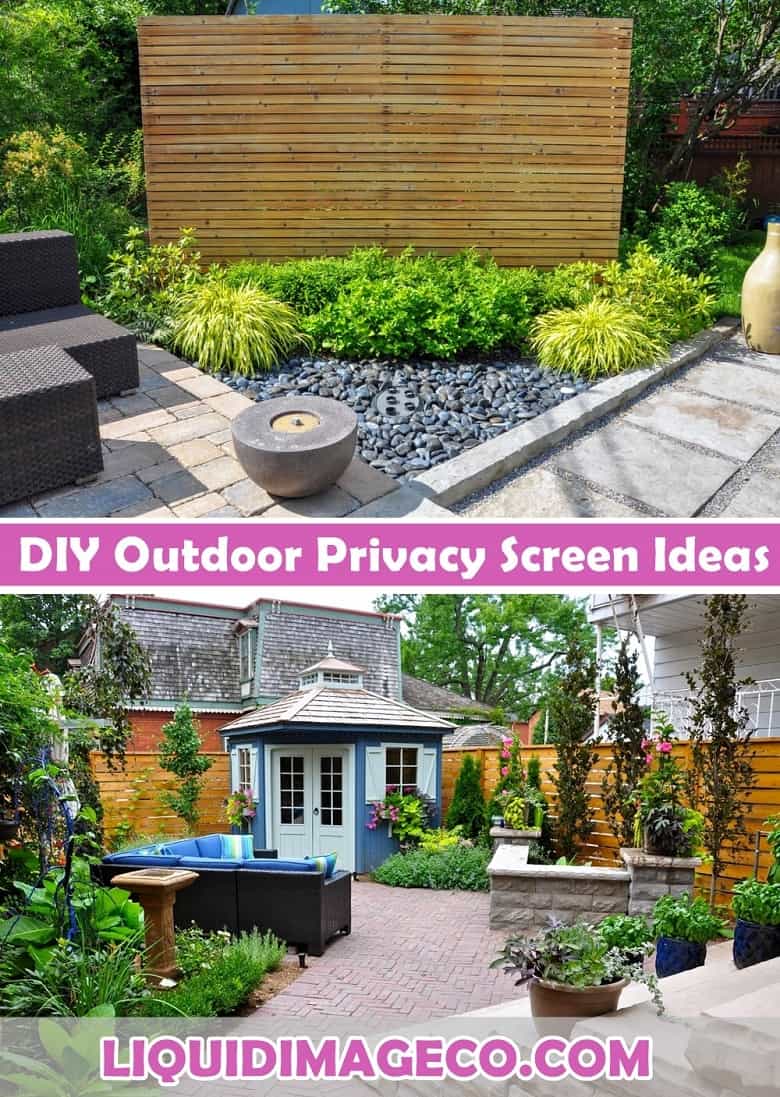 If you feel you need to add privacy to your outdoor area from peeping neighbors, then you can build a privacy screen. You don't have to invest in costly privacy screens for this purpose. There are many ways to make a privacy screen on your own. This will save you a lot of bucks. You will get a privacy screen that is an exact depiction of your style.
1. Planter with a Privacy Screen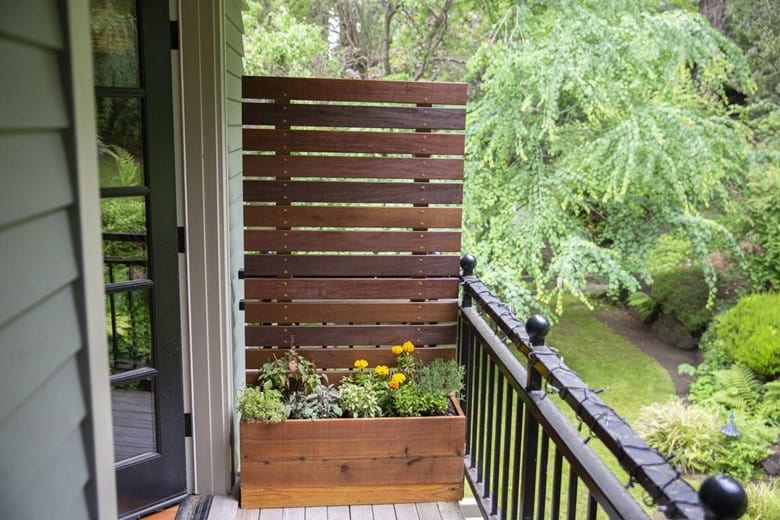 Sometimes we need to shade a small area. Usually, that is the side of our porch. When privacy is not too much of a concern, you can build something like this. You can make a planter box with a slatted wood screen. For outdoor projects, your best bet can be cedarwood. It can sustain weather, lasts long, and looks beautiful. First, measure the size of the space available on your balcony or porch. Then cut boards of wood and make a planter box. Drill holes in its bottom. Cut two slats of wood, and attach them to the two sides of the box, a little away from the corners. Measure the width of the planter box. Cut wood slates according to the width of the box. Cut according to the height as well. Make sure to cover the two supporting slats completely. Start fixing the horizontal slats on the vertical supporting slats. Keep all the slats about an inch apart from each other. Apply stain to the planter box privacy screen. Plant it with flowers. You can also hang small flower pots from the slats. Use hooks or metal wire to hang them.
Here is a tutorial to build a privacy screen for your deck
2. Recycled Door Privacy Screen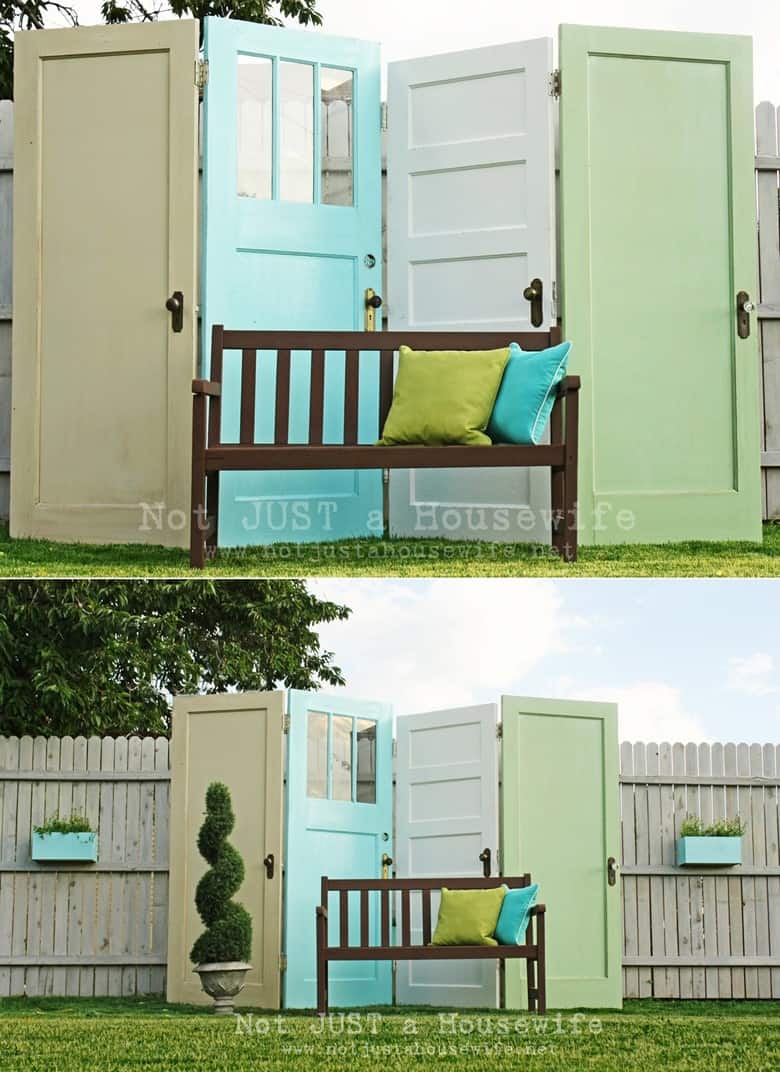 via
No worries if you want to soak in the Sun and you have sneaky neighbors. You can make a privacy screen and keep yourself away from unwanted eyes. So, the first step is to head over to your nearest thrift shop. Find four or more doors. You don't have to choose identical doors. Make sure the doors are of a similar size. That's all. Then bring them home. Sand the doors for removing any deposits of dust. Strip off the paint. Repaint the doors. Choose a distinct paint color for each recycled door. This way, the privacy screen will look fun. Fix door handles on all the doors. Then use hinges to connect the doors. Your privacy screen is ready. Make sure to cover the screen in some plastic sheet when it rains. The privacy screen will also work as a backdrop for your patio or garden couch.
3. DIY PVC Pipe Privacy Screen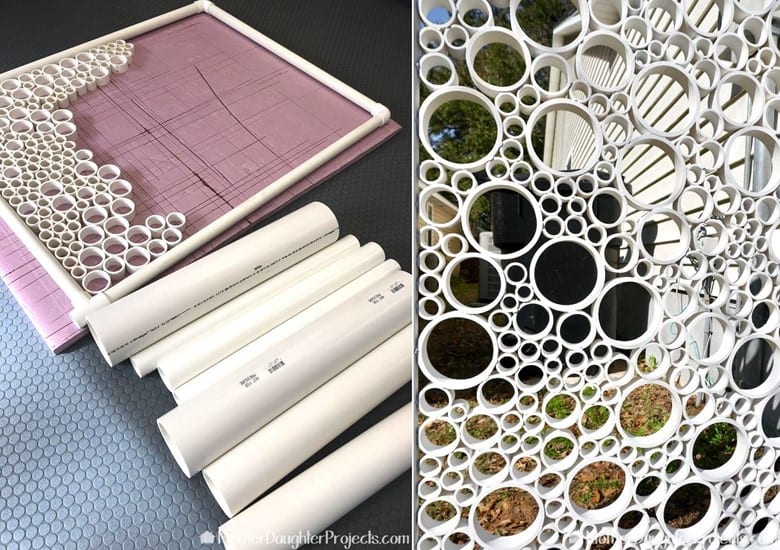 A PVC pipe is a low-cost material. So, if you have to work on an extensive screen project, PVC is an ideal material. First, build a frame from PVC pipe for the screen. Then, start slicing PVC pipes in two to three sizes. The slices should match the thickness of the frame. Once you have cut enough slices, put the frame on an insulation foam. Start arranging the pieces. Just like a puzzle. But this is the puzzle with no picture and a ton of creativity. So keep arranging the slices. If, at some point, you find a gap that is too tricky, fill it with a smaller slice. This process can be a little tedious. But the result is worth the meticulous work involved. Start gluing the PVC rings one by one. You have to use a construction adhesive for this purpose. Make sure no glue goes to the insulation foam, on which you have put all the pieces. Once the glue sets, your screen is ready. You can make as many screens as you need. Join the smaller screens together. We are suggesting panels because the slices will have better support. One large screen, with a lot of glued PVC pipe slices, won't be a good idea.
4. Chevron Outdoor Privacy Wall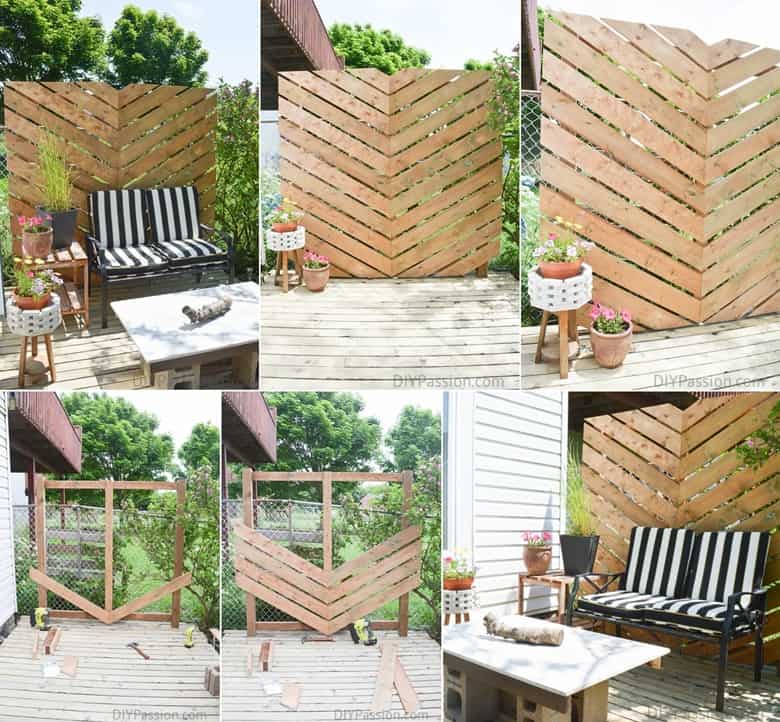 Choose the wood type you prefer. Keep in mind to get a weather-resistant wood. Make a frame. Then cut more wood slats according to the frame width. Start fixing the slats on the frame in V shapes. Keep making the screen by using nails. Once you have finished the screen, stain it. This screen will add privacy as well as pattern to your patio. You can paint the chevron pattern in different colors too. You can also use a blend of different varnishes. There are now many colors of wood sealers available.
5. Pergola-Like Privacy Screen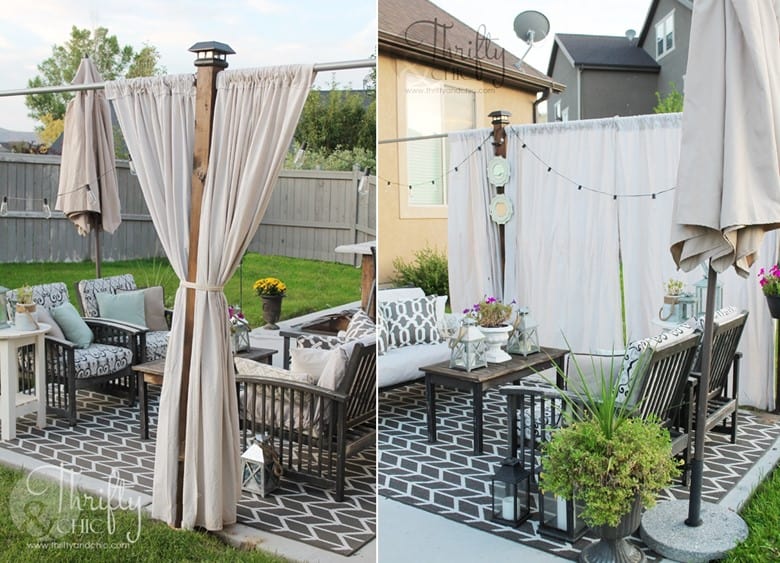 Decide the width of the privacy screen you need. Then use wooden posts and PVC pipes to build a frame. Here three posts are used. You can also use curtain rods. Both will work great. The benefit of using a curtain rod is it will have the necessary hardware. You can take off the curtains easily this way. In the case of a PVC pipe, you will have to make grooves for the PVC pipe rods. Top the wooden posts with toppers. Apply stain. Make curtains with a drop cloth. Your screen is ready. All the materials used are budget-friendly. This curtain privacy screen will give indoor feels to your patio. Roll out a rug and put furniture. Sit for as long as you want.
Here is a tutorial to make patio drop cloth curtains
6. Bamboo Privacy Screen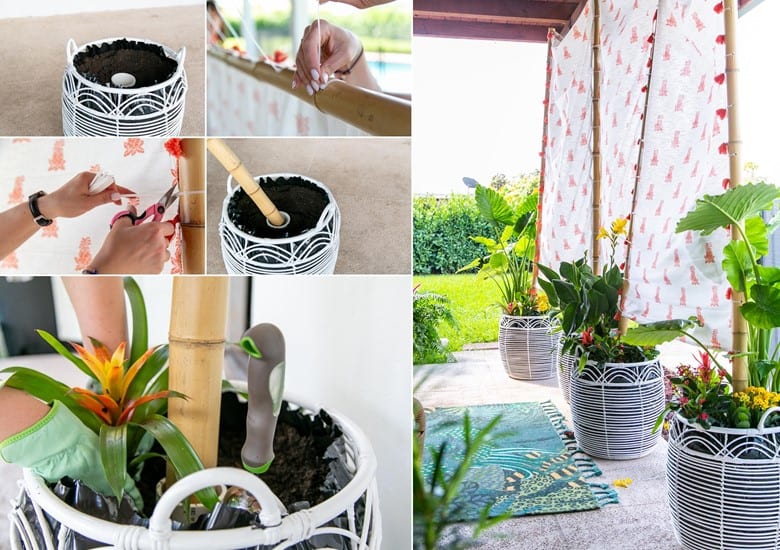 To make this, you will need large plant pots. Any type of planter pots will work. Fill each with soil with a PVC pipe in the center. Make a screen with bamboos, shower curtains, and zip ties. Put the bamboos in the PVC pipe holes in each planter. Snip the extra part of the zip ties. Plant flowers in the planters. A beautiful screen is ready to enjoy. You can make changes to the plants according to the changing seasons. These pots can also become a kitchen garden. In place of shower curtains, you can also use a drop cloth. Landscape greenhouse fabric will work great, as well. But, if you plan to stick to the shower curtains, be creative and choose a fun print. For example, here, curtains with a coral print and tassels add cheer to this patio.
7. Stand-Alone Wall Vertical Garden Privacy Screen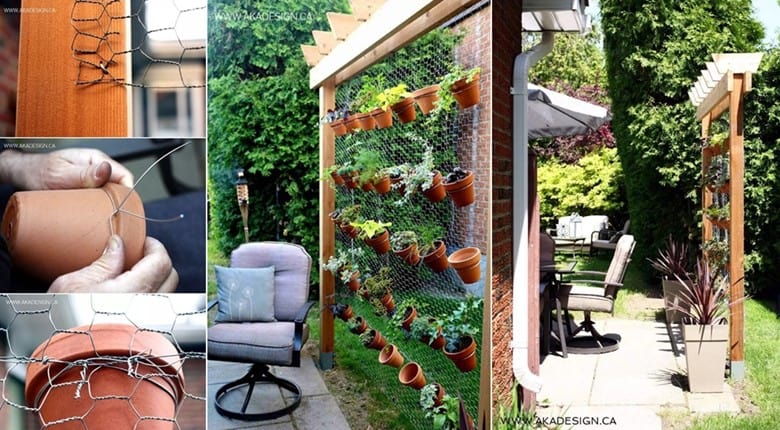 To make this privacy screen, you will need two ground spikes to start with. Hammer the fence supports to the ground. Use a defective cedar post to do this. While hammering, make sure you don't damage any pipes or wiring running underground. Put two cedar posts inside the spikes frames. Install a pergola frame on top of the cedar posts. This will create an arbor. Cut hexagonal metal wire netting according to the size of the arbor frame. Fix the wire mesh on the arbor with nails. Take small terracotta pots of herbs. Loop metal wire around each herb planter. Fasten the herb planters to the screen with the free ends of metal wire. This screen will add life to your patio. And the view will be a sight to behold on a sunny morning. Get a small watering can to water these planter pots. Since the screen is a mesh, your herbs will receive ample sunlight to grow.
8. Decorative Outdoor Privacy Screen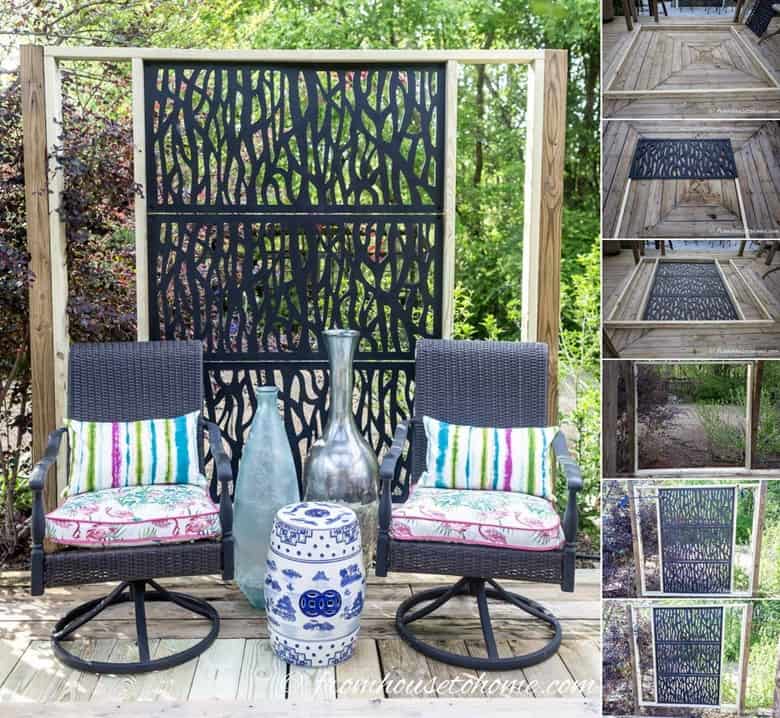 To make this, install two wood posts in the ground. Keep them apart according to the width of the screen you want. Then build a wooden frame according to the width required. Build another frame. This second frame will hold the decorative panels. Measure the combined size of the decorative panels. Then build the second frame accordingly. Fix the panels on the frame. Mount the first bigger frame on the two wooden posts. Fix the frame with the decorative screen on the first frame. Voila! A privacy screen like this will look as if you have bought it from a store. It will cost you far less than those fancy laser cut panels. Though the look of this DIY version is as ornate as the premade ones.
9. Green Privacy Wall
An easy way to make a privacy wall without the involvement of power tools is by using large plants. Instead of getting a lot of small plant pots, go big. Get some plants that grow into oversized giants. They will not only look beautiful but will create a perfect shade from neighbors peeking. This idea sounds interesting, but there are some points you have to keep in mind. Firstly, educate yourself about the kind of plant you are buying. Make sure to choose pet-friendly and kid-friendly plants. Secondly, get proper knowledge on how to keep the plants alive. Do they need fertilizer more frequent? How much sunlight will be too little or too much for them? Which insecticide will keep the bugs away from feasting on the leaves? Make a list of all the questions. And get them answered by the nursery.
10. Canopy Style Privacy Screen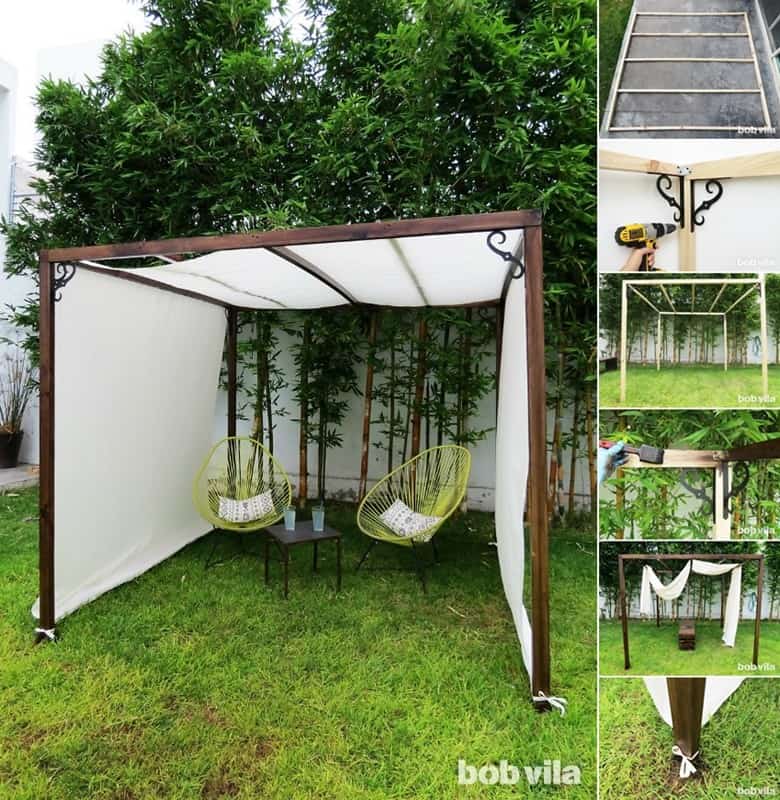 If you want a getaway in your garden away from the eyes of neighbors, then here is an idea. Instead of building a flat privacy screen, you can make a cabana. Build a lumber framework for the canopy. The top part of the wood frame will have extra slats of wood. Attach decorative metal brackets to the corners of the canopy frame. Apply stain to the wood. Layer outdoor fabric over the canopy frame. Fasten the outdoor fabric at the base of the posts with fabric ties. You can choose cotton fabric for this privacy screen area. But outdoor fabric resistant to damage is an ideal choice. You will need to invest just once. The regular cotton fabric might get damaged. So, this will cause repeated expenses.
11. DIY Bamboo Privacy Screens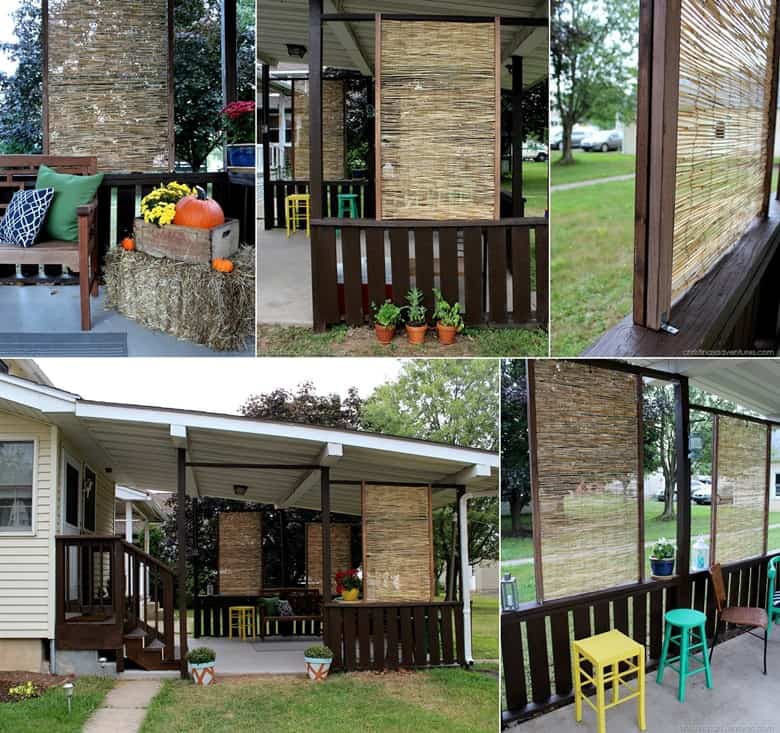 This idea is ideal for those porches who already have a railing. The balustrade is supported usually on a wood frame. This will give you a place to install bamboo screens. Measure the height between the rail and upper wood frame. Cut strips of wood according to that. Fix the bamboo screens on the wood strips. Make as many screens as you need. Then install the framed bamboo screens on the railing with L metal brackets. Just in case you don't have a balustrade, you can fix the bamboo screens on wooden posts hammered in the ground. You can also hang the bamboo privacy screens with metal chains. You don't have to cover the whole patio with the bamboo screens. Give some gaps between the bamboo panels. And put your furniture right in front of the privacy screens.
12. Wine Bottle Privacy Screens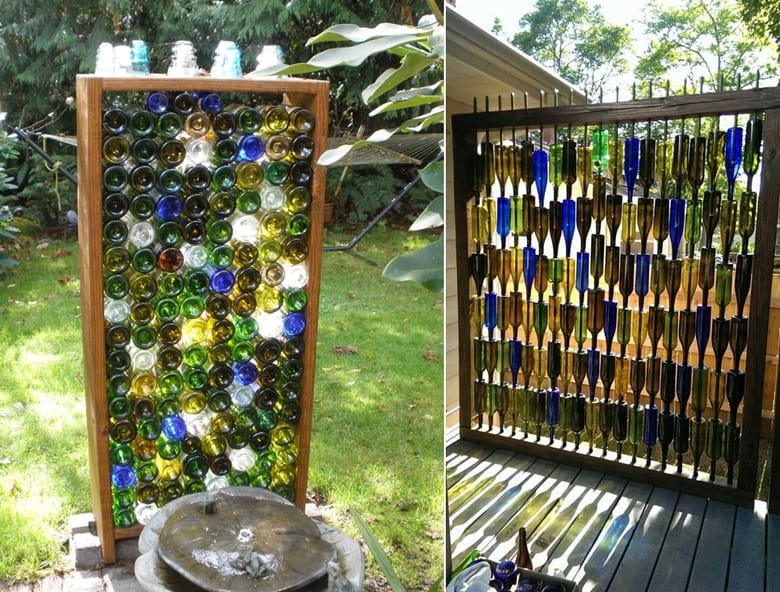 There are two ways to recycle wine bottles into a privacy screen. The first method is to stack the wine bottles in a wooden frame. Use a construction adhesive to keep all the bottles in their place. Alternatively, you can drill holes in the bottom of the wine bottles. And pass them through rebars to make posts. Fix these bars in a wooden frame. Both ways, you will get a beautiful screen. If you use different colors of wine bottles, they will become artworks. During the day, they will reflect light. At night you can add fairy lights to them. Such screens will cost you very little money. And the result is stunning. So, start collecting wine bottles from now onwards. We are sure after viewing this idea, you won't want to throw them away.
13. Rain Gutter Vertical Garden Screen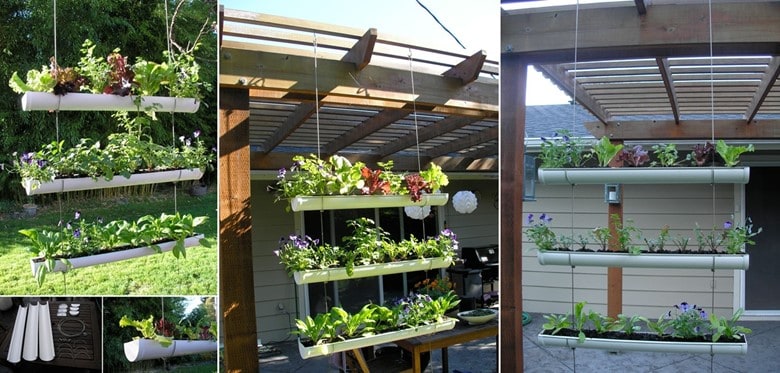 In our opinion, a privacy screen with a garden is perfect for outdoor privacy. So, here is another idea. Get the required hardware, and hang rain gutter planters. As the herbs will grow, they will add privacy to your porch. You can put as many rain gutters as you like. Even with a lot of rain gutter planters, you will still have enough sunlight reaching your patio. Keep in mind, to drill holes in the rain gutters. Any logged water will ruin your plants. So, take your time for this effort. You can also plant flowers in this privacy screen. Keep changing things a bit for a fresh look every season.