Black Friday is days away, and as such, the discounts have started to emerge on different sites and Amazon is one of the most popular places for searching for different items, home improvement included. However, shopping is never easy, especially during the Holiday season. With that in mind, we've dedicated a list of our favorite early best home improvement Black Friday deals. If you're looking for a new smart thermostat to keep all your heaters at one place, as well as garage hub and door openers refer to this list for more info.
How to shop for Black Friday?
There are not many rules for shopping when it comes to Black Friday and Cyber Monday. Black Friday has always been more dedicated to street shopping, while Cyber Monday was reserved for online reservations and preorders. Nevertheless the rapid development of internet and web apps allowed online shopping to become the main channel for Black Friday shopping and as such, reduce the enormous queues in the shops.
If you want to get some Amazon products ahead of Black Friday, there is a special section dedicated only to Black Friday. In this article, we've particularly focused on home improvement Black Friday deals. Keep an eye on the deals, as the deals get better with each passing day.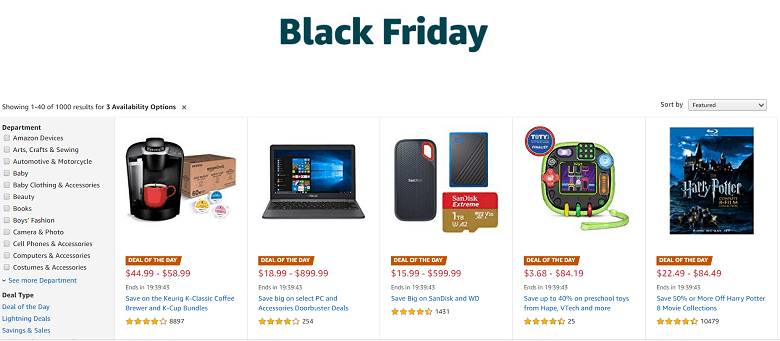 Thermostats
1.ecobee3 lite Smart Thermostat
Type: Smart thermostat
Discount: 18%
Warranty: 3 years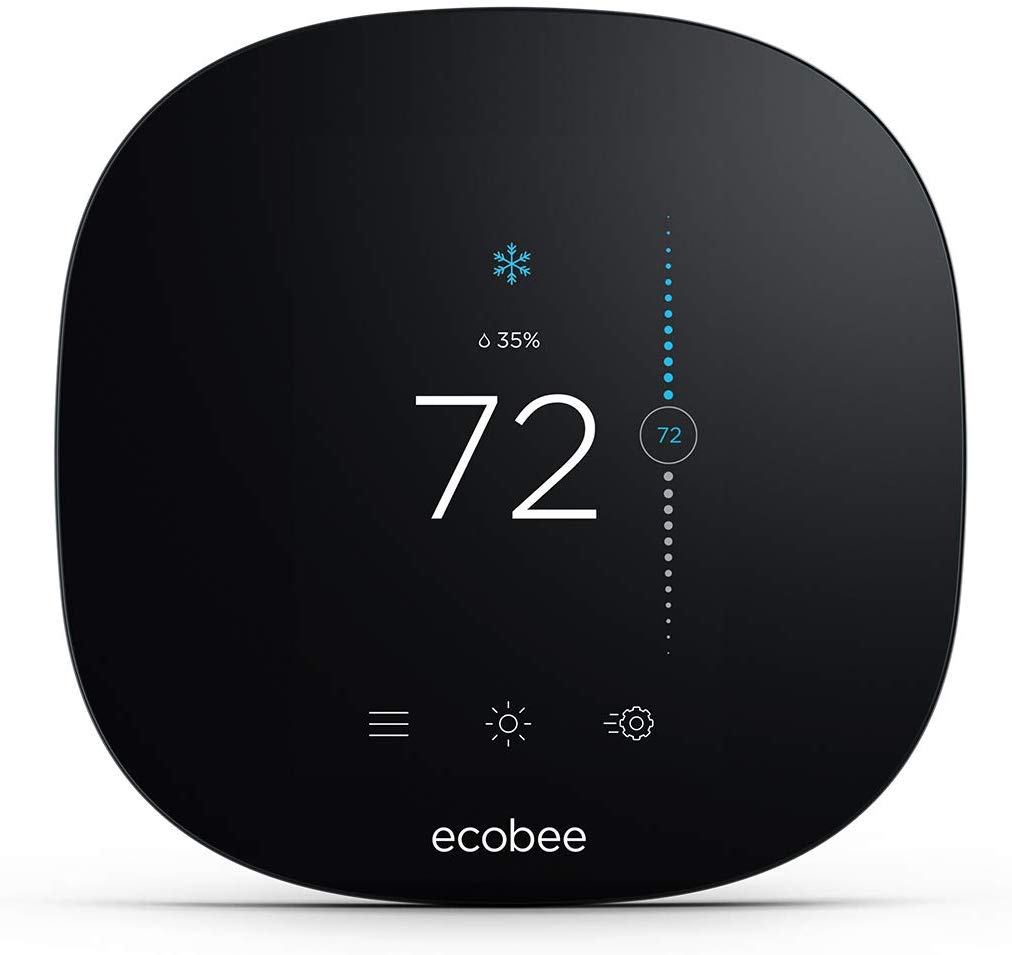 If you're looking for a way to automatize the temperature control in your apartment, house, or office, this is a great deal to start with. The company promises it can save up to 23% in heating and cooling costs per year. It has room sensors that work together to detect the current temperature and heat the house to that amount. It can automatically switch between different modes. More importantly, it's easy to install and ships with Power Extender Kit which is used for those homes that don't come with common wire (C-wire.) Lastly, if you use Android or iOS, you can remotely control the thermostat even when you're away from home. It is compatible with gas, oil, dual electric fuel, conventional and heat pump heaters. You can also connect it with Amazon Alexa, which just shows how compatible it is with other devices.
Pros
Easy to use, integration with Amazon Alexa, boasts a number of modes, supports users without C-wire.
Cons
Poor-performing Android app.
2. Google, T3007ES, Nest Learning Thermostat
Type: Smart thermostat

Discount: 10%

Warranty: 2 years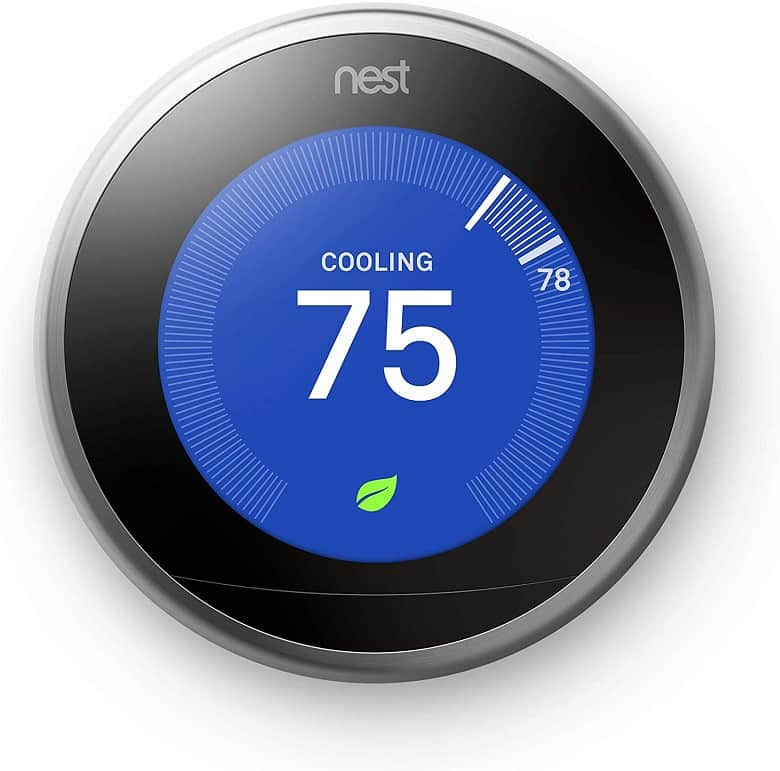 Google's T3007ES could be one of the best holidays treats for your place because not only is this smart thermostat equipped with various features, it's programming is vastly simplified and ideal for those who want a smart home but aren't as tech-savvy. It uses advanced machine learning algorithms to learn about your temperature preferences and then adjust its performance to them. It works using Wi-Fi, which allows you to change the temperatures using any kind of mobile device. It is compatible with most heating and cooling systems, including gas, electric, forced air, heat pump, radiant oil, hot water, solar, and geothermal. It also automatically turns off when you're away from home so that the home won't be cooling or warming when it's empty, although you can set timer in advance and prepare your home to be cooled or toasty when you return home.
Pros
Smart features, great features, accurate measurements, remote using from mobile devices.
Cons
Not compatible with some Apple devices.
3.ecobee4 Smart Thermostat
Type: Smart thermostat
Discount: 20%
Warranty: 3 years
The successor of ecobee3 offers vast new features and the same annual 23% saving to energy costs. It also uses room sensors that monitor the rooms which need heat distribution the most and track temperature measurements. When it notices that some room needs to be warmed up, it will signal the temperature change and start warming up. This thermostat also measures the occupancy of the room, meaning that homeowners can leave the room, and the thermostat will continue warming or stop, depending on the warmth of room. It will also automatically shut down if the desired temperature is reached. When it comes to installation and assembling, it's easily integrated with different types of heaters, and it takes only up to 30 minutes to install. It is also compatible with humidifiers, dehumidifiers, HRV or ERV devices. There is also an app you can use to track temperatures from the go, available on both Android and iOS devices.
Pros
Innovative features, sleek design, and large screen, many features are automated, large compatibility.
Cons
Uses the same Android app as ecobee3, and it's buggy.
4.Emerson Sensi Wi-Fi Smart Thermostat
Type: Smart thermostat
Discount: 29%
Warranty: 3 years
When it comes to the budget options, Emerson Sensi has become even more affordable and has become the best budget-friendly thermostat option for Black Friday. It works with all HVAC equipment found in smartphone, with c-wire requirements only for heat-only, cool-only, and pump systems. This Energy Star-certified smart thermostat uses Wi-Fi and sensors to detect which rooms are in need of temperature warming. You can schedule warming up to seven days in advance, and get access to energy usage resources. It is easy to install and takes only about 30 minutes. It is also compatible with Amazon Alexa, as well as Google Assistant, Apple HomeKit, and Wink smart home platforms.
Pros
Great compatibility, Energy Stars certified, a lot of features.
Cons
Slightly outdated display
Garage Hubs
1.MyQ Smart Garage Door Opener Chamberlain MYQ-G0301
Discount: 40%
Warranty: One Year
Smart homes and IoT have vastly revolutionized even the most basic tasks like garage control. You get the control, which lets you open and closes your garage with ease, whether you're there or away, thanks to my app, which is compatible with all devices. The app will also deliver smart notifications and alerts each time the door opens or close. You can add additional functionalities as well as upgrade it thanks to a versatile design. All it needs is a router with 2.4 GHz Wi-Fi that is located within 50 feet from the opener. It is easy to install, and thanks to mQ app, it's even simpler to assemble. Lastly, there's also the guest access, which allows up to three people to control what happens in the garage using myQ Guest Feature.
Pros
Easy to install, frequent alerts and notifications, works fast, Guest Access feature
Cons
It doesn't work with Alexa.
2.Tailwind iQ3 Premium Featured Smart WiFi Garage Door Opener
Discount: 51%
Warranty: 1 year
Tailwind iQ3 enables integration with most kinds of garage doors thanks to advanced sensors that detect which car you're driving and closes the door automatically as you leave, although you can do it manually through the app. It has various other features and modes, including "Night Mode" which ensures the door is closed through the night. There is additional feature that allows you to grant user access to your guests who may be visiting. It is compatible with Google Home, Google Assistant, Amazon Alexa, Siri, and others. Additionally, there are iOS and Android apps that also monitor the garage doors from your phone.
Pros
Night mode, Guest Access, vast compatibility, secure.
Cons
Installing wires may be difficult.
3. Meross Smart Garage Door Opener
Discount: 18%
Warranty: 1 year
Meross Smart Garage Door Opener allows you to turn your simple garage door into the smart door with ease. You can download an app from Google Play Store or App Store and connect with Alexa, Google Assistant or other smart compatible devices. You can leave it to smartly determine when your family is coming home and automatically open or close the door. There are various notification modes for opening and closing the door, with high sensitivity sensor which can detect if some vehicle is approaching. It is extremely easy to install, as long as it's relatively close to your Wi-Fi router.
Pros
Great level of automatization, guest access features, different alerts for notifying users, easy to install.
Cons
Sensors take longer to react to approaching vehicles.
Electric tankless water heater deals
Electric tankless water heaters are a great investment if you're looking for a fast and reliable water heating. Tankless heaters are widely replacing the tanked heaters for their energy-efficiency, speed and consistent performance.
1.Eemax EEM24013 Electric Tankless Water Heater
Discount: 32%
Warranty: 5 years
If you're looking for a continuous supply for hot water, Eemax EEM24013 is available at an affordable price and can be placed anywhere in the home, thanks to its compact and space-saving size. It provides on-demand, consistent and endless hot water supply. It is also equipped with self-modulating technology, which helps the device determine the amount of energy to spend on warming water, as well as how much hot water is required. It also has a lengthy warranty on leaks, so it's definitely worth purchasing, while its aesthetically modern blue color will easily fit into your place.
Pros
Compact design, continuous supply, self-modulating technology
Cons
Runs too loud at times.
2.EcoSmart ECO 11 Electric Tankless Water Heater
Discount: 3%
Warranty: Lifetime warranty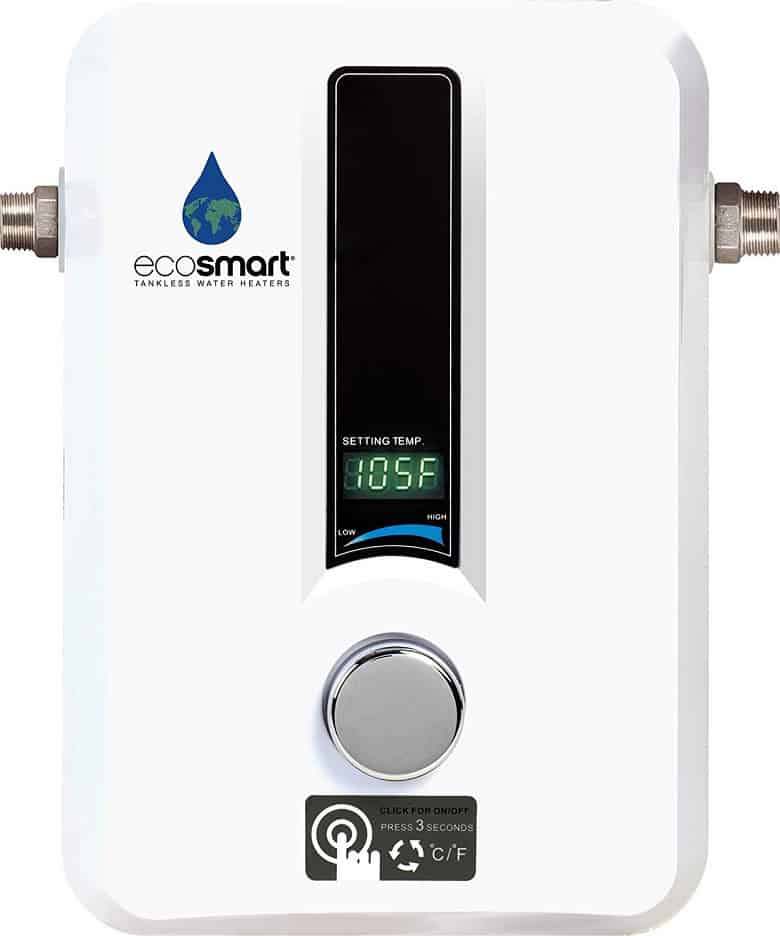 EcoSmart is known for making energy-efficient tankless water heater with great capacity, while also offering consistent support and lifetime warranty. ECO 11 is no exception when it comes to those features. As opposed to other EcoSmart tankless water heaters, this one is made for more compact spaces like offices and apartments. Also, the company promises its products save up to 60% of water heating costs. Additionally, they're 99.8% energy-efficient which is a major step forward compared to its competition. It's equipped with patented Self Modulating Technology, which works in a way it can determine the amount of water and temperature user will need. It also has a display that helps users monitor and adjusts the temperature as well as a few more modes.
Pros
Compact and sleek design, high heating cost savings, self-modulating technology, lifetime warranty
Cons
Not good for too cold areas as it takes longer to warm up.
3.Stiebel Eltron Tankless Water Heater – Tempra 24
Discount: 9%
Warranty: 7 years
With its sleek design and premium performance, Stiebel Eltron tankless water heater is a great holiday gift to your home. It can provide continuous flow of hot water while maintaining the temperature you need for comfortable shower, bath, or dishwashing. Its innovative technology is designed to reduce the flow if its sensors detect that the water demand exceeds its capacity. It boasts a sleek and compact design which saves a lot of space, with smart monitor which shows the temperature changes as well as the energy costs and savings, It is also easy to use, equipped with a solid copper interior heating system which powers the water heater, while also reducing the noise to the minimum. The temperature display also has some preset buttons which help manage memory options. It can adjust temperature as well as turn off automatically if it notices warm water is no longer needed. The water temperature range it supports is between 86 and 140-degrees.
Pros
Great performance, sleek and compact design, eco-friendly, silent
Cons
It takes longer to warm the water.
4.Camp Chef HWD5 Triton Water Heater
Discount: 6%
Warranty: 1 year
For those particularly active in nature and are fans of outdoors, hiking, and camping, Camp Chef HWD5 Triton Water heater can deliver all high-end performance for those on the go. It's made of steel and is design to make your trips more comfortable and warmer. It is portable and easy to carry, and if you no longer need it for outdoor use, you can also place it in the bathroom and use it as a shower supplementary. It boasts four settings for the showering, including off, mist, shower, and jet, all adjustable for the different use. There is 34,000 BTU burner, which is good enough to work for approximately 11 hours. You can also adjust temperature from 80 degrees to 150 degrees Fahrenheit. It is also equipped with 2 D batteries although they are not included which is the main turnoff of this product. Don't worry about transferring it around, and it weighs only 15 lbs, which makes it ideal for easy transportation.
Pros
Affordable, large heat output, durability, compact
Cons
The batteries for it aren't included.
Gas heaters
If you are looking to be even more eco-friendly, save costs on electrical bills and become more conscious about your environment, we've selected a number of the best early Black Friday deals on water heaters. We've included both natural gas heaters as well as propane-built heaters. If you want to read more reviews about the aforementioned heaters, you can go here and here.
1.Marey GA10LP Power 10L 3.1 GPM Propane Gas Tankless Water Heater
Discount: 44%
Type: Propane heater
Warranty: 5 years
Marey GA10LP has, perhaps, the best discount offer you can find, and with stylish and relatively compact design can easily fit into your home whether you decide to set it indoor or outdoor. It can provide endless hot water flow, and on demand while saving up to 60% on electricity bills. Being supported entirely by propane, it doesn't require electrical connection to anywhere, which makes ideal in the areas where power outages are frequently happening. Because of its adjustable controls, users can easily adjust the temperature to their needs. Another great thing about it is that it's relatively easy to install, and its compact size allows it to be installed anywhere. Lastly, it boasts a 5 years warranty, which makes it ideal for long-term use.
Pros
Great discount, relatively easy to install, stylish design, energy-saving, doesn't require electricity at all.
Cons
No controllable display.
2.VEVOR Natural Gas Hot Water Heater
Discount: 13%
Type: Natural gas heater
Warranty: 1 year
Natural gas heaters are also a great energy-saving alternative, and this model boasts up to 12 liters per minute. It boasts energy-saving and combustion technology, which allows it to easily adapt to any home in particular. It also uses combustion technology, which reduces gas consumption and makes heater work smoother, without hiccups and more silent. It has a compact design which means it can be installed at any home. There are various protection systems included in this heater, with heat resistant metal body. Another great safety feature it has is the low-water pressure startup protection, as well as Automatic IC ignition system, which, however, includes batteries that aren't included. There is also an LED screen and controls which allow you to control the mode, gas consumption, and temperature.
Pros
Sleek and durable build, various protection systems, works silently, gas combustion technology.
Cons
The IC ignition system requires batteries that aren't included.
3.Marey Power Gas 10L 3.1GPM Natural Gas Tankless Water Heater
Discount: 29%
Type: Natural gas heater
Warranty: 6 years
Mary Power Gas heater boasts a compact design that allows it to be installed anywhere in your house, apartment, or office. However, it's not intended for the outdoor use, and installing it outdoor could void your warranty, which is six years. Nevertheless, its compact design allows you to place it pretty much anywhere. It works properly at all levels of pressure, while only consuming the gas when the water is flowing while providing it in unlimited amounts and on-demand. It doesn't require any electrical connection, which makes it ideal for homes that easily run out of power. Still, that means there is no display that would help the temperature monitoring.
Pros
Sleek and compact design, easy to install, energy-efficient, only uses gas.
Cons
Loud, no display
4.Rinnai V Series HE Tankless Hot Water Heater
Discount: 37%
Type: Natural gas
Warranty: 120 months.
If you're looking for endless hot water supply on demand, Rinani V Series HE natural gas system is a great investment with up to 6.5 GPM of hot water, which is ideal for both winter and hotter parts. It's worth noting that this model is installed outside, and isn't suited for indoor use. It also comes with a mobile control app that can be used for setting up a timer and schedules to let you control the system remotely.
Pros
Great design, suitable for both hot and cold areas, great programmable app.
Cons
Only for outdoor installation, not suitable for apartments or offices.
Conclusion
With various thermostats, garage hubs, and other home improvement products available on the market, it's extremely difficult to pick the right products that will suit your needs. There are a lot of criteria that need to be filled, such as the size of the garage, whether there are some additional wires that need to be installed, the type of car you drive, and much more. As for the smart thermostats, the choice is relatively easier, although it's important to know whether your smart thermostat is compatible with the type of heaters it uses.
All in all, we hope that our collection of reviews and Black Friday home improvement deals helped you pick the right models for your home. It's expected that more of these deals will emerge over the next days, so keep searching on Amazon or refer to this article, as the discounts are expected to increase.