While working at home, you don't have to compromise on the furniture. You will be far more productive on a desk instead of the couch. You can make a customized desk for your home office with IKEA products. The benefit of making your own table is that you can adjust the size. You can also create as much storage as you need. A dedicated desk for homework can also help to discipline your kids. Here are some IKEA desk hacks. So, browse through these ideas and pick your favorite.
1. A DIY Marble Table IKEA Hack
You will require
An IKEA table
Marble contact paper
Silver liquid leaf
A sponge brush
Put the IKEA desk together. Paint the legs of the table with liquid leaf. Then wrap the tabletop with marble contact paper. Cover the drawers and shelves too with contact paper if your IKEA table has them. If the desk has a basic design, cover only the top.
2. A Long Counter Style Table Hack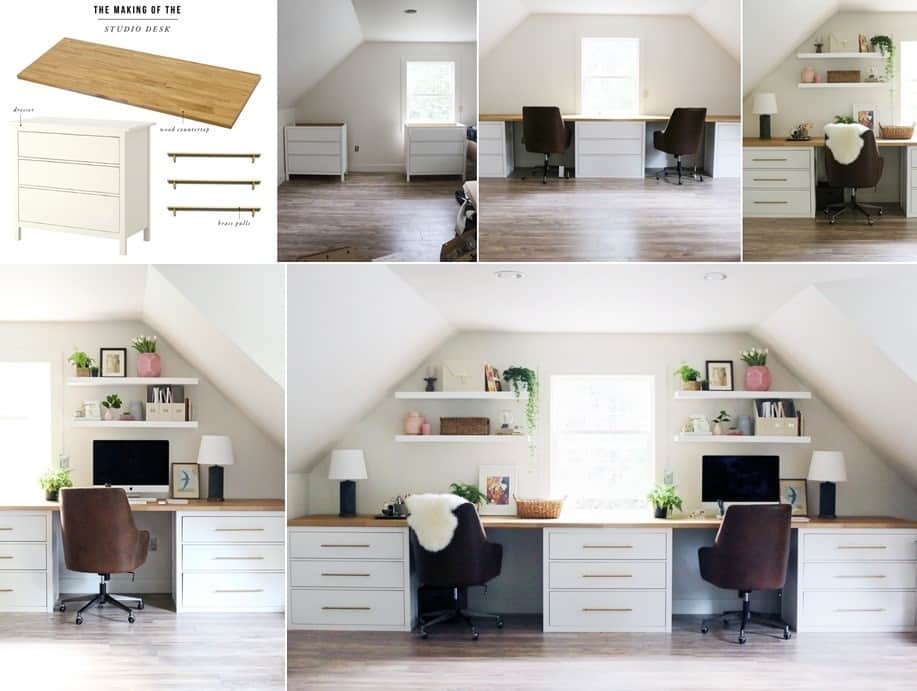 Do you want to design a shared home office? So, here is a brilliant idea. It is easy and quick to assemble. For this project, you will need
2 or 3 IKEA dressers
Cabinet pulls
A wood countertop ( Measure and buy accordingly)
Measure the length of the office table you want. Put the drawer chests at the two ends of the table. Put another drawer dresser in the middle. You can skip the third dresser if the desired work desk is not too long. Leave the tops of the chests. Fix the drawer pulls on all the drawers of the drawer chests. Then fix the wood countertop. A functional and stylish work surface will be ready. The number of dressers and the storage requirement go hand in hand. So, if necessary, you can jump up to 4 or 5 drawer units as well. Make sure to leave enough gaps for the office chairs to be tucked in.
3. A Gold Makeover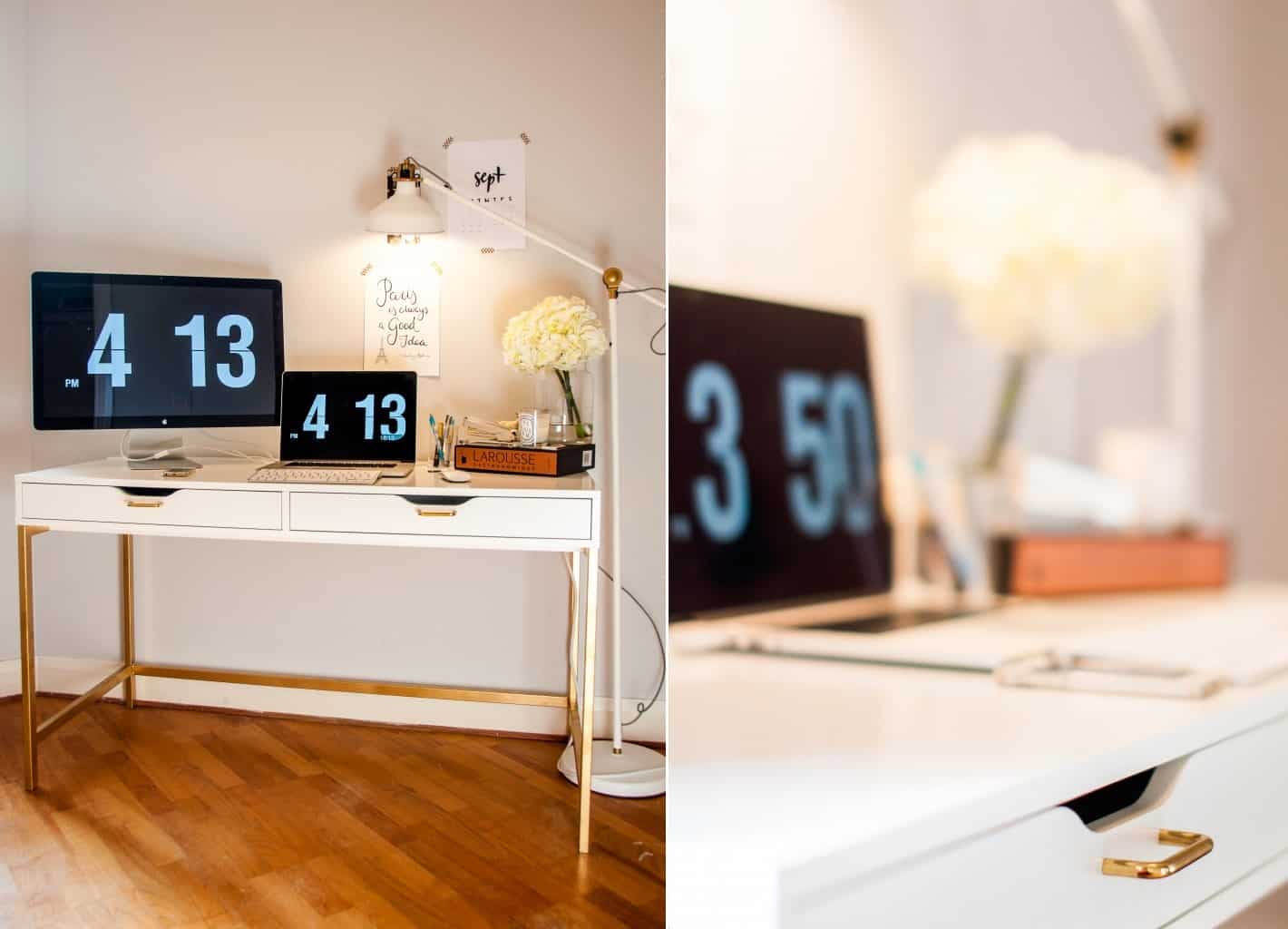 For this table, you will need
An IKEA Table
Gold spray paint
Gold drawer pulls
A little metallic touch can go a long way in decor. Here is an IKEA desk that was plain and boring earlier. At least not for those who love to add tiny details. You can also transform your IKEA desk into an expensive-looking work table. You have to paint the table legs with gold spray paint. Then attach gold cabinet handles to the drawers. Small tweaks can make a big difference, just like this project.
4. IKEA Kitchen Cabinets and Worktop Desk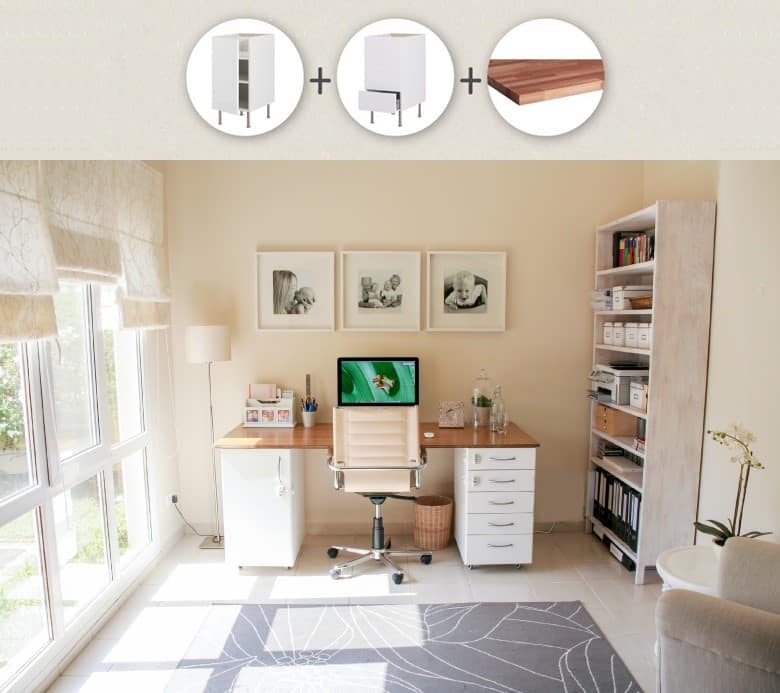 Make this table with
An IKEA base cabinet with shelves
An IKEA base cabinet with drawers
An IKEA kitchen worktop
The process is easy. Decide the width of the table you want. Cut the countertop to that size. Then cover base cabinets with the wood worktop. Easy, isn't it?
5. IKEA Hyllis Shelves and Wood Table
Materials required
2 IKEA Hyllis shelving units
A wood board
To make this table, you have to assemble two Hyllis shelving units. Then cut a wood board that can top the Hyllis shelves. This desk will cost you around 60 bucks. The shelves are 15 bucks each. And 30 dollars for the rest of the materials. Once you have attached the wood top to the shelves, you have to put baskets inside the racks.
6. A Modern Hairpin Leg Table Hack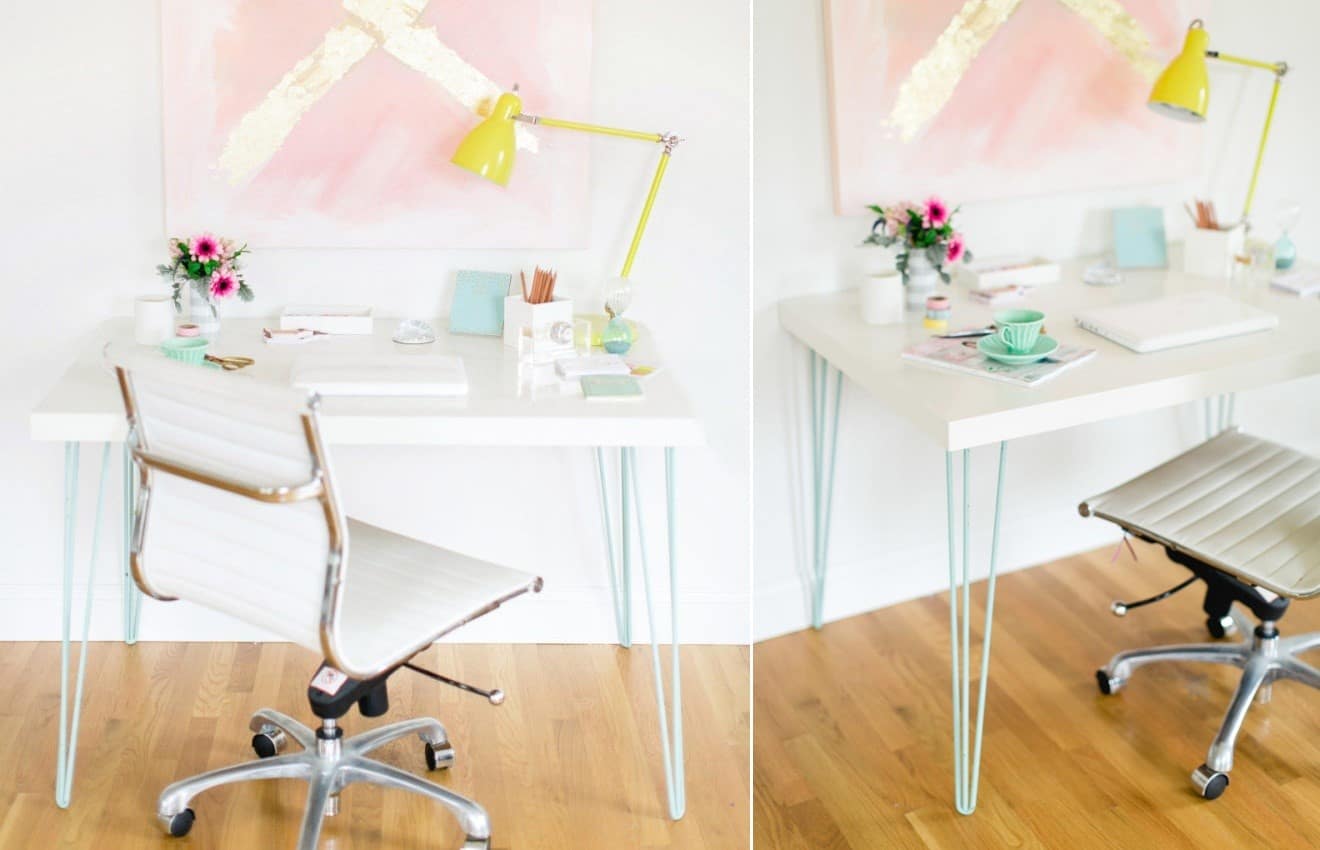 You will need
An IKEA coffee tabletop
4 hairpin legs
Mint spray paint
Screws
First, you have to spray the hairpin legs with mint-colored spray paint. Then flip the IKEA coffee tabletop. Attach the hairpin legs to it with screws. This project is so easy that you can make it over a weekend. It won't take you more than half an hour. You can experiment with other colors of paint as well.
7. A Standing Desk IKEA Hack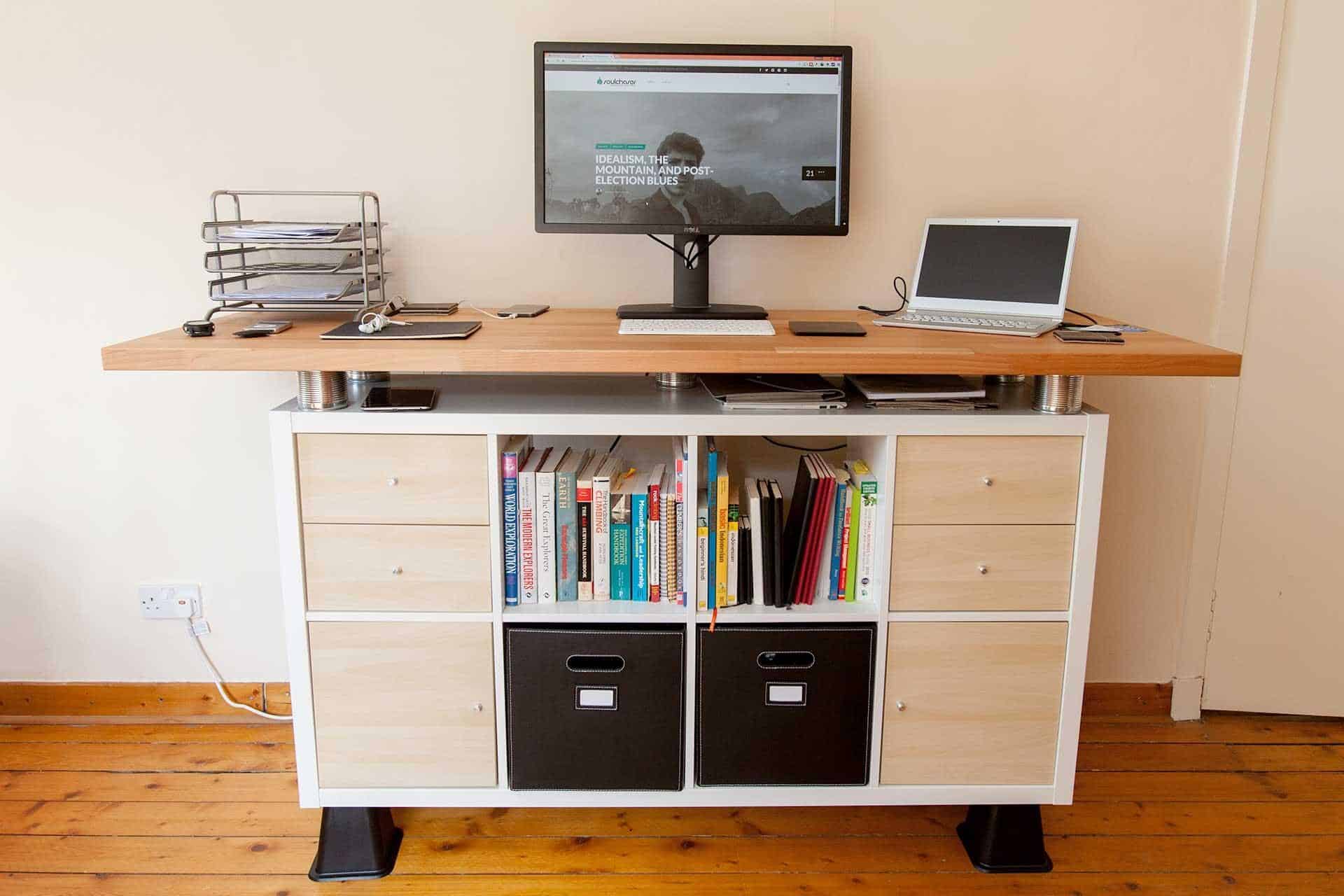 For this awesome project, you will need
A Karlby worktop
A Kallax shelving unit
4 Drawers (optional)
2 Cabinet doors (optional)
4 Bed risers
5 Recycled tin cans of identical size
Are you one of those who favor standing instead of sitting for work? If yes then here is an IKEA hack for building a standing desk. For this, you will need an 8 cubby Kallax shelving unit. Raise it off the floor by using cheap amazon bed risers. Then put 5 tin cans on the top of the shelf and add a tabletop. Optionally, you can also put drawers and cabinet doors in the cubby shelves. Also, tuck in fabric bins to conceal the storage a bit.
8. A Repurposed IKEA Ingo Table Hack
You will need
An old IKEA ingo table
1 x 2s and 2 x 2s
To make it, you have to create a lattice with 1x2s. Make the horizontal piece touching the floor with 2×2. Assemble the frame at the sides of the IKEA table. Paint the table white or any other color.
9. A Kids' Study Desk with a Pegboard
You will need
An IKEA Pegboard
2 IKEA Trestle Legs
An IKEA Tabletop
IKEA Spice Racks
Do you need a space where your kids can sit and do their homework? If yes then build them a table from IKEA products. First, paint the trestle legs and spice racks with mint spray paint. You can opt for any other color as well. Once this is done, attach the spice rack bookshelves to the pegboard. Also, attach the trestle legs to the tabletop. Mount the pegboard on the wall. Put the table in front of it and voila!
This type of worktable is ideal for a craft room as well. The pegboard allows you to customize the storage whenever you need it.
10. Adhesive Vinyl Sheets IKEA Desk Hack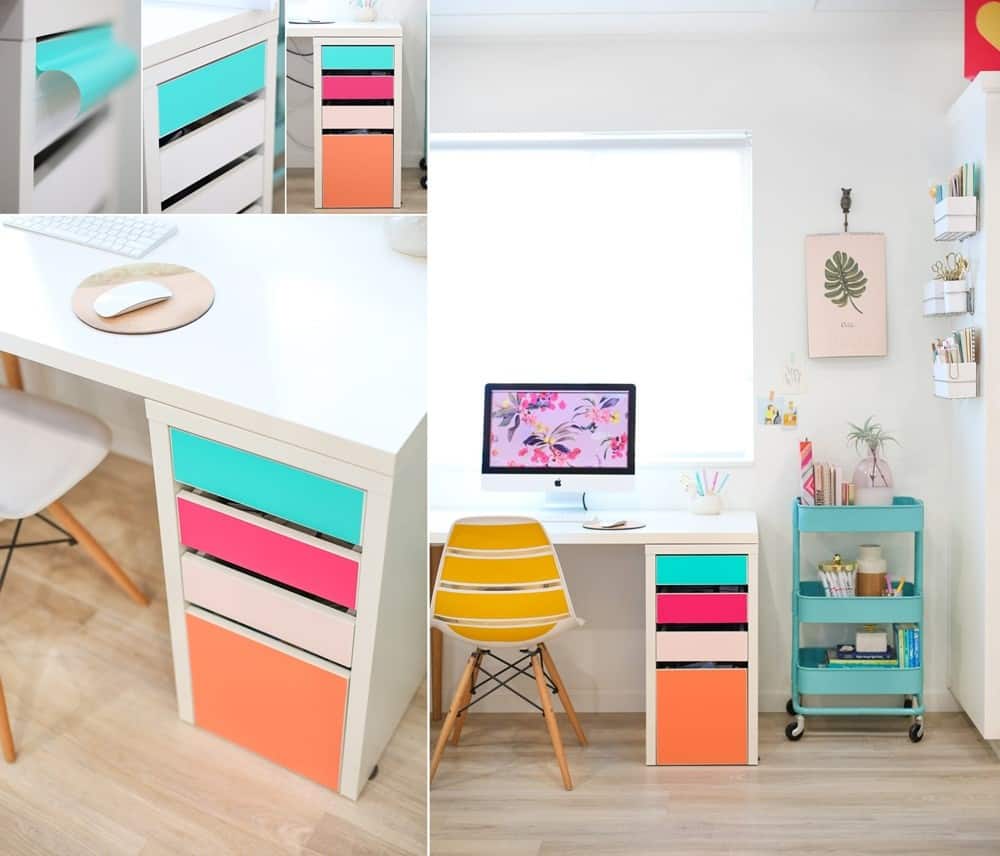 You will require
Adhesive Vinyl Sheets
An IKEA desk
A pair of scissors
Measuring tape
A ruler
If you have an IKEA desk that is screaming for a makeover, then here is an idea. Instead of getting your hands messy with paint, use vinyl sheets. They are easy to apply. The only effort you have to do is to measure and cut them. Avoid any air bubbles or creases while covering the table drawers with vinyl films. This idea will look as good as paint. Moreover, you won't have to buy three or four pints of paint. As most of them will go to waste.
11. A Desk Organizer Hack
You will need
IKEA Bygel containers
Net curtain wire
Hooks and eyes
Cable clips
Measure the width of the table and cut the curtain wire. Then, fix it to the table with hooks and eyes. Divide the curtain wire into three equal segments with curtain clips. Hang the Bygel bins on the curtain wire. This hack will make sure your kids' or office desk stays spick and span.
12. A Mid-Century Laptop Desk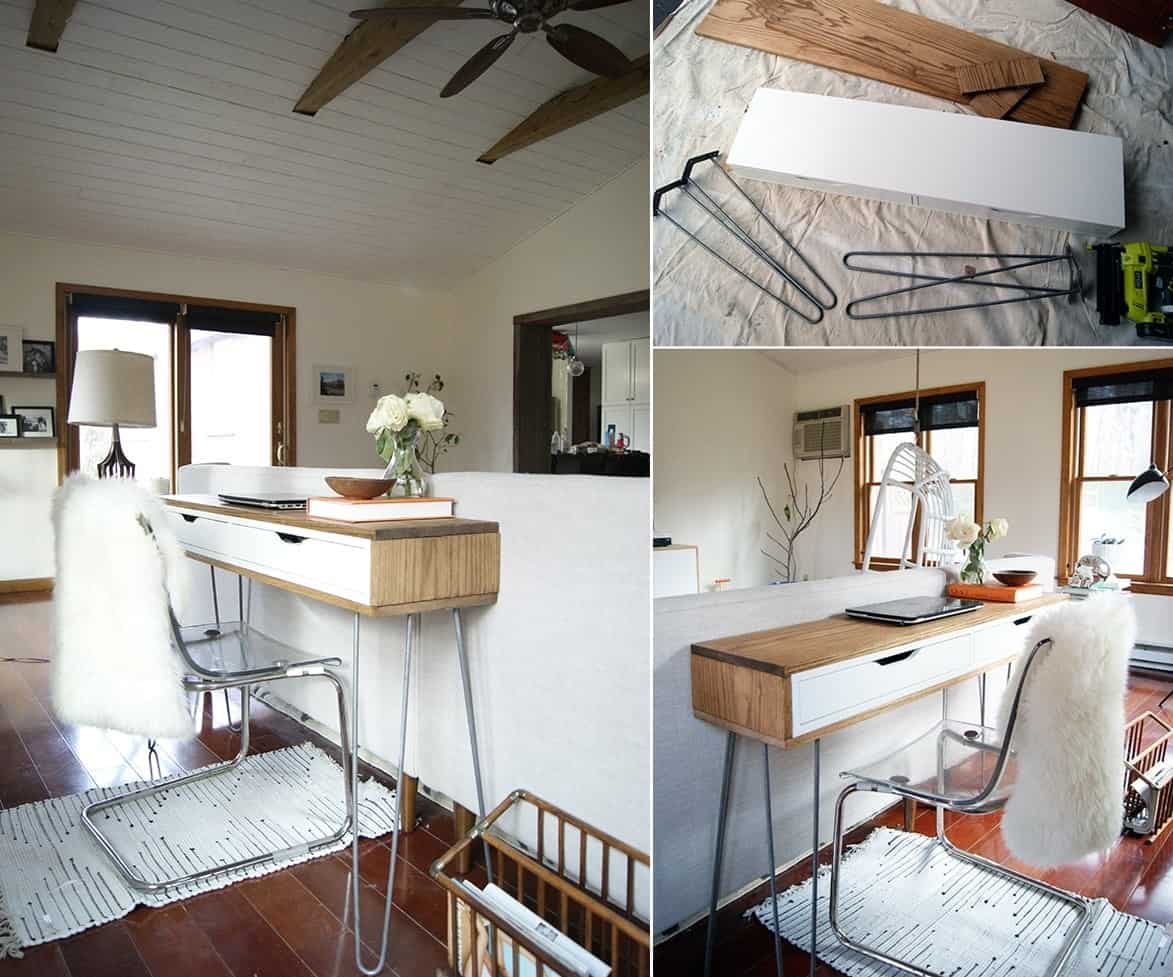 You will require
An IKEA Alex shelf
Wood boards
Stain
Hairpin Legs
Screws
Wrap the sides of the IKEA Alex shelf with wood boards. Stain them in the shade that you like. Then attach hairpin legs to the tabletop with the help of screws. You can paint the legs too. Such a desk is ideal for putting a laptop. It is slim and occupies very little space.
13. A $50 IKEA Desk Hack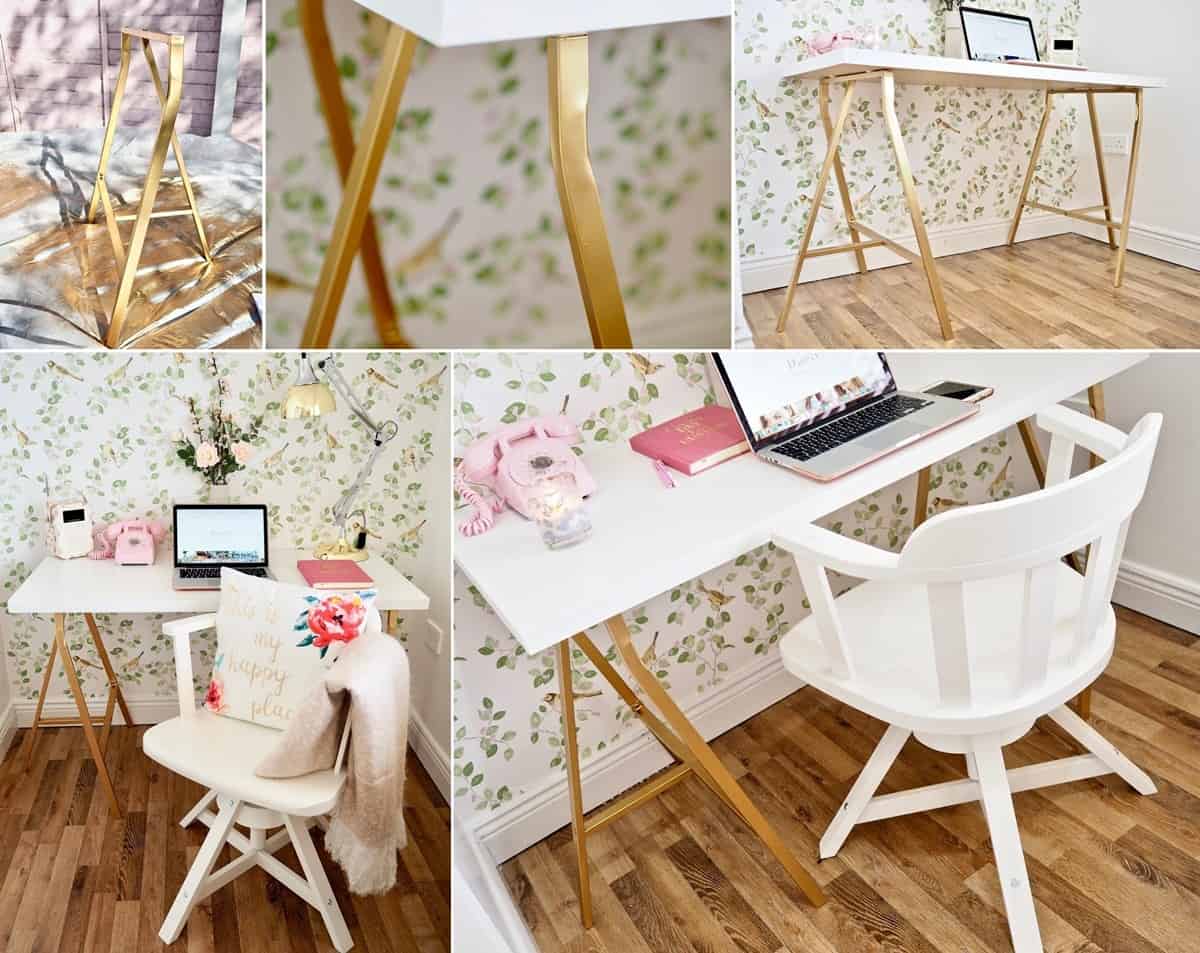 Materials needed
2 IKEA Lerberg trestle legs
An IKEA Linnmon Tabletop
Spray surface primer
Spray paint
To assemble this table, first, you have spray primer on the table legs. Because metal needs a primer layer for the paint to stick. Next comes the spray paint. This table has gold spray paint on it. Once the paint dries, fix the tabletop on the trestle legs.
Watch the video tutorial of this table here
14. A Large Corner Desk
You will need
3 IKEA Linnmon Tabletops
7 IKEA Adil Table Legs
Pine board
Dowel pins
To make this first you have to place the tabletops in an L shape. Then make a pine board frame for the L shaped tabletop. Fasten them with dowel pins, corner braces, and screws. Then attach 7 IKEA table legs to the table.
15. An IKEA Home Office System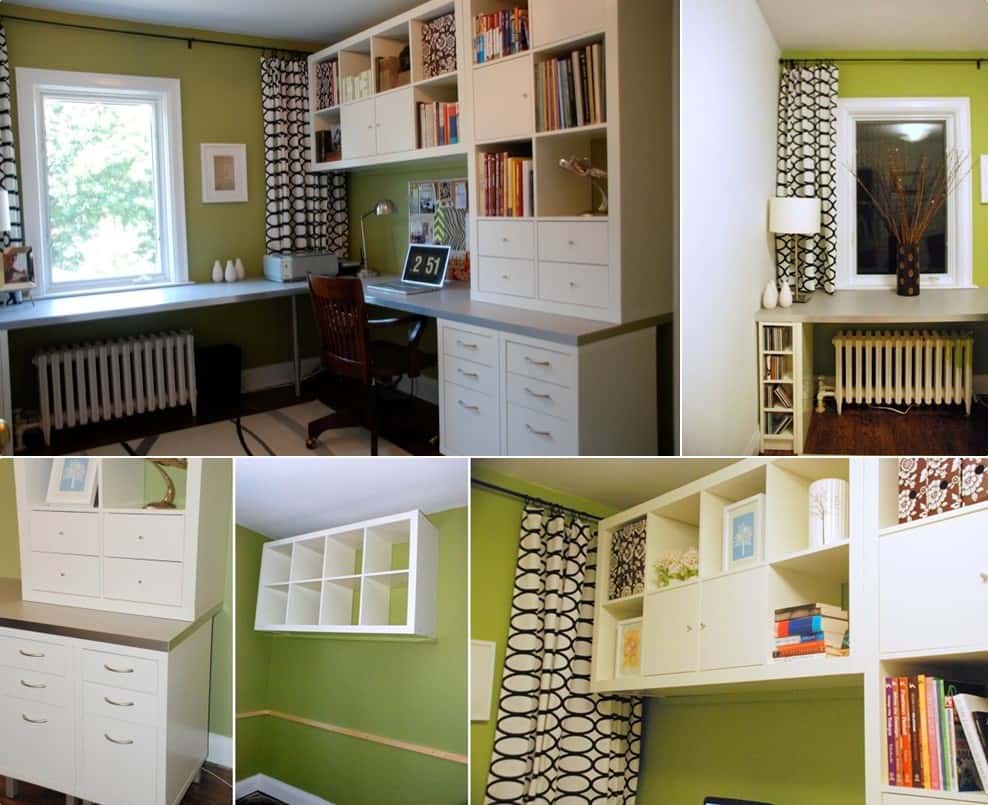 To create this desk system, you will need
2 IKEA Kallax Shelves
4 Kallax drawer inserts
4 Kallax Door inserts
2 Mikael drawer units
A Benno CD unit
IKEA Table legs
2 IKEA Numerar aluminum countertops
Measure the height of the drawer units, including the tabletop. Then right above where the tabletop will come, install a Kallax unit vertically. Install another Kallax perpendicular to the vertical one. The Kallax shelves should make an L shape. Then put the drawer chests at one corner, and a CD tower at the other. Support the aluminum tops using the table legs, the drawer chests, and the CD tower. This office is the ultimate solution. It can cater to all your office storage and work activities.
16. IKEA Stuva Cabinets Table Hack with a Faux Concrete Countertop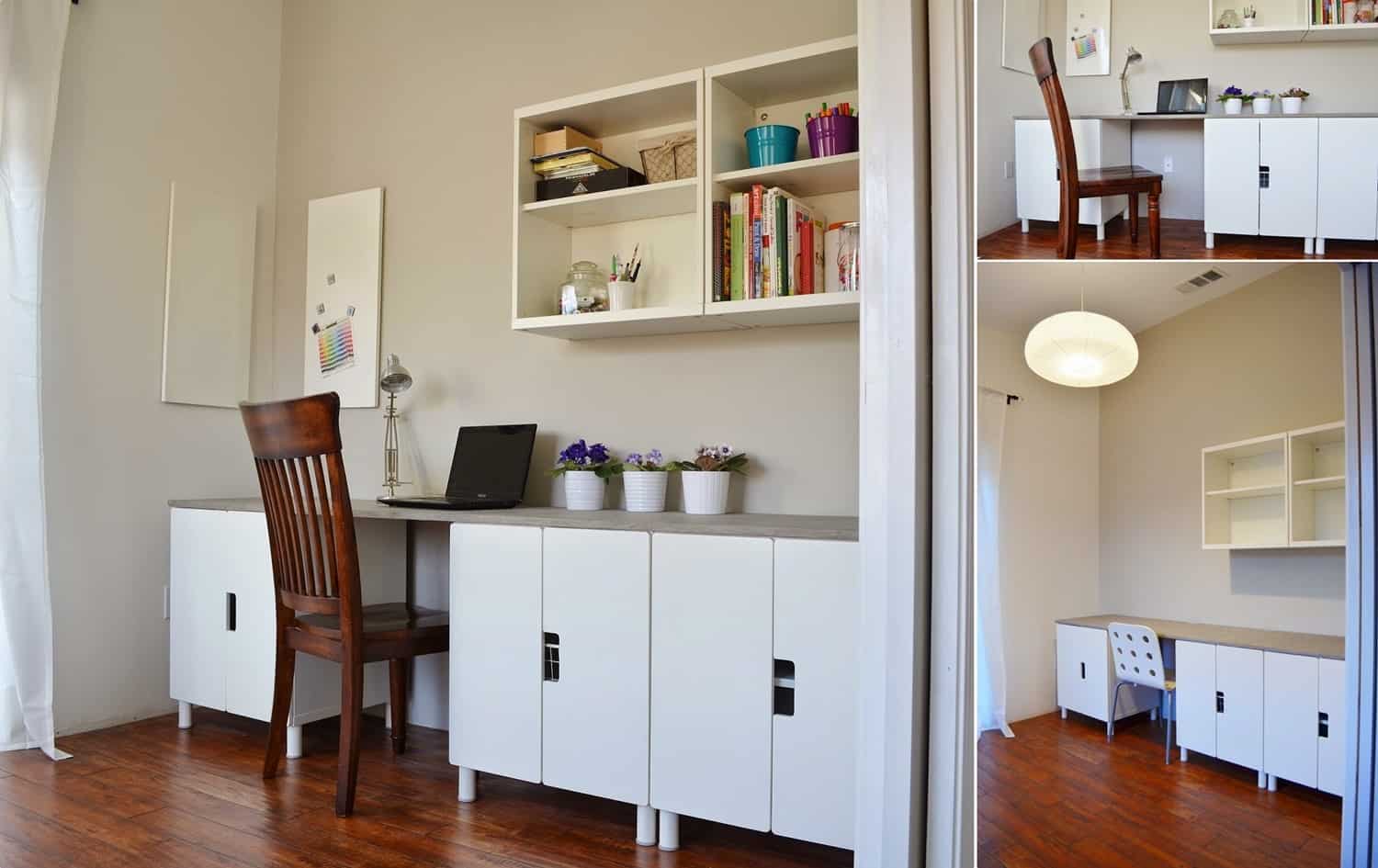 To make this table, you will need
A 4 ft x 8 ft sheet of plywood
A box of henry feather finish
2 IKEA Stuva cabinets
12 table feet
Start by cutting semicircles in the plywood wood for cords to pass later. Then cover the plywood with a paste of henry feather finish and water. Increase the height of the IKEA cabinet units with IKEA riser feet. Once it is dry, sit this tabletop over the Stuva cabinets.
17. An IKEA Desk Setup Under $125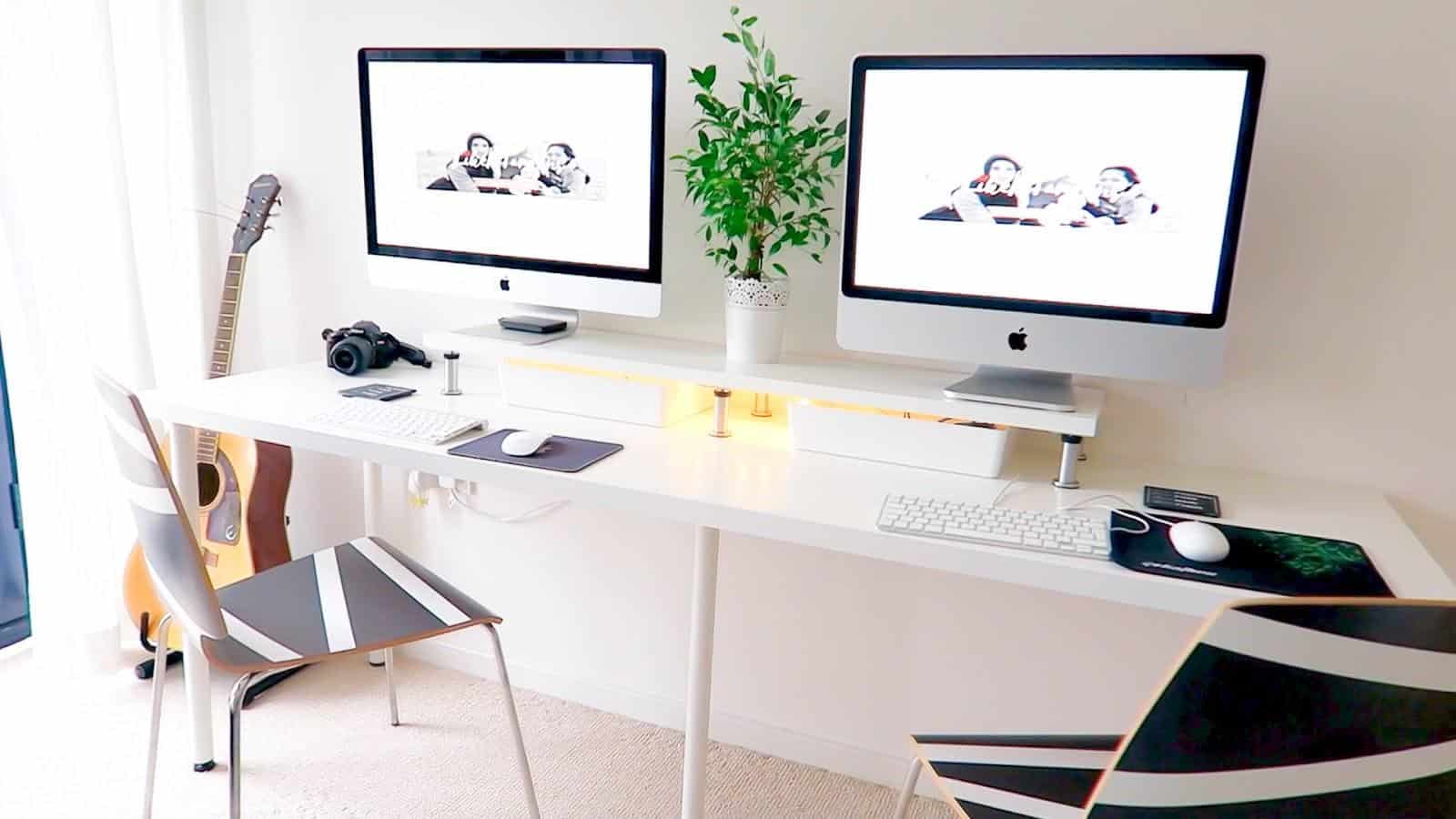 You will need
1 IKEA Linnmon Tabletop
5 IKEA Adil Table Legs
1 Ekby Jarpern Wall Shelf
6 Capita Shelf Legs
1 LEDBerg light
To make it first you have to make the lower tier of the table. Fix 5 Adil table legs to a Linnmon tabletop. Then Put a monitor shelf on top of it. For that, you have to attach 6 Capita legs to an Ekby Jarpen wall shelf. Fix a LEDBerg light under the monitor shelf.
18. A Trofast Kids Table Hack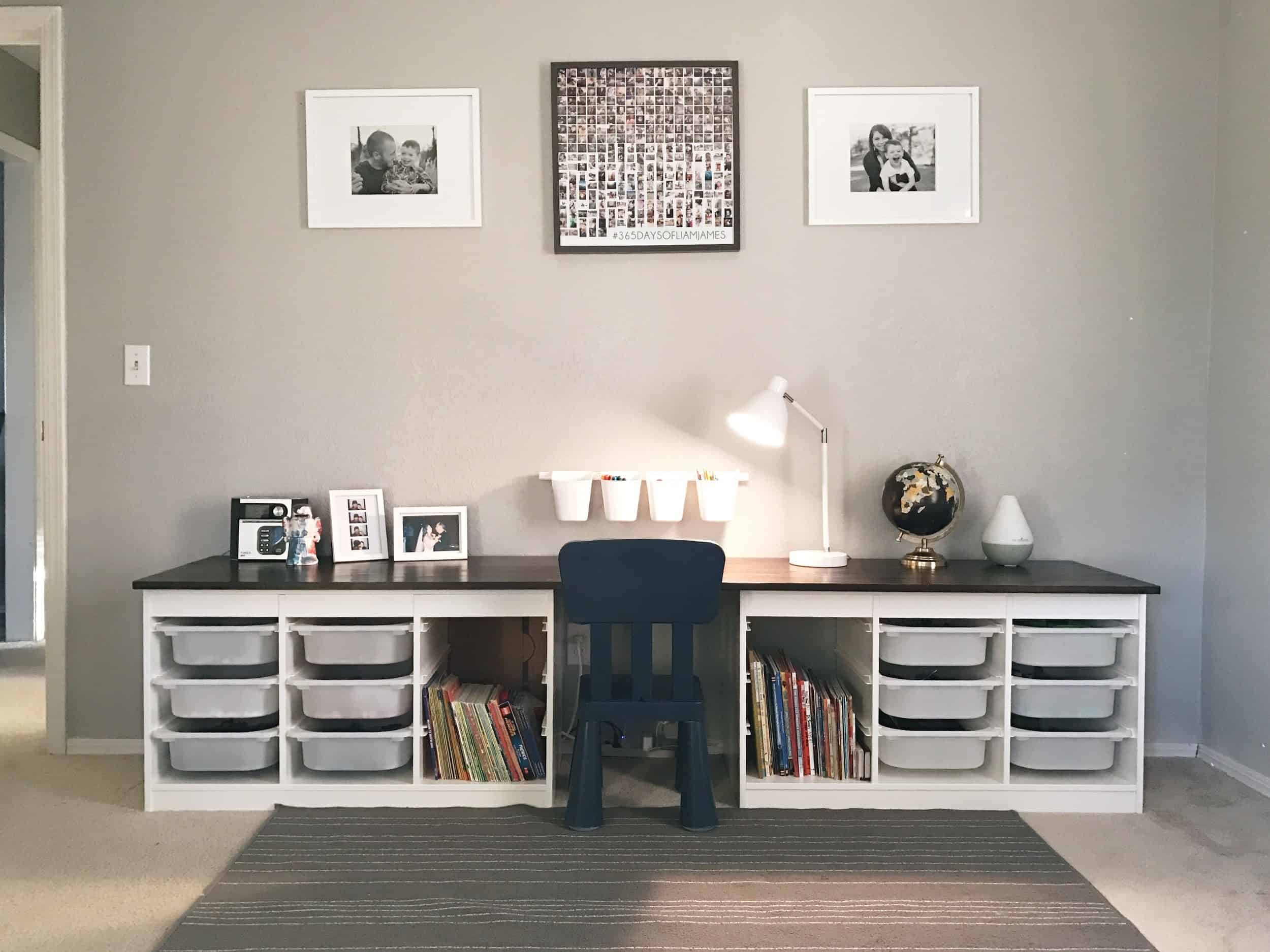 To make this table, you will require
2 IKEA Trofast units
1 IKEA Wood Countertop
Putting together this table is very easy. You have to fix a wood countertop over two IKEA Trofast toy storage units.
19. A Two-Tier Desk Hack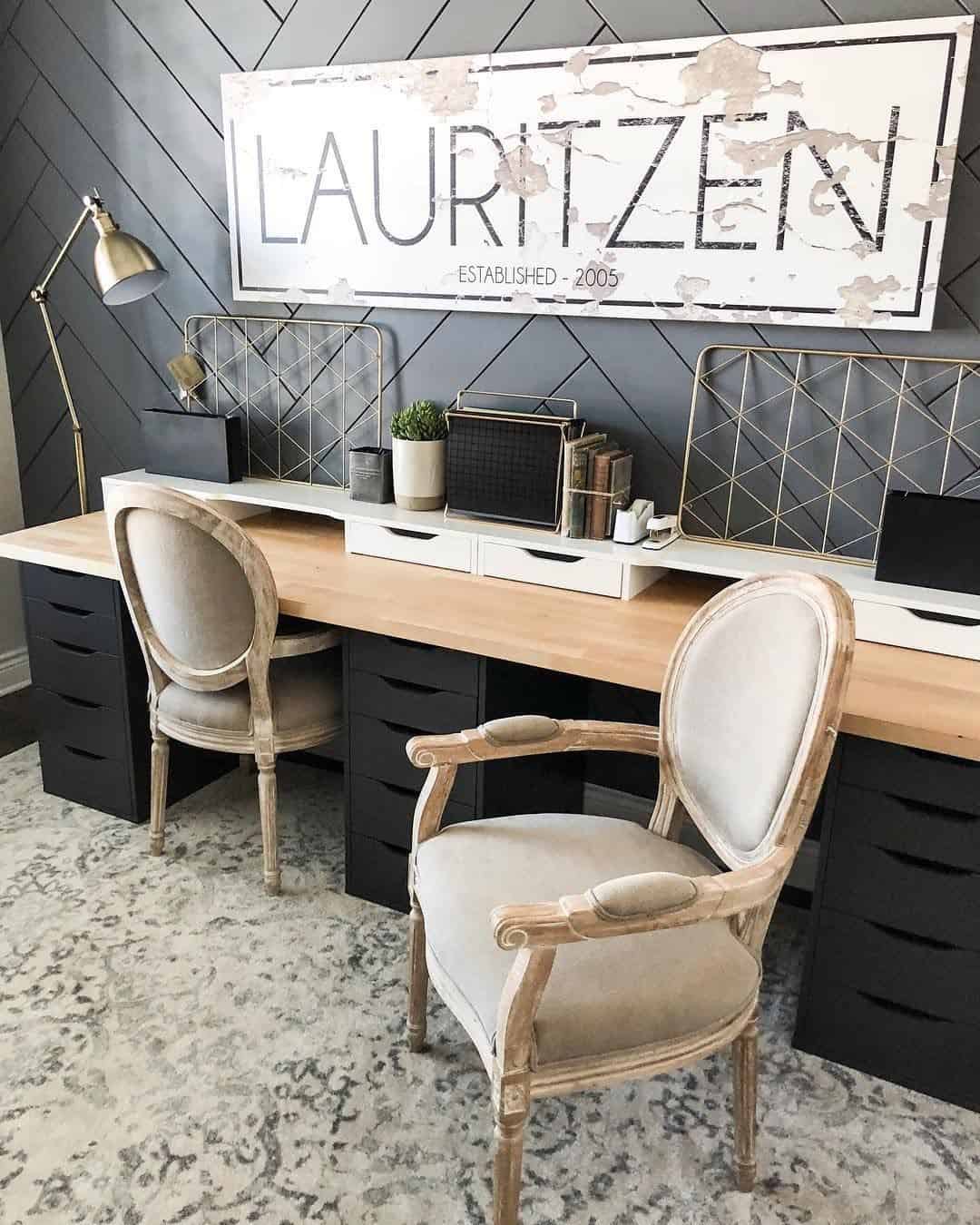 For this, you will need
4 IKEA Drawers
An IKEA Shelf
An IKEA Wooden Countertop
3 Drawer Units
Install the wood countertop over the three drawer units. Then place two drawers on top of the countertop at two corners. Place two in the middle. And then top them with a shelf. The combo of white, wood, and black looks chic.
20. IKEA Nordli Chests and Plywood Kids Table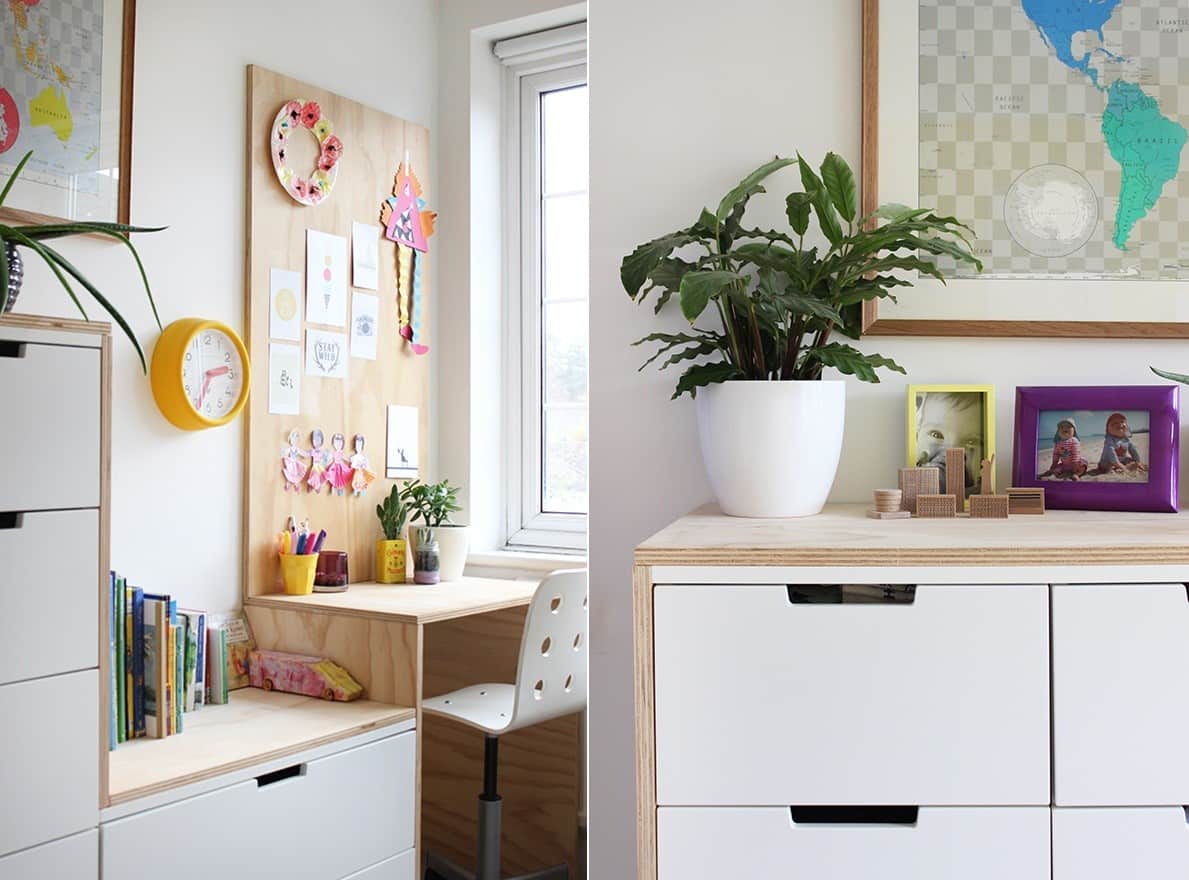 You will need
Plywood
A 2 drawer Nordli chest
A 4 drawer Nordli chest
Wrap the drawer chests with plywood using screws. Connect these chests to a plywood table. You can also extend the table into a memo board like this one.
21. IKEA Vittsjo Desk Hack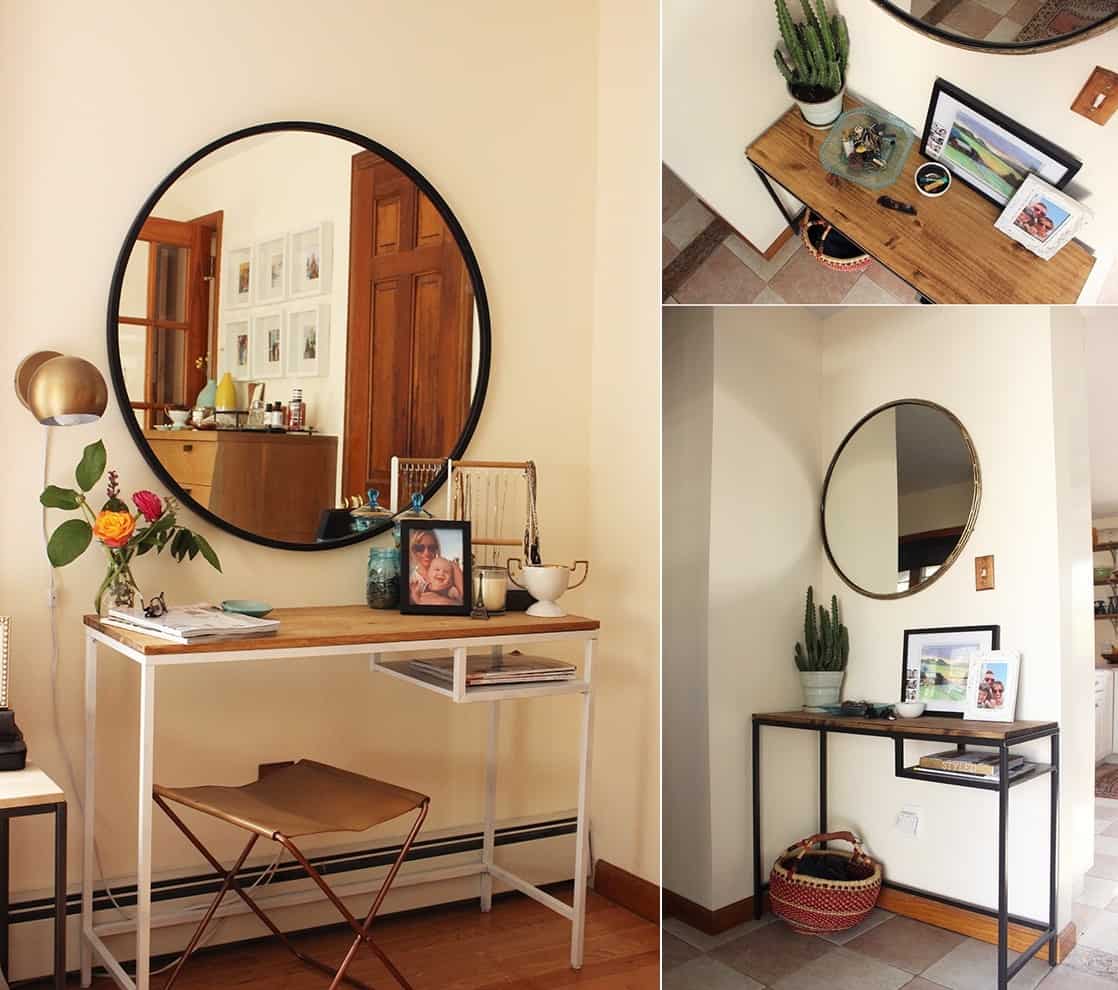 Materials needed
An IKEA Vittsjo desk
A Pinewood board
This one is simple. Measure and cut the pinewood board. Fix it on top of the laptop desk. You can use this table as a work desk or an entryway console.
22. A Corner Desk for a Small Home Office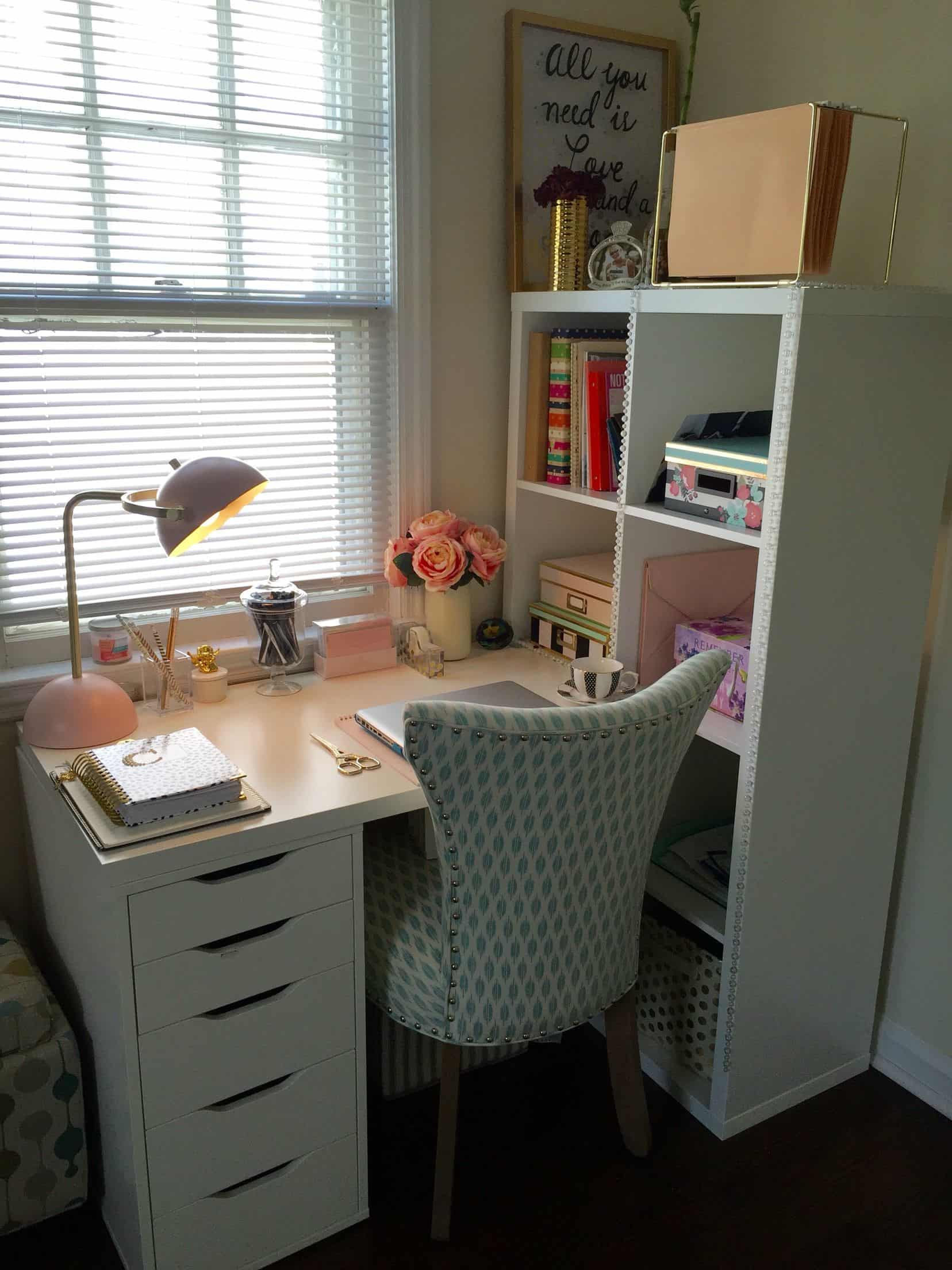 To make this desk, you will need
An IKEA bookcase
An IKEA Table
The major challenge faced while designing a home office in a small room is enough storage. If you put an IKEA bookcase vertically and join it with a table, your problem will be solved. You will have a worktop to do your work. And the bookshelf will keep your things organized. You can connect these two furniture pieces with clamps or screws.
23. A Recycled IKEA Crib Computer Desk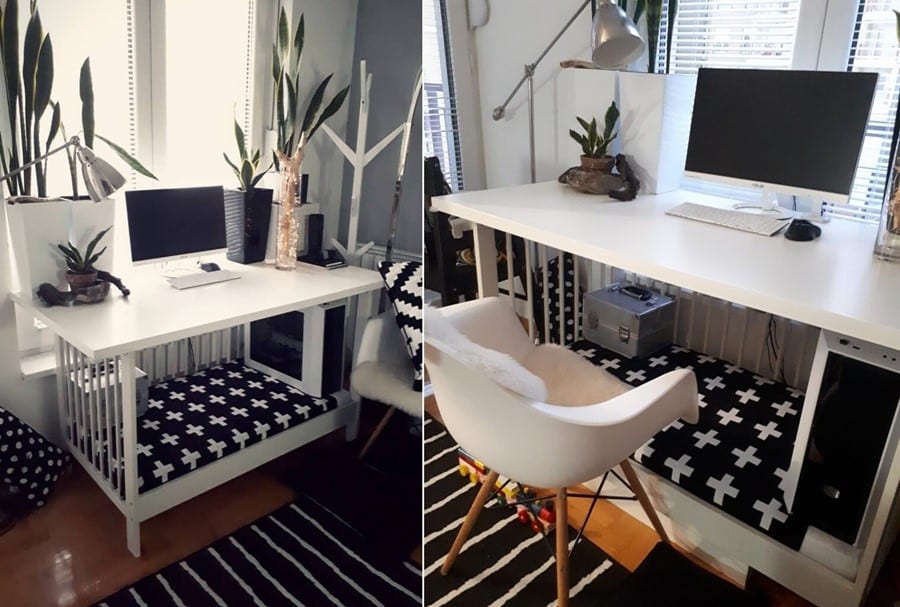 You will need
A repurposed crib
A tabletop
Screws
When a baby grows too big for his or her crib, we usually end up with a furniture piece that is of no use. So, recycle the crib into a computer desk. Just get a tabletop that is suitable according to the size of the crib. Remove the front rail. Fix the tabletop over the crib with screws.
24. A Desk System by The Window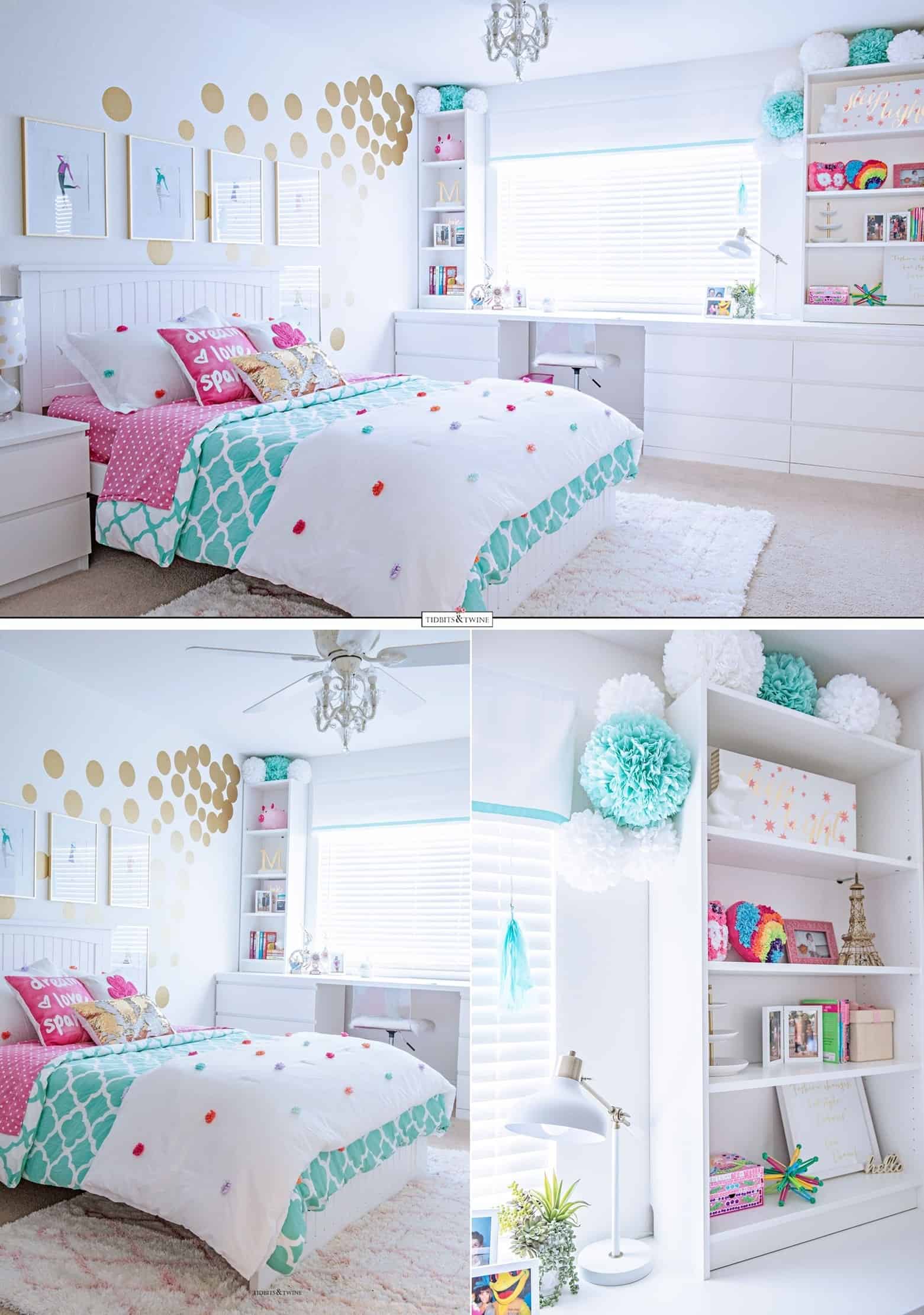 You will need
IKEA Billy Bookcase in two widths
IKEA Linnmon Tabletop
3 IKEA Malm Dressers
By following this hack, you can make a homework station in your kids' room. Put three Mal dressers and put a tabletop on them. Then finish the homework station with the Billy bookcases.
25. A Faux Marble Top IKEA Desk Makeover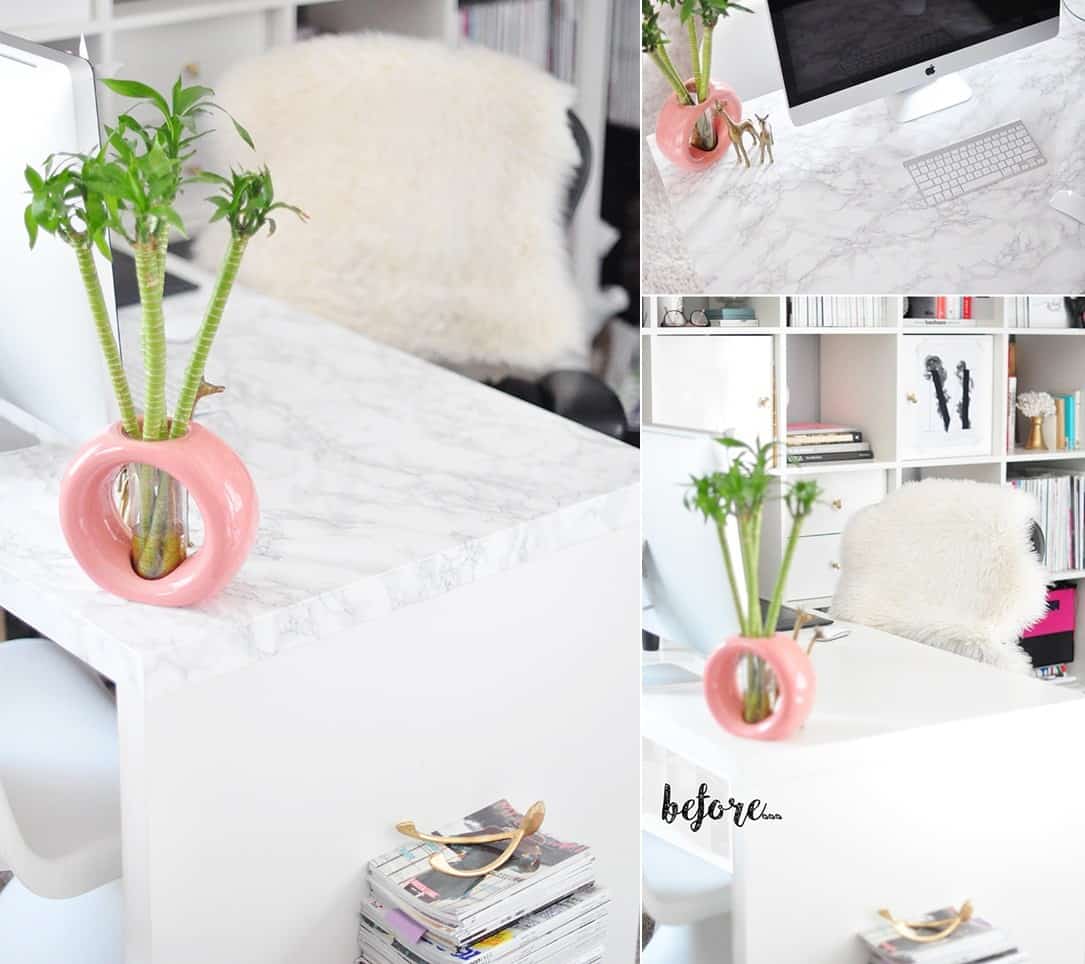 You will require
An old IKEA Table
Faux marble adhesive film
If you have an old IKEA desk whose tabletop is chipped, then you don't need to change the table. You can transform it with a faux marble adhesive film. If the table is in a waterfall counter design like this one, you can cover its sides too.
26. A Minimalist Shelf Table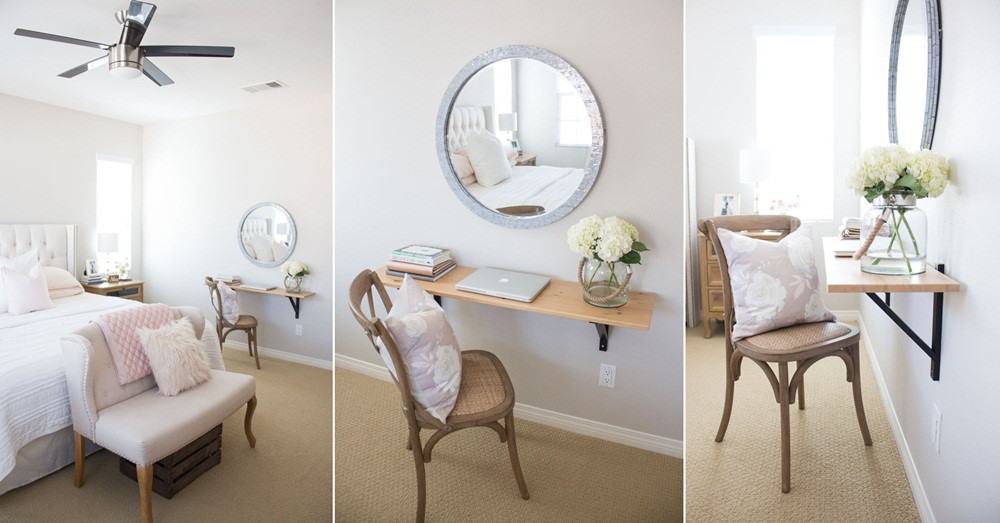 Materials
An IKEA floating shelf
2 metal brackets
This is a narrow table ideal to fit inside a bedroom. All you have to do is to fix an IKEA shelf with brackets on a wall.
27. A Family Office Table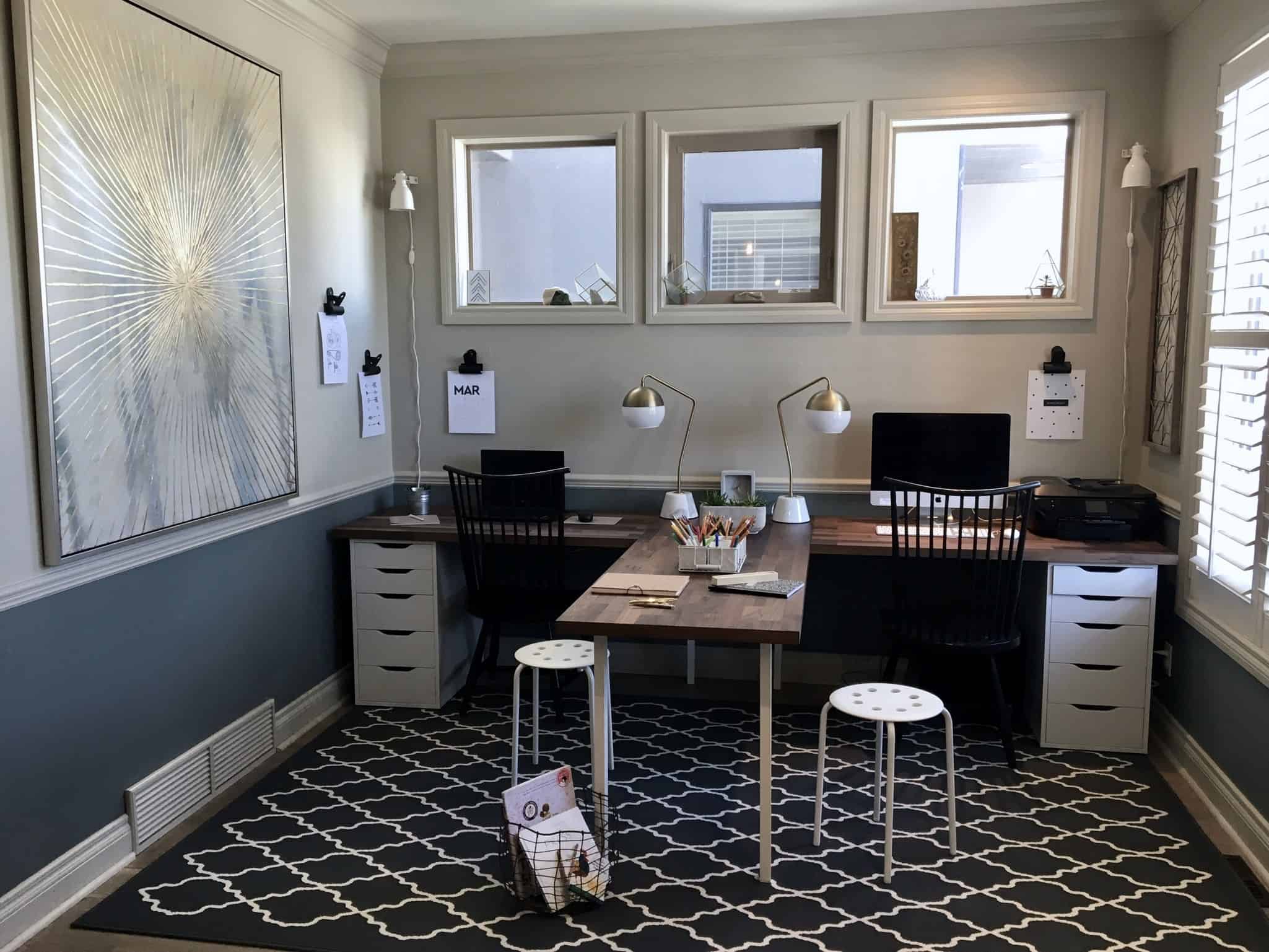 You will need
2 IKEA dressers
3 Equal dimensions tabletops
4 IKEA metal table legs
Fix the table legs to a tabletop. This table will be in the middle. Put drawer chests at two corners and support the other two tabletops on them. Connect the two tables to the middle one with clamps or screws. This desk is in an interactive design. The whole family can do their work or homework peacefully. This is great for parents who want to work and help with their kids' homework side by side.
Let us know in the comments which one was your favorite IKEA desk hack. We would love to hear from you.