Do you go crazy when you see yarn? If you love collectin yarn for knitting and crocheting, then lots of yarn overflowing your craft room is a common sight. With smart yarn storage ideas, you can organize your craft room. Along with organization, your craft room will look aesthetically pleasing too. The yarn will become a decorative accent on its own. So, get organized with these yarn storage ideas.
1. Wooden Storage Cubes for Yarn Storage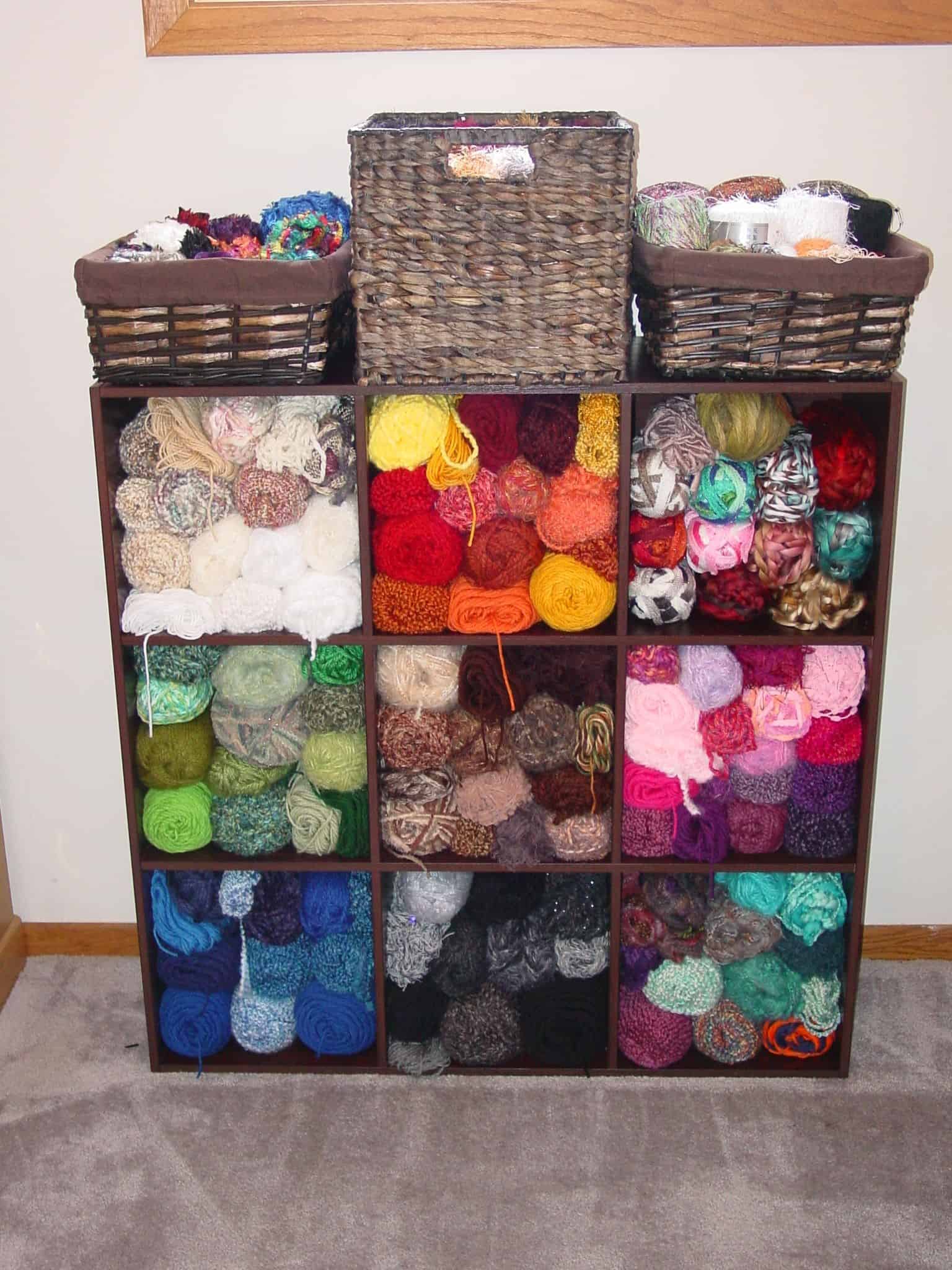 Wooden storage cubes come in all sizes. A limited amount of yarn can fit in a single cubby unit. For a ton of yarn, you can go as big as a 20 cubby shelving unit. It depends upon your yarn amount. For a big collection, you can color-code your yarn. Or organize according to the type of yarn. The organization shouldn't only be about shoving the yarn rolls in a cubby. You should also keep in mind the ease of use as well.
2. Reclaimed Wood Crates
You might have come across wood crates more than many times. You can use them to store your yarn balls. You can also use reclaimed wood crates. Just head over to the nearest thrift shop and find a few. If the yarn collection is significant, you will need lots of wood crates. For that, you can purchase them from any home decor store. Draw a rough draft of the shelving unit. Buy wood crates according to the drawn plan. Apply stain on the wood crates. Use any shade you like. Let the stain dry completely. Then place them in the design you want. Fasten them all with screws. Fill the shelves with yarn rolls.
3. Use IKEA Raskog Cart for Yarn Storage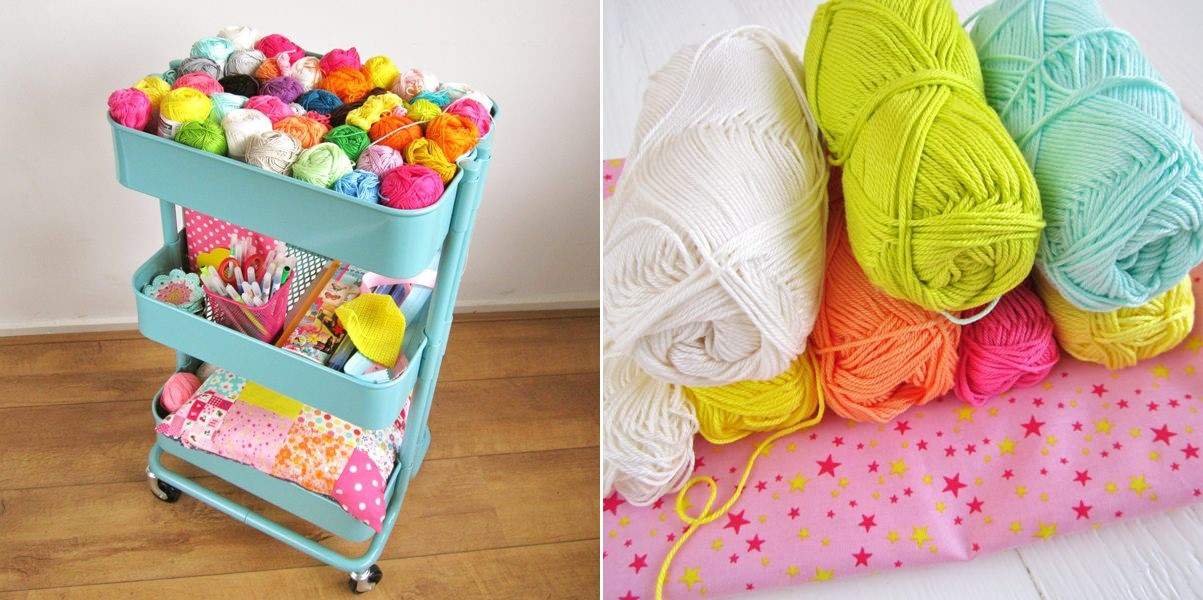 Sometimes we love crocheting or knitting, even on our porch. And when we need to change yarn, we have to get up and grab it. You can keep the wool in an easy reach with an IKEA cart. This cart can instantly convert any nook in your home into a craft corner.
4. Hanging Closet Organizers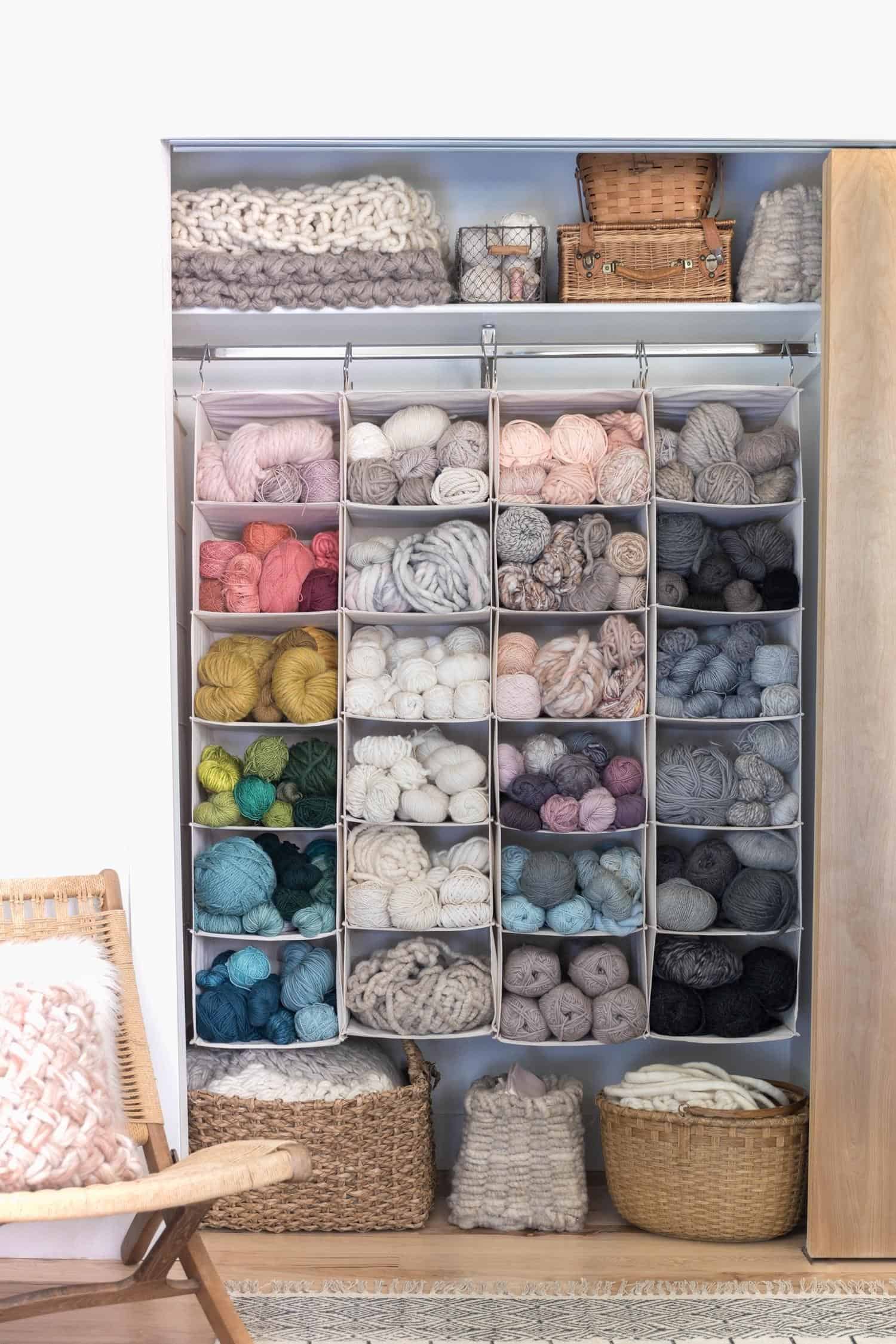 Conveniently sort the yarn. As soon as an idea comes to your mind, you can easily take the desired fiber. You can store your yarn in hanging closet organizers. Get as many hanging organizers as you need. You can fix these shelves in your bedroom closet. If the bedroom closet is small, carve out space in the linen closet. Since these organizers are vertical, you won't be giving up too much closet space. With a hanging organizer like this, you can make better use of the closet space. Claim the whole closet for optimum storage. If there is a niche in your home, hang a tension rod in it. Then use it for hanging the organizers.
5. A Big Yarn Vase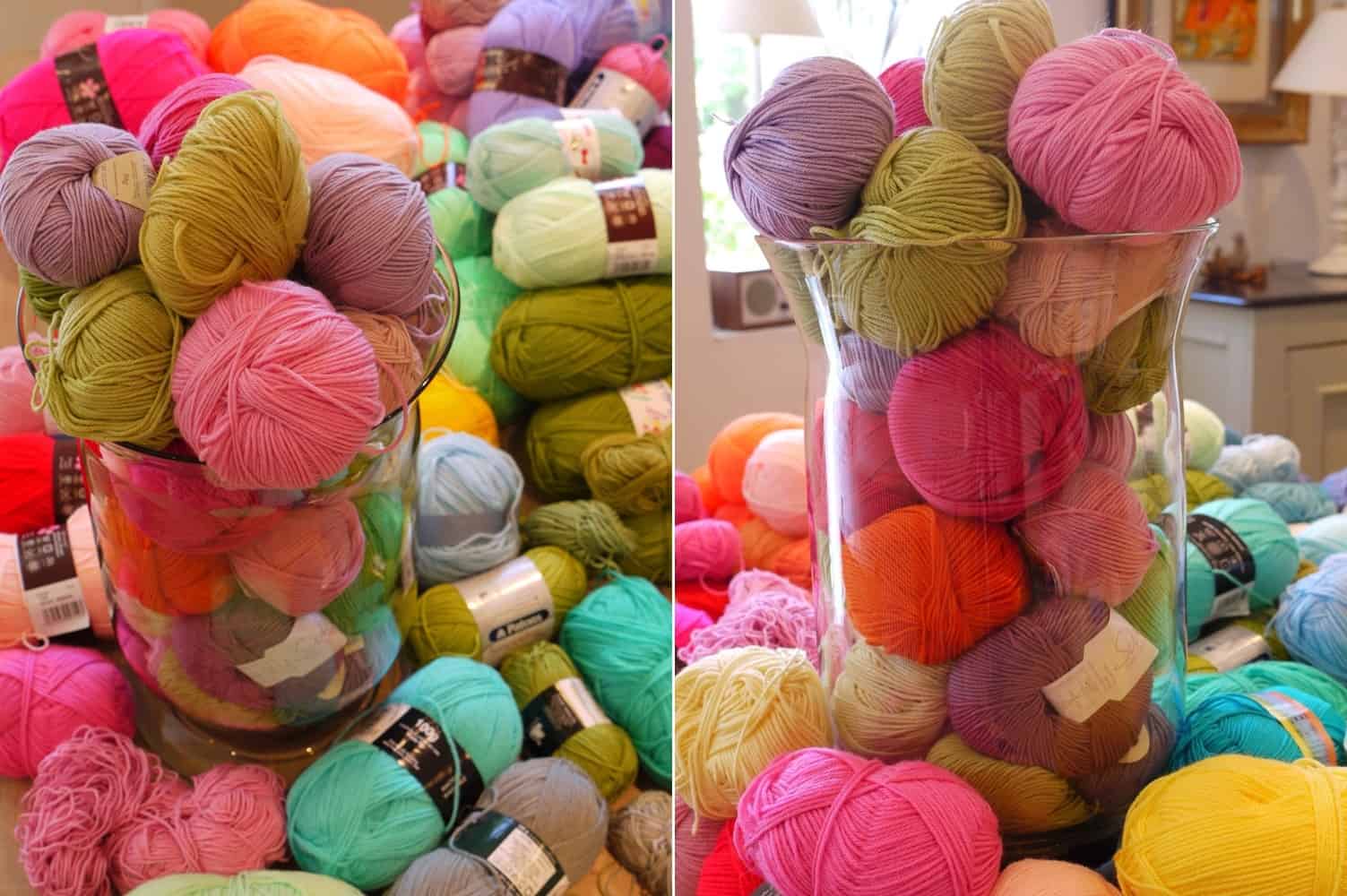 Have you got a large amount of yarn? Then think big, and get a big vase. Fill it with yarn rolls. Try to get a transparent vessel. In this way, you can easily take the yarn you need. The colors will be visible even when the vase is placed somewhere. This can become a cheerful decor accessory. If you have an old flower vase that has lived its life, then recycle it. Glass never gets old. Just a little cleaning and it will be sparkling new. You can use any shape of the vase that you like.
6. Wicker Basket Shelves To Store Yarn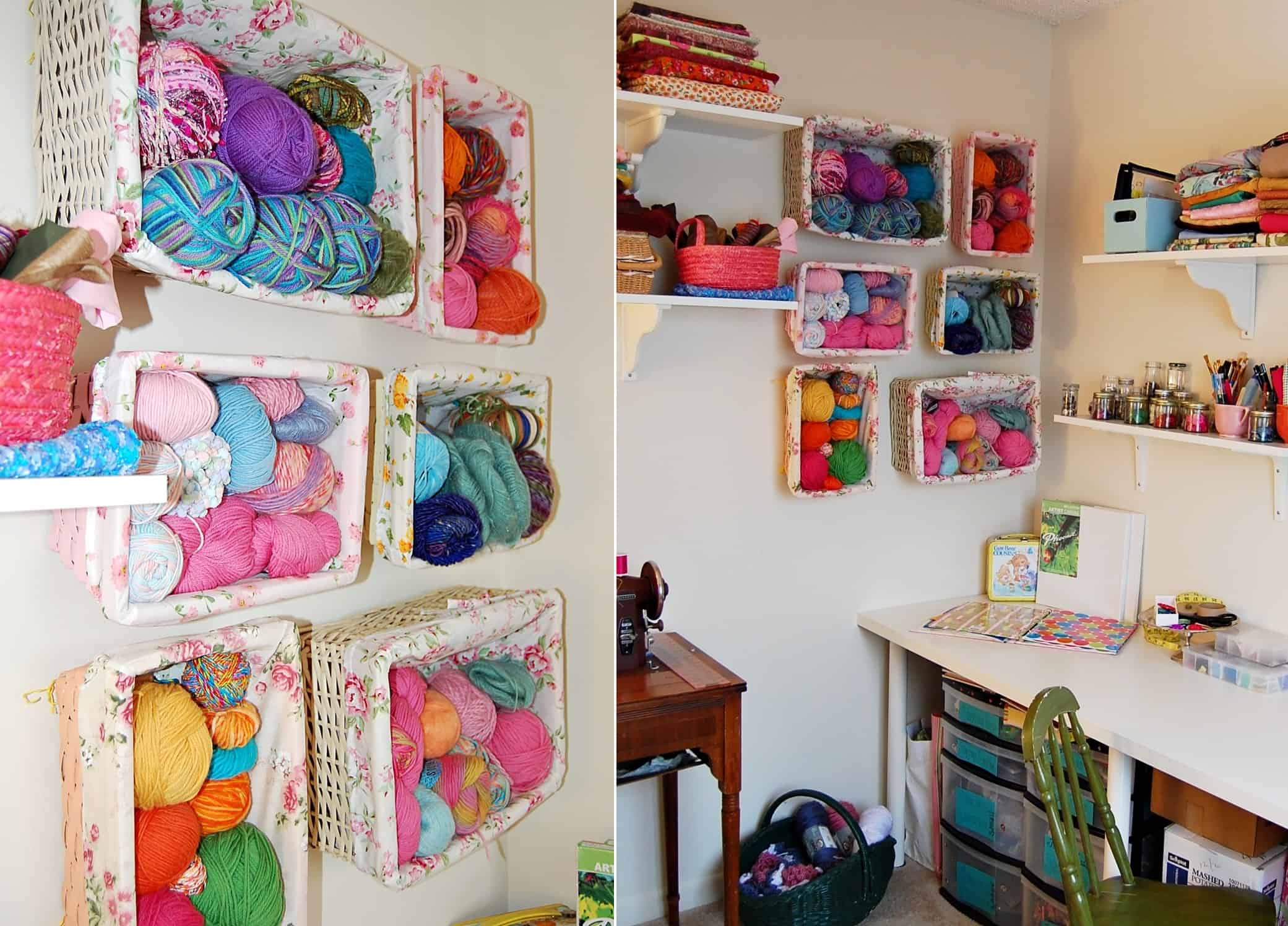 Baskets are a handy storage option. But instead of stashing the yarn, you can use them differently. First, sew fabric liners according to the size of the baskets. Then use screws to install the baskets on the wall. Use the baskets as shelves for storing yarn. This will help you free up space on your craft table. Any blank wall in your craft room can offer storage for these basket shelves. They look super cute as well, right? Mix different sizes of baskets to achieve a stylish look. You can also use hooks to fix these baskets on the wall. So, that if you need to move the basket, you can easily take it off the wall.
7. Tin Can Yarn Organizers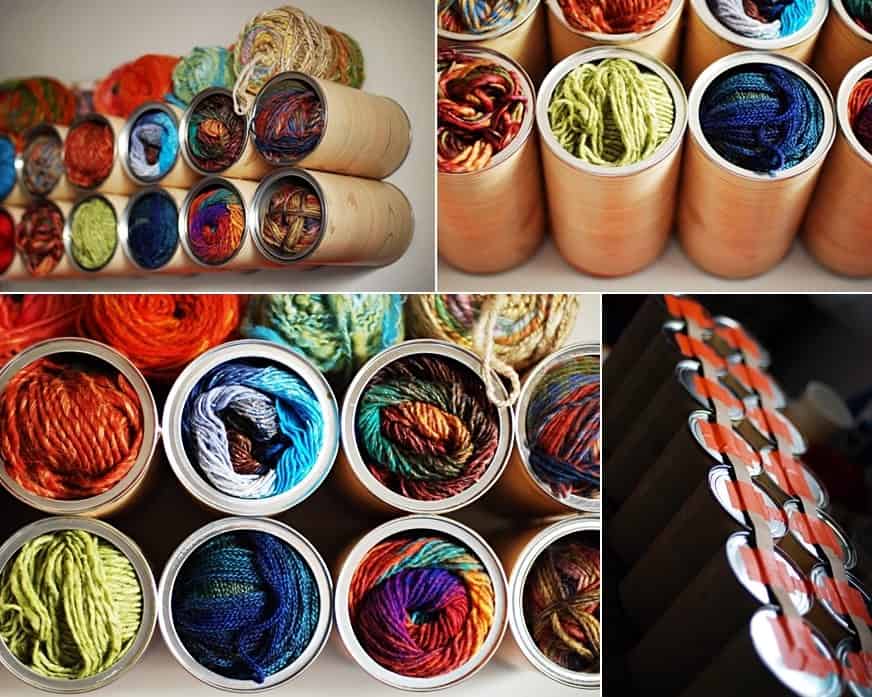 Take as many tin cans as you need. Then cover all of them with contact paper. You can choose any color or print of the contact paper. Then use contact paper cement to join the cans together. For further reinforcement, you can use cardboard strips and duct tape. Fix the tin cans on a wall with screws or any heavy adhesive. Use each tin can as a cubbyhole for a ball of yarn.  We are sure from now onwards you won't want to throw your tin cans away.
8. A DIY Pegboard and Felt Yarn Storage Wall
Take a pegboard in your desired size. Also, take sheets of felt. Join the ends of each felt fabric sheet to make a loop. Fasten the ends with embroidery floss. You can also use hot glue to make this step easier. Then paint the pegboard. Leave the paint if the pegboard is already in the color you want. Mount it on the wall. Fix hooks or screws meant for pegboard on it. Then hang each felt fabric sling on each hook. Put in the rolls of yarn and wool.
9. A Repurposed Bookcase for Yarn Storage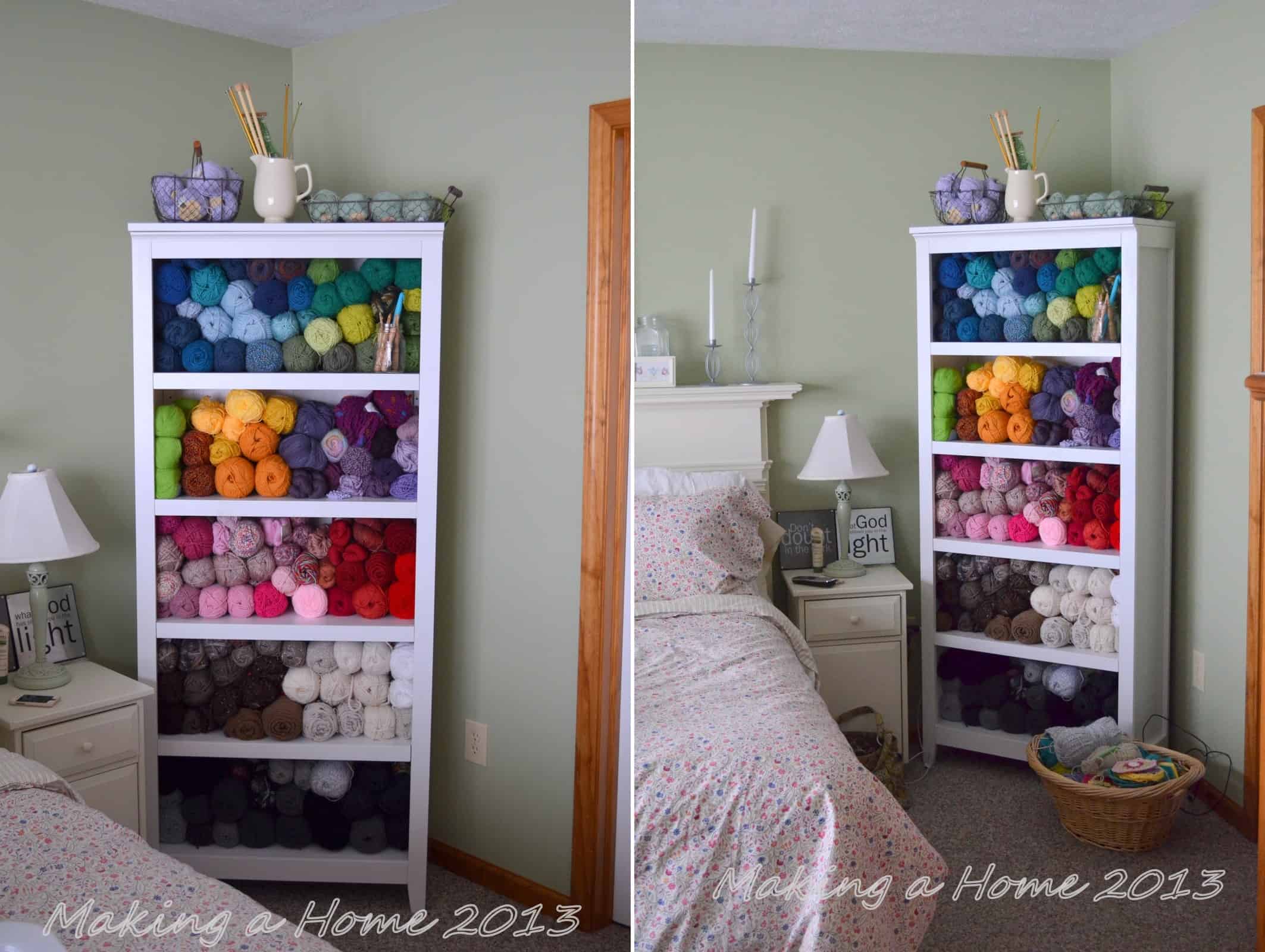 If you have an old bookcase, bring it to use. Sand it, and give a fresh coat of paint or stain. Then, fill its shelves with yarn. Sort the yarn rolls according to the colors. This will create an ease of use.
10. A Built-in Rack Under The Stairs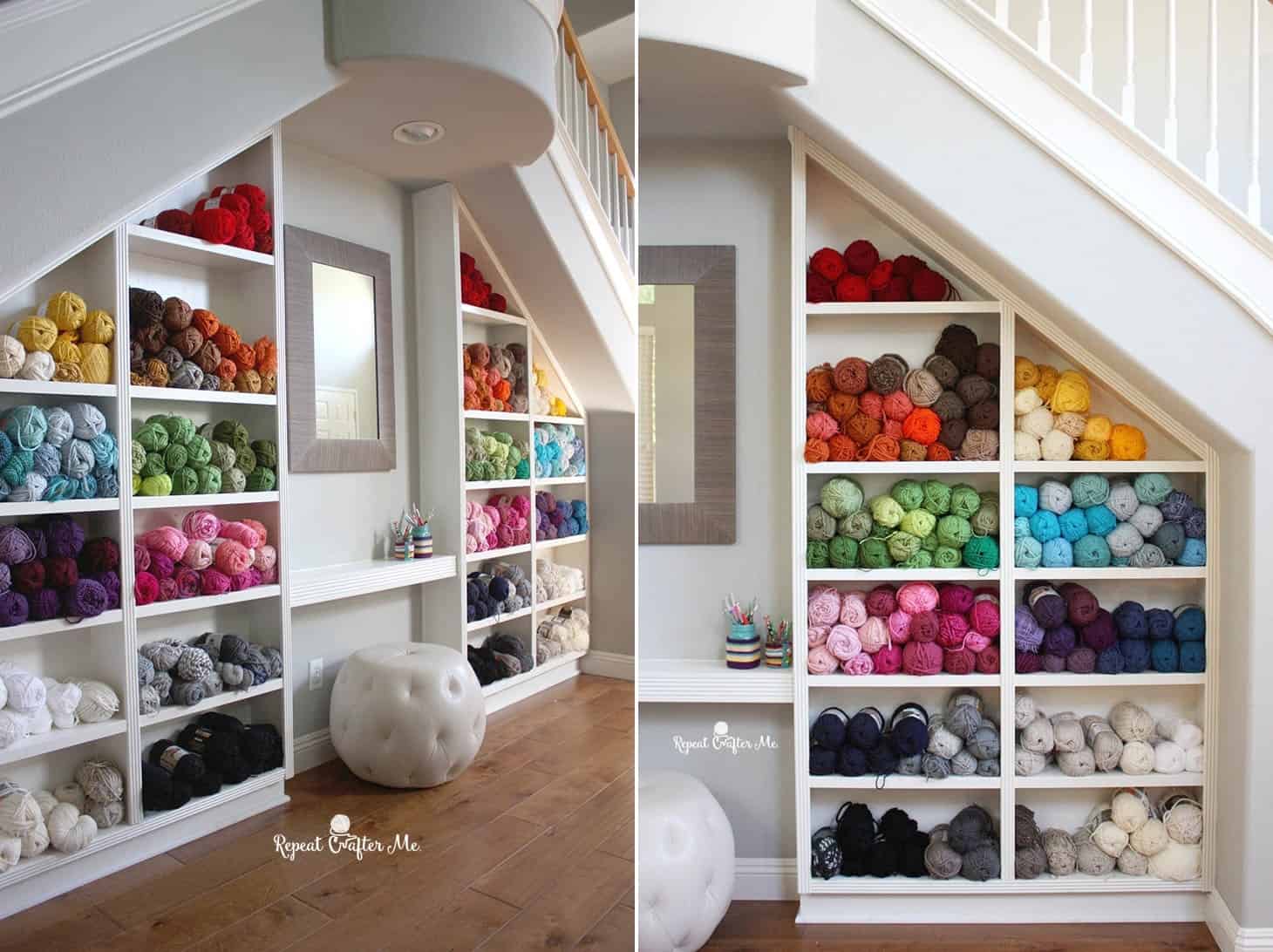 If your home has a staircase with a built-in rack underneath, then claim it. If the space under the stairs is still empty, then make built-in shelving. This idea is great for those who do knitting as a business. You can also install a built-in rack like this in your craft room/ home office.
11. A Pocket Organizer
Organizers with pockets are easily available. Originally made for shoes, these organizers work best for all small items. You can get a clear plastic organizer. Fill each pocket with a yarn ball. This way, you can easily see what's in there. Hang as many organizers as you need. You can hang this storage solution behind your closet door too. This way, you can save space while not giving up on your favorite hobby.
12. Glass Jars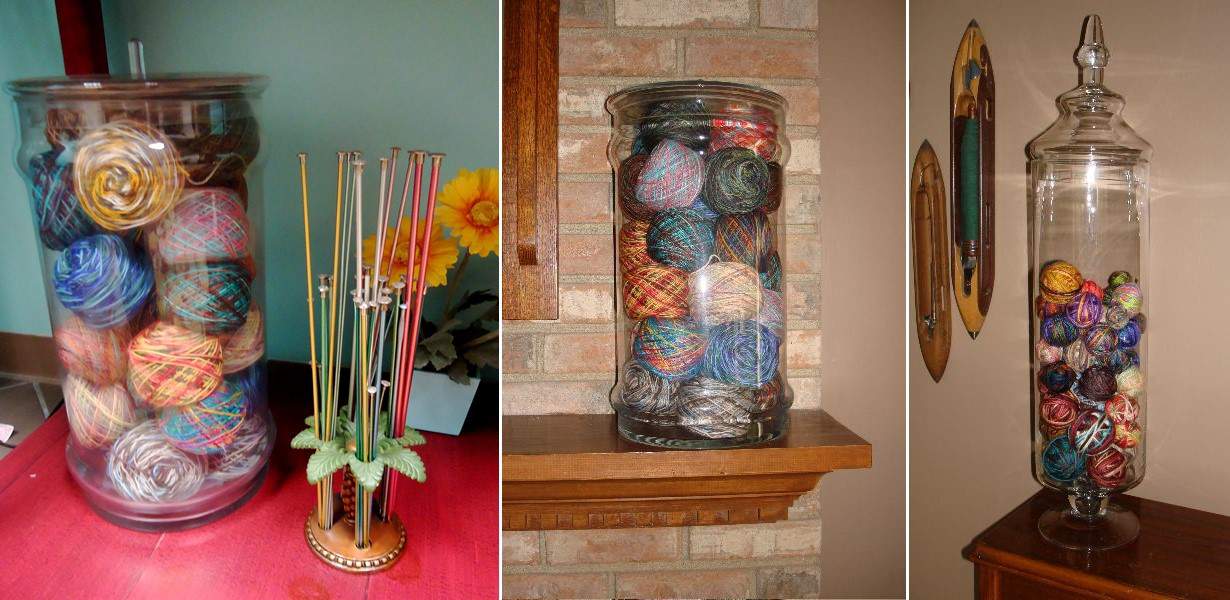 If you crochet, then you must know the yarn for it is less bulky. So, you can easily stash the balls or rolls in glass jars. Choose any size of the jar that you like. Place it on your craft table. Or use it as a decorative accent on your fireplace mantle this winter.
13. A Vintage Suitcase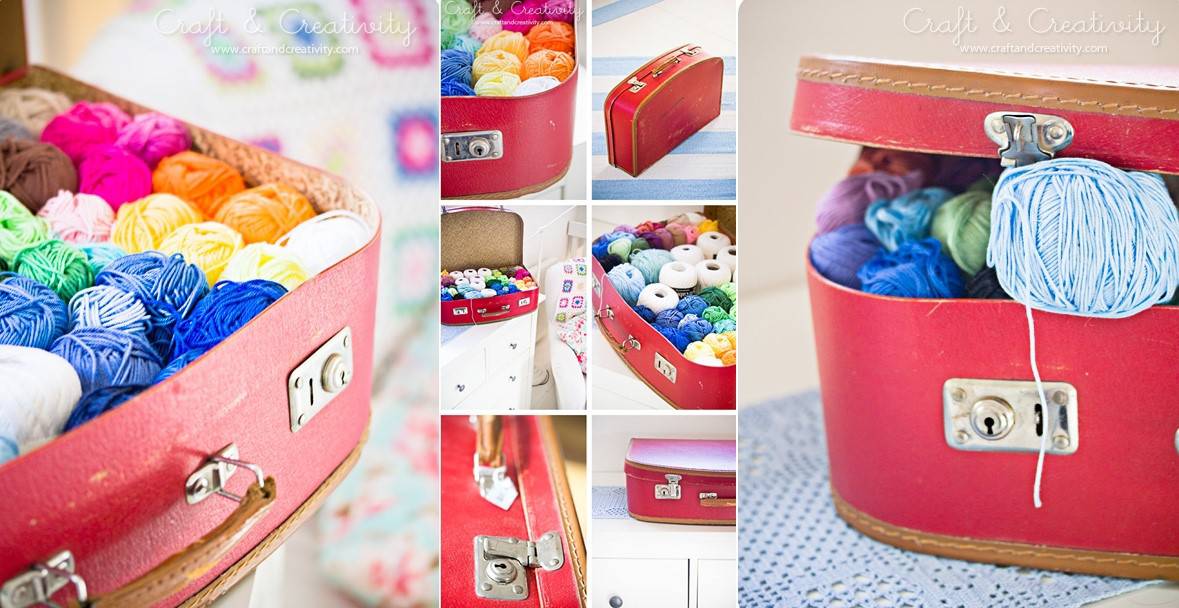 Thrift stores are lifesavers where you can find tons of storage solutions. If you have come across a vintage suitcase, then use it. Put all the yarn balls in it and take them out whenever needed.
Here are some yarn stash de-clutter tips
14. Metal Wire Bin Yarn Racks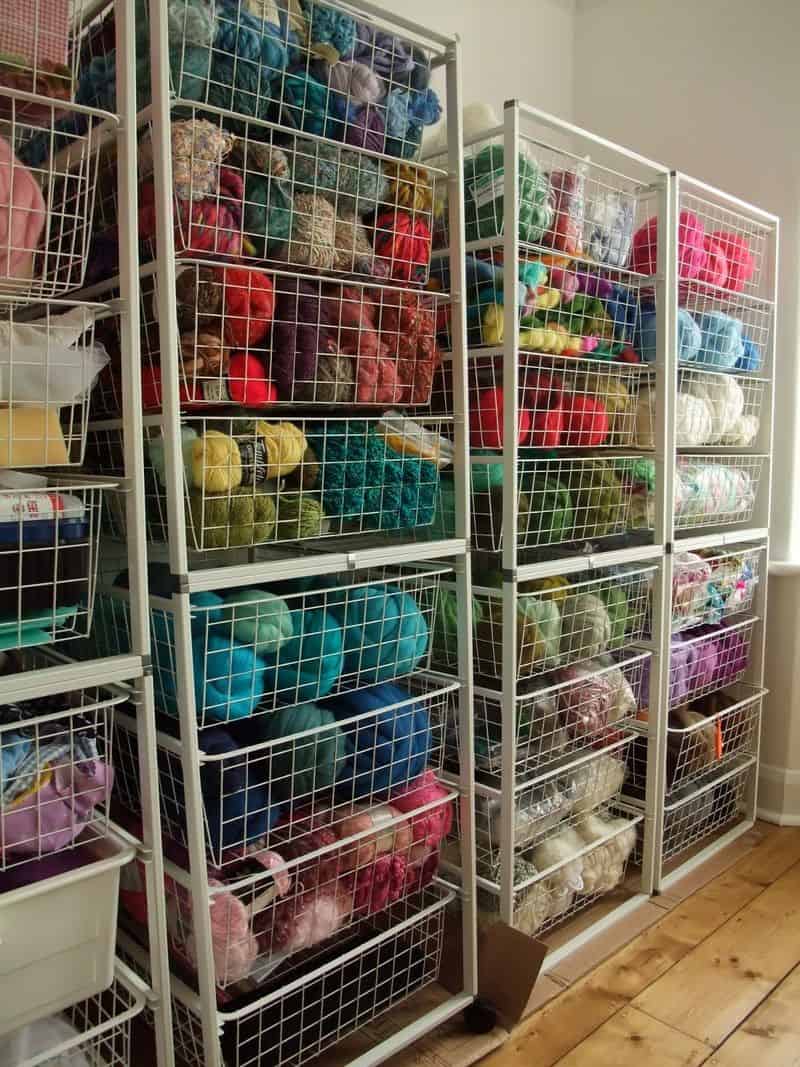 If you have a huge stash of yarn, then sort it according to colors. You can use a metal wire bin rack for this purpose. So that you can easily see what's inside the bins.
Which one is your favorite idea among all these? Let us know in the comments.
Related: Best Yarn For Baby Blankets