A headboard in a creative and stylish design can set the tone of your bedroom. You can use it to house your accessories too. Because a headboard is not just a backrest. It can be so much more. You can customize your headboard according to your preference. Here are some DIY headboard ideas. Some are so easy that you can make them in just a weekend.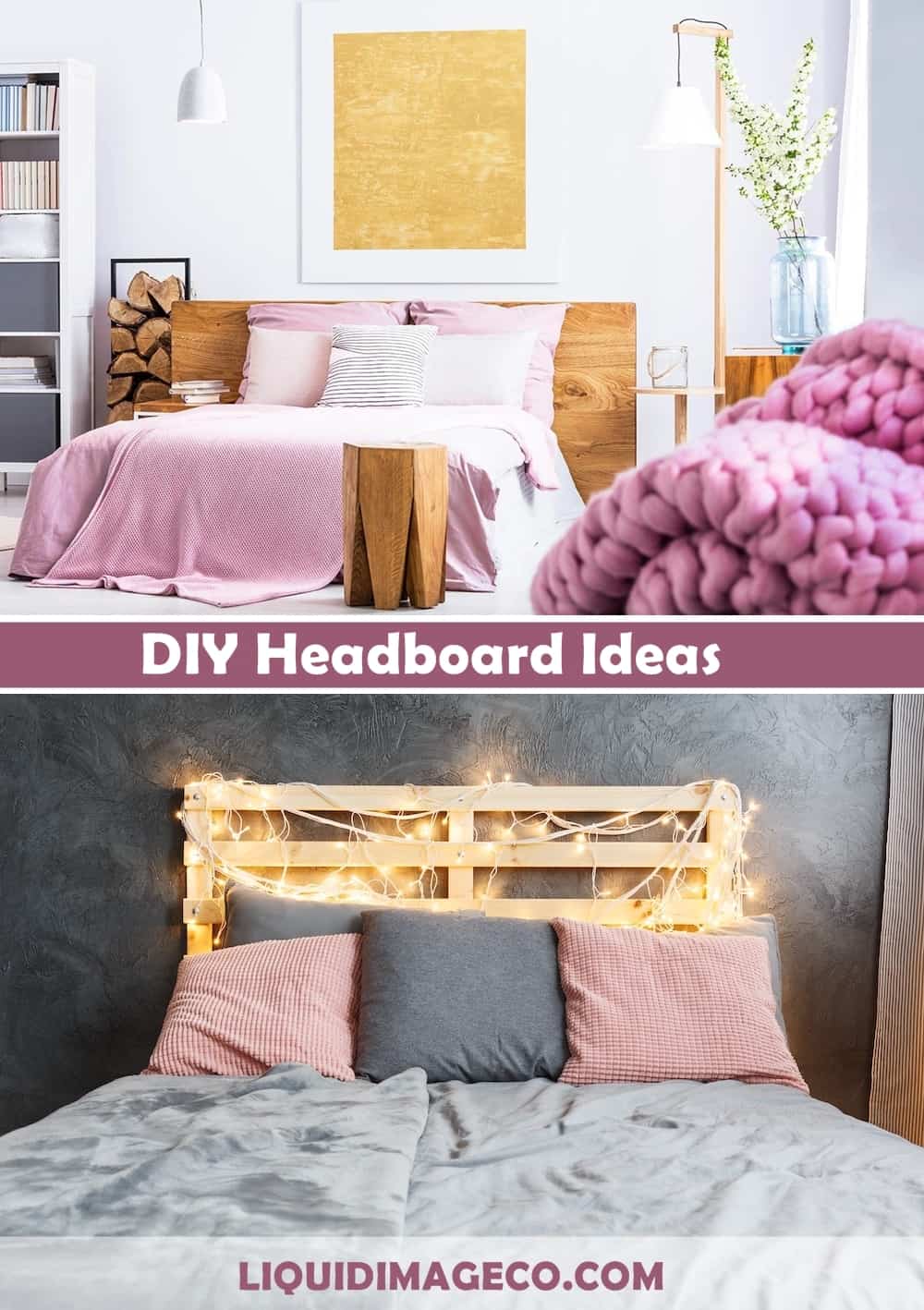 A Pegboard Headboard
Do you change your mind on decor all the time? If yes, then a pegboard headboard is ideal for you. Why? Because you get to change it now and then. One week you can hang a frame and the other week a plant. Measure the width of your headboard. Cut the pegboard to that size. If the pegboards are smaller, you may need to join three to four. Install the pegboards on the wall. If your pegboards need paint, then paint them before mounting on the wall. Next comes the fun part. Fix hooks on the pegboard. And then hang things like picture frames, a wire shelf, a monogram, and a plant pot. When bored, change the decor. You can use this headboard as storage too. Who needs a nightstand in a tiny bedroom with such a cool headboard?
More: Master Bedroom Size
Here is a pegboard headboard tutorial you can watch
A Faux Brass Headboard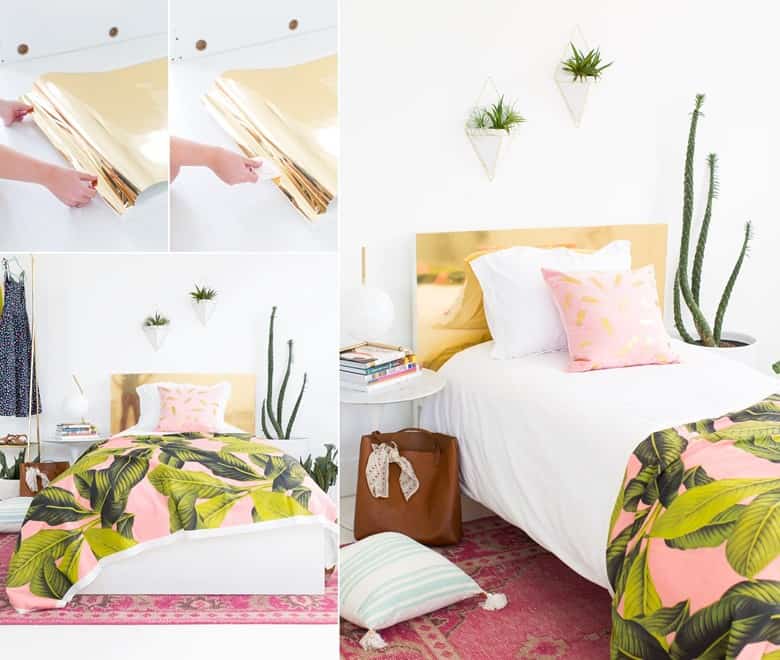 Metallic accents look glamorous in moderation. If your bedroom has its decor mostly in light colors, then bring it to life with a faux brass headboard. This DIY project is easy. You have to take a basic white headboard that suits your bed's size. You can also search for it at IKEA. The next part is sticking a metallic vinyl sheet to it. This part is a little tricky. Use a squeegee to remove air bubbles as you keep working. The best strategy is to peel the paper gradually. If you don't do that, in the end, you might end up with a mess. After all this effort, you will get a headboard you will be happy to have. You can match it with throw pillows with metallic print. Hang brass wall planters above it and make an Instagram-worthy bedroom for less. This headboard is suitable for a tween girl's bedroom. As it has a slight feminine touch to it.
Related: 29 DIY Apartment Decorating Ideas
A Recycled Boat Oar Headboard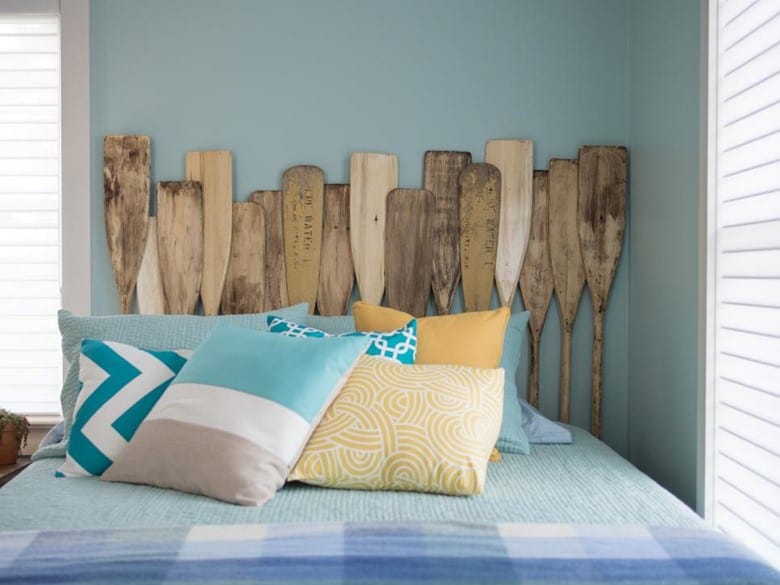 Sometimes in flea markets, we come across random objects too. If you have spotted a set of oars in such a market, bring them home. No need to sand or paint them. If you like a distressed look, use them in their original form. But for a little polished look, you can always paint them. Cut and join the oars with screws. And then, fix this oar headboard to your bed. This headboard will bring beach vibes to your bedroom. Kids and teens love the coastal themed decor. So, you can try this project for your little ones and teenagers. Dress the bed in blue or aqua bedding, with an accent color like yellow.
IKEA Bookcase Headboards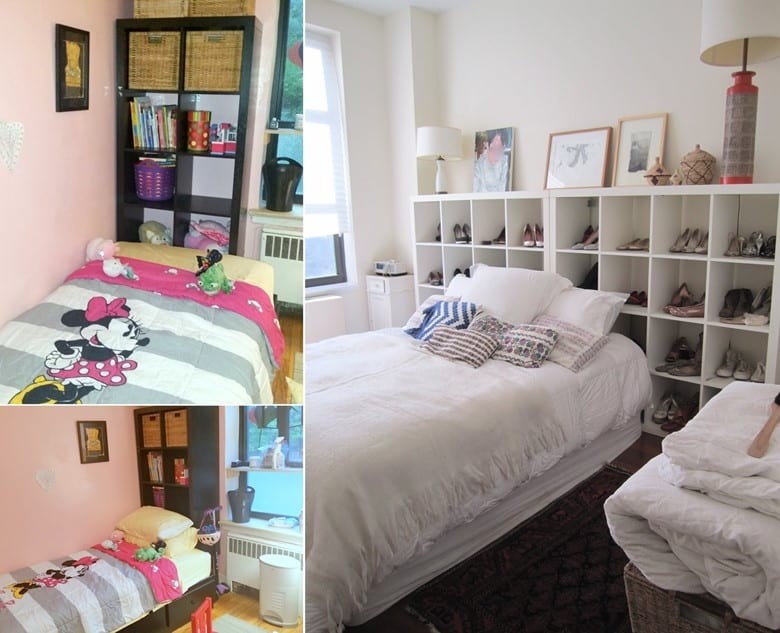 When it comes to home design, IKEA has a solution for everything. You can hack an IKEA bookcase into a headboard. This will not only be a headboard, but a space to store anything you want. Keep the headboard broad for something like a shoe closet. Or use a skinny unit for a small bed in a child's room. If you are concerned about some of the cubbies going to waste, then raise the bookcase with table legs. You can put baskets inside the shelves. This will make your storage neater. Your kids can use such a headboard for storing toys and books. This is a great way to keep clutter in check.
More:
Here is a tutorial for customizing IKEA bookcases and shelves into a headboard
An Old Door Headboard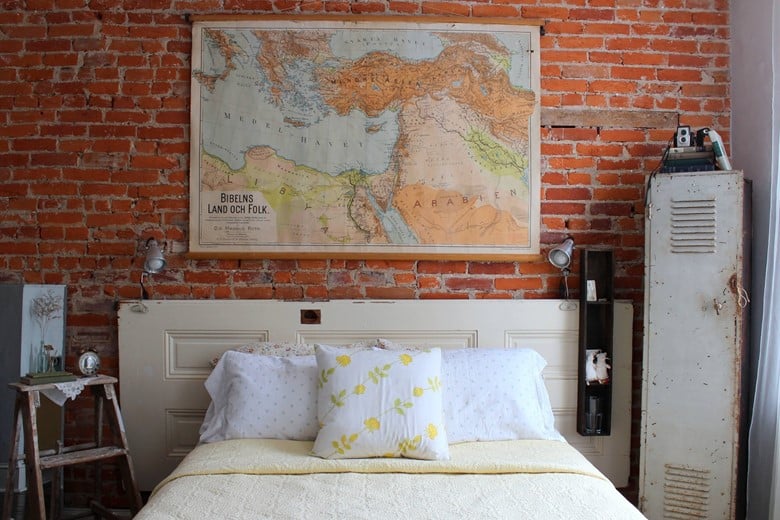 If you have recently swapped a door in your home, then bring the old one to use. You can also find a salvaged door in some nearby flea market. Use the door horizontally as a headboard. Paint the door if it is too shabby. Or leave it if the paint is just distressed. That looks rustic. You can also make some modifications to the door headboard. For example, this door headboard has a tiny shelving unit attached to it. Two wall lights are also added to the corners. They can serve as an accent or reading lights.
A DIY Headboard Under $15
Premade headboards can be costly, depending upon the materials used. But you can make your very own in less. Take a piece of cardboard and cut it to the desired size. Wrap one side of the cardboard with batting. Cut the batting a little bigger so that you can staple the extra batting at the back of the headboard. Next comes the fabric. You can staple that too over the wadding in the same way. Then make buttons for tufting using a button making kit. Hang this headboard on the wall and voila! Your bedroom will get a luxe feel with it.
A Decorative Wall Panel Headboard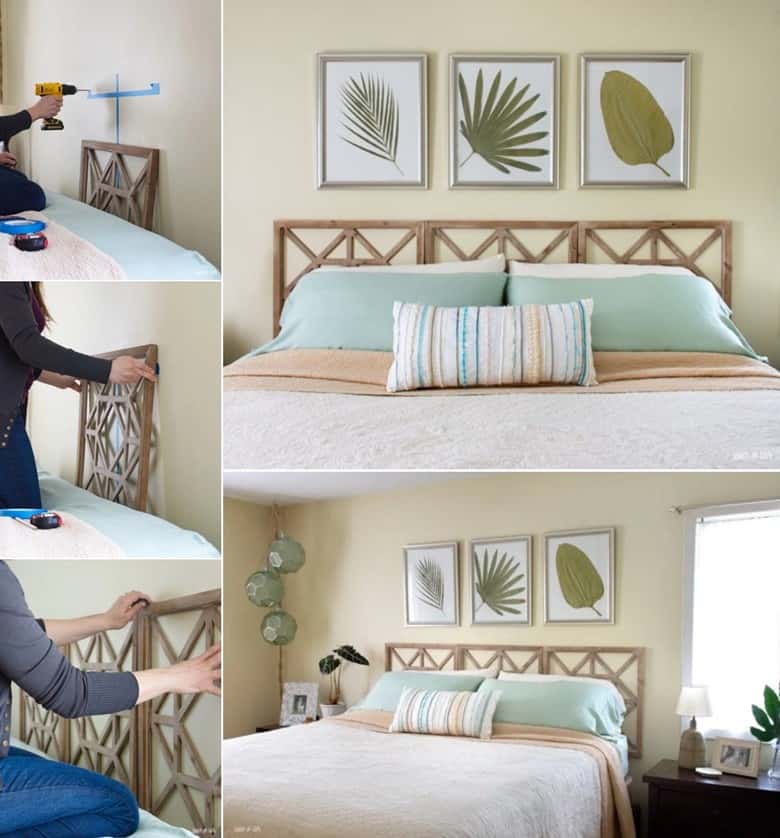 Do you like those headboards that have elegant latticework? You can make a knock off of those super expensive headboards yourself. Find the wall panels you find appealing. Keep in mind, when you join the wall panels, they should form a headboard. Measure each wooden wall panel. Then use painter's tape to mark the wall. Use a drill and mount the panels on the wall with screws. It is that simple. You can paint the panels too if you want them in a color that matches your bedroom. Otherwise, they will be visually inspiring in their bare form too.
A Cane Headboard – An IKEA Hack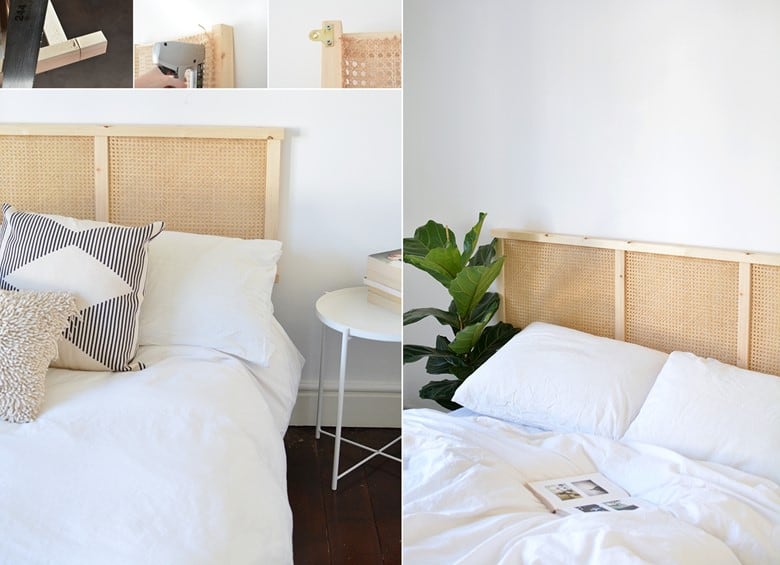 Are you craving for something Boho in your bedroom? If yes, then try this easy cane headboard IKEA hack. You will need IKEA frames and rolls of cane mesh. Take an IKEA Ivar side panel and chop off its legs. Then, use a staple gun to staple the cane netting on the headboard. Mount the headboard on the wall, using hanging plates and screws. Yes! It is that easy. No tedious work involved. You can do this easily over a weekend. And the result is astonishing.
More: Best Ikea Futon for the Money
A Cozy Woven Headboard
Fix two lumber posts in the length you want. Take rug making grid canvas and cut it according to the size of the headboard you want. You may need to sew pieces together to get the required size. Start weaving over the grid using chunky yarn. You can also mix pieces of fabric scraps by cutting them in strips. Once you are pleased with the woven pattern, use a hot glue gun to secure the ends of the yarn. Fix the woven panel on the wood boards using nails. This headboard is super cozy and perfect for sweater weather. It will keep you warm as you enjoy watching movies or reading books.
A Herringbone Wood Headboard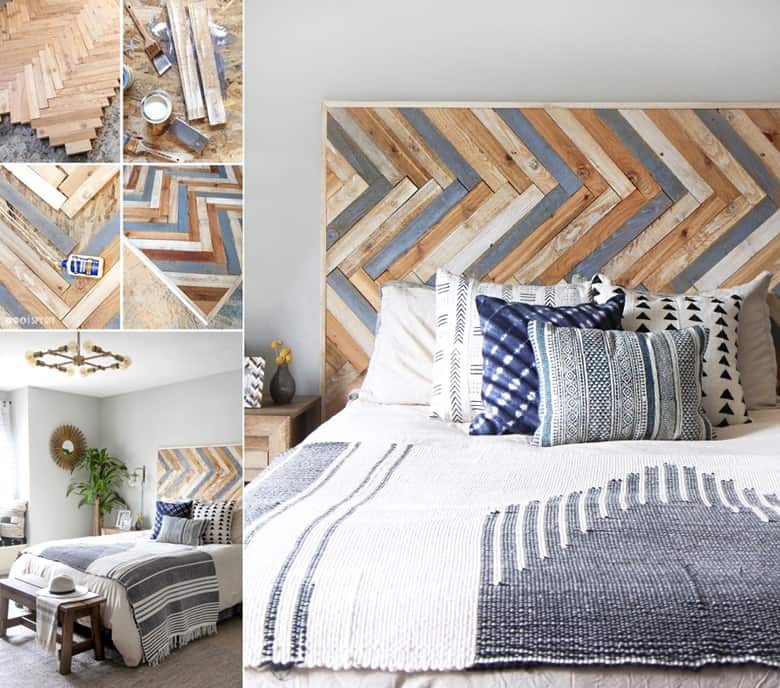 Cut cedar boards in small pieces. Join the pieces together to make a herringbone pattern. Stick the pieces to a plywood board already cut in the desired size. Apply stain in three colors. In the end, apply a sealer for a protective finish on the headboard.
A Woven Wood Headboard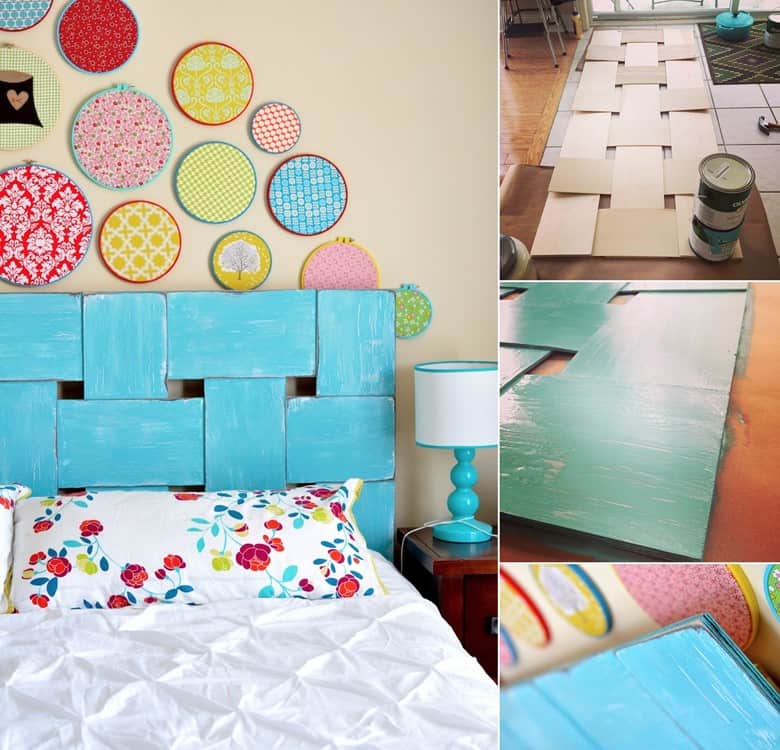 To make this cut thin sheets of hardwood plywood in strips. Weave the wood strips. Apply wood glue to secure the weave in its place. Apply primer to the woven headboard. Then paint in any hue. Mount it on the wall and voila!
A DIY Rustic Wood Slice Headboard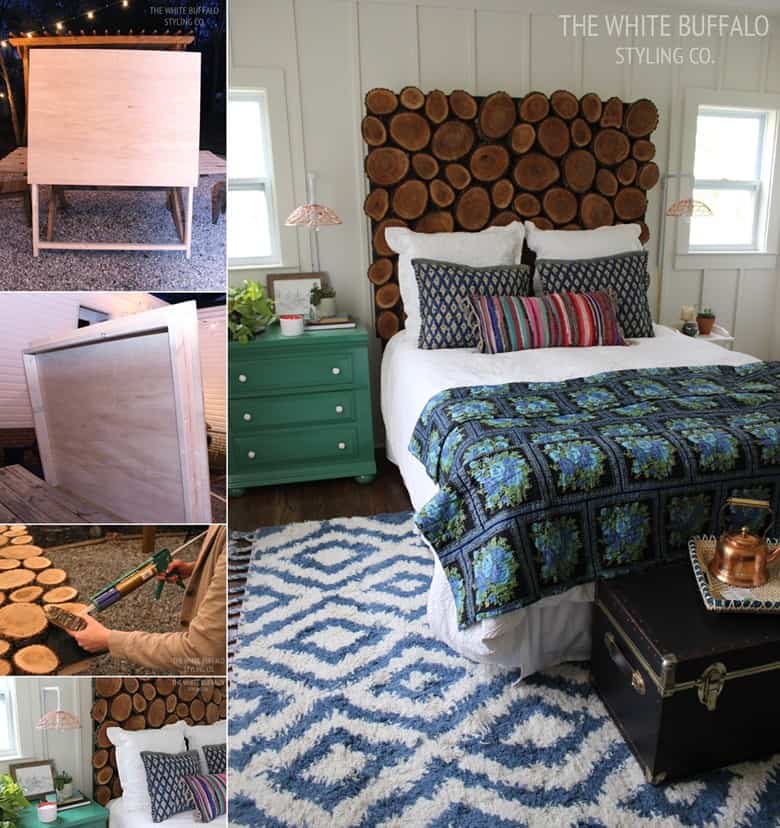 Do you want to dig rustic vibes in your bedroom? If yes, then try this headboard made with wood rounds. To start it first, you have to chop the logs into slices. Keep them ready for later use. Cut a plywood board. Build a frame around the plywood. Arrange the wood slices over the headboard. This might take some tweaks before you get it fully covered. Glue the wood slices to the headboard. For an extra layer of securing, use screws. Seal the headboard with polyurethane. Fix the headboard to the bed. Cherish the view.
An Easy Woven Jute Headboard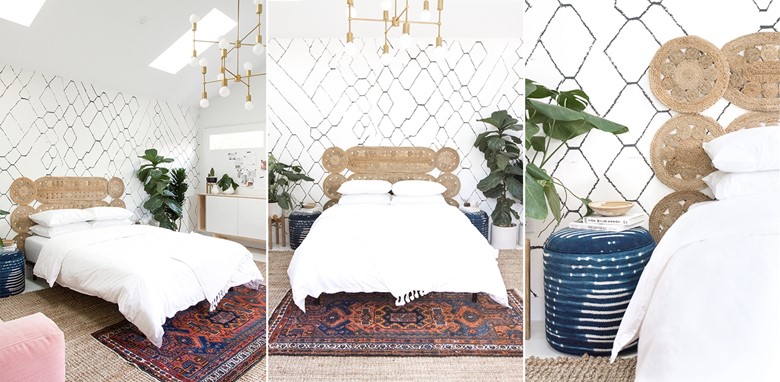 Do you want a woven headboard, but it is next to impossible to weave it yourself? No worries. Grab some jute placemats and a rug. Hammer these onto the wall using finish nails. Your headboard is ready.
A Pallet Headboard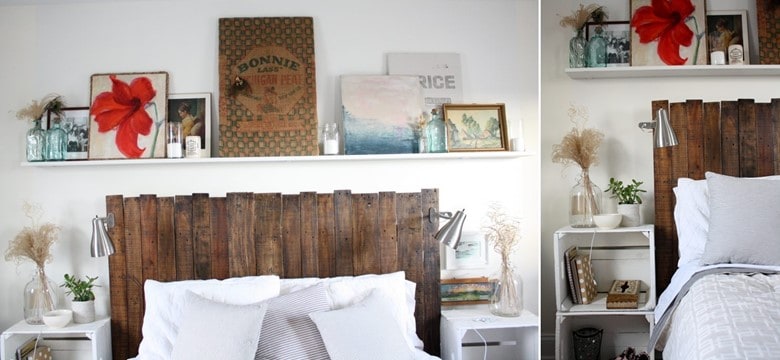 Cut pallet boards in equal sizes. Join them together by using a wooden frame at the back of the headboard. You can also install sconces on the headboard if you want. Pallet wood is highly cheap, and you can make this headboard on a budget.
An Antique Window Headboard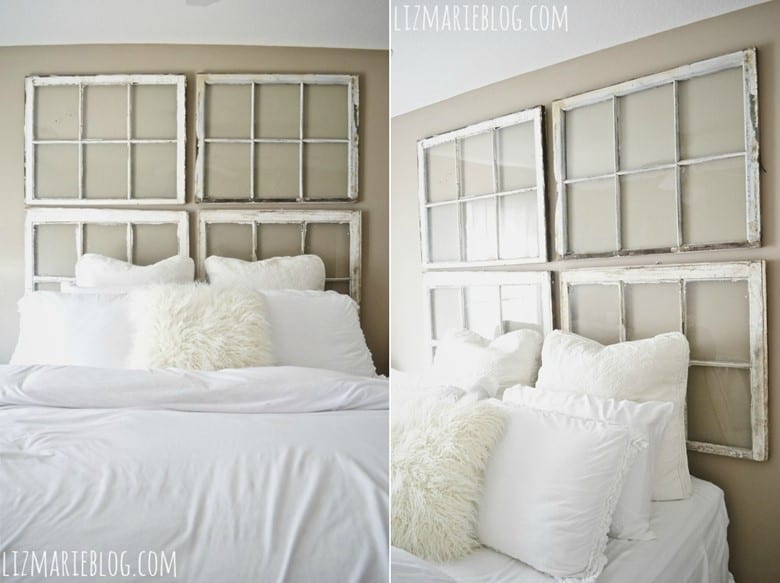 via
Get four window frames from a flea shop. Then, mark the wall above your bed with painter's tape. Install the window frames on the wall. This will make your bedroom feel vintage.
A Quick and Clever Headboard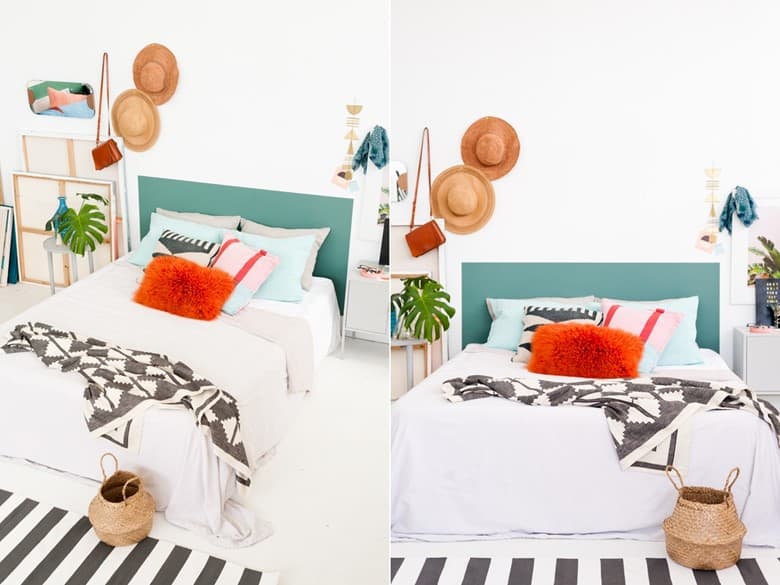 If you have no headboard, and you aren't bothered to get one which will provide back support, then here is an idea. Mark the size of the 'headboard' you want. Then apply painter's tape. Start painting inside the painter's tape marking. Let the paint dry. Remove the tape. With just a small can of paint, you will get a headboard.
A DIY Vintage Sheet Headboard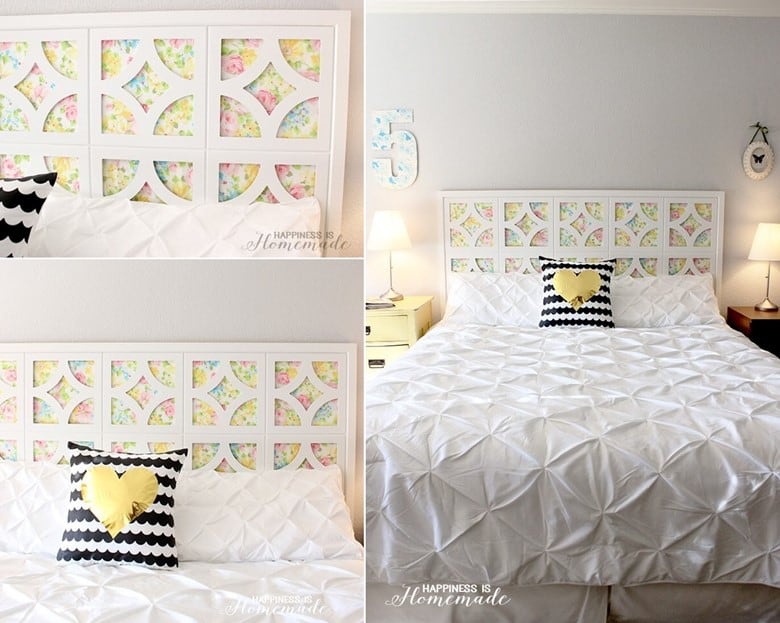 Paint and join decorative wood wall panels to get the frame of the headboard. Then put a sheet of vintage linen from the backside. Hang the headboard on the wall and presto!
A Barn Door Headboard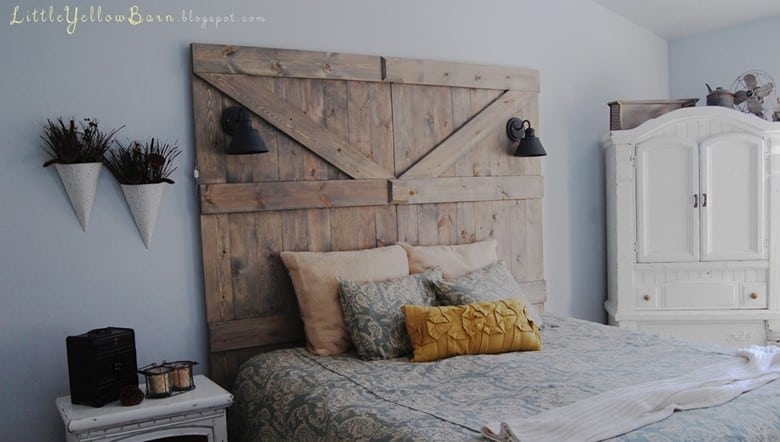 Barn doors are commonly available these days. You can convert one or more barn doors into a rustic headboard. Alternatively, you can make barn style doors from scratch using wood. Finish the look of the headboard with two barn pendant lights.
Here is a barn door headboard tutorial
A Ceiling Tile DIY Headboard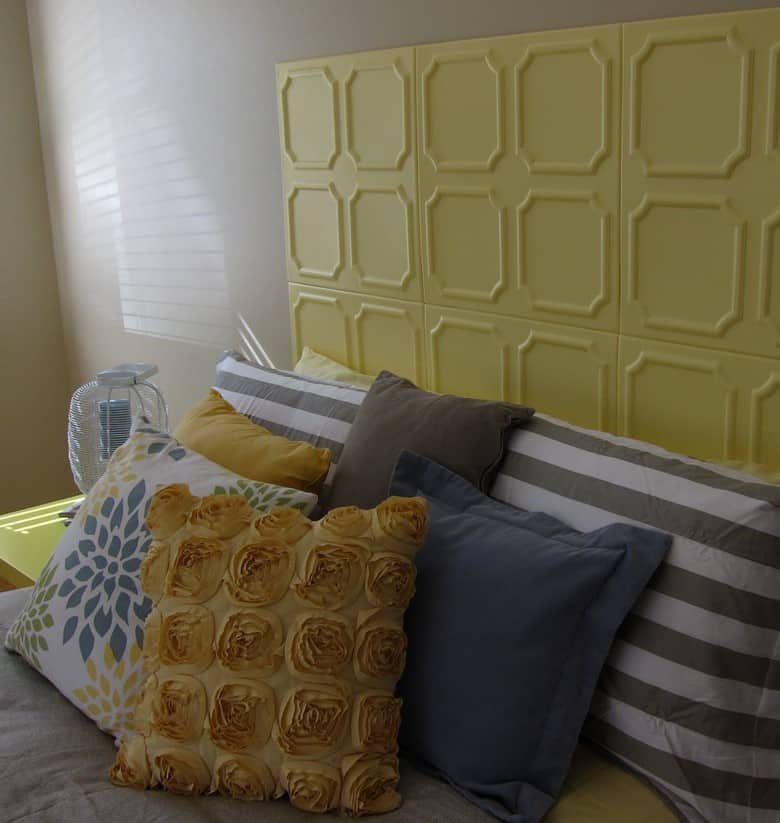 Creativity has no limit. Such as this headboard of ceiling tiles. A headboard like this is great for bringing texture to a bedroom. The headboard can become an accent in your boudoir. You have to use foam ceiling tiles for this project. They can be as low as $1 each. Use mounting scotch tape for putting the tiles together into a headboard on the wall. There are many patterns and colors available. Choose the one which complements your bedroom the most.
More: 25 Ceiling Textures Ideas for Your Room
A Throw Blanket Headboard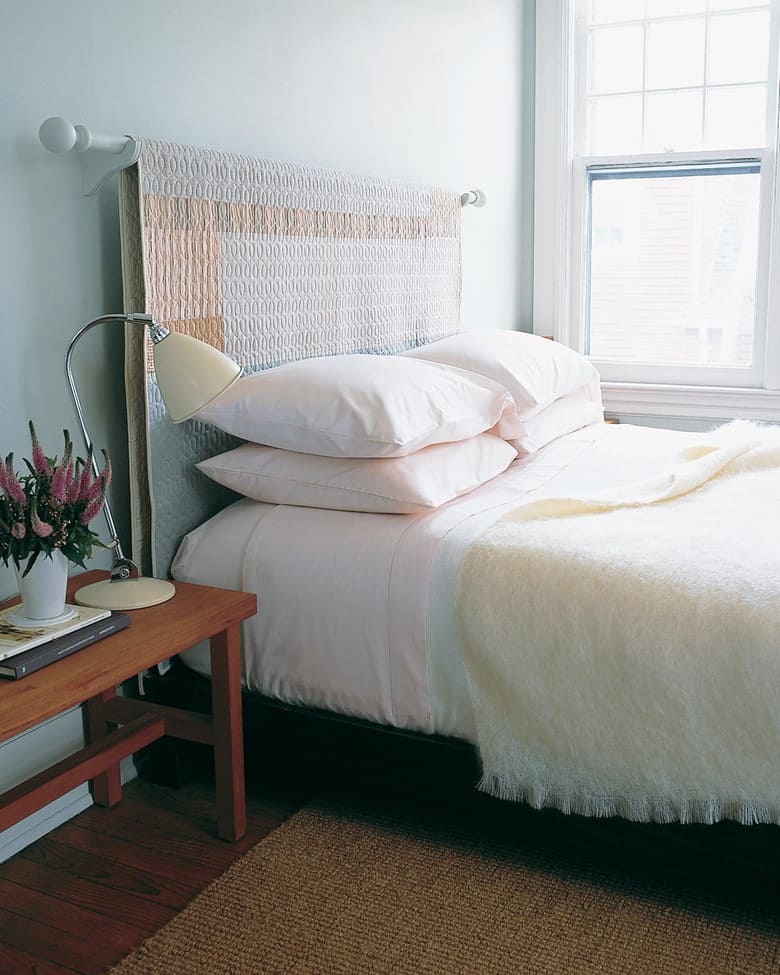 If you have a beautiful quilt you have inherited from your grandma, then bring it to use. Hang it behind your bed as a headboard. Fix a curtain rod and then layer the throw blanket over it.
A Framed Wallpaper Headboard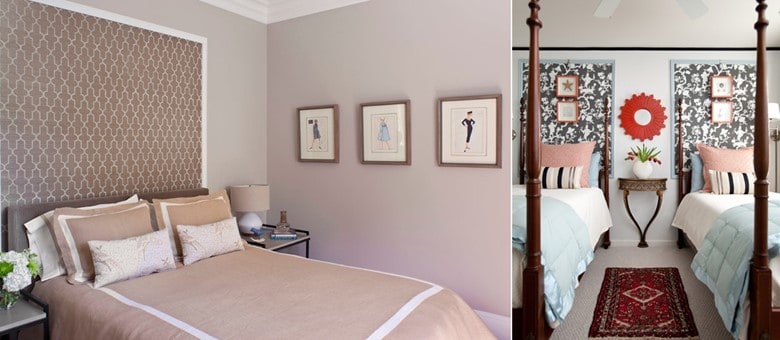 Another quick headboard idea is to frame wallpaper. Choose Moroccan or damask for a timeless look. Or bring in some nature inspiration with foliage wallpaper.
A DIY Pillow Headboard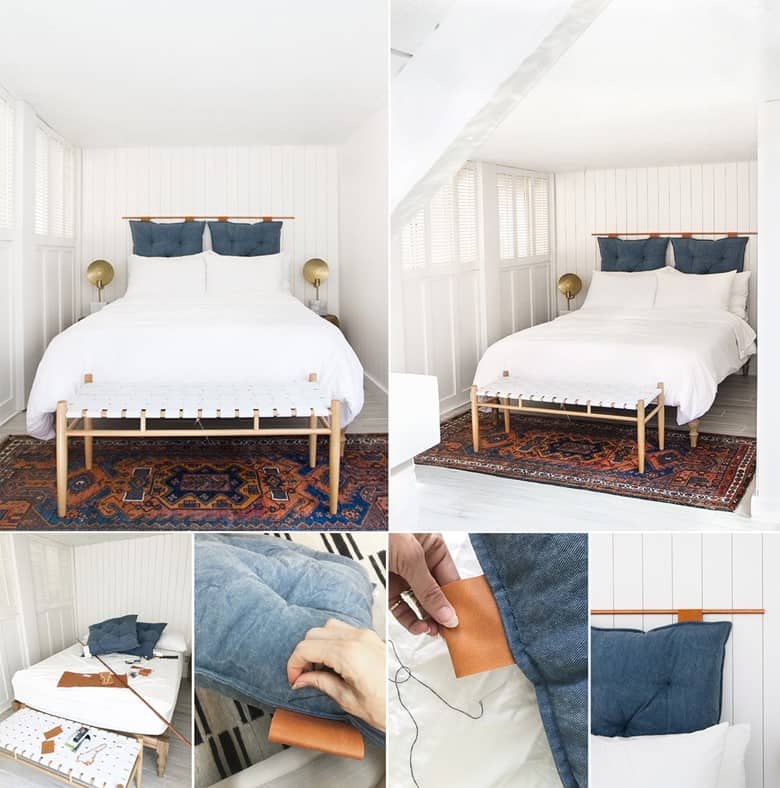 To make this headboard, you have to get two pillows. Make sure to get pillows with a thick cover. So, you don't have to wash them all the time. Cut strips of faux leather. Fold the leather strips in half. Sew these leather loops to the pillows. Pass the faux leather loops through a copper pipe. The pipe should be measured already. Use finish nails to mount the copper pipe on the wall. You can also use hooks of the curtain rod.
More: Best Husband Pillow
Folding Screen Headboards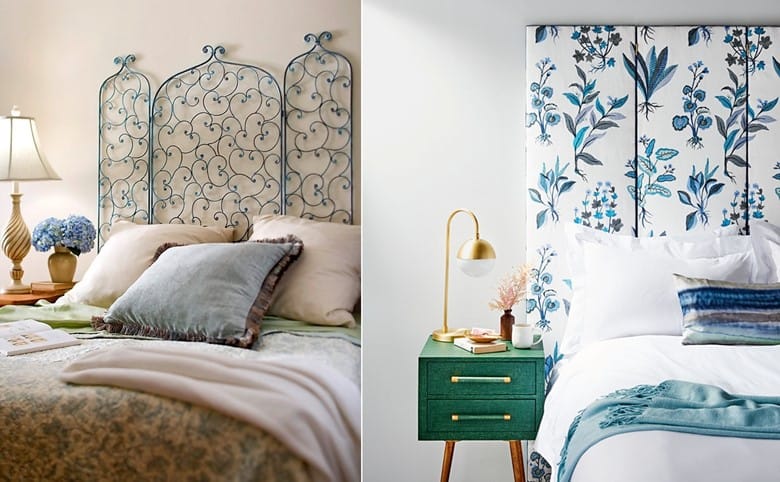 Usually, folding screens are used for sectioning off rooms. But you can get one and use it as a headboard. A metal fireplace folding screen will work great too.
A Plywood Bedhead with Shelves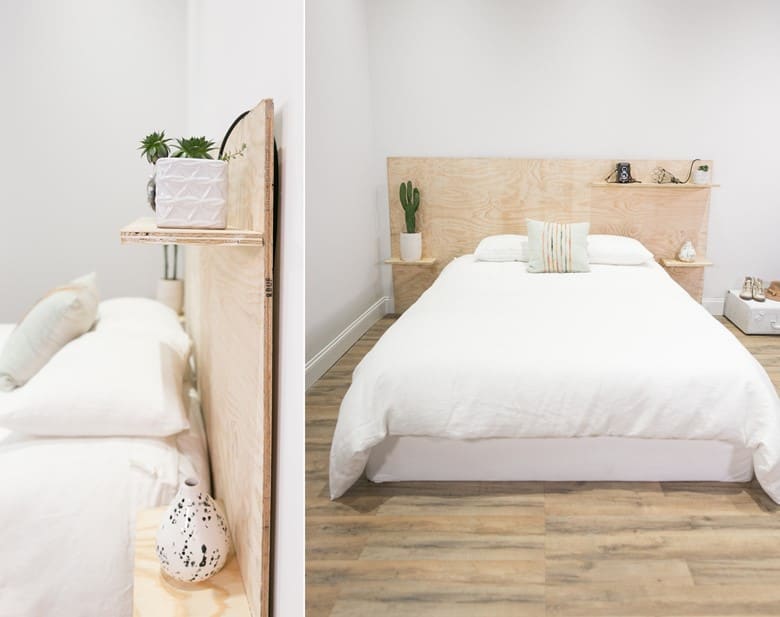 This is an easy way to make a headboard. Choose a board of plywood that suits the width of your bed. Choose a smaller board. Cut three shelves out of it. Fix the shelves on the bigger board at the sides of the bed. Fix the plywood headboard on the wall.
A Macrame Headboard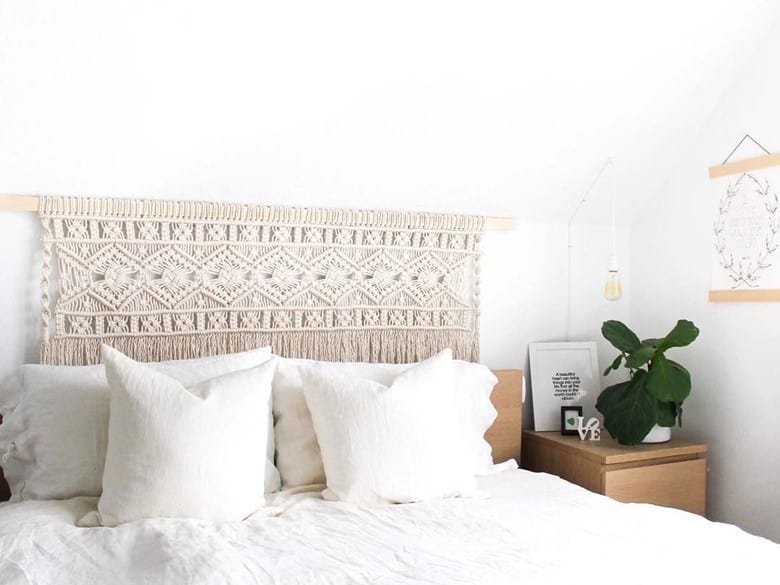 You can make this yourself if you know how to make macrame. Alternatively, you can make a headboard with a macrame wall hanging.
A Wood Crate and Corkboard Headboard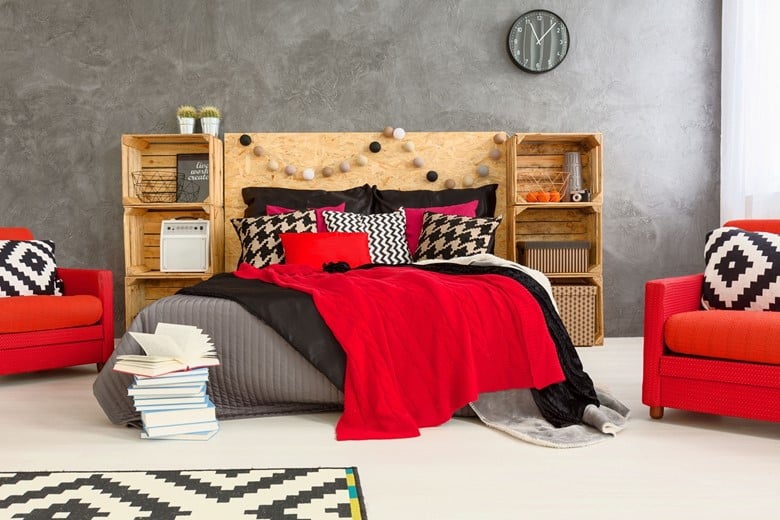 You can put together this headboard in no time. Just stack wood crates. Fasten them together with screws. Then flank plywood or corkboard sheet with these.
A Corrugated Tin Sheet Headboard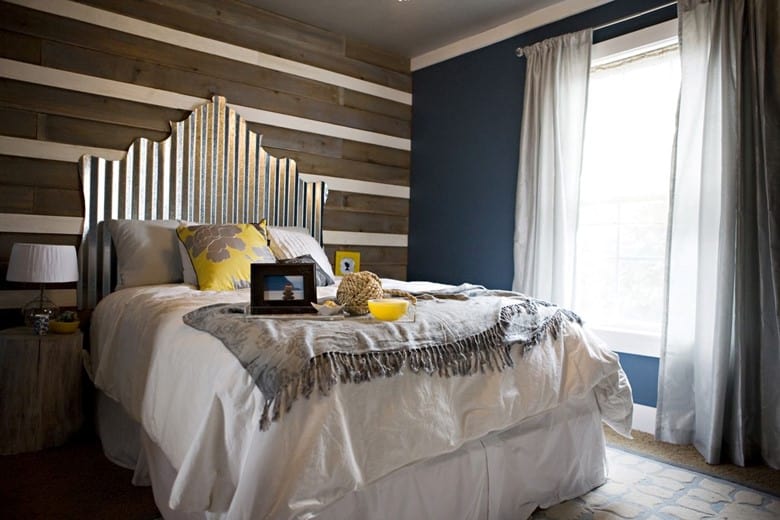 A metal roof sheet can be recycled into an industrial headboard. This headboard made with corrugated tin has a traditional cut.
A Recycled Shutter Headboard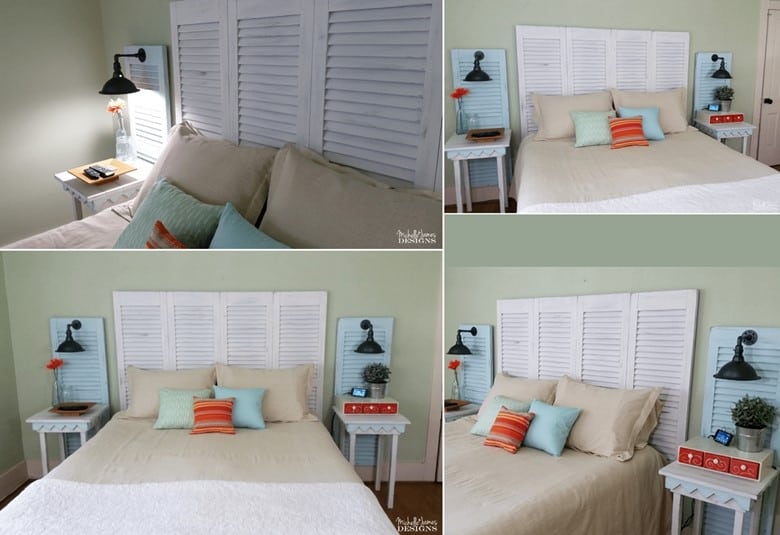 Garage sale shutters can become a headboard. Clean the shutters. Paint them and join them together. Mount them on the wall to create a headboard.
Padded Wall Panel Headboards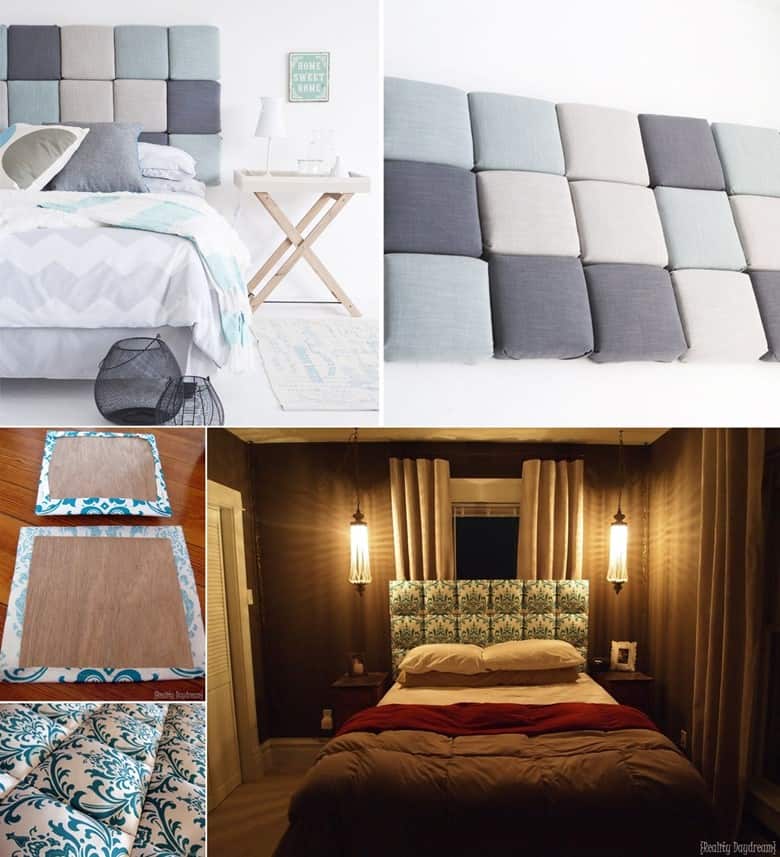 Make a headboard with padded wall panels. You can DIY these panels by cutting tiles of plywood. Add cotton wadding and then fabric over each plywood block. Fix all these tiles on a backboard cut to the size of the bed. Fix this headboard to the bed.
A Comfy Pillow Headboard
This is an easy-peasy project you can make in no time. Just collect throw pillows you like and a box of thumbtacks. Use the thumbtacks to fix the pillows on the wall. That's all!
A Buffet Recycled into a Headboard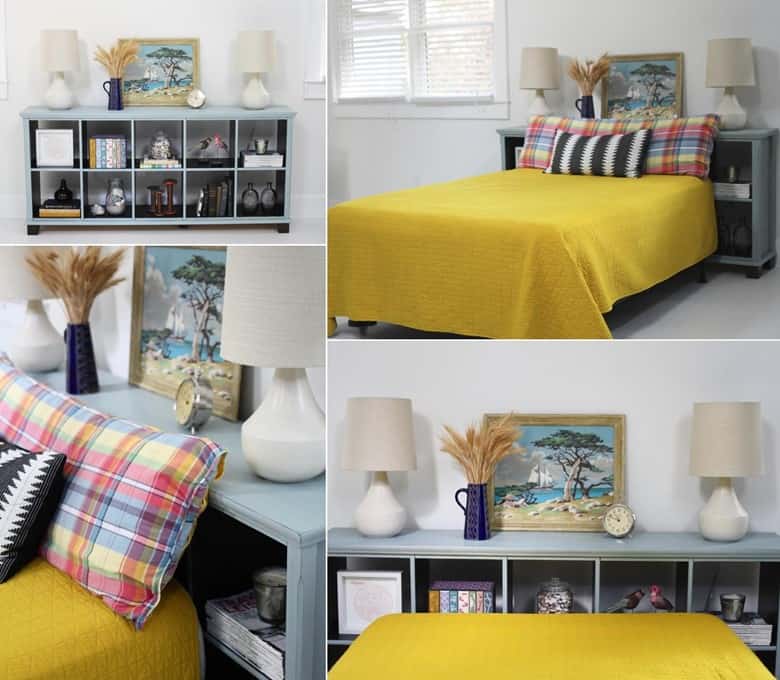 If you have a buffet or an old sideboard, recycle it. If its width suits your bed, transform it into a storage headboard.
A Rug Headboard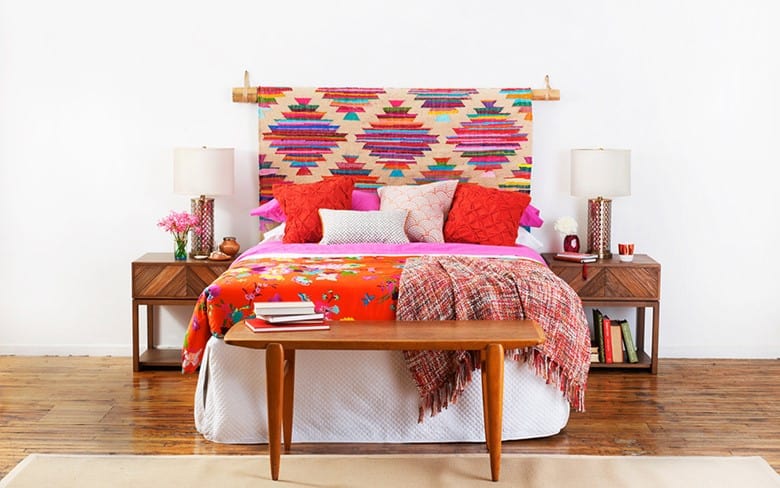 Find a colorful rug, and hang it behind your bed as a headboard.
A Wood and Upholstered Headboard

We have discussed how to make wood and upholstered headboards above. You can combine the two techniques into one headboard.
A DIY Wood Block Headboard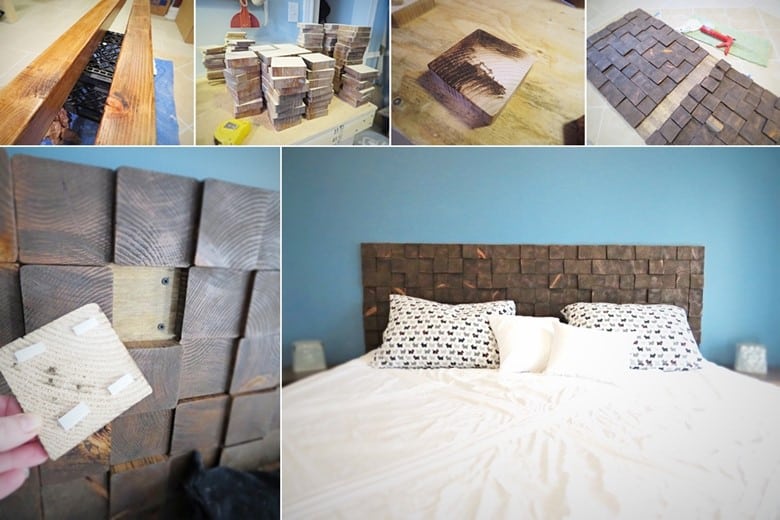 To make this headboard first, cut two 4×4 wood posts in slices to make blocks. You have to cut them in three different thicknesses. Apply stain to all the wood tiles. Then cut a plywood board according to the number of rows you want for wood squares. Use liquid nails to glue the wood blocks to the plywood board. Your headboard is ready. Such headboards, if bought at a furniture store, come with a hefty price tag. But you can make one in so little money. The varying thicknesses of the wood tiles will create a unique texture.
A DIY Wood Slat Headboard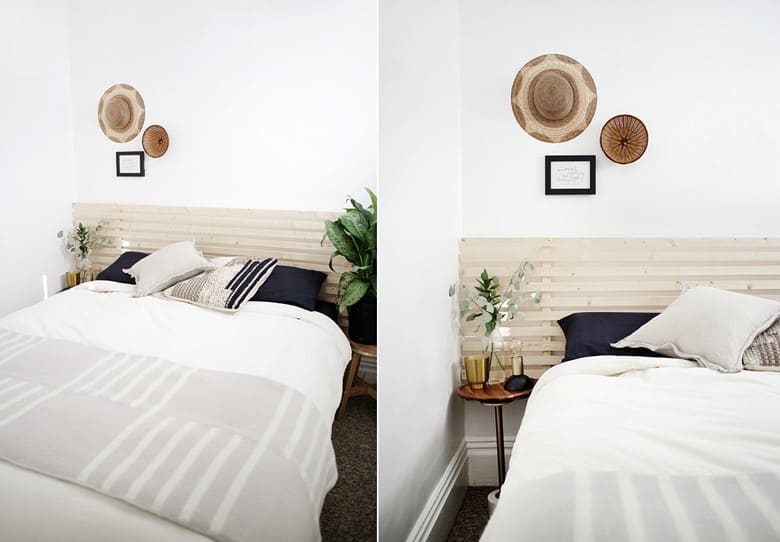 To make this, you just have to cut a wood board in slats. Then use two vertical slats and nails to fix the horizontal slats over it. A benefit of such a headboard is that you can slide in floating shelves too in the slots created. It pretty much looks similar to the IKEA Mandal headboard.
A Vintage Glass Pane Door Headboard
A vintage glass pane door can become a creative headboard. Paint it and add a shelf at its top. And paste a picture at its back so that it becomes a giant picture frame.
A Mood Board Headboard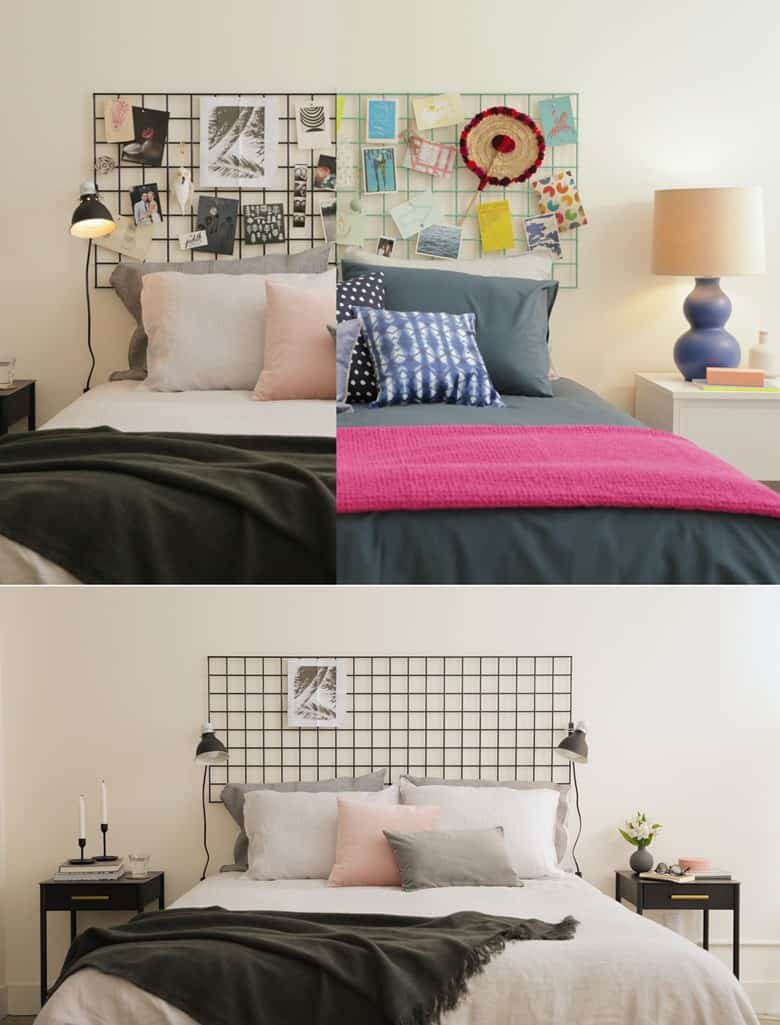 Here is a headboard that needs only one material. Mount a mood board grid on the wall with hooks. Turn it into a headboard. Hang inspirational messages and other things on this headboard.