Ever since the advent of the internet, our worlds have been getting smaller, often blurring the line between work and play area. Emailing shifted from an office-centric activity to everywhere-you-go, and a significant percentage of the population now work from home.
Formerly office-only equipment like high-powered computers and full-scale multipurpose printers now are a common feature in our homes thanks to their increasing versatility in our ever resource-demanding lives.
Whether you are preparing your presentation documents for that big proposal or creating hardcopy photos for some DIY home decoration, Walmart has got you covered. These printer options help to fill the printing gap in your home, giving you the full power of the office while you are in your pajamas.
Also, you no longer have to hurry down to the FedEx down the street or pay the premium for only a few graphical illustrations.
However, the perfect home printer needs to pack more utility than your average run-off-the-mill old school printer. It needs this added utility because your home printer is bound to face a more extremely varied range of tasks. You need a printer that can handle your spreadsheets and presentations, the kids' homework, and of course, those holiday pictures that are going up on the "best memories" hanger.
Thankfully, thanks to advances in printer technology, the best home printers can now rival, or at least hold their own against, industrial-grade options in print quality, printing speed, and added features.
Whether you need a unit for basic printing or more advanced tasks like professional-grade photos, we've got you. In this report, we have cataloged all the best printers you can get on Walmart at every price point to facilitate your selection process.
Selecting the Right Walmart Printer: Printer Types
Printers are one of those markets where you get endless choices in every category, size, and price segment.
If you have been printer shopping before, we bet you can readily confirm that picking the right printer can be tough. Furthermore, new models often bring new features that can further complicate your selection process.
However, printers are often categorized in three main ways: by their intended use, their functionality, and their printing technology.
By Intended Use
Home Printers
Printers that are intended for home use often focus their functionality on providing high-quality print photos. Hence, they can be a bit lacking in text performance. This problem is especially real if you are printing huge volumes, as these types are often optimized to handle a few pages a week. However, some all-in-one general-purpose printers made for home offices tend to fare slightly better at both tasks.
Office Printers
Office printers are made to handle the heavy load. These models feature designs optimized for busy commercial centers that see at least a few hundred print pages a week. Office printers are typically capable workhorses that provide the best value for money with bulk printing jobs. If your home office handles a serious workload of print pages, you should consider an office printer over the home models. These printers often perform better with text.
By Functionality
General-purpose Printers
These printers are designed to provide an all-in-one solution to all your printing needs. Most models on the market today fall into this category, including some printers that manufacturers market as photo printers. General-purpose printers can handle text, graphics, and photos. Some models even have a dedicated tray for photo paper that makes printing your best memories super easy.
Multifunctional Printers
Many general-purpose printers add other features like a scanner, and photocopying ability to offer you a complete office experience in one compact machine. These types are especially handy as a home printer or in a home office where other work equipment may be out of reach.
Portable Printers and Dedicated Photo Printers
Portable printers are often dedicated image-only printers that let you instantly document your memories on the fly. These types are compact models that allow you to print photos directly from your phone or computer immediately. Portable and dedicated photo printers forgo the traditional paper tray for the smaller dedicated photo paper tray.
3D Printers
While they are outside the conventional printer category, 3D printers are printers too. These types are increasingly becoming more affordable for use in offices, schools, and homes buy designers, engineers, and hobbyists.
By Printing Technology
Traditional printers typically use two main types of technology: laser and inkjet.
Laser Printers
Laserjet technology is the oldest of the two that was developed originally to handle text before later adding image-printing capabilities. Hence, laserjets are superior performers when it comes to printing text even often better than the newer inkjet technology. If your workload involves printing text documents in high volume, you should opt for a laser printer. These models offer a lower cost per page and often print out sharper text.
Inkjet Printers
With improvements in technology, newer inkjets do well to hold their own against the lasers in text printing tasks. However, where inkjet printers shine is in producing images. Most inkjets produce higher quality and more vibrant photos than almost any laserjet. If getting photos right is more important to you than text, you definitely should consider getting an inkjet printer. Opt for printers that use at least four ink colors for better images and more luxurious details.
Other Factors to Consider When Selecting a Walmart Printer
Color or No Color
Depending on your needs, you could opt for a typical printer with color capabilities or a monochrome printer that only produces black and white printouts. Most monochrome printers are laser jets as you will be hard-pressed to find a monochrome laserjet, although they do exist.
Monochrome printers are excellent for handling high volume text-only prints and a great printer choice for many business settings. Black and white printers are also less expensive to operate as their single cartridge cost significantly less than the four-toner set up in a typical laserjet.
However, for a home printer, a high-quality laserjet is often the best option. Newer models can produce good enough images to make your brochures and advertising handouts at home. Hence, a laser printer could potentially save you recurrent costs at your local print shop.
Quality of Print Pages
One of the most critical variables when selecting the right printer for you is the quality of the output it produces. Printer performance varies significantly across models for text, graphics, and photos. A printer that excels in text performance may completely flop when creating colored images. Hence, you must take careful consideration before deciding on your purchase.
Speed
Especially in office settings, the rate of printing is another critical factor to consider when picking up a printer. Typically, laserjets produce printouts faster than most inkjets, especially when it comes to straightforward pages with no sophisticated graphics or images. However, business-oriented inkjet models like the Epson WorkForce Pro often output performance speeds that are on par with some of the best laserjet printers. However, if you only print a few pages at a time, you probably wouldn't worry about speed so either type of printer will serve you alright.
Connectivity
In this day and age, sticking to just the USB port for connectivity is almost entirely out of style. This statement holds even with relatively unfashionable tech like printers. Many printers now allow printing from devices on the same network via Ethernet ports or Wi-Fi.
Furthermore, some printers feature Wi-Fi Direct capabilities that let you connect directly to and print from most Wif-Fi-enabled devices, including smartphones and computers. Note that depending on the manufacturer, Wi-Fi Direct might be tagged another, more gimmicky name.
Newer printers now offer tap-to-print via NFC that lets you print with a tap directly or using a dedicated mobile app.
Automatic Duplexing
Printers with automatically duplexing print on both sides of the paper once by default. This feature offers serious convenience gains as it lets you print 2-sided documents without having to open the tray and manually flip the page every single time. If you print 2-sided pages often, you should opt for a printer that supports this feature.
Size
Printer sizes is especially important if you are getting the model for your home or any place with limited space. Some unit may be too large to fit on your desk while others are tall enough to almost blackout a window. Make sure to consider the footprint of a printer and how much space you have before pulling the trigger.
Paper Size
Depending on your printing needs, it might be essential to consider the minimum and maximum paper size the printer model can take.
Price
Like with any other appliance, the price is an essential factor here as printers can range from budget offerings under 50 bucks to more high-end models in the low thousands.
Also, be sure to consider the cost of maintenance and operation. Considering that with printers you have to replace cartridges and toners often, operating costs can quickly rack up. Be sure to tally up the cost per page to figure out how expensive your printer will be to run in the long term.
Best Walmart Printer Under $60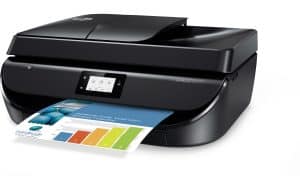 HP is arguably the biggest name in the printer business, so it is no surprise that one of their products is first up. The HP OfficeJet 5255 is a reliable budget perform that excels at printing colorful images and offers decent text performance
Dimensions: 17.51 x 14.52 x 7.48 inches
Pros
With printing, scanning, copying, and faxing capabilities
Wireless printing via Bluetooth and Wi-Fi
Auto-document feeding and automatic duplexing
HP Smart app for quick printing from your smartphone
Supports multiple paper sizes, including 4 by 6 and number 10 envelopes
Cheap price
Cons
Poorer text performance than most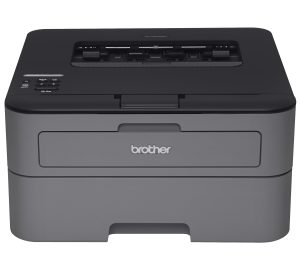 The Brother HL-L2315DW is a mono laser printer from another of the print industry giants. The monochrome printer is a good high volume unit that takes up to 250 sheets per go. This model also features a second tray for loading full-size paper like letterheads.
Dimensions: 7.2 inches high by 14.2 inches wide by 14.9 inches deep
Pros
Wireless printing via Wi-Fi Direct
Automatic duplexing
Ample 250-sheet main paper tray
Second tray for loading full-size paper
Cheap price
Cons
can only accept paper up to 29# basis weight which is less than what many printers can accept
Best Walmart Printer Under $100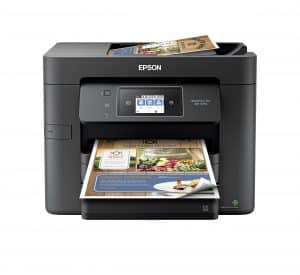 An excellent choice for an affordable workhorse for your home office is the Epson WorkForce Pro. The WF-3733 is a capable all-in-one inkjet with scan and copy capabilities, an automatic document feeder and WiFi, Apple AirPrint, and Google Cloud Print connectivity.
Dimensions: 13.7 inches high by 16.7 inches wide by 20.5 inches deep
Pros
With scan and copy functions
Automatic document feeder with auto duplexing and inbuilt faxing abilities
WiFi, Apple AirPrint, and Google Cloud Print connectivity with autoconnect
Second tray for loading full-size paper
Cheap price
Cons
WiFi disconnects frequently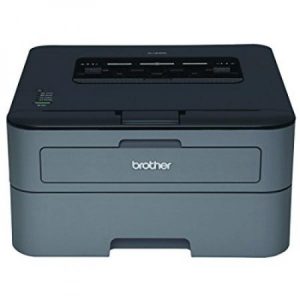 Brother might not have the same brand recognition as HP or Canon, but in the printer business, it makes some of the most capable options on the market, and the HL-L2320D Compact is no exception. The printer has the ability to print up to 22 pages per minute.
Dimensions: 7.9 inches high by 14 inches wide by 16.9 inches
Pros
Wireless printing via Wi-Fi Direct
Automatic duplexing with automatic document feeding
Ample 250-sheet main paper tray
Second tray for loading full-size paper
Light and compact
Relatively budget price
Cons
Poor graphic and image performance
Best Walmart Printer Under $200
The Epson EcoTank ET-2720 is a top performer that offers a full set of features, fast printing, and high image quality, making it an excellent printer for most uses. However, its strongest selling point is it low operating costs thanks to relatively cheap ink replacement options.
Dimensions: 14.8″ x 22.8″ x 10.0″
Pros
Extremely low ink costs with fast printing on plain paper
Excellent connectivity options
Superfast single-pass auto-duplexing
Speedy start up
Cons
Sluggish color scanning and photo printing
Small touchscreen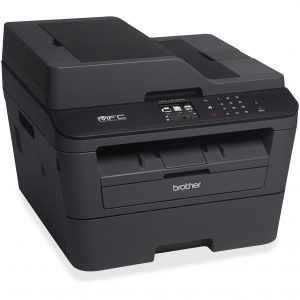 The MFC-L2740DW from brother is a monochrome all-in-one wireless laser printer with low-cost toner and a compact design. The printer adds copying and scanning capabilities to high-performance monochrome to further enhance your workflow. If you need fast black and white prints in high volumes, this is the printer for you.
Dimensions 12.5" by 15.7" by 16.1"
Pros
With scan and copy functions
Automatic document feeder with auto duplexing and inbuilt faxing abilities
WiFi, Apple AirPrint, and Google Cloud Print connectivity with autoconnect
Uses one toner cartridge that significantly lowers operating costs
Ample 250-sheet main paper tray
Second tray for loading full-size paper
Cons
Relatively poorer print quality compared to other high-end monochrome printers
Best Walmart Printer Under $300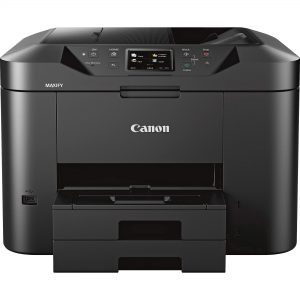 The Canon Maxify MB2720 is an excellent choice for small business and more extensive home operations. The wireless business inkjet provides reliable output quality and better paper handling than cheaper printer models. The model's paper capacity is an ample 500 sheets, split between two 250-sheet trays that fit up to legal-size paper.
For the price, the Canon Maxify MB2720 offers some of the best performance in its class than similar offerings like the Epson Workforce WF-3640. However, the printer may fall behind with heavy-duty payloads, where you will need a more industrial-grade printer like the Maxify MB5420.
Dimensions: 12.6 by 18.3 by 18.1 inches
Pros
Awesome print output quality
Ample 500-sheet paper capacity allows for less refills during printing
Low running costs compared to other inkjets
Connectivity options via USB, Ethernet, and Wi-Fi
Superfast single-pass auto-duplexing
Speedy start up
Cons
No automatic two-sided scanning
No Wi-Fi Direct connectivity or its equivalent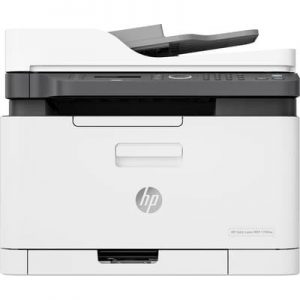 The newest addition to HP's four-in-one laser line, the MFP 179fnw, brings superior performance is a compact package and at the most affordable price point yet. This printer is excellent news for anyone in a small office or who needs an ultra-capable home office setup.
The MFP 179fnw carries up to 150 pages in each refill and prints crisp text and images at a fast 18 pages per minute. The model features a relatively compact build quickly making it one of the smallest color laser printers in its class.
The HP Color Laser MFP 179fnw being a four-in-one device allows you print, scan, copy and fax documents in black and white, or color.
Pros
Compact design will fit right into a home office setup
Low running costs compared to other printers in its class
Connectivity options via USB, Ethernet, and Wi-Fi
Awesome print output quality
40-page ADF
Cons
No auto duplexing
Limited media options
Small display