Struggling with a musty odor and can't find the source? Someone bring a cigarette into your precious automobile (and maybe that someone was you)? Just enjoy the smell of a delicious car while you're strolling around? Whatever your reason, there's one thing we all have in common: we want a car that smells good. If you think your vehicle needs a Scentsy kickstart, then you will want to try out one of these top 10 BEST car air fresheners on the market; guaranteed to take your car from EW to WOO!
Best Car Air Fresheners Based on Category?
Well, we know just how important a nice-smelling car is. So we went through a long list of air fresheners available on the market and read through all of the imperative details as well as customer reviews, bringing us to the conclusion that these are truly the best of the best. Here's a quick breakdown if you're looking for something specific:
Best Car Air Freshener for Smokers:
It doesn't matter how much you love smoking; that smell isn't pleasant! And if you smoke in your car, you're likely to have this smell sticking to the seats and making your passengers slightly uncomfortable by the whiffs of smoke. To make sure you keep this stench at bay, consider the PURGGO Car Air Freshener. Made of 100% bamboo charcoal, this lovely thing soaks up scents like a sponge, revealing a lovely, natural aroma that encompasses your car. Plus it lasts 365+ days. Winning!
Best Smelling Car Air Freshener:
Anzazo Car Essential Oil Diffuser
The oil diffuser craze is a BIG one right now, and for good reason! Oil diffusers allow us to put our favorite scents into a handy piece of equipment and smell it all day long. These oils can also have incredible relieving properties to them, including stress relief and mood elevators. Well, now you can have your favorite oil accompany you into your vehicle as well. Not only will you love the way your car smells, but your body and mind will thank you. Wrapped up into a luxurious piece, it's not only a handy addition to your vehicle but a beautiful one for your dashboard as well.
Best New Car Scent Air Freshener:
Are you one of those people who simply can't get enough of that new car smell? You're not the only one- believe me! The smell of a new car is just so fresh and cool, reminding us of the first time we drove out beauty off the lots. If you want to relive this moment and have a car that smells astounding, you might want to try the Airbreezy Car Air Freshener. You will love this smell, and so will your passengers. (Just be prepared for everyone to ask if you got a new car!)
Best Long Lasting Car Air Freshener:
MEGUIARS G16402 Whole Air Re-Fresher
You have one goal when you're looking for an air freshener: you want something that takes the bad smells out, and puts the good smells in. That being said, we proudly introduce you to the MEGUIAR'S G16402 Whole Air Re-Fresher. It has the power to wipe out any of those awful smells lurking around your vehicle, replacing them with beautiful aromas your nose will love. It's easy to use and you'll love the outcome!
Best Car Air Fresheners 2019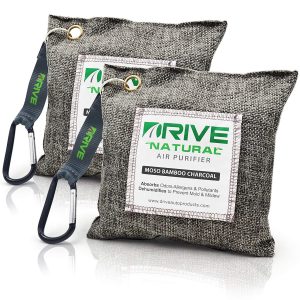 Uses activated bamboo charcoal.
Eco-friendly and lasts 2+ years.
Doubles as a dehumidifier and removes mold and odd smells.
Why We Love It
We all know how big activated charcoal is right now, but let's face it: activated charcoal isn't only used for making our teeth sparkly white or giving ourselves a wonderful facial. Activated charcoal has found its way into the car air freshener realm, and we're living for it. Not only does activated charcoal have the potential to remove odors from the air like a sponge, but it replaces the bad odors with delightfully natural and fresh ones that are perfect for cars.
Another reason to love the DRIVE Natural Car Air Freshener is the fact that it also doubles as an air dehumidifier. After all, we have all certainly had a time in our lives where our cars smelled like mold or musk. With a dehumidifier, you won't have to worry about these worrisome and odd smells making their way into your vehicle.
If you're a fan of activated charcoal, try it in your car! This air freshener doubles as a dehumidifier that can quickly be strapped around headrests and used for several months without needing to be replaced.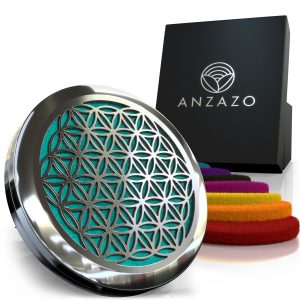 Uses your favorite essential oils to use.
Eco-friendly and only requires 2-3 drops every few days.
Has a majestic, luxurious design that pairs well with vehicles.
Why We Love It
We mentioned this air freshener earlier as being the best smelling air freshener, and we could honestly talk endlessly about this unique device. Instead of using chemicals to freshen up the air like other air fresheners on the market, this air freshener relies solely on essential oils to provide delightful scents. However, anyone who likes essential oils knows that these aromas go far beyond just 'smelling good'. They can cause stress relief, better moods, and wellness overall; who wouldn't want that in their cars?
Aside from the beautifully smelling essential oils, there's one more thing to love about this air freshener: it's gorgeous. No, seriously. The Anzazo Car Essential Oil Diffuser has a modern, contemporary design that sparkles and dazzles in any car that it is placed. It has a luxurious physique to it, making it the ideal air freshener for any vehicle.
This is undeniably one of our absolute favorite air fresheners on the market, one for its use of essential oils and two for its distinct, clever, and attractive look. It's a great piece to add to your car if you want it to smell wonderful, pick up your mood, AND look amazing; all in one!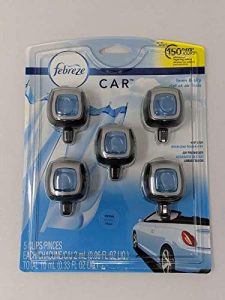 Set of 5.
Delightful linen scent.
Lasts up to 150 days.
Why We Love It
If there is just one company we all know and love when it comes to odor control, it's Febreze! And if you haven't tried Febreze in your car, you're really missing out. Instead of sticking to Febreze sprays in the home, consider tossing in the Febreze Car Air Freshener into your car. It will change the way your car smells forever, and that's a good thing!
These Febreze air fresheners aren't only handy and cool, lasting up to a whopping 150 days each. But they come in that classic, traditional linen scent that we ALL adore. Think about it: when you think of an iconic smell that brings you joy every time you sniff, it's undeniably the linen scent brought to you by Febreze. With these car air fresheners, you can enjoy that delightful linen scent every time you step in your car. Best of all, you will not need to replace these for 150 days, but when you do: there's 4 waiting for you, thanks to this whopping FIVE pack of air fresheners.
These might not be the most unique inventions or have the most glamorous appearance, but they get the job done for a great price. The Febreze Car Air Fresheners comes in a 5 pack, all of which can last up to 150 days, and have that pleasing linen aroma that is so iconic to our noses. Beautiful choice!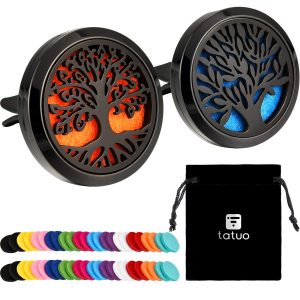 Uses essential oils to work.
Cool, contemporary tree design.
Easy to use.
Why We Love It
Here we go talking about essential oils again; but what can we say? Essential oils are incredibly popular right now because they work. Not only are they a great way to relax your mind and body, but they also smell terrific. Depending on which essential oil you love the most, you can attach it to this air freshener and call it a day. Your entire vehicle will smell like your favorite scent, and you will love every second of it. Who knew how easy it was to take your favorite essential oils on the road?
Not only is this air freshener easy to use and allows you to sniff your essential oils throughout the car ride, but it has a cool and contemporary design. It's a side-by-side design that has two beautiful tree structures placed on both sides. It's perfect for the drivers who loves a beautiful, simplistic, yet stunning and natural view that will pair well with their specific vehicle.
We recommend the Tatuo 2 Pieces 316L Stainless Steel Car Aromatherapy Essential Oil Diffuser Air Freshener because it's easy to use, is compatible with your favorite essential oils, and has a cool and picturesque tree design that looks great in all cars. It's the ideal combination of contemporary looks and wonderful scents.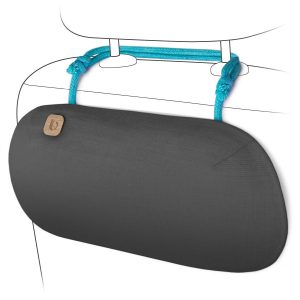 Absorbs bad smells, releases good smells.
Lasts over 365 days.
Uses activated bamboo charcoal.
Why We Love It
Activated charcoal again? Absolutely. Why? Because- especially if you're a smoker- you are looking for a way to get rid of the most horrendous smells in your vehicle, replacing them with delightful natural odors. That's exactly what you will find with the PURGGO Car Air Freshener, and that's why it was our top pick for getting rid of cigarette smoke.
There's many reasons to love the PURGGO Car Air Freshener. First and foremost, it has the ability to absorb bad smells and replace it with a scent that is all natural and refreshing, something everyone will enjoy in their nose. Aside from the smells, this wonderful and easy to use air freshener lasts up to a whopping 365 days- and even longer after that! This means you will spend less time and energy over time, only worrying about your car air freshener ONCE a year; how awesome is that?
We highly recommend this product if you're struggling with some serious bad scents. This is because the activated charcoal works as a sponge quickly and easily, getting rid of bad smells in a flash and replacing them with delicious, all natural fumes that will delight the nose. It lasts for up to a year (and sometimes longer) which means you will save plenty of money without needing to replace your product. It's a favorite, for sure!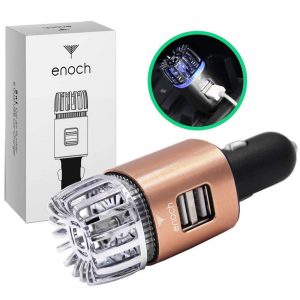 USB air freshener.
Releases negative ions for scent purposes.
Has a beautiful rain scent.
Why We Love It
There are a lot of different options on the market when it comes to air fresheners; some attach to the back of the headrest, others go on the dashboard, and some will connect to the air conditioner; but what about a product that can hook up to your cars port with ease? That's what you get with the Enoch Car Air Purifier.
This air freshener is completely unique to its competitors. First and foremost, it can connect directly into your car's socket with ease; but don't worry about sacrificing an area for charging your phone. This wonderful, handy piece of equipment comes equipped with an area to plugin a USB to charge your phone WHILE the air freshener is working; how cool is that? Now you can rely on negative ions to remove bad odors and replace them with delightful scents while charging your phones. It's a two-in-one product that gets the job done.
We love this product because it is a two in one product that not only makes your car smell like a rainforest, but allows you to charge your phone at a rapid speed with no problems. It's a small, portable device that truly gets the job done in terms of giving your car a scentsy refresher, and it comes at a great price (and a great selection of contemporary gray or girly rose gold).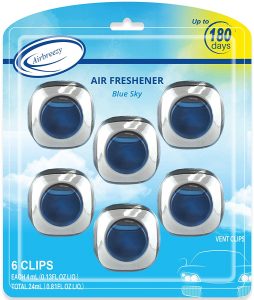 Delightful new car smell.
Lasts up to 180 days.
Comes in a 6 pack.
Why We Love It
Ah, that new car smell; there is nothing like it. If you're a lover of the 'new car smell' and wish you could smell it every day of your life, then you might want to consider purchasing the Airbreezy Car Air Freshener. This wonderful, tiny device has the power to get rid of the atrocious odors found inside your car, replacing them with a delightful new car smell that will leave all of your passengers wondering: "Did she get a new car?!"
The Airbreezy Car Air Freshener is a dream come true for anyone who loves the new car smell. However, another thing you will love about these air fresheners is the fact that they can last up to a whopping 180 days. Coming in a 6 pack, you will have plenty of back ups on hand to replace the air freshener when it starts losing its luster. That means less money in the long run, and less worry about when you need to replace your air freshener!
We like this product because it gives off the new car scent that many people love, and it comes in a handy 6 pack which means you won't need to buy another pack anytime soon- especially seeing as these air fresheners last up to a whopping 180 days. It's a wonderful idea for any new car smell fan that wants that smell in their car around the clock.
JAPS 2xPACK Sunflower Car Accessories Cute Car Air Freshener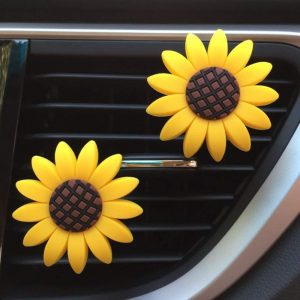 Easily refilled.
Cute sunflower design.
Comes in a 2 pack
Why We Love It
If we are going to be brutally honest here, let's say this: a lot of car air fresheners don't look good. It is almost as if they make their own, obnoxious statement: my car smells and I have to have this in my car or it's going to be hell on earth. But what if you could have a car air freshener that is actually cute? Yes, we said cute. And it's possible!
The JAPS 2xPack Sunflower Car Accessories Cute Car Air Freshener comes in a lovely sunflower design that looks great in any car. And with this product, you won't have to settle for just ONE adorable sunflower air freshener, because you get TWO! That means cuteness overload can take place on both sides of your vehicle, and you'll also enjoy some delightful scents coming from these babies as well.
Another great thing to love about this cute 2 pack is the fact that you can refill them with ease. When you notice the scent is becoming dull in your sunflower air freshener, just put your favorite perfume, essential oil, or other scent on the flower, and it will continue to spray this scent around vehicle. Cool, and easy!
This isn't the most astounding air freshener on this list, but if you need something cute in your car, then you will want to try this one. It's lovely sunflower design creates a cute accessory, with plenty of delicious scents coming off.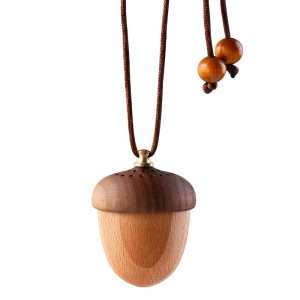 Cute hanging acorn decoration.
Uses essential oils for smell.
Light, subtle aroma.
Why We Love It
We have mentioned quite a few different styles of car air fresheners, but nothing compares to this. Are you a fan of hanging things in your car over the rearview mirror? A lot of people are, and if this sounds like you, you may want to find a car air freshener that can hang with the rest of your adorable accessories.
The RoyAroma Wooden Acorn Essential Oil Car Diffuser Air Freshener is a hanging decoration that comes in a lovely acorn decoration that is not only adorable, but simplistic in its design. It allows you to fill up with essential oils, and if we haven't gotten the point across already, we love essential oils. They work wonders when it comes to improving moods and wellness, and the scent is overall delightful. The hanging acorn will showcase these essential oil flavors in a subtle and beautiful manor that isn't too overpowering, but isn't too subtle either; it's the perfect amount!
If you want something cute and subtle, then you may want to get the RoyAroma Wooden Acorn Essential Oil Car Diffuser. It allows for essential oils to become the showcase in your car, providing mood-improving and delightful scents that aren't overpowering or too subtle. The hanging acorn is cute and simplistic, making for a great addition to any vehicle. It also doesn't shout 'I am an air freshener', which is great!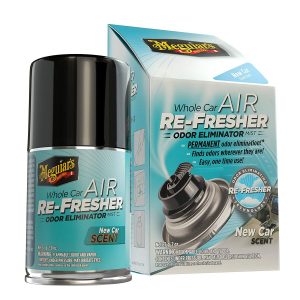 Unique one time use aerosol.
Removes bad odors, replaces with new car scent.
Works unlike other air fresheners.
Why We Love It
The majority of car air fresheners will need to be plugged in somewhere in the car, used continuously, and then you still end up with scents that aren't so pleasant hanging around your vehicle. The MEGUIAR'S G16402 Whole Air Re-Fresher Odor Eliminator does things differently. This unique mist only has to be used one time in front of the air conditioner. The aerosol sprays into the car and sticks to bad odors, removing them completely, replacing these horrid scents with a luxurious new car smell that everyone will enjoy.
With a car air freshener like this, you never have to worry about bad smells again. This is why we named it the absolute BEST whole air re-fresher on the market, giving your car a scentsy revamp that won't be disturbed. With lovely new car scent, you and your passengers can once again enjoy your vehicle without worrying about cigarette smells, workout gear, wet dog, or other gross stenches that may have invaded your space.
We love this car air refresher because it is the go-to for removing odors and giving cars a brand new, wonderful scent. It only needs one time per use, as the aerosol sprays over the car religiously and won't need to be ran while the car is in use.
Car Air Fresheners List Comparison Table
Name
Company
Scent
Type
Other Features
DRIVE Natural Car Air Freshener
Drive Auto Products
Bamboo Activated Charcoal
Lanyard clips to headrest
Dehumidifier
Anzazo Car Essential Oil Diffuser
Anzazo
Essential Oils
Air conditioner clip
Luxurious design
Febreze Car Air Freshener
Febreze
Linen
Clip in
Lasts up to 150 days.

Comes with 5.

Tatuo 2 Pieces 316L Stainless Steel Car Aromatherapy
Tatuo US
Essential Oil
Clip in
Comes with 2.

Cool tree design.

PURGGO Car Air Freshener
PURGGO
Activated Bamboo Charcoal
Wraps around headrest
Lasts 365+ days.

Enoch Car Air Purifier with USB Car Charger 2-Port
Enoch
Rainforest
Sticks into car plug/socket
Comes with USB for swift phone charging.

Uses negative ions to eliminate bad odors.

Airbreezy Car Air Freshener
Airbreezy
New Car
Clip into air conditioner
Comes in a 6 pack.
RoyAroma Wooden Acorn
RoyAroma
Essential Oils
Hang over rearview mirror
Acorn design. Easily fillable.
JAPS 2xPACK Sunflower Car Accessories
JAPS
Fresh
Clip into air conditioner.
Cute sunflower design.
MEGUIAR'S G16402 Whole Air Re-Fresher
Meguiar's
New Car
Aerosol spray.
One time use aerosol spra
What You Need to Know Before Buying Car Air Fresheners
How do you choose the right car air freshener? There are a few different things to consider:
What smell you want.
Of course, the smell you want is important. Some may prefer a smell that has a new car scent, while others may want something that reminds them of the rainforest. First and foremost, pay attention to the particular scent you're after. This will help narrow down your search immediately.
What design you want.
Back in the day, car air fresheners could only be placed in air conditioning vents and worked in that way. But nowadays, you can find car air fresheners that hang from the rearview mirror, go on the dashboard, around the headrest, or even in the USB port device which design is right for you and your car, and that will help in your purchasing decision.
Do you want a specialty scent like activated charcoal or essential oils?
Some people are really into things like activated charcoal and essential oils, and a lot of car air fresheners are accommodating these specific tastes. If this is something you're interested in you will want to find a car air freshener that provides these options to you.
How long do car air fresheners last?
Every product is different. Some may only last 180 days, while others can last up to a year if not longer. Pay attention to the average length of the air freshener before purchasing.
How often should you change your air freshener?
Again, this depends on the product. Some products will need to be changed after a month because the smell is lost, while others will hold their smell for upwards of a year. The second you notice the smell is not as potent or completely lost, it's time to switch out your car air freshener for a new one.