Here's a "revolutionary" idea: long drives do not have to come with so much body pain!
We can almost hear every seasoned driver nod as we all know the toll a long commute takes on the body. After sitting in the same position for hours, the stress on your back and neck can often result in muscle tension and backache. This prolonged discomfort can also exacerbate other more severe conditions like chronic back pain and arthritis.
Hence, it is no surprise that the bid to make driving a lot more comfortable has spawned an entire, massive industry. Potential solutions to this situation include the likes of heated seat covers, gel seat cushions, and car seat massagers.
Car seat massagers are one of the newest solutions to the age-old problem of car seat comfort.
These car accessories use different techniques, including kneading and vibration, to help relieve muscle tension, pain, and stress as you drive to your destination. These add-ons attach to your driver's seat and typically plugs into your vehicle's cigarette lighter for power.
Since they provide extra cushioning too, car seat massagers also significantly improve many factory-issue seats that do not provide enough back support.
An excellent car seat massager can help to relieve pain and stress, provide support for your spine and neck, and make driving a significantly more pleasurable experience.
The Benefits of Getting a Car Seat Massager
Improving Circulation
Multiple pieces of research show that a deep, revitalizing massage can significantly improve your blood flow. Poor circulation during prolonged car rides is a crucial contributor to the aches, pain, and discomfort in the back or neck that is common in these situations.
Furthermore, improved blood circulation can help tissues heal faster, restore your muscles and reduce soreness, and positively impact your overall health.
Reducing Stress and Improving Your Mood
One reason why most people take massages is that it helps them relax and feel good. However, between traffic gridlocks and the chaos of the streets, driving can quickly become one of the most stressful parts of your day.
Car seat massagers solve this problem by providing you massage on the go that instantly helps to relieve pain and stress. Furthermore, deep massages trigger the secretion of endorphins that are nature's way of boosting your mood.
Several studies have found that regular massages can also help with both anxiety and depression.
Helping with Back Pain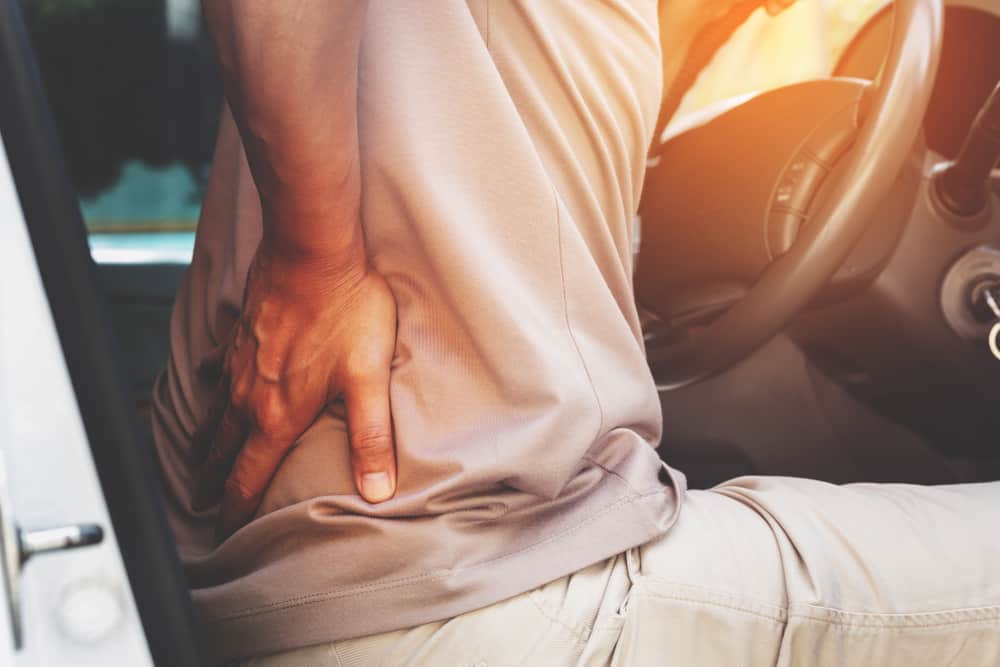 Thanks to long workdays behind the desk and incessant commuting, the risk of getting some form of back pain as an active worker today is outrageous. According to one research, one-half of all working Americans report having some pain symptoms each year.
A massage cushion can help to stimulate your muscles and ease the tension. Regular massages can help alleviate the symptoms of lower back pain and chronic back pain.
Making Trips More Comfortable
Car seat massagers are an excellent way to convert dreadful long commutes into treats that you can't wait to experience. Facing your long commute to work or going on a long trip? How about a warm massage for the entire way?

The Forms of Car Seat Massagers
Depending on the manufacturer, car seat massagers can take different forms and shapes. However, the three most popular are neck massagers, cushion massagers, and full massagers.
Neck Massagers
Neck massagers are small appliances that wrap around your neck in a similarly to travel pillows. These massagers typically use a vibrating technique to relieve soreness or stiffness in the neck. Compared to the other forms, these models are relatively cheap. However, they are significantly limited in reach, and they won't help with your back.
Cushion Massagers
This form of massagers come in the form of inserts that are similar to a throw pillow as they are smaller than full seats. These cushions are an excellent way to localize the massage action, as you can target a specific region like your lower back.
Full Massagers
Full massagers are the most common as they provide comprehensive coverage for your seats as well as the equivalent of a full body massage. Full massagers offer the most thorough massages and often sport more extensive features.
Choosing a Car Seat Massager: The Massager Types
When selecting a new car seat massager, you get to choose from options that use mainly use some form of one of two massage techniques: Shiatsu and vibration.
Shiatsu Massagers
Shiatsu massage is a form of massage therapy that originated in Japan where the term "Shiatsu" means "finger pressure." This form of massage involves the application of pressure to several points in the body in a predetermined, continuous sequence.
Shiatsu car seat massagers adhere to this Japanese tradition by providing pressure to different points on the body in a manner that is similar to acupuncture. These add-ons simulate finger pressure with massage balls and nodes that roll around behind the cushion, easing tension at various points along your neck and back.
Shiatsu massagers provide invigorating massages that can be excellent for easing pain, improving circulation, and elevating energy levels. However, the nodes and balls can be quite tough, and combined with the intense massaging action; some units may require an acclimatization period.
Vibration Massagers
Vibration massagers typically provide a less vigorous massage than Shiatsu massagers. However, they are significantly more comfortable to enjoy, as they feature a relatively gentler rub-down that most people will find familiar.
Vibration massagers use simple vibration motors to create a vibrating seat that shakes your muscles and tissues. Hence, these units are excellent for improving circulation, reducing stress, and relieving tension. They also make for a great after workout reliever of sore muscles.
Other Features to Consider when Choosing a Car Seat Massager
Control Setup
When finding the perfect seat massager, the controls is everything. The ideal unit must have options for different levels of speed and intensity settings to allow you to customize the massage function to match your unique needs.
Furthermore, the control panel must be easy to reach, intuitive, and easy to understand.
Some units feature handheld control units that make it super easy to reach the control panel of the massager. However, you should only use the handheld feature when parked — attempting to adjust the settings while driving can significantly increase the risk of a crash.
Ergonomics
There is absolutely no reason to install a seat massager if it's in any way going to detract from your comfort. A good car seat massager must seat smoothly on your chair without any shifting. The unit must also feature thick, padded, plush cushions that are easy on your body. Some units even feature added lumbar support for ultimate comfiness.
Aesthetics
While this might be a purely practical purchase, you do not want a ghoulish, out of place piece of cushion in your car. Make sure to select a unit with a style that matches the aesthetics of your car interior.
Size
Most cars today come with standardized seat sizes. Hence, any seat massager you pick up should fit. However, if you have any specialty vehicles like sports cars with racing seats or vintage cars, you may have a sizing issue. Check the dimensions to be sure the unit will fit.
Heat Function
Many higher-end models feature a heater that can further accentuate the massage process. Heat can help to improve circulation, decrease stress, and relieve pain. The warm seats also make for a more relaxing and enjoyable driving experience.
However, if you are in warmer climes, you should check that the heat function can be disabled independent of the massager. A unit with an always-on heat feature may be problematic during the warmer summer months.
Memory Function
Another remarkable feature to have is the ability to recall your favorite settings. Some units feature a memory recall function that lets you store your optimum settings and set it with the push of a button.
Safety Features
The primary hazard risk of car seat massagers is that when they are left on for extended periods, they may overheat. An overheating seat massager can damage your car interior or even cause you physical injury.
An excellent way to prevent such hazards is to opt for a unit with safety features like an automatic shutdown timer.
Ease of Install
A good seat massager must be easy to install and remove. Many units use easy-on straps that can be set up in a few seconds.
Best Shiatsu Car Seat Massager: Full Back Shiatsu Massager with Heat by Gideon
If you are ready for some intense pampering with the widely acclaimed shiatsu technique, this specced out seat massager from Gideon is your best bet.
The unit features a whooping 14 rotating shiatsu nodes to guarantee full coverage of your upper back, lower back, and neck area. The device uses 3D rotating nodes that enforce a thorough kneading effect that can relieve stress and ease tightness in your muscles.
To guarantee your utmost comfiness, this full back massager includes a handheld control unit that lets you customize the intensity of the massage. The remote also includes more advanced settings like a button to turn the heat on and off and a switch that lets you set the rotation of the node to clockwise or anti-clockwise.
Unlike other option on the market, this unit also features multiple bottom motors that effectively massage the hips and thigh. Plus, you can set a different intensity setting for these bottom motors!
If you are trying to de-stress after a hard day at work, or need something for that tasking drive through the city, look no further. The Full Back Shiatsu Massager with Heat by Gideon is the one for you.
Pros
Extensive body coverage with 14 rotating shiatsu nodes
Ability to switch between shiatsu, vibration, and heated massages
Extreme customizability with ability to target full back, upper or lower back
Timer with 5, 10 and 15-minute modes
With auto-off function to prevent overheating
Handheld control with a personalized message
Cons
Maximum heat may be too low for seasoned heat therapy users
Some user reviews complain about the texture and sound of the cover
Best Vibration Car Seat Massager: Snailax Vibration Massage Seat Cushion with Heat
If you prefer a simple vibrating massager instead, the Snailax is the one for you. This plush seat cushion comes equipped with six de-stressing vibration motors spread out across the unit to ensure adequate coverage of your back and neck.
Thanks to the unit's five programmable modes, you can set the turn-on specific motors to target particular areas of your back and thighs. You also get to choose from multiple vibration intensity levels.
There is an auto-shutdown mode here too that prevents overheating to ensure the safety of both you and your car. Furthermore, the unit also features adjustable back straps that fit snugly around your seat and prevent any wiggling.
Heat therapy is not missing, as well. You get the option to turn heat to help relieve tension and ease any tightness in your muscles.
If you need a gentle vibration massage to cope with the stress of the day, the Snailax Vibration Massage Seat Cushion with Heat is an excellent choice.
Pros
Fully customizable experience with vibration localization and intensity control
Six vibration motors for full-body coverage
Dual adjustable straps will fit any car seat
Home and car adapters included in the box
Soft, plush cushion
Auto shut-off function
Cons
Vibration massage may be too weak for people with shiatsu massage experience
Best Neck Car Seat Massager: Zyllion Shiatsu Back and Neck Massager with Heat
Struggling with lower back pain, or need some relief for your neck muscles? If you need a car seat massager you can easily swap around for spot massages; the Zyllion Shiatsu massager is the best you will find on the market.
The unit's ergonomic design features 3D kneading nodes that are excellent for attacking aches and pains in your neck, back, thighs, or abdomen.
Pros
Deep spot massages with rotating notes
Portable and excellent for use at any location
Extremely versatile
With automatic shut-off to prevent overheating
With heat function
Cons
Limited customization options
No remote