Messy contractors often bring with them the anguish of a marred, grout-laden floor, and pain grout removal entails.
However, it doesn't have to be this way. The tiling industry gods know the discomfort that grout brings. Hence, they have been working tirelessly to bring improved tools that ensure that you always have sparkling floors.
But, What is grout, and why do you have it all over your tiles?
Grout is a dense fluid that contractors use to glue your tiles together and hold them in place. The material is made from water, cement, and sand and incorporated in tile installations, embedding reinforced bars into masonry walls, and connecting section of concrete blocks. Once applied, the fluid quickly sets into a rock-solid material.
When tiling kitchens and shower floors, using grout is often the only choice. Grout is preferred unlike other structural pastes like plaster, and joint compound, grout, when mixed correctly creates a waterproof seal.
However, its most significant advantage also creates its most significant potential complication. Grout's waterproof nature makes it impervious to water once dry, and it's hard rock-like texture can make cleaning it a serious headache.
Grout sets quickly and can be tough to clean so any extra grout or splashes on tile can seriously hamper aesthetics over time. Also, after extended use, the grout on tiles can become cracked and create permanent stains that further worsen the already bleak conditions.
Where it has to be kept visible, like small strips between widely-spaced tiles, you can mask grout with a color tint. However, for more severe cases, it is best to employ a proper grout removing tool to regain your sparklingly clean floor.
In even more serious cases, especially if you have badly cracked grout, you may have to do a complete scrape and regrout.
Choosing the Right Grout Removal Tool
For DIYers everywhere, grout removal is one of the universally most hated jobs. However, choosing the right tools and following the right steps can significantly ease the process and almost make it painless.
Furthermore, selecting the right tool can significantly cut down on cleaning time as well as save you relatively exorbitant costs of hiring a contractor for the job.
However, using the wrong tool type can result in damage to your tiles or chipping of the relatively delicate substrate.
In this report, we review the popular grout removal tool types evaluating their pros and cons to help pick out the best tool for your tile cleaning tasks.
Types of Grout Removal Tools
The tool to select for a grout removal job depends on how large of a task you have to handle. You can use manual removal tools for smaller jobs of a few tiles or a couple of square footage. However, larger tasks with expansive damage grouts require more capable electric devices.
Manual Grout Removal Tools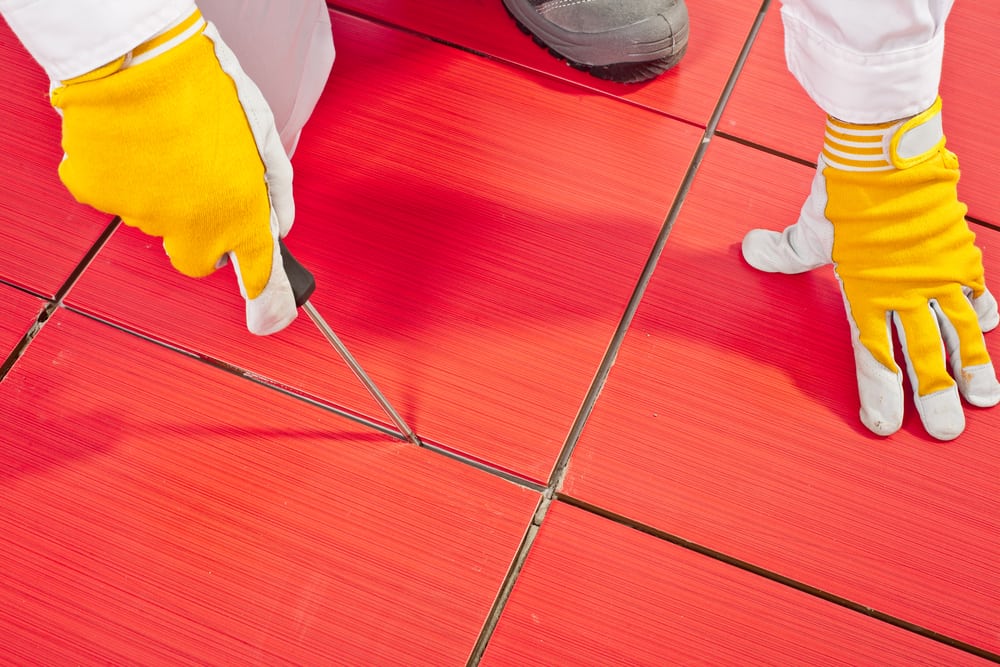 Hammer and Screwdriver
The most versatile tools in every handyman's arsenal, the hammer, and screwdriver also make for excellent grout removal tools. The positive is that you probably already have them so your costs could be zero. Also, with the necessary skills, you can effectively handle smaller grout removal tasks.
However, the hammer and screwdriver combo have abysmal accuracy, and you stand the risk of damaging your tile. Furthermore, this toolset does not scale and can quickly result in inefficient backbreaking work when paired with more substantial tasks.
Grout Removal Hand Tool
This manual tool is the old school method of grout removal used by contractors and builders decades in the past. It can form an excellent implement for attacking minor grout problems.
Compared to the hammer and screwdriver combo, the hand tool offers a more comfortable grip with a durable tip that can hold its own against grout, thin set, and mortar.
While this tool is more accurate than a hammer, it is still less precise than other electrical devices. Furthermore, with the hand tool, you still stand the risk of cracking your tile.
Grout Saw
When it comes to manual tools, grout saws are the removal tool of choice for many professional tillers. There is no surprise there as these saws offer a significant boost in functionality over standard grout removal hand tools.
A typical grout saw features a replaceable blade for scraping substances off your tiled surface. Thanks to its ingenious lever design, the grout saw offers a significantly better force to output ratio than a standard hand tool. However, grout saws do come with the risk of scraping or scratching your tile design during hand slips.
Electric Grout Removal Tools
Grout Grabber for a Reciprocating Saw
If you are a handyman through and through and already own a reciprocating saw, the grout grabber is a no-brainer. The thin blade of this tool attaches to your reciprocating saw creating a useful removal tool that completely eats up grout lines.
The grout grabber comes with a significantly lower risk of tile damage, and they produce minimal dust during use. These tools can also be used by hand for more precise scraping in hard to reach areas.
However, depending on how extensive your removal task is, you may need multiple blade sizes for an effective clean. Furthermore, depending on the brand you buy, grout grabber blades can sometimes wear out relatively quickly.
Rotary Tool
Professionals typically use a rotary tool grout remover for small repairs and removing grout over relatively small footage. Also, if you already own a rotary tool, you can quickly convert it into a removal tool by grabbing a cheap grout removal accessory.
Rotary tools are significantly more comfortable to use than manual methods. However, these tools only work for tiles with more significant gaps. The standard size for the tool blade is ⅛ inches, so the device will only work with tiles with holes that match or surpass that.
Furthermore, the rotary tool grout removers are notorious for producing a lot of grout dust as they work. Also, they fall short when it comes to handles large scale industrial tasks.
Angle Grinder
Angle grinder brings better performance at scale than rotary tools and is an excellent choice for larger projects. These tools also provide improved control thanks to their manual input component. Angle grinders are versatile tools that can grind and sharpen metal and cut tile, and with the right tool, they turn into grout routing powerhouses.
An angle grinder can fit a wide variety of cutting and scraping blades to match your specific cleaning needs. However, like rotary tools, they only work with tile joint ⅛ inches or wider.
These types also produce significant dust during use, and they are notorious for getting considerably loud. Rotary tools also pose a risk of considerable damage to tiles if you mishandle them.
Oscillating Multi-tool
Oscillating multi-tools bring the best-updated grout cleaning technology in a portable package that is hard to refuse. Hence, these tools are the preferred equipment of choice for most professional tile installers.
The significant difference between these tools and other electric grout removers is in their blade action. Oscillating multi-tools feature blades that oscillate, moving back and forth instead of rotating. This cleaning mechanism makes for a more precise clean while fanning up minimal grout dust.
Compared to other electric tools, oscillating tools multi-tools are relatively easier to control and maneuver thanks to their shorter blade stroke and the ability to rotate the cutting head.
Oscillating multi-tools especially excel at smaller to medium scale grout removal jobs. For more complex situations, you are best off getting a professional removal service.
Grout Removal Safety
No matter the DIY home improvement task you are planning to start, safety should always be your number one concern. Grout removal tools can cause serious injuries if misused so you should make sure you are adhering to best practices.
A few tips you should follow for maximum safety include:
Protect your face with protective eyewear and if necessary a dust mask
Shield your knees with reinforced knee guards
Read the manual carefully before operating a grout removal tool
Do not modify the device or its plug
Do not operate the appliance in wet conditions
Pack and store tools correctly after use
Keep the machine and all part away from the reach of children
Read Also: The 12 Best DIY Home Security Systems with No Monthly Fee
Best Grout Removal Hand Tool: ABN Carbide Tip Grout Removal Hand Tool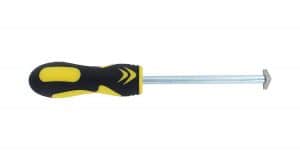 For those small jobs where a power multi-function tool would be overkill, the ABN Carbide Tip removal tool is your best bet for combating deep-seated grout.
The nifty hand tool features a reversible carbide tip that offers six sharp, durable edges. The edges work well for carving out the grout, mortar, thin set, or caulking residue, while a comfortable, soft-grip handle helps prevent fatigue during extended use.
Its small, portable size makes the ABN Hand Tool superbly maneuverable, letting you control the speed and depth of scraping to the tee. Furthermore, it is an excellent option for reaching cracks, tight corners, and other hard to reach areas a more powered tool may have problems with.
Hence, the ABN tool makes for the perfect supplementary tool to use concurrently with your multi-tool.
To use the ABN Carbide Tip Grout Removal Hand Tool, drive the tool through the grout joint until about a third of the material is removed.
Pros
With a reversible carbide tip for enhanced durability and better grout removal
Soft, comfortable grip reduces the chance of hand and wrist fatigue
Easy and straightforward to use
Improved access to hard to reach areas
Cons
You have to calibrate the force applied as excessive force manually can chip tiles
Unsuitable for larger areas
Best Grout Saw: Edward Tools Grout Removal Tool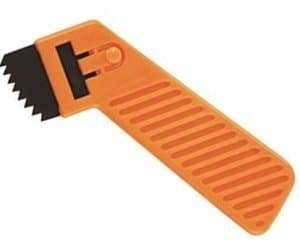 For even more improved grout removal, check out this grout removal tool from Edward Tools. This tool features a heavy duty tempered steel alloy blade that promises an enhanced clean.
Compared to the hand tool, this grout saw provides better ergonomics thanks to featuring an angled design that facilitates easy grout removal and creates less strain on your wrists.
Furthermore, unlike a standard hand tool, you can always swap out the blade on this tool for a new one to further lengthen the lifespan of the tool. Plus you get a limited lifetime warranty with each unit.
Tillers love grout saws for their functionality despite their simplicity and the improved efficiency and durability they provide over standard hand tools. The Edward Tools grout saw is no exception.
To use the Edward Tools Grout Removal Tool, simply drive the tool through the grout joint until about a third of the material is removed.
Pros
Sturdy tempered alloy steel construction provides enhanced durability
Ergonomic design is easy on the hands
Easy to use and maintain
With lifetime warranty
Cons
User reviews complain that the saw blade wears out too quickly
Not ideal for larger jobs as it relies on physical strength
Best Rotary Tool for Grout Removal: Dremel 4300-5/40 High Performance Rotary Tool Kit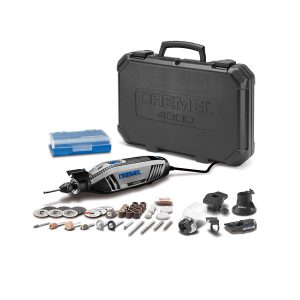 The Dremel 4300-5/40 toolkit is our tool of choice for grout removal using a rotary tool. Compared to other models in its class, this unit offers a lightweight and ergonomic design, lower noise output, and a powerful 1.8 amp motor.
The premium rotary tool kit- includes a 4300 high-performance rotary tool, five attachments, 40 high-quality Dremel accessories, and plastic storage case.
The tool kit is excellent for handling small scale grout removal with better efficiency and speed than you will get from a typical manual tool. However, it features the usual drawback of any regular rotary tool. The Dremel only works with ⅛-inch gaps between tiles, and the machine can rake up a sizable amount of dust during use.
Aside from grout removal, the Dremel 4300-5/40 toolkit makes for an excellent comprehensive tool investment as the vast assortment of clever bits provides handy equipment for drilling, cutting, and other necessary home improvement tasks.
As a general tool investment, the 4300-5/40 is an excellent addition to your home inventory. Its versatile assortment of bits gives you a wide variety of drilling, shaping, sharpening, and cutting potential. It's also priced for value. Additional bits to do extra jobs aren't that expensive, too.
Pros
Powerful 1.8 amp motor provides superior performance for even the most demanding tasks
Relatively quiet operation compared to other rotary tools
Multiple bits provide enhanced versatility
Easy to control
Two years warranty
Friendly customer service
Cons
Only works with ⅛-inch gaps
Can chip tiles
Best Angle Grinder for Grout Removal: Porter-Cable Angle Grinder Tool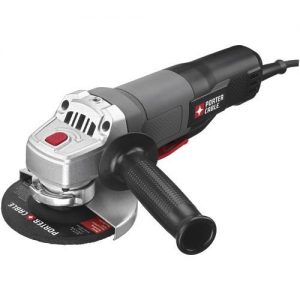 Our angle grinder pick for grout removal is the Porter-Cable Angle Grinder Tool.
Compared to rotary tools and multi-tools, angle grinders provides significantly improved maneuverability thanks to their manually controlled handle.
The Porter-Cable Angle Grinder Tool aces this department with a 3-position handle for enhanced control and superior comfort. Furthermore, with this model, you get a convenient paddle switch that shuts off automatically for improved safety if the machine is dropped.
The cast metal gear housing enhances the durability of the unit and helps to dissipate heat to ensure the tool can handle more extensive tasks without hitches.
Where capable angle grinders like the Porter-Cable Angle Grinder Tool shine is handling long lines and substantial areas of grouts. In large rooms, The Porter-Cable Angle Grinder Tool provide significant power that is unmatched by any other options.
However, the major pitfall of this unit is that, like other angle grinders, it can get considerably noisy during use. You will also notice a significant cloud of dust kickback.
Pros
Cast metal gear case helps regulate heat and reinforces enhanced durability
3-position side handle allows better handling and uses in multiple positions
Non-locking paddle switch automatically shuts off if dropped
Faster than other tool types
Compact and lightweight
Cons
Loud operation
Kicks up a sizable dust cloud
Best Oscillating Multi-tool for Grout Removal: Dewalt DCS355D1 20V XR Lithium-Ion Oscillating Multi-Tool Kit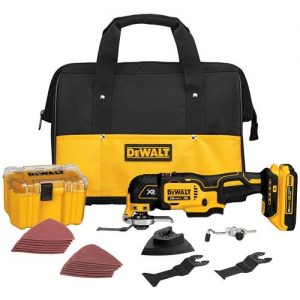 Ask any housing contractor for a capable electric grout removal kit, and they will probably be recommending an oscillating multi-tool option. Often it's not just any multi-tool; it is the competent DCS355D1 from Dewalt.
The DCS355D1 comes in a lightweight and compact package that is easy to control for inch-perfect grout removal. Unlike other tools in its class, the DCS355D1 features a high-speed carbide blade that can chew grout for hours without dulling or bending.
The unique Delwat quick-change system lets you swap out blades and other accessories to bring added versatility for handling other home improvement jobs around the house.
Dewalt DCS355D1 is a reliable performer for cleaning small scale grout situations. Furthermore, it does not kick back dust into the air as you would get with an angle grinder. However, the device does not come cheap. So if your sole reason for getting the tool is grout removal, you may find it hard to justify the budget.
Pros
High-speed carbide blade provides superior grout removal
Variable speed trigger gives users ultimate speed and application control
Compact, lightweight and easy to control
Durable, long-lasting chassis
Versatile tool
Cons