In the United States, a burglary occurs once every 18 seconds. This equates to almost 200 per hour and close to 5,000 each day.
These terrifying statistics demonstrate just how important a good home security system is. Not only do they have the power to deter potential burglars and raise the alarm, but certain devices even capture crucial video footage of the criminals for later prosecution.
The marketplace is packed with home security solutions, though, and narrowing your search down to just one option can be tough. Finding a system to suit your budget only makes this even harder, especially as security technology continues to grow more advanced.
But don't worry: in this comprehensive guide, we've compiled the top 12 DIY home security systems with no monthly fees.
What does that mean? You can install each of these devices yourself without needing to hire a professional to do it for you. That's a major advantage, saving both time and money.
Monitoring is optional on these 12 home security systems too: you don't have to pay a team to watch over your property on a daily basis — making them even more cost-effective.
While professional monitoring definitely has its advantages (extra peace of mind, increased security), it's an extra outgoing to consider. And the high-performance of the best DIY home security systems reduces the need for external monitoring too.
The options covered below offer maximum convenience for even the most non-tech-minded consumer: you just pay for the DIY system itself, set it up and relax knowing your home is safer than ever.
We've listed the 12 best DIY home security systems from the most expensive to the least, incorporating a great range of prices to satisfy buyers on diverse budgets. All costs specified apply to Amazon.com and are correct at the time of writing.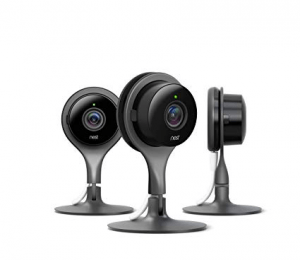 Why it's here: Nest is popular, well-respected brand known for its quality products. This pack gives you three fantastic cameras, Alexa compatibility and cloud storage for up to 30 days' worth of clips.
Nest is one of the foremost names in the world of home security, and this system is a fantastic product utilizing cutting-edge video.
While it retails at a high price, this Nest Indoor Cams 3-pack offers solid value for money thanks to its impressive features. One true perk is its Alexa-compatibility: you can control it with your voice alone, provided you already have an Alexa unit in your home. This offers real convenience for those with reduced mobility who want to keep track of activity elsewhere in other rooms.
Nest Indoor Cams stream video in crisp 1080p HD for for a crisp image, even at night. This makes smaller details hard to miss and ensures a high standard of clarity, helpful for identifying faces if needed.
Nest Alerts keep you in close contact with your property at all times too. Alerts arrive via the compatible Nest App whenever one of the cameras picks up signs of activity or movement in any room covered.
These Nest Indoor Cams feature built-in speakers too, which operate both ways. What does that mean? You'll hear sounds from within areas monitored by the cameras and have the freedom to communicate through the speakers (such as telling your cat to stop scratching the couch).
This function means you can interact with friends or family without calling them, and you can even warn intruders they're being watched. This may be enough to deter them.
The Nest Indoor Cams are designed for a high standard of stability, sitting on all types of surface for reduced risk of tipping over. In-built magnets enable you to connect the Cams to metallic surfaces, or you can attach it to a wall directly.
You can save 10 or 30 days' worth of video footage in the cloud for future reference (ideal if you've been away from home on vacation). Playback is designed for maximum convenience, allowing you to fast-forward and rewind hours of footage in seconds.
If your budget has room for the Nest Indoor Cams 3-pack, it's an outstanding choice for any property. The two-way speakers are a definite highlight, while the various set-up options offer great flexibility during installation.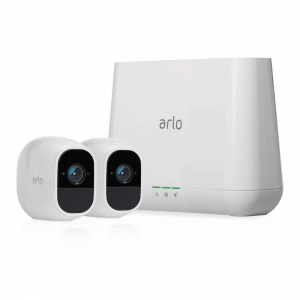 Why it's here: Arlo's Pro 2 is a totally-wireless security system for a no-fuss, discrete installation. Its weather-resistant design keeps it protected against the elements and the 100dB alarm is a powerful feature.
Arlo Technologies is known for its high-end security and surveillance products. The Arlo Pro 2 is a fine example of the brand's innovative approach to home protection, boasting completely wireless performance. This means no problems with exposed wires or tangled power cords.
The camera features 1080p HD resolution with night vision; this activates automatically in low light, designed to capture clear footage round the clock. The Arlo Pro 2 has also been built to be weather-resistant, operating at temperatures between 32 and 122 degrees Fahrenheit.
The Arlo Pro 2 includes two-way audio. You'll be able to communicate with anyone in your home at any time via your smartphone, whether they're supposed to be there or not. The Smart Siren blasts at an impressive 100 decibels, drawing attention and (hopefully) warning intruders away. You can control this remotely or activate it to sound when motion or noise is detected.
You can run the Arlo Pro 2 on its rechargeable battery or plugged into a power source, whichever works for you. It's compatible with Amazon Alexa, Google Assistant, Fire TV and Echo Show as well, allowing you the freedom to operate it with voice commands only. It even works with Samsung SmartThings and IFTTT (If This Then That).
The Arlo Pro 2's Arlo Smart function is an optional extra you may want to consider trying for the free one-month trial phase (what have you got to lose?). With Arlo Smart, you can customize the alerts you receive based on different types of activity, monitoring people and specific areas of the home.
You can contact emergency services directly from the lock screen on your smartphone, giving you the power to alert local authorities to a situation with a short process.
The Arlo Pro 2 comes with seven days' worth of free cloud recordings, so you can store live video or audio for the first week following purchase. So, you don't get the ability to save 10 or 30 days' footage in the cloud as part of the service as with the Nest Indoor Cams 3-pack, but again, you can still benefit from this trial period even if you don't want to upgrade to a more expensive deal.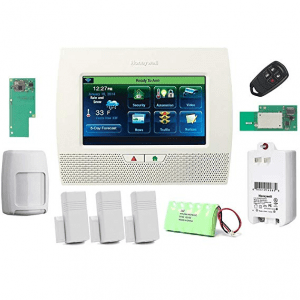 Why it's here: The Honeywell Lynx Touch L7000 is a quality security system with a good touchscreen with plenty of features. You can access news, weather and more as well as controlling your home security through this interactive hub. It supports up to four cameras too.
Honeywell is a company with multiple different interests, and the Lynx Touch L7000 is just one of numerous security-focused products. It's another fantastic high-end security system with some good features and functions, at a slightly lower price than Arlo and Nest's items.
It's not as sleek and visually-impressive as either of the aforementioned products though. The 7" touchscreen looks a little small and old-fashioned, though it's clearly well-designed for functionality — which is really the most important thing. The colors are vibrant and dynamic, helping each of the different icons contrast (a major aid for users with eyesight issues).
You can access all the main functions of the system via the touchscreen's menu. Security, Automation, Video, News, Traffic and Notices are all available at a quick tap or two. Time and weather details are included too.
Two-way audio is available, as is Z-Wave connectivity. This lets you control different aspects of your home's functions through the system, such as lighting, alarm, door locks, thermostat and more. It's a solid feature that expands the Lynx's value, offering a wide range of functionality beyond basic security.
If you're away for some time and want to make your home look occupied in a more convincing way, you can use the randomized lighting control to fool criminals watching the property. 20 rules (even-based actions) and 20 schedules (time-based actions) can all be programmed.
The Lynx supports as many as four cameras and displays their feeds individually or in unison. This works with video products from Honeywell, such as the iPCAM-PT or iPCAM-WO.
The Advanced Protection Logic ensures the alarm is reported even if an intruder interferes with the system during a forced entry. This offers an extra layer of security and protection. You can activate a voice announcement of zone- and system-statuses to set your mind at ease, at home or away.
The Honeywell Lynx allows for as many as 48 user codes, including Installer, Master and 46 Secondary options. This is ideal for providing specific guests with their own unique entry codes, which can then be deactivated without removing your own personal code.
You can control your garage doors via this system as well, with space for up to four doors available. You can monitor the status of the garage door at any time, automatically control it directly or through a schedule, all on your smartphone.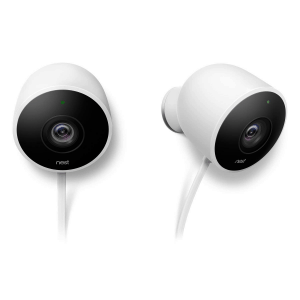 Why it's here: Nest's Security Camera 2-pack boasts a 130-degree wide angle view for extra coverage, night vision and multiple fast-installation options. It's weatherproof too, offering impressive robustness.
Nest's second appearance on this list is testament to the brand's quality and reliability. The price is significantly lower than the Nest Indoor Cams 3-pack, but still surprisingly high for just two cameras. However, as with the earlier package, you can expect some terrific features and functions for your money.
The Nest Outdoor Security Cameras are compatible with Alexa for voice control and records live video 24/7 with a 130-degree wide angle view. The 1080p HD resolution ensures crisp visuals day and night, thanks to the inclusion of eight infrared LEDs and the Night Vision function.
Depending on the bandwidth at your property, you may want to drop the resolution to 720p instead, as each camera demands a minimum of 200 to 500 Kbps to upload video. This more than doubles at the maximum 1080p HD setting. Of course, the higher resolution is recommended for greater clarity, ideal if you need to identify a suspicious individual trespassing on your property. The lower the resolution, the harder identification can be.
The cameras, cables and adapters are all designed to be weatherproof: this gives you valuable peace of mind during cold, wet weather, especially if you're going to be away from home for long periods.
The cameras can be mounted in many different spots, and the magnetic mount lets you position it on anything metallic. This gives you the freedom to pick the most convenient, effective location for monitoring your home.
Alerts are sent to your phone whenever certain types of activity are detected. You can use the two-way audio to get their attention and find out why they're approaching your property. For example, you can tell a courier where to leave a package for maximum safety or tell a salesperson you're not interested.
The free Sightline function allows you to review photos capturing any activity taking place in the previous three hours. You can get more control over reviewing videos and get access to key details using the optional Nest Aware program. This includes a low monthly fee, though it's by no means essential — you can still get a lot out of the Nest Outdoor Security Camera 2-pack without this.
Nest's website features a wealth of information on installing the cameras too, guiding you through the set-up process quickly.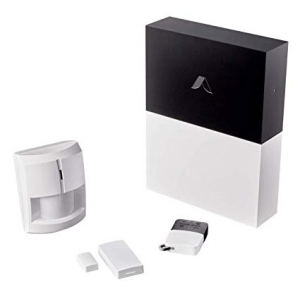 Why it's here: Abode's Starter Kit offers fantastic value for money. You'll get multiple pieces helping you protect your property, with window sensors and motion sensors. It supports products from multiple other brands too, so you're not limited to Abode only.
Starter kits are a great way to set up a security system for your home quickly and easily. They provide you with everything you need to get started (it's right there in the name) at a decent price. It's still a higher cost than some buyers may look for, but you do get a fair amount for your money, so it's worth considering.
The Abode Essentials Starter Kit is compatible with Alexa, and comprises: one Gateway, one mini Door / Window Sensor, one Remote KeyFob and one Motion Sensor. Each benefits from a subtle design that blends into the home discreetly.
Abode designs its kit with for easy installation too, with no need to use tools. That's a nice touch for people who may struggle with DIY or have reduced mobility.
The Gateway is kit's main hub, communicating with the various wireless gadgets and smart home devices integrated into its functions. It supports products from other brands like Nest, Z-Wave, LIFX, Philips Hue, Yale and more.
The Motion Sensor does just what it says on the tin: it uses the Abode Away mode to register any activity and alert you. The Key Fob lets you arm or disarm your system at a touch, and attaches to your key ring for easy portability.
The final part of the Essentials Starter Kit is the mini Door Sensor, designed to protect any window or door in your property. This is made to detect when the focus window or door is opened or closed. You'll receive an alert if its status changes at any time.
This is a comprehensive set that equips homeowners with enough pieces to feel secure, though you'll have to add your own cameras to incorporate video monitoring. However, the Gateway's compatibility with products from different brands gives you a variety of options to do so.
There are no monthly fees with the Essentials Starter Kit, though you can sign up for the professional monitoring service if you wish. That carries no long-term contract, so you're not tied into anything.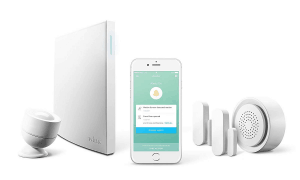 Why it's here: Wink's Look Out Smart Security Starter Kit offers compatibility with numerous other market-leading brands (Ring, Nest etc.) and features several quality components to help you control multiple aspects of your home (lighting etc.).
Up next, another starter kit.
Like the Abode package, the Wink Look Out Smart Security Starter Kit offers solid value for money with multiple pieces included. Fortunately, Wink has made their security system compatible with a wide range of products created by different manufacturers, including leading names like Philips, Ring, Nest, Sonos, Arlo and Yale. In all, you can use this with more than 400 smart home devices.
The Wink Look Out Smart Security Starter Kit includes the Look Out hub, two door / window sensors, a motion sensor and a siren & chime. There are no monthly fees required and a 30 day returns policy if you find this just doesn't work for you.
The door / window sensors can placed next to specific points in your home. You'll receive an instant alert if they detect any change in their position, direct to your smartphone via the Wink app. The siren & chime unit is designed to notify you (and everyone else) of possible suspicious activity by unleashing a loud siren or chime.
An in-built light flashes to warn people inside the home too. You can choose from 10 sounds and tweak the length they run for.
The motion sensor should be placed strategically around the home to pick up any signs of activity. By adding the wide-ranging compatibility with other products, Wink gives you lots of freedom to control your property's security as you really want to.
You can connect this to lighting, locks, cameras, thermostats and more to create a smart home, all operated from one hub. The WInk Hub 2 supports Z-Wave, Bluetooth, Lutron Clear Connect, ZigBee and more. This extensive integration of wireless technology marks this Wink set out as an advanced option for big fans of cutting-edge gadgets.
The Wink Look Out Starter Kit promises easy set-up, allowing for fast installation straight from the box. If you're willing to spend around $200 on your home security system, this is well worth considering. Finding cameras to match with it should be simple too, given the compatibility options available.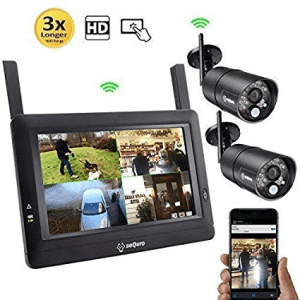 Why it's here: Sequro's GuardPro has been a hit in Japan, and it's easy to see why. The touchscreen unit can present up to four different feeds at the same time for multi-camera set-ups, and the two HD cameras are weatherproof for outdoor or indoor installation. They can transmit up to 1,000 feet ahead in clear line of sight for protecting large sites.
Sequro's GuardPro claims to be Japan's best-selling wireless security product and to have made over 200,000 units across the globe. This set comprises a 7" touchscreen monitor and two weatherproof HD cameras for indoor or outdoor installation.
The screen features a user-friendly interface and multiple feeds can be displayed at the same time, giving you a complete overview of your home at a glance. This is a time-saving way to check on your property without having to spend time flipping through feeds.
The system offers a long wireless range of transmission as well, up to an impressive 1,000 feet in line of sight (this drops to 300 feet when separated by brick walls). This makes the Sequro a smart choice for larger properties, though you may have to invest in more cameras to connect to the system.
The GuardPro incorporates 20 infrared LED lights to provide night vision with a range of 32 feet. You can tweak the built-in motion detection function to alter the sensitivity, to prevent false alarms and maximize the memory space. If you want to record more video, you can add a MicroSD card up to 256GB to the unit.
Each camera is weatherproof, designed to withstand different conditions when positioned outside. Amazingly, Sequro claims this system can be set up within just three minutes, though this is likely to vary based on buyers' capabilities.
Why it's here: Ring's kit is a terrific option for a competitive price. It's been built for straightforward installation and can be customized to suit your property, compatible with additional sensors and other Ring products.
Ring has become one of the leading names in the world of home security. This set combines the Ring starter kit and the Amazon Echo Dot, for hands-free voice control. You can activate and deactivate the Ring alarm system without having to actually interact with the unit itself, from anywhere within range of the Echo Dot.
So, what's in the box? You'll get the base station, the keypad, contact sensor, motion detector and range extender. It's designed for fast installation without the need for tools or a professional: just place each piece at the most strategic points in your home to get started.
The Ring Alarm can be customized to suit your property, according to its size and layout. You can add extra sensors to the system to enhance your security, and it's compatible with numerous other Ring products (the Alarm Flood & Freeze Sensor, Alarm Smoke & CO Listener and more).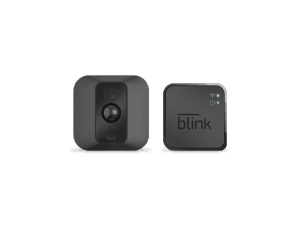 Why it's here: This sleek, understated wireless kit is a must if you want to keep your home security simple. Its two-year battery life is a major perk, reducing the need to keep recharging or replacing it, and it supports up to 10 Blink cameras for wide-ranging coverage.
The Blink XT Security Camera System is a quality unit for a relatively low price, and it's garnered strong praise from buyers. It's designed for fast installation and is a sleek, no-frills product that can easily blend into its surroundings.
The camera records in HD up to 1080p, and perhaps most impressive of its technical specs is the two-year battery life. The two AA Lithium batteries should provide you with the full 24 months provided it captures 4,000 five-second recordings each year. Obviously, usage and environmental factors can affect the battery life too.
Such a long-running battery reduces the risk of your camera running out of power while you're away. The batteries are non-rechargeable, though. It's weatherproof with temperature sensors, which facilitates clear video footage unaffected by the elements.
Infrared night vision is included, for 24/7 monitoring. The built-in motion sensor alarm will notify you of any movement in your home via the app, and store a brief clip of the incident in the cloud for you to check.
If you want to add more, you can invest in a second system and install another 10 cameras for optimal coverage.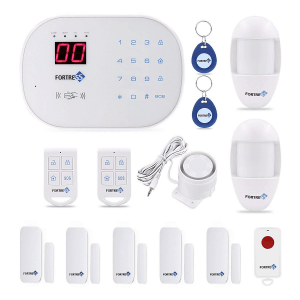 Why it's here: Fortress's S03 kit is a terrific deal for buyers on a tighter budget, and the 30-day satisfaction guarantee means you get a good trial period. Multiple sensors come packaged with the set, and the high-decibel alarm is an effective feature. Remote arming / disarming makes it even more good value for money.
The Fortress Security System S03 is a solid kit for a terrific price, suitable for most budgets. It comes complete with a three-year warranty and a 30-day satisfaction guarantee, which gives you ample time to try it out in your property.
So, what do you get for that low price? The S03 Wi-Fi Main Panel, five Door / Window Contact Sensors, one Panic Button, two RFID Key Tags, two Fortress Motion Detectors, two Fortress Remote Fobs, one Fortress Internal Siren and one Micro-USB Power Supply.
As you can see, that's certainly a lot for your money. Though Fortress recommends this kit for medium-sized properties, it may be suitable for larger homes too.
There's an auto-dialer feature that can be programmed to automatically connect to as many as six phone numbers in the event of a security breach. The passive motion sensors monitor for suspicious activities or movements nearby, and should anyone trigger the alarm, the 110dB sound notifies your neighbors too.
The S03 allows you to arm or disarm it via the mobile app, so you can secure your home on your way out or in without actually needing to interact with the system itself. This is useful if certain people need access to your home but you'd rather not give them a disarming code. Just deactivate the system from anywhere through the app, and switch it on again when they leave.
The S03 is compatible with Amazon Alexa for voice control, while the two-way audio communication gives you the means to chat with others at home while you're away. The MyFortress app sends alerts to you whenever the alarm is set off, and if you attach a camera to your system (sold separately) you'll be able to view the respective areas as well. The app gives you a user-friendly dashboard from which to manage your security system.
The Fortress S03 can be set in multiple modes to accommodate different needs. The 'Away Armed' mode is vigilant while your property is unoccupied, while the 'Home Armed' mode monitors your home exterior without triggering the alarm based on your own internal movements.
Considering the Fortress is priced so competitively, it's an impressive package with some top features.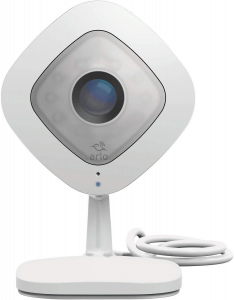 Why it's here: Arlo Q is a simple HD camera offering free cloud storage, night vision and a 130-degree wide angle. You can personalize the alerts you receive and it supports Amazon Alexa, Google Assistant and more.
Arlo's second appearance on this pick of the 12 best DIY home security systems with no monthly fees is no surprise, given the quality and popularity of their products. The Arlo Q is a stylish, minimalist piece of kit capturing footage in 1080p HD with two-way audio. You can interact with people in your home or unexpected guests directly through the app.
The Arlo Q's recordings can be stored in the cloud for free too, with seven days' worth of triggered-clip footage stored at a time. There is an option to upgrade to store 24/7 video in the cloud, but it's unlikely the average homeowner will actually need this premium service. If you're just looking to deter intruders and boost security, the basic Arlo Q should be fine.
The Arlo Q features night vision courtesy of its infrared lights, which turn on automatically when darkness falls. The wide angle 130-degree lens captures a wide image, and alerts will be sent to your phone whenever movements or sounds are detected.
This camera can be connected to Amazon Alexa for voice control, as well as Echo Show, Fire TV and Google Assistant. You're free to adjust the motion-detection range up to 50 feet as well, based on the amount of space you have to monitor.
Arlo Smart makes the Arlo Q intelligent, allowing you to personalize the alerts you receive to pick up activities in specific areas and contact emergency services directly from your phone's lock screen (though this is an optional upgrade, you can take advantage of a free one-month trial).
While you may seem to get less for your money than some of the other products covered here, the range of features is terrific for the cost.
Why it's here: Canary's All-in-One Indoor Camera is an amazing deal at a low price, offering 147-degree recording. The machine-learning capabilities ensure it captures only the most relevant footage and reduces the risk of false alarms. Emergency numbers can be dialed with one touch too, ideal if there's a crisis.
Canary's All-in-One Indoor Camera is a strong budget option, with lots to recommend it.
The video quality is 1080p HD, and the lens view is an extensive 147-degrees. Sounds are picked up in high quality too, while the built-in alarm is 90dB (apparently, the same level as a lawn mower).
One of the stand-out features of Canary's All-in-One Indoor Camera is its AI intelligence, which knows to filter insignificant motions from recordings. This focuses on activities that could be classed as important, to prevent false alarms and prioritize real events.
The compatible app gives you a selection of emergency numbers to call should anything be amiss, streamlining the process of raising the alarm. You can contact the relevant service through the app with one touch.
Furthermore, it automatically detects when you exit and enter the property, and will arm or disarm itself as required. There's no danger that you'll forget to set the alarm when you leave.
If you want to turn off the surveillance completely, you can do so at any time by activating the privacy mode. The camera and microphone will be shut off immediately.
Canary has equipped this sleek unit with night vision and its environmental sensors monitor temperature, humidity and air quality in your home. Two-way communication lets you chat and hear people within your camera's range.
Canary has given homeowners on a tight budget a great option here, providing a solid package at an affordable rate.
Conclusion
The 12 best DIY home security systems with no monthly fees explored above offer something for everyone, no matter your budget, property type or existing security measures.
Purchasing a security system is a vital investment, but you have to take the time to make sure you're spending your money on the right product for you. If you're looking for effective security on a budget, the Canary All-in-One Camera System is an outstanding deal for your money. It offers great coverage and high performance, so you really can't go wrong.
Have a little more cash to play with? We like the Arlo Pro 2 best, given the customizability of its alerts, its 100dB siren and compatibility with voice-control units. It looks fantastic too, and is wireless to keep things simple.
Choosing any of these 12 products is money well-spent, and the lower-priced options definitely offer fantastic value. You'll get reliable performance, high-quality visuals and terrific compatibility with voice-control units or products from other brands.
Starter kits are a good place to begin reinforcing your home, and the Wink Look Out just about wins in that category. You'll find everything you need for peace of mind at an outstanding price, and can create a smart home by integrating other functions from around the house (lighting etc.).
Here's a quick breakdown of the best in different areas:
Best Indoor Camera: Nest Indoor 3-cam Pack
Best Outdoor Camera: Blink XT Security Camera System
Best Budget System: Canary All-in-One Indoor Camera
Best High-End System: Arlo Pro 2
Best Starter Kit: Wink Look Out
Related:
Best Solar-Powered Security Cameras
The 15 Best Underwater Cameras
Best Underwater Fishing Camera 2019