For many people, the word futon brings up memories of threadbare foam on a metal frame. Often, this image comes from remembering their makeshift sleeping pad for one rough semester in college.
However, if you examine the wealth of high-end options available on the market today, it is hard to consider futons anything less than classy sleep-worthy furniture. Futons today are more comfortable, stylish and versatile thanks to brands like Ikea raising the bar year after year. Ikea futons offer some of the best value and lead the pack in style, class, and superior comfort.
Like every other household item that saves space while improving functionality, futons first appeared in Japan. Futons have long been a sleeping solution in Japan where the residents preferred them for their relatively small footprint. Traditionally, futon mattresses are used on a traditional mat called tatami and then folded away daily. They are also often aired in the sun regularly to prevent mold and mites.
In the early '80s, The Futon made its way to the U.S thanks to a growing appreciation of Japanese minimalist designs. In the U.S., futons are typically used as overnight guest beds or as primary beds in minimalist homes.
Seeing that futons can work as a sofa by day and a bed by night makes them a no-brainer for the space conscious.
Western-style futons, however, are typically larger than their Japanese counterparts. These futons are also often set up and stored on raised bed slats, which eliminates the need to air them regularly.
Playing host and need a lightweight sleeper for overnight guests, or something more comfortable to sink into after a long day at work? Comfy futons like those from Ikea are the way to go. They also make an excellent addition to dorm rooms, kids rooms, TV lounges, offices, and any other areas with limited space.
Pros of Using an Ikea Futon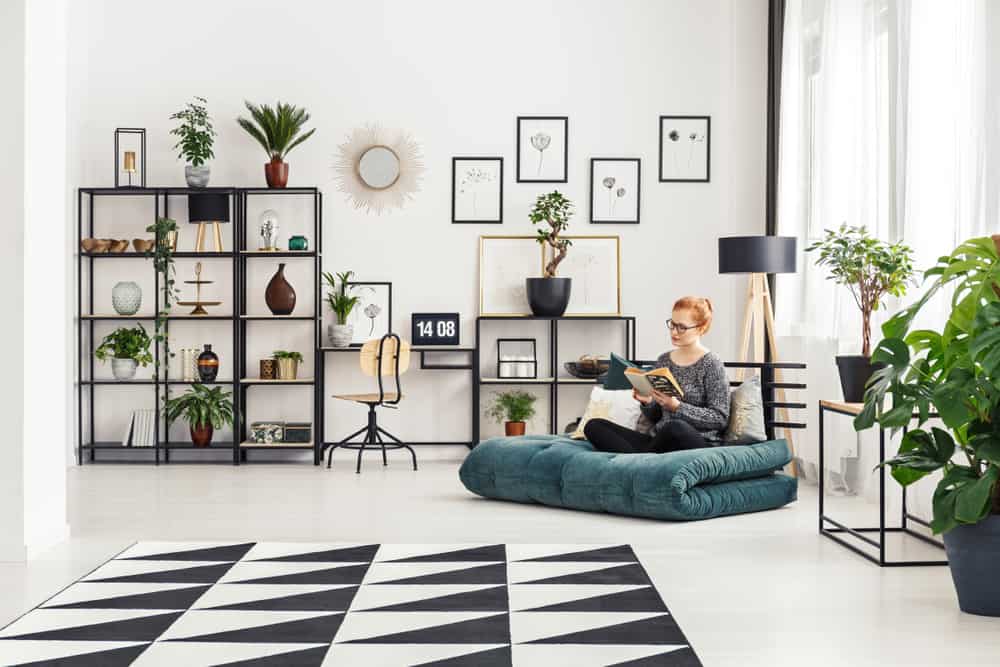 Here are some of the advantages that a good futon brings over a traditional bed or other sleeping arrangements:
Affordability
Compared to a standard bed set, futons are generally cheaper to get. A high-quality futon like the Ikea Nyhamn complete with a metal frame is available under $400 while most full feature beds and mattresses tend to retail for over a thousand bucks.
Versatility
Futons offer more value for money than traditional bed sets as they can easily double as a comfy sofa. They also make for excellent decor pieces as you can overhaul their design by changing covers and frames without breaking the bank.
Space Savings
One of the reasons why futons are popular worldwide is considerably less space they use compared to a full feature bed or a floor mattress. Their compact size makes them an excellent choice for studio apartments and other smaller spaces. They are also a perfect choice for anyone who doesn't want to clog their living area with exclusively night-time use upholstery.
Portability
Need to move your futon to another room? Unlike full feature beds, moving a futon is often a one-person job. Furthermore, you can easily take your futon on the road by rolling/folding it and tossing in the trunk. This portability also makes futons way more natural to store (if you have to) compared to a floor mattress.
Adjustability
One area where futons do better than both beds and sofas is in adjustability. With loveseat futons, you can smoothly go from sitting upright to a reclining chair, to a comfy sleeping pad all in one location and with minimal effort.
Easy Clean
Futons feature removable covers that make cleaning them significantly easier compared to sofas or beds. Most futon covers are machine washable.
The Case Against Ikea Futons
In many spheres, futons do have a bad rep for being relatively uncomfortable with frames that you can feel through their feeble mattresses. However, one factor that reinforces this notion is the prevalence of cheap futons. Hence, if you are opting for one of the lower quality offerings, you may report a similar experience.
The cheapest futons typically feature sub-par materials and cheap metal frames that protrude through the mattress when it starts to weaken. Opting for a top-quality product like any of our select Ikea offerings can save you the stress, and the back pain.
Furthermore, people with chronic back pain or other severe orthopedic issues may find the average futon inadequate for a comfy rest. They should instead opt for a futon with multiple foam layers and pocketed coils that offer improved pain relief or for a full feature bed.
Also, the futon aesthetic is not for everyone. It is not uncommon to hear people rag on futons for looking like "dorm furniture" irrespective of how you embellish them. However, this is where Ikea stand high. Their clean futon designs are sure to impress even some hardcore haters.
Common Ikea Futon Styles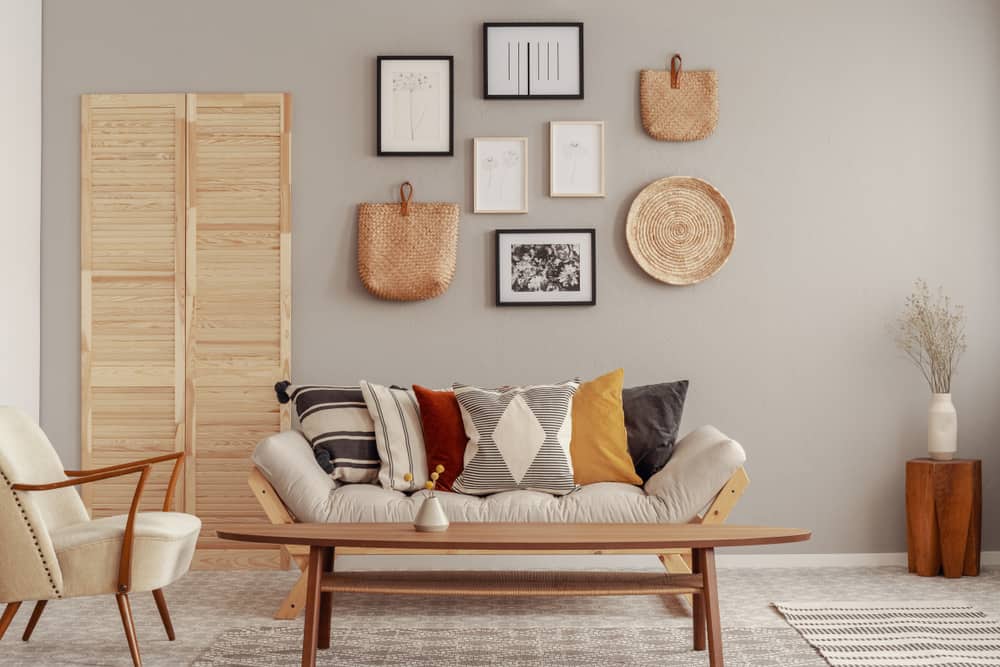 Depending on the brand and model, you can get futons in a wide range of shapes, sizes, and building material. However, you can classify the common futon types broadly by their mattress type and the design of their frame.
For some units, the frame and the mattress is sold separately, giving you more options and the ability to mix and match to create your aesthetic.
By Mattress Type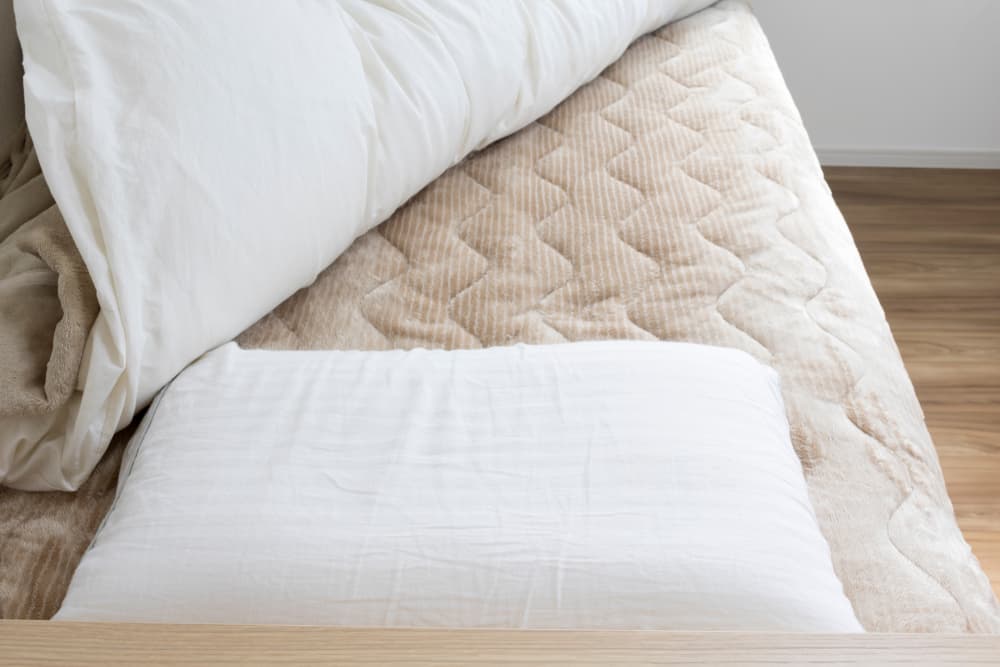 Cotton
Several futon brands stay true to the build of the original Japanese futons by sticking to cotton padding for their mattresses. However, most cotton options are relatively thinner than other models.
Foam
Polyform is another popular material used in futons. Foam futons typically contain two or more polyfoam layers for added depth.
Foam/cotton Hybrid
The models often feature a dual-layered polyfoam base and a cotton top layer for added comfort.
Innerspring
A few premium futon mattresses aim for the full bed experience by featuring a coil-based core that provides enhanced support. However, innerspring futons are often thicker and harder to fold than other models.
By Frame Type
Another area where futons allow a great deal of choice is the frames. You can get traditional futon frames with arms that look similar to a sofa or an armless frame that offers more wiggle room during sleep.
Most futon frames contain metals like steel, wood, or some combination of the two. You can get either option in a variety of configurations that include
Bifold
The most common futon frame types fold in half via a single fold to an upright sofa position and unhinge into a full mattress. Bifold frames are the easiest to use as they can work with all two-fold mattresses irrespective of their thickness.
Trifold
Trifold retains a similar setup to the bi-fold frame while adding a third fold to create a footrest while in the upright position. Trifolds require often thinner mattresses that fold in three places.
Loveseat
A loveseat futon frame adds a third midway position between the upright and flat positions. This third setting works at a lounging setup that makes for superior comfort while watching TV, reading, or just lounging.
Bunk Bed
Some bunk beds feature a bifold on the bottom rung, creating a bottom bed that you can use as a makeshift sofa. Bunk bed futon frames offer peak functionality and space savings that are a hit in dorms and children's rooms.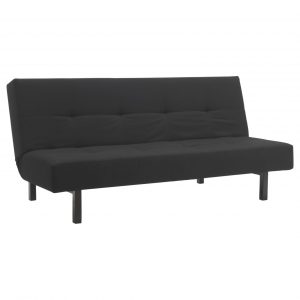 Ikea entry level futon, the Balkarp, brings a basic sleeper sofa package in a decent matte black finish.
The futon set features a single fold that opens into a 67" by 39" bed. The mattress is made 100% from polyester (polyurethane) and fitted with removable non-woven polypropylene dust cover fabric.
The frame is made from durable galvanized steel and features an epoxy powder coating that completes the matte look.
The entire unit weighs a decent 82 pounds making it relatively easy to carry around.
Pros
Low price and excellent value for the money
All black finish will fit into multiple aesthetics
Converts from sofa to bed with one click mechanism
Sturdy steel legs
Cons
Cheap finish
Steel frame may feel uncomfortable especially after the mattress wears
The Nyhamn offers a more premium option to the Balkarp with a more aesthetic design and reinforced slats. The slats are made from molded layer-glued wood veneer and feature an adhesive resin coating for enhanced durability.
Ikea retains the galvanized steel frame for support while the mattress cover now features an elastic rubber strap for better coverage. The cover is made from 100 % polyester while the mattress itself is 65% viscose/rayon, 30% polyester, 5% modacrylic fiber.
The unit measures 29.5 by 3″ by 78.5″ in the upright position and unfolds into a 55 by 78.5″ bed.
You can get the Nyhamn is beige, gray, anthracite, and yellow. Choose from different mattresses and a variety of covers to create your perfect combination to match your home aesthetic.
Pros
Excellent value for the money
Available in multiple colors to match different home decor aesthetics
Converts from sofa to bed with one click mechanism
Ample storage space under the legs
Sturdy steel legs
Cons
Steel frame may feel uncomfortable especially after the mattress wears
With the Holmsund, you enter the realm of superior high-end comfort and true versatility. This model is one of the few Ikea three seater sleeper sofas with extra throw pillows and wedged armrests that is available worldwide.
For sleep, the futon opens up into a full-size bed that is a few inches short of queen size. Also, this model features hidden storage space underneath the seats that add a truly classy touch.
You have ample cover choice with four original colors:
For cover choice, you get to pick from Ransta White, Ransta Light Pink, Nordvalla Medium Grey, and Nordvalla Beige. You can also pick up any from several unique covers available on third-party stores.
Compared to the cheaper Ikea options, the Holmsund has a profound depth that offers improved comfort, and the included throw pillows make for an efficient backrest.
The mattress is firm but not hard and offers reliable support.
Pros
Superior high-end comfort with firm padding for improved support
Extra throw pillows improve the overall experience
Hidden storage space underneath the seats
Four default cover color options to match your home aesthetic
Converts from sofa to bed with one click mechanism
Comfy 3 seater makes for an authentic sofa experience
Five years limited warranty
Cons
Polyester cover is too cheap for this price point
Padding may be too firm for some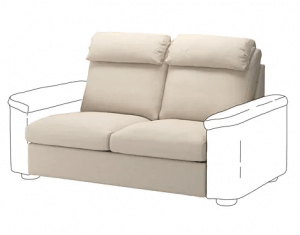 Ikea spared no stops in making the Lidhult the be all end all of the sofa sleepers. The uniquely designed two-seater reeks of elegance thanks to its executive chair design.
The futon is similar in shape to the Holmsund but adds two headrests and offers a far more quality build and design. It also retains the hidden compartment that provides extra storage.
The cover features a dyed-through top-grain leather with a treated, embossed, and pigmented surface that looks classy and is super easy to clean. However, you will need an anti-slip cover as the leather surface is slippery, so a regular sheet will easily slide off.
Unlike the cheaper models, the Lidhult sports an aesthetic wooden frame that features solid wood, plywood, fiberboard, and particle board inserts. The cushions seat on steel frame slats finished with an epoxy coating that provides enhanced durability.
The headrest pillows are made from polyester fiber balls while the mattress foam is 64 % polyester and 36 % cotton. The comforter filling is 65% viscose/rayon, 30% polyester, 5% modacrylic fiber wadding
The futon sports enough space for two adults to sit and sleep comfortably and the unit is also an excellent seater for children.
Pros
Superior high-end comfort with firm padding for improved support
Headrest pillows create the perfect setup for ultimate high-end lounging
Hidden storage space underneath the seats
Five default cover color options to match your home aesthetic
Converts from sofa to bed with one click mechanism
Comfy executive 2-seater makes for an authentic sofa experience
Five years limited warranty
Cons
The leather cover is slippery and needs anti-slip sheets
Ikea Futon vs. Other Brands
Ikea is one of the most popular and most prestigious brands in the upholstery market for good reason. Ikea provides some of the best, quirk-free sofas that guarantee superior comfort. However, the Ikea aesthetic is not for everyone, and you may want to ditch their futons for more colorful options like the Navy Blue Stanford Futon Set.
Also, another factor that separates Ikea from many other brands is pricing. Ikea furniture can often cost higher than others in its class. For example, the Ikea Holmsund currently retails for $549 while similar setups like the Naomi Home Futon Sofa Bed and the DHP Hamilton Sofa Sleeper both sell for under 300 bucks.
Furthermore, Ikea furniture can be a bit hard to assemble for some.
Other Considerations When Choosing an Ikea Futon
Thickness
Futon mattresses typically have a thickness range of between 4 inches to 10 inches. Trifolds and cotton mattresses are often on the lower end of this scale while innerspring mattresses are usually the densest. Adults should opt for at least a 6-inch mattress for optimal comfort. You should select a higher thickness if your unit is for multiple users or if you have relatively higher body weight.
Firmness
Their thinner padding layers place most futon mattresses in the medium-firm category. However, you should opt for select models with a higher or lower hardness to match your needs. Firmer models offer more support, while the softer mattresses are more comfy and cozy.
Size
Like full feature mattresses, futon mattresses are available in standard sizes like King, Queen, Full, and Twin. However, larger sizes like the California king and Twin XL are rare.
Cover
The cover of your mattress plays an essential role in determining how comfortable your overall experience is. Also, it is vital to choose a futon mattress with a removable cover to allow easy cleaning.
Popular cover options to choose from include linen, cotton, polyester, and faux leather. Faux leather is the easiest to clean of the bunch but also the worst at dispersing heat. Linen and cotton are harder to destain, while polyester is more prone to wear and tear.
Frame Material
You can choose from metal frames, wood frames, or hybrid frames that incorporate both materials. Metal frames are more sturdy, but they can be uncomfortable if combined with a thin mattress. Wood frames, on the other hand, are more aesthetic, offer better weight distribution, and are generally more comfortable even with thinner mattresses. However, wood frames are usually more expensive than their metal counterparts.
Price
Depending on your preferred size, construction, and quality, you can get futon sets anywhere from $200 up to 2000 bucks. All cotton/metal constructions tend to be the cheaper options while innerspring mattresses on wood frames are usually the most expensive.
More Hacks From Ikea: