It's safe to assume if you have your own pool, you'd much rather spend your time enjoy it than cleaning it. You already take the time to balance the PH and scoop out any fall leaves or bugs on the surface, why would you want to add another task to your already busy life? By using an automatic pool vacuum, the work is done for you. You set it up and walk away to enjoy your downtime rather than use it for cleaning.
There are plenty of different automatic pool vacuums out there for all budgets. Whether you've had a pool for years, own a pool cleaning company or if you're looking into what accessories you might need if you buy a pool you'll learn everything you need to in this article!
We've compared 10 of the best automatic pool vacuums that are on the market today and have compiled in-depth research to make your life a bit easier. Complete with a comparison table, buyers guide and frequently asked questions sections, you'll have all the knowledge you'll need to make your next purchase after reading!
Top 10 Best Pool Vacuums 2019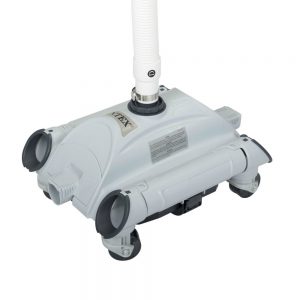 24 foot hose
Cleans floor and surface
Cost efficient
Why We Love It
If you're looking for an inexpensive automatic pool vacuum for above ground pools, the Intex Auto Pool Cleaner might be a great choice for you! It packs quite a bit of power into the small machine. It vacuums and cleans the pool without any work from you! It comes with a 24 foot hose that easily attaches to the unit.
It's best for above ground pools that have a flow rate of 16,00 to 3,500 gallons per hour and doesn't work for in-ground pools. It will clean the entire floor of your pool and you can set it and forget it. You can use it daily, or as needed as it's built to last for many uses.
Once you start using this vacuum, you'll no longer have to worry about skimming the surface of your pool for fallen leaves, bugs and other debris as the vacuum takes care of that for you as well.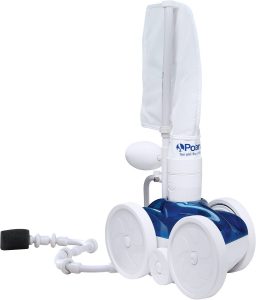 Three Wheels to Prevent Corner
Cleans Bottom, Sides and Surface
Larger Opening To Suck Up Debris
Why We Love It
When you hear Polaris, you may not think pool cleaner, but you should start. It's equipped with 3 wheels and sweeps, vacuums and scrubs the bottom of your pool along with the sides, no matter the pools shape. A booster pump is required for this vacuum which is unfortunate due to it's already hefty price tag.
This machine will not only clean the bottom and sides of your pool, but it will take care of all the junk that falls on the surface as well. Your pool skimming days are over if you own this vacuum. The unique thing about this vacuum is the pressure it uses.
By using pressure it circulates the water while cleaning and it cuts down on any cold spots. It will suck up any debris before the debris could get to the filter, making your filter last even longer. It has a larger opening than other pool vacuums on the market, making it easy for the machine to such up large debris pieces, along with things like leaves and rocks.
Thanks to the three wheels, it can't get corned and continuously cleans. The booster pump needed with help the machine clean thoroughly and with enough power that your pool will be clean in no time.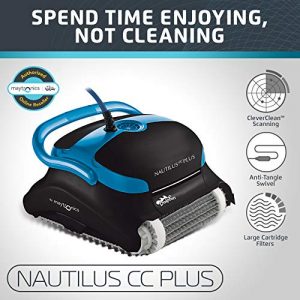 Clever Clean Technology Scans Your Pool
Two Brushes to Sweep Up Dirt
3 Option Schedule System
Why We Love It
If you have a busier lifestyle than most, this pool cleaner could be life changing! The Dolphin Nautilus CC has a weekly scheduler where you can have the machine clean the pool on a schedule. They give the the choice of daily cleaning, every other day or every three days. You don't need a booster pump with this vacuum as it's packed with eight times more energy than other ones on the market.
The CC in the name stands for "CleverClean" which is a technology this vacuum has that actually scans your pool to clean it in the most efficient manner and in the same pattern every time. There are two brushes that scrub away any dirt or gunk on the floor or walls of your swimming pool.
There is a cartigridge you can access on top of the machine to clean out the filter. This vacuum has a big opening so you can rest assured knowing every last piece of debris is getting sucked up. Another thing you won't have to worry about with this machine is it won't tangle and get caught up in itself. There's only one button, making it easy to use and if you have any issues, there's a 2 ½ year manufacturer's assurance.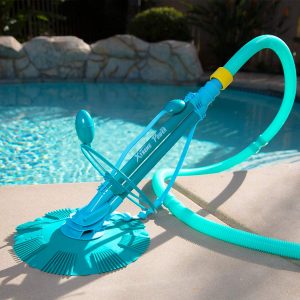 Comes With 10 Hoses
Climbs Pool Walls
Great For Above or In-Ground Pools
Why We Love It
If you're looking for a vacuum with plenty of features and hose options, the XtremepowerUS Automatic Suction Vacuum-generic Climb Wall Pool Cleaner could be for you. To use this vacuum you need a power pump that has at least one horse power. It has a weighted stabilizer to help the machine keep its balance while it cleans your swimming pool. It comes with a filter that only needs to be cleaned once a week.
This vacuum comes with 10 different hoses to choose from depending on your cleaning needs. It's important to use the right size hose so it doesn't get tangled. The hoses provided are adjustable and fit any pool. This vacuum has an adjustable cleaner and diverter system that allows it to climb pool walls in a new pattern every time.
It can be used on both above ground and in-ground pools but the manufacturers stress to not use it on pool steps or stairs. You don't have to worry about finding an outlet, as this machine plugs right into your pools filter system. Lastly, you can expect this vacuum to clean around 8 to 10 feet of your pool per minute!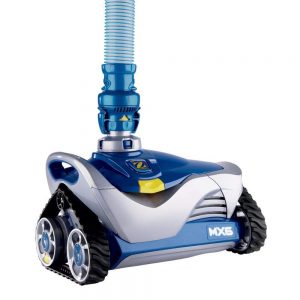 Cyclonic Suction Power
Low-Flow Design Consumes Less Power
Comes With 1 Year Warranty
Why We Love It
When it comes to the pool cleaning world, Zodiac is a well-known brand. Their Baracuda Automatic Suction Inground Swimming Pool Cleaner is one of the reasons why! This thing looks like it's from the future and has some features that make us think it might be!
It has a low-flow design that works best on pools that have 2 speed, or multiple speed pumps. A cool thing about this vacuum is that it has cyclonic suction power equipped with a turbine blade so it can easily climb walls while sucking in all the dirt and debris in the pool.
The hose on this machine swivels so they can pick up all the debris without missing a spot and the hose is easy to attach to the machine base. It takes less energy and power to work compared to other machines like it on the market. If you don't like it, it conveniently comes with a 1 year warranty.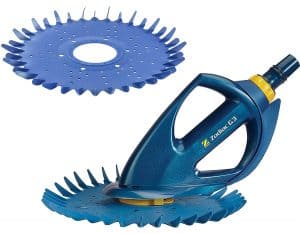 It's Incredibly Quiet
Comes With 1 Year Warranty
Can Work On All Surfaces
Why We Love It
Another great product by Zodiac is their Baracuda G3 Kit. It's built to clean away all dirt and debris from in-ground swimming pools thanks to incredible suction power while still being able to work with low-speed pumps making it available for more users. It's easy for pretty much anyone to set up and takes no time at all.
This vacuum is better used for pools that have small to medium-sized debris rather than big, large chunks of things. It can not only clean the floor of your pool but the sides and steps as well! It works on everything from concrete to tile and vinyl. It can easily get around corners and in hard to reach places like under and around ladders.
This vacuum has a self-adjusting flow control valve that regulates how much water it needs and uses accordingly, saving you money on the electric bill. It also easily can skim the surface of your pool in addition to vacuuming.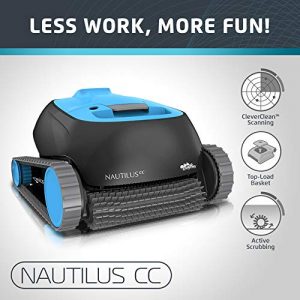 3 Option Scheduler
Top Loaded Filter
Double the Scrubbing Power on Floors and Walls
Why We Love It
Another company with more than one vacuum on this list is Dolphin. With just one push of a button, right out of the box, the Nautilus CC Automatic Robotic Pool Cleaner will have your pool clear of debris in no time.
One it's full, you simply rinse the basket and it's ready for the next round. It has double the scrubbing power when its on your swimming pool floors and walls. Like the other Dolphin vacuum, this one also has a scheduling system for daily use, every other day or every three days.
It has the same CleverClean technology that makes sure your pool is analyzed and cleaned using the same pattern every time. This ensures that your entire pool gets clean, without missing any spots. It's 8x more energy efficient than similar products on the market. It's lightweight and backed by a 1 year manufacturer's assurance.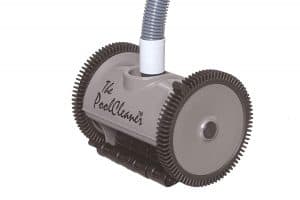 2 or 4 Wheel Option
Climbs Walls (Even Concrete)
Comes With Interchangeable Throats
Why We Love It
Unlike many other pool cleaners out there, the Hayward Poolvergnuegen comes with options of 2 or 4-wheel drive. There are plenty of unique features with this vacuum like the self-adjusting turbine vanes that give incredible power, no matter the flow.
It has an adjustable skirt and tire treads that even work on material like concrete. It can easily steer itself and climb your pools walls. There are a few interchangeable throats on this vacuum that allow it to pick up different sizes of debris with different amounts of water flow.
The wheels automatically turn the vacuum to switch direction every 8 to 10 feet, making sure your entire pool gets cleaned in no time.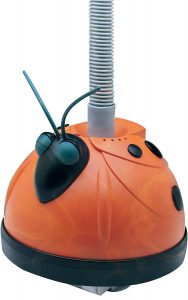 Comes With 1 Year Warranty
SmartDrive Steering
Has 3 Cute Designs
Why We Love It
It's safe to assume that when you think "pool vacuum" you don't associate it with the word "cute". The Hayward 500 Aquabug Pool Cleaner will be a hit with the kids as it comes in three designs that include a ladybug, a penguin and a whale.
It's meant for use in above ground pools only. You attach it to your pools filtration system and it'll start cleaning immediately. It has Hayward's exclusive SmartDrive steering so you know every inch of your pool will get clean.
This vacuum is easy to put together and it should take no more than 10 minutes from the time you open the box, til it's scrubbing the floor of your pool. While it's vacuuming, it's also improving the water circulation of the pool. Though not cheap, it is more cost-friendly than most other cleaners on the market and if it doesn't work for you, it has a 1 year warranty.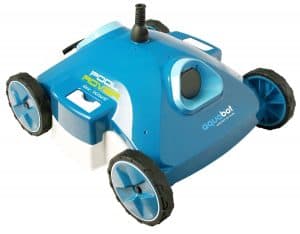 Incredible Filtration
Washable Filter
Easy To Install and Remove
Why We Love It
This Aquabot Pool Rover is great for people that love their pool as clean as possible. It can pick up the smallest debris, including tiny, micro-sized things like pollen. The filter bag is machine washable and it can pump through over 80 gallons of water in a single minute. This is incredibly convenient and makes cleaning your vacuum even easier, plus you don't have to spend money on filters!
You can plug it into an outlet up to 40 feet away and set it to either a 1 or 2 hour clean. It's great for above or in-ground pools. You simply plug it in, turn it on and set it in your pool. It saves you money on things like chemicals since it provides a deeper clean than other vacuums out there.
Pool Vacuum Buyers guide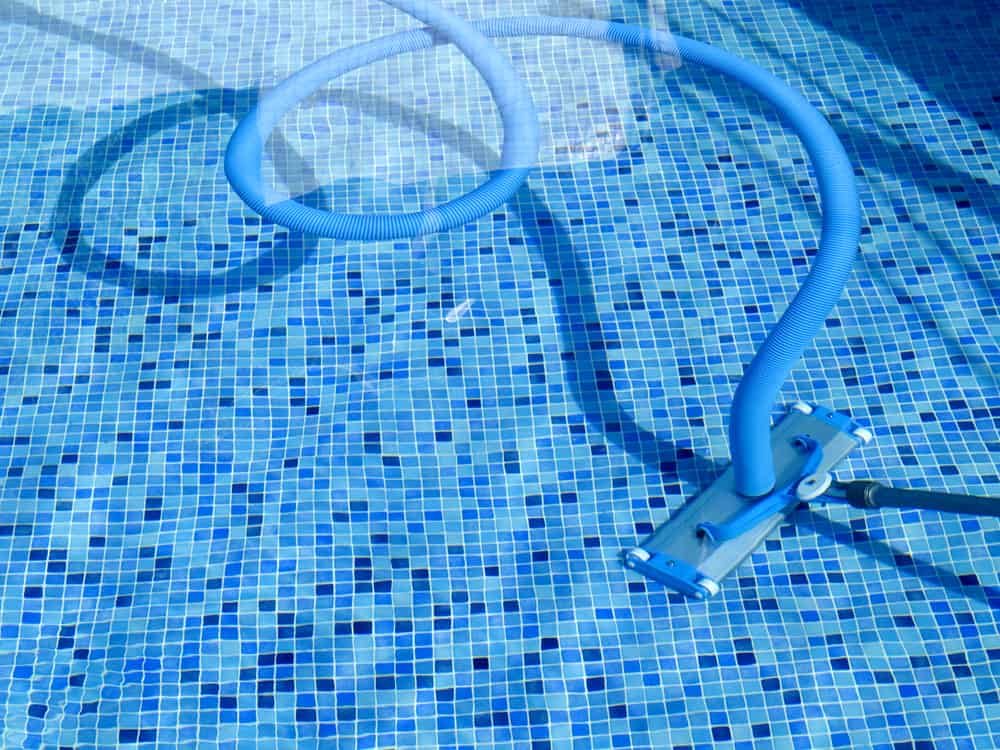 Below are a few important factors to consider before purchasing your next pool vacuum. Take a few notes and write down the information you'll need before heading to the store to pick up the vacuum you decide on.
Size and Type of Your Pool
One thing to consider is the size of your pool. Each cleaner covers X amount of space and you want to make sure your pool falls within that number. If you have a bigger pool, it's best to go with a robotic pool vacuum since it can get into every nook and cranny. It's also important to make sure the vacuum you're looking for is equipped to clean the type of pool you have, whether that's above ground or in-ground.
Lastly, when it comes to the size and type of your pool, you may want to consider your pools shape. Most vacuums are great for round or rectangle pools but if you have a unique shaped pool, make sure the cleaner is equipped for that.
Type of Debris
Another thing to keep in mind is the type of debris you find in your pool. Do you need a vacuum that can suck up larger things like leaves or are you just needing on that can get rid of the dirt on the floor of your pool? It's good to remember that ones that clean larger debris can clog easier than the ones that have smaller chambers.
Also, consider if you're wanting it to just vacuum or if you need it to skim the surface of the water for debris as well. Some vacuums you can dump out the debris, rinse the machine and you're good to go while others require buying filters or washing reusable filters.
Cost
Cost obviously plays a part when it comes to buying almost anything. Consider how much time and energy you'll save by not having to vacuum or skim your pool ever again. What is that worth to you? If it's in your budget to get a more expensive one with tons of features, go that route but know that it's not necessary.
Also think about what you'll be saving when it comes to chemicals and other tools like a skimmer. A lot of vacuums are all in one products, for some it's worth saving up to get one with the features so they have to do less work overall.
Installation
Do you have an outlet near your pool or are you wanting one that plugs into your pools filter system? This is something to think about when you're shopping around for your next pool vacuum. Where it installs isn't the only thing that's important when talking installation. Do you have the time to put together a pool vacuum? If not, opt for one that's ready straight out of the box!
FAQs Before Buying Pool Vacuum
Q: How many different kinds of pool vacuums are there?
A: There are three different types of pool vacuums available including robotic, suction and pressure. They're named after their cleaning styles.
Q: Is there a big difference in a cheap pool cleaner than an expensive one?
A: It really depends on which ones you're comparing. There are plenty of cost-friendly options that get the same job done as some more expensive units. On the other hand, there are ones that will cost you hundreds of dollars that have plenty of extra features than the cheaper machines.
Q: Do all pool vacuums work in all pools?
A: No. There are a few things that are crucial to look at before paying any money for a vacuum. Some vacuums work in both above and in-ground pools, while others will only work in one or the other. Another thing that makes cleaners different is what surfaces they work on. Some may work on all surfaces while others will only work on vinyl or tile.
Q: Will a pool vacuum cleaner ruin the floors or walls of my pool?
A: No it shouldn't. Their wheels are specially made so they won't cause any harm to the material your pool floor and walls are made out of and the brushes are soft enough to not affect them either! The only way you'll be able to tell it was in your pool in the first place is a clean pool!
Conclusion
You are now one step closer to buying a pool vacuum! This will take away a lot of stress and give you back time and energy. Once you find one that works for you, you'll be able to enjoy your pool a little bit more.
The 10 cleaners listed above are great options to consider and don't forget to check back on the buyers guide when you're doing your shopping to make sure you get a vacuum that fits your needs and will work well in your swimming pool!
More: