Is it a bird? Is it a plane? No, it's… sauna man?
More stylish than a super-suit and great for shifting some water weight while you work out, the sauna suit is a great outfit for anyone of any shape.
If you promise to not wear your underpants over the suit, we'll divulge the top 10 best sauna suits for you. Keep scrolling to find out!
The Best Sauna Suits Summarized
In a hurry to get your sweat on? These are the best sauna suits you should pick from.
Best Sauna Suit to Lose Weight: RAD Premier Quality Unisex Sauna Suit, for heavy-duty design and durability.
Best Sauna Vest: GAODI Neoprene Sauna Suit Vest, for targeting stomach flab and supporting your back.
Best Sauna Suit for Men: Kutting Weight Men's Sauna Suit, for the comfort and breathability worked into the design.
Best Sauna Suit for Women: Optlove Women's Sauna Suit Shapewear, for targeting problem weight areas and improving your figure.
Best Plus Size Sauna Suit: 2Fit Heavy Duty Sweat Sauna Suit, for large sizes available and shape-hiding design.
Guide to Sauna Not-So-Formal Wear
No need to master the bow tie, wearing a sauna suit is simple. Here's everything you could need to know.
What Does a Sauna Suit Do?
Sauna suits, also known as sweatsuits, are not the kind of formal wear you can put on in the office! These suits insulate your body, increasing your body temperature to burn off more calories and sweat heavily. They're made of a non-breathable synthetic fabric like vinyl and neoprene. Some are full suits, covering you head to toe, others are vests, shirts, and pants – helping you to target your weight loss to a specific area.
They work just like a sauna but rely on your body heat to power the magic.
And, just like with a sauna, the weight you lose from using a sauna suit is water weight. Burning fat with a sauna suit is possible… if you're doing a fat-burning exercise while you wear it. The sauna suit itself isn't a miracle-worker!
As soon as you rehydrate, you put that water weight back on.
So, why bother with a sauna suit? Increasing body temperature will speed up the calorie-burning, especially if you wear the suit while exercising. It's also good for increasing circulation and keeping you warm in cool weather.
How to Select the Right One for You
It depends on how you're going to rock it.
Are you looking for something practical? A skin-tight full-body sauna suit will improve circulation all-over, keep you warm, help you sweat out water weight and won't stop you moving around fluidly when you run, lift weights or whatever you prefer.
Looking for the benefits of a sauna? For comfort and full-body warmth, you want a loose-fitting tracksuit style sauna suit.
Finally, if you want to look good while you're sweating away at the gym, a tightfitting sauna vest, hot pants or waist strap can enhance your muscles or curves while turning the heat up.
A Quick Guide to Using Your Sauna Suit Correctly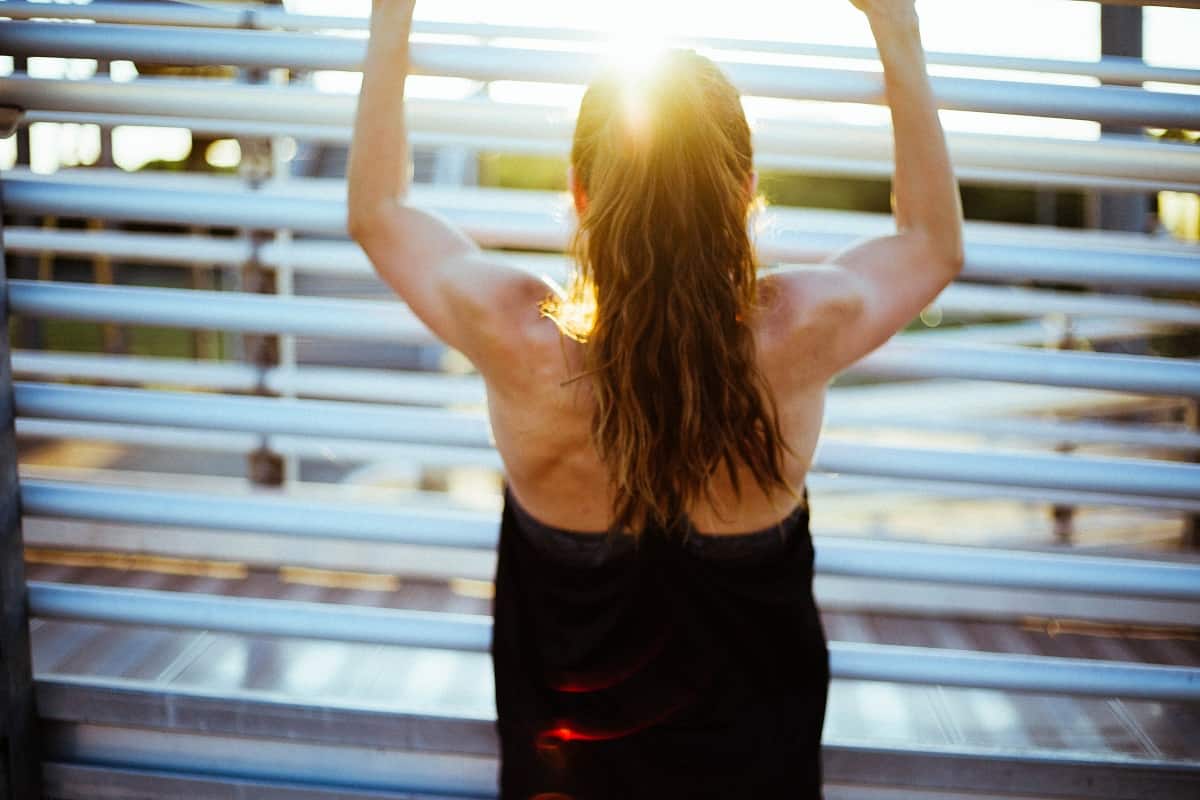 Yes, we know you're excited to slip into your new sauna suit gear, but make sure you read these tips before you start:
Don't wear it for long workout sessions to start with. You need to get accustomed to wearing it in short sessions before going long.
You don't have to wear clothing underneath your sauna suit, but a light t-shirt is often a good idea as it wicks the sweat away from your skin and will feel quite comfortable!
Wash your sauna suit and yourself as soon as you've finished wearing it, even if you only managed 20 minutes. Lingering sweat is full of any toxins and dirt your pores have released so you need to get rid of it!
Lastly, make sure you rehydrate even if it means putting some of that water weight back.
Best Sauna Suit to Lose Weight: RAD Premier Quality Unisex Sauna Suit
Suitable For: men and women
Sizes: medium (36 inch chest + 32 inch waist) to 6XL (60 inch chest + 47 inch waist)
Material: nylon and PVC coated fabric
Guarantees: increase sweat output by up to 60%, metabolic (EPOC) result 19% increase
Special Feature: heavy-duty design for intense workouts
The RAD is pretty rad! This unisex tracksuit-style sauna suit covers you from head to toe in heavy-duty, durable fabric that can keep up with your fast-paced workouts. It comes in numerous sizes and is anti-rip and tear-resistant.
You can squat to your heart's content in this sauna suit! The pant legs are adjustable with zippers and you have 4 pockets (2 in the top, 2 in the pants) to hold your phone, get out of jail free card, sauna discount or whatever else you need to carry.
It's our top choice for losing weight. RAD claim that post-exercise weight loss is increased by 47% by using this sauna suit. While that's water weight loss rather than fat loss, it certainly does make you feel motivated to use it again and again.
Pros: heavy-duty, 4x pockets, elasticated cuffs, machine washable, zipper leg closure
Cons: unflattering design
Best Sauna Vest:GAODI Neoprene Sauna Suit Vest
Suitable For: women
Sizes: US 6 to US 22
Material: neoprene
Guarantees: flatten stomach, improve posture, back support
Special Feature: easy to get on and off with strong zipper feature
This neoprene sauna vest does more than just make your torso sweat. Designed for women, GAODI created this vest to flatten the stomach and target belly flab. It's great for postpartum recovery and getting rid of water bloating around the midline. You can use this vest to regain your curvy figure.
It's made of neoprene, which is a very flexible rubber material. You could use this vest for an intense workout or just to increase the heat at Pilates.
You might notice an odd smell when you first unwrap the vest – that's normal. Like most rubber-based materials, it can stink a bit at first. You can either stomach the smell and start using it or give it a few washes (must be washed by hand) to get rid of the odor.
We also loved that it has built-in back support to encourage good posture and make you stand up that little bit taller!
Pros: easy to get on and off, lose stomach water bloating, good range of sizes available
Cons: handwash only
Best Full Sauna Suit for Men: Kutting Weight Men's Sauna Suit
Suitable For: men and women
Sizes: x-small (32 inch chest) to 6x-large (54 inch chest)
Material: neoprene and mesh
Guarantees: increase metabolism up to 20.8%
Special Feature: comfort and breathability in target areas
The best full sauna suit for men is the Kutting Weight sauna suit. Technically, women could wear it too but it's not crafted to the female figure – men will get a better fit from this one!
It's incredibly thick and durable, made with SweatTech elastic neoprene and breathable mesh fabric. The mesh is used in target areas (under the arms, between the legs, etc.) where it's good to let the skin breathe and cool down. Meanwhile, the neoprene panels keep the heat up in your torso, arms, and legs.
There's also a Velcro pocket on the back to store your phone and gym locker key.
This is our top choice for men who are serious about their workouts and need a suit that will keep up. It's incredibly durable and comes in all the sizes you could need as you slowly drop the pounds.
Pros: fits men and women, breathable fabric in target areas, comfortable, durable triple-reinforced stitching
Cons: not entirely flexible for squats
Best Full Sauna Suit for Women: Optlove Women's Sauna Suit Shapewear
Suitable For: women
Sizes: small (26.8 inch waist) to 3xl (42.5 inch waist)
Material: neoprene
Guarantees: shapes while increasing sweating
Special Feature: creates an hourglass figure shape
Optlove sauna suit is awesome if you need to quickly lose water weight before an occasion! It covers you from mid-thigh up to mid-arm, missing out the chest area because no one wants to lose weight there. There's also a very useful zip on the front to help you get the suit on and off.
It's great for working up a sweat and toning your entire body. Like the men's Kutting Weight option, this women's sauna suit features mesh fabric patches under the arms so your pits can breathe a little while your body works up most of the sweat.
Just note that the seams aren't as strong as some of the other sauna suit options. Sure, it can handle running and lifting weights at the gym, but intense workout sessions and extreme yoga flexing can bust them open.
Pros: very accurate sizing options, targets bum, thighs, and arms as well as stomach, breathable mesh underarms
Cons: handwash cold water only, not suitable for intense workouts/super flexible movements
Best Plus Size Sauna Suit: 2Fit Heavy Duty Sweat Sauna Suit
Suitable For: men and women
Sizes: x-small (34 inch chest + 28 inch waist) to 8xl (70 inch chest + 62 inch waist)
Material: nylon and PVC coated fabric with rubberized inner lining
Guarantees: designed for max. durability and workout performance
Special Feature: comes in the largest sizes we could find
We're loving the baggy style sauna suits! They're so comfortable and they hide any bulges you're trying to shift before you manage to reach your goals. The 2Fit option is our top choice for plus-size people who want to shift the pounds.
The nylon and PVC fabric is very durable and well-made. There's also space underneath for extra clothing if you want to stay warm during snowy winter runs or just add some extra support for your curves.
These suits come in the widest range of sizes we could find. Pay attention when ordering as the sauna suits run a little small – go a size up to be safe! With elasticated cuffs and the naturally baggy design of the sauna suit, it won't matter too much if it's a bit too big.
Pros: extra-large sizes for plus sizers, good for men and women, anti-rip and tear-resistant
Cons: large logo on the front, size runs a little small
Junlan Men's Weight Loss Sauna Suit Shirt
Suitable For: men
Sizes: S (32.6 inch waist) to 4XL (48.4 inch waist)
Material: neoprene
Guarantees: sweat up to 3x more
Special Feature: athletic fit ensures no chaffing or bunching
The Junlan sauna suit shirt is a tight-fitting, sleek top that zips up through the front. It highlights your abs (or the abs you're working towards) and plasters your entire top half in neoprene. This is a great option if you want to work on your arms as well as your stomach.
Don't worry, it also supports your back and has breathable mesh in the underarm area.
We like it because the tight-fitting design (it's seriously tight so consider ordering a size up) doesn't chafe, roll or bunch up as you move. Whether you're hitting the yoga mat or the weights, we liked how this sauna top would move with you.
The length is also great – it covers all your stomach rather than stopping too short. Junlan calls this athletics corset trimmer jacket which is an accurate description. It's the male equivalent of the shaping women's sauna vest.
Pros: great fit doesn't shift uncomfortably, works on the arms as well as abdomen, breathable armpit materials
Cons: size runs small, handwash only
PVC Everlast Sauna Suit
Suitable For: men and women
Sizes: medium/large
Material: PVC
Guarantees: great for aerobic conditioning
Special Feature: two-piece design for ease getting on and off
Everlast, the brand that brought you the great boxing and fitness gear, also does sauna suits! This silver suit works as a great sweat-building outfit and doubles as a spaceman outfit at your next costume party.
It fits most sizes and has elastic at the cuffs – both ankles, both wrists, the waistband and around the neck, which can be a little tight.
We'd recommend this sauna suit for light jogging, long walks and those low-energy activities where you want to maximize calorie burning by upping the heat. For yoga, intense workouts and weightlifting, we'd advise that you buy a larger than normal size. If the suit is too tight it can rip easily when you're twisting and pulsing during your workout.
It's not the most durable, but it is one of the most stylish and from a brand that you can brag about with your gym buddies.
Pros: unique silver color, good price, great brand!
Cons: neck elastic can be too tight, not exceptionally durable
Kutting Weight Long-Sleeve Sauna Top
Suitable For: women
Sizes: XS (32 inch chest) to 3XL (46 inch chest)
Material: neoprene
Guarantees: increase weight loss up to 40.4%
Special Feature: zip sides for wide hips
Kutting Weight strikes again with another sauna suit top on our list! This neoprene top with snazzy purple edging is designed for the female form to aid weight (mostly water) loss in the arms and torso. It covers you completely without leaving your chest exposed like many vest-style sauna tops.
We like it for walking, hiking, running and general cardio activities. It does flex well, but it's not always smooth enough for a perfect downward dog or weightlifting session.
It's also priced a little higher than other sauna tops on our list.
We noticed that the top comes down quite low, which is great for targeting the hips but it does get in the way if you are short. It rolls up with your movement if it comes down too low.
Finally, look at the side zipper on this sauna top. It makes it easier to get on and off while ensuring you can zip in your wide hips and target the love-handles. There are also thumb holes in the sleeves!
Pros: good range of sizes, suitable for cool weather with long sleeves, adjustable for wide hips
Cons: high price compared to similar items


Kutting Weight Neoprene Sauna Suit Pants
Suitable For: men and tall women
Sizes: XS (5 foot tall) to 3XL (6 foot 4 inches tall)
Material: neoprene
Guarantees: increase metabolism and weight loss
Special Feature: fashionable low hip design won't overlap with your sauna top
The pants to match your Kutting Weight top. These are men's sauna pants but we can't see any reason why women can't wear these. They might even be preferable if you're a woman with beautiful long legs that shops off the "tall" rack in the mall.
As with all Kutting Weight neoprene gear, you'll need to handwash these pants yourself. We believe it's still worth it! They increase the heat until you're pouring out sweat. It tones your legs and keeps your lower half cozy warm if you're taking a jog in the middle of winter.
Practical, stylish and comfortable. The baggy design doesn't give away that you're wearing a neoprene sauna suit. Now all you need to do is work on your glutes to fill them out!
Pros: breathable mesh around the crotch, stylish design, comfortable
Cons: no elasticated ankles to prevent heat loss, handwash only
Budget Neoprene Sweat Vest Waist Shaper
Suitable For: women
Sizes: US 0 to US 18
Material: neoprene, polyester, nylon, spandex
Guarantees: heat the core body for increased weight loss
Special Feature: great for yoga and stretching
Finally, we come to our last sauna sweat top. Another neoprene vest – but this is an all-in-one with no zip or wrap to help you get it on and off…. as you can imagine, it takes a bit of wiggling. Years of getting into tight jeans will have prepared you well for this.
It's our budget option so what do you expect?
There's more polyester in the blend than neoprene but it still works at raising the temperature and getting you all sweaty. The seller, YHSW, states that you can wear it under your everyday clothes… but we don't recommend that. The natural rubbery neoprene smell plus the excess sweat is not a good idea at the office!
Also, note that the sizing chart begins in Asian sizes, so go a size up or convert them into US sizes before ordering.
Pros: affordable, nice design, great color
Cons: handwash, tough getting on and off, not entirely neoprene