When you have small kids at home, keeping your upholstery clean and stain-free might seem like your very own Sisyphean task.
Add pets to the mix, and you get something truly vile. If you are neat freaks like us, you daily battle with everyday messes on your precious furniture is guaranteed to drive you towards the edge.
However, you no longer have to feel like your home is on the brink of chaos every single day. The wealth of hi-tech cleaning methods available to us today significantly reduces the complexity of keeping your home clean. You can now ditch the good old scrubbing brush for an electric upholstery steam cleaner that rids your chairs and couches of dirt, stains, and grime.
Alternatively, you could hire a professional to use more powerful cleaning methods like hot water soil extraction cleaning for that perfectly clean. However, this method is significantly more expensive, and it lacks the added convenience that a cheap, home-ready upholstery steam cleaner brings.
In a home with pets, small children, or multiple roommates, a portable upholstery steam cleaner is an excellent addition for combating common stains on your couches and cushions. The best steam cleaners can rid your upholstery of even the most resilient layers of dirt.
These extraction-style upholstery cleaner clean surfaces by using a combination of hot water, cleaning formula, and some agitation and suction to suck out the dirt from the furniture fabric.
Typically, the cleaner sprinkles the hot water and cleaning formula solution unto the target area, and then the scrubbing tool action works the stain out of the fabric. The nozzle then sucks up the dirty water and loosened debris into the dirt tank, leaving your upholstery clean and with only a little moisture.
Before cleaning your upholstery with a steam cleaner, you should ensure that it is sealed and compatible with steam cleaning to avoid any damage. A "W" cleaning code on the furniture tag or instruction manual signifies that you can wash them with a steam cleaner. Also, before cleaning your upholstery with a steamer, make sure to test it out on a small portion of the fabric first. You could also check in with your manufacturer or retailer to confirm.
Why You Should Consider Getting an Upholstery Steamer Cleaner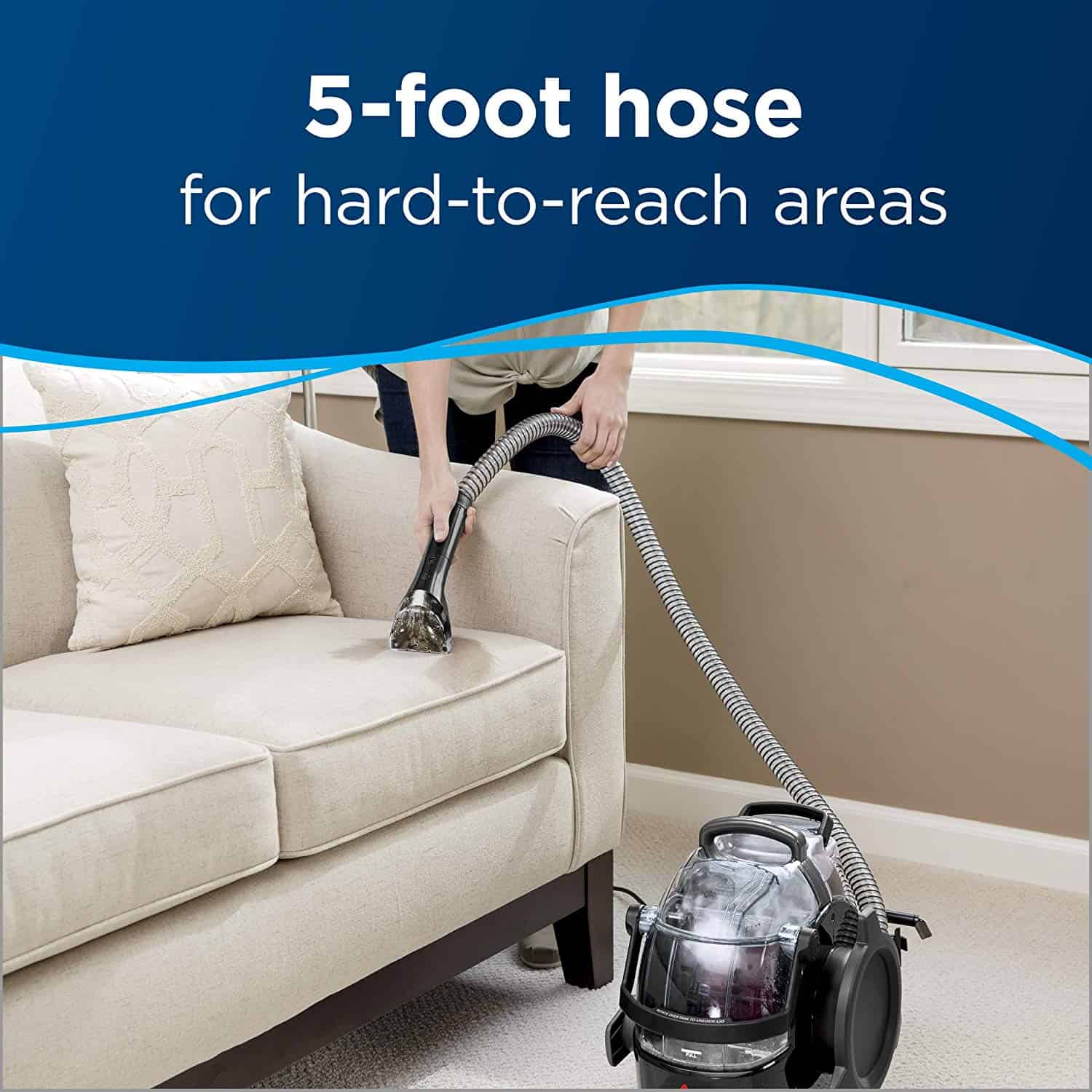 Upholstery steam cleaners are an excellent method to revamp the look of your upholstery and carpeted stairs. Thes cleaners use steam to remove dirt, stains, and grease in one go. Here are the top reasons you should consider getting one for your household:
Portability: Compared to other cleaning options, steam cleaners are relatively smaller appliances. Their small size means that they are easier to handle and perform better at cleaning tough to reach spots.
Chemical-free Clean: Most upholstery steam cleaners work with just water, without the need for detergents or other harsh chemicals. This chemical-free system helps to preserve the life of your furniture and eliminates the risk of chemical residue that can irritate your skin. Some cleaners have the option of a unique cleaning solution made specially To combat more hardened dirt layers for deep-seated upholstery steaming.
Disinfecting Properties: Upholstery steam cleaners shoot water vapor at hot enough temperatures to kill 99.9 percent of microbes, fungi, and bugs. Hence, these cleaners provide a great way to rid your furniture on potential health hazards.
Price: Upholstery steamers are relatively cheaper than portable cleaners and full-sized vacuumers. Hence, they offer a relatively cost-effective way to handle minor messes and keep your furniture in tip-top condition.
Why You Shouldn't Get an Upholstery Steamer
Relatively Poor Cleaning Performance: Compared to some other high-powered general-purpose cleaners, upholstery cleaners provide a subpar clean. If disinfecting your furniture or combatting small stains is your main gripe, then you have the perfect use case for these steam cleaners. However, for tough layered dirt, consumer-grade upholstery steamers fall miserably short. You are better off shelling out the buck for a bigger, high-powered machine.
Potential Furniture Damage: While these cleaners do produce enough heat to kill germs and bugs, their high temperatures can pose a damaging hazard to your upholstery. This hazard is particularly prevalent if your furniture has a light cover fabric.
Limited Features: In a bid to up the ante on portability, upholstery steamer manufacturers often skim on important steam cleaner features like drying and low steam mode. As a result, with each use, you risk overwetting your furniture and risk the appearance of mold.
Lengthy Process: Compared to other vacuum cleaning options, upholstery steamers require a lot more steps to get going. We have detailed the steps it takes to get your steam cleaner going near the end of this article.
Selecting the Perfect Upholstery Cleaner: What to Look for
The best upholstery steam cleaner comes in the familiar canister-style design. These steamers are also lightweight, versatile, and powerful enough to handle your cleaning jobs. Here are the top features you should look out for when selecting the best cleaner for your home:
Cleaning Performance: The primary reason you get a steamer is for it to get the job done. A good steam cleaner should lift all stains with only a few passes of the scrubbing too. The cleaning should also suck up most of the cleaning solution/water as quickly as possible to help the surface dry faster and to prevent fungal growths.
Portability: One key reason for buying an upholstery steamer is their lightweight and enhanced maneuverability. Most top-of-the-line upholstery steam cleaners weigh less than 15 pounds, making them easy to carry around for spot cleaning.
Ease of Use: If you've used a vacuum cleaner before, a good upholstery steam cleaner should be straightforward and easy to figure out. You shouldn't even have to consult the user manual. Furthermore, the steamer should have a flat bottom so you can rest it anywhere, and the dirt tank must be easy to empty.
Cord length: Most upholstery cleaners have a cord length of between 15 and 20 feet. This length is typically ample enough to handle all your cleaning needs. A shorter cord may create logistics problems, especially if you have a large room with furniture spaced widely apart.
Water tank capacity: A larger tank provides more room to take solution/water to provide more cleaning allowance per refill. However, since these cleaners' primary purpose is spot cleaning, a small 30-ounce tank is often enough to match your needs. A water level indicator on the tank brings added convenience.
Best Upholstery Steam Cleaners
With the right upholstery steam cleaner, you can give your furniture its first real thorough clean. A steam clean will rid the fabric of surface dirt, stains, spots, and persistent grime.
However, before steam-cleaning your upholstery, you must ensure that the surface of your furniture is rated with a "W" cleaning code. This ensures that the piece will not be damaged by moisture contact. You can check with the manufacturer or retailer for more information.
Once you have verified that your upholstery pieces will not be damaged by steam, you are ready to begin cleaning. Based on our research and tests, here are the top three steam cleaners for your home upholstery pieces:
Hoover Spotless Portable Carpet and Upholstery Spot Cleaner


To get the best performance in the category at a very inviting price point, you should check out this portable carpet and upholstery spot cleaner from Hoover.
Hoover's strongest selling point is its ease of use. The machine features an intuitive assemble process and simple controls that help you begin cleaning in seconds. Furthermore, you can control the amount of steam produced by the cleaner by adjusting the amount of pressure you put on the pressure-sensitive nozzle.
The suction system is one of the most powerful you'll find on an upholstery cleaner. The suction is strong enough to handle most dirt and pet hair that other smaller steam cleaners tend to miss. Also, at just 9 pounds, this cleaner is ultra-portable and is a breeze to use across multiple rooms and floors.
For faster cleaning, Hoover included a wide-sized nozzle that lets you cover more surface area in one go, significantly cutting down on cleaning time.
Several consumer reviews praised how easy it was to clean the machine after each use. This acclaim is not surprising as the Hoover Spotless features a proprietary Self-Clean Technology that rids both the machine interior and the hose of grime after each use.
Thanks to its self-cleaning tech, the machine is less likely than other steamers on the market to develop mold growths.
Pros:
Full nozzle spray significantly cuts down on cleaning time
With dual tanks keep clean and dirty water separate for more efficient operations
Self-Clean Technology makes this steam cleaner a dream to use
Pressure-controlled nozzle for full steam regulation
Easy to use and clean
Lightweight and easy to maneuver
Easy access to the suction area under the hood
Budget price
Cons:
Relatively short power cord
Some complaints about the sprayer breaking down after a few months
the red plastic /rubber brush sometimes breaks and leaves red marks and red rubber pieces all over the cleaning area
Related: Best Vacuum for Pet Hair
Bissell 3624 SpotClean Professional Portable Carpet Cleaner


For more firepower than the Hoover, check out the Bissell 3624 SpotClean steam cleaner. This powerhouse brings 2x the suction combat deep-seated grime and bring your upholstery back to looking brand new. With this machine, you also get five different flex hoses to match all your various cleaning needs.
The Bissell 3624 gives you the closest performance to a full feature vacuum you will find in an upholstery cleaner. It is also packed with features and attachments further enhance its versatility. Straight out of the box, you get a specially formulated deep-cleaning formula and six stain tools to tackle even the toughest grit.
Thanks to the reliable suction and the assortment of tools included, this steam cleaner is capable of cleaning a wide range of surfaces, not just furniture. It's suction and scrubbing mechanism is fine-tuned to eat through dirt without damaging your fabric thoroughly. The cleaning formula does not contain any harsh cleaning chemicals.
Pros:
Equipped with six stain tools, five flex hoses, and other accessories to match all your cleaning needs
Suitable for furniture as well as carpets and other surfaces
Fine-tuned suction and scrubbing system to prevent fabric damage
¾ gallon tank lets you clean without stopping for refills
Superior suction significantly cuts down drying time
Easy to clean
Easy it is to store and more compact than competing for brand offerings
Cons:
Some find the hose design unintuitive
Length of the hose is too short for more extensive reaches
Users had issues with the handle breaking and causing a water leak
Problems with collected hair getting stuck in the dirt tank
Dirt Devil Steam Cleaner


The Dirt Devil Steam Cleaner is a reliable mid-range offering that comes with just the right bells and whistles to match the cleaning needs of the average home. The machine features a sleek, compact design that enhances its reach and makes tight cleaning corners super easy.
Despite its small profile, the dirt devil is capable of shooting a sustained spray of hot steam and match it with consistent water pressure to rid your upholstery of all deep-seated stains.
The Dirt Devil is an excellent performer when it comes to spotting cleaning and stain removal. However, if you need more thorough intensive cleaning, you should opt for the Bissell instead. Nevertheless, the Dirt Devil is capable enough to handle all of your everyday upholstery stains.
Thanks to its small size, a lot of users found it to be convenient in dealing with windows and the corners in the bathroom. If there's a little cleaning job anywhere that doesn't require the full-sized steam cleaner; the Dirt Devil has got your back.
Pros:
The machine heats up quicker than most significantly reducing both wait time and cleaning time.
Excellent multi-purpose cleaners that also work well with windows and glass fittings
The small, portable build makes the Dirt Devil a superb worker in tight corners and hard to reach spots
Its cleaning system is reliable and tough on dirt every time
Intuitive, easy to use controls
Cons:
The steam engine gets hot fast, and the steam stream is warmer than most, so there's the potential hazard of accidentally scalding yourself
The hose is shorter than what you will find on the competition. Also, the tube is relatively inflexible
Has a small tank that can only sustain steam jet for a short while. The cleaner might require multiple refills mid-clean
The terry cloth sleeve tends to get grimy often
Leaves some of the unseated dirt behind and you may need to wipe with a towel afterwards.
How to Use an Upholstery Steam Cleaner
So, now you have gotten your new upholstery steam cleaner. Here is a quick guide on how to use your cleaner effectively to get that perfect clean:
#1 Vacuum First
Before steam-cleaning your upholstery, you must run a regular vacuum hose across the surface. This initial clean sucks up any large debris chunks and gets the furniture ready for the steam cleaner.
#2 Stain Removal
Next attack wine, paint, or coffee stains: any tough stains that will give your steam cleaner problems. Spray the stained spot with upholstery cleaner fluid, let it sit for a few minutes, then wipe down with a soft cloth
#3 Ready the Fabric
To enhance the effectiveness of the clean, precondition your upholstery fabric with soil emulsifiers to loosen any remaining dirt particles. You can also add an upholstery shampoo to dislodge dirt and grime further. Let the preconditioner sit for a few minutes then brush down with a gentle brush.
#4 Steam, Steam, Steam
Add water (and cleaning fluid) to your steam cleaner to get it ready for action. Then run the steamer across your furniture a few times to catch every spot. Make sure to follow the manufacturer's instructions.
#5 Let the furniture dry
#6 Remove lingering stains with vinegar or a denser cleaner fluid
Caring for Your Upholstery Steam Cleaner
A primary concern when caring for your steam cleaner is mineral build-up. Over time, the minerals in tap water accumulate in the reservoir and can hamper the performance of the machine.
An excellent way to prevent mineral buildup is to only used distilled water with your cleaners. Alternatively, you may need to occasionally clean out the suction gate under the water tank by rinsing it with cold water, and then screwing it back in place.
Another piece of advice that goes without saying is to read the operation manual. Upholstery cleaner design and operations vary from brand to brand, and arming yourself with the required information will significantly improve the well-being of your machine.