For some, the sauna is heaven on earth. For others, it's a necessary evil for their health. Either way, knowing how long to spend in the sauna is important information. Not long enough and you won't feel the health benefits people rave about… too long and you risk some adverse side effects.
This article will give you the exact time you need to balance your sauna sessions and leave feeling refreshed and relaxed.
How Long Should You Stay in A Sauna?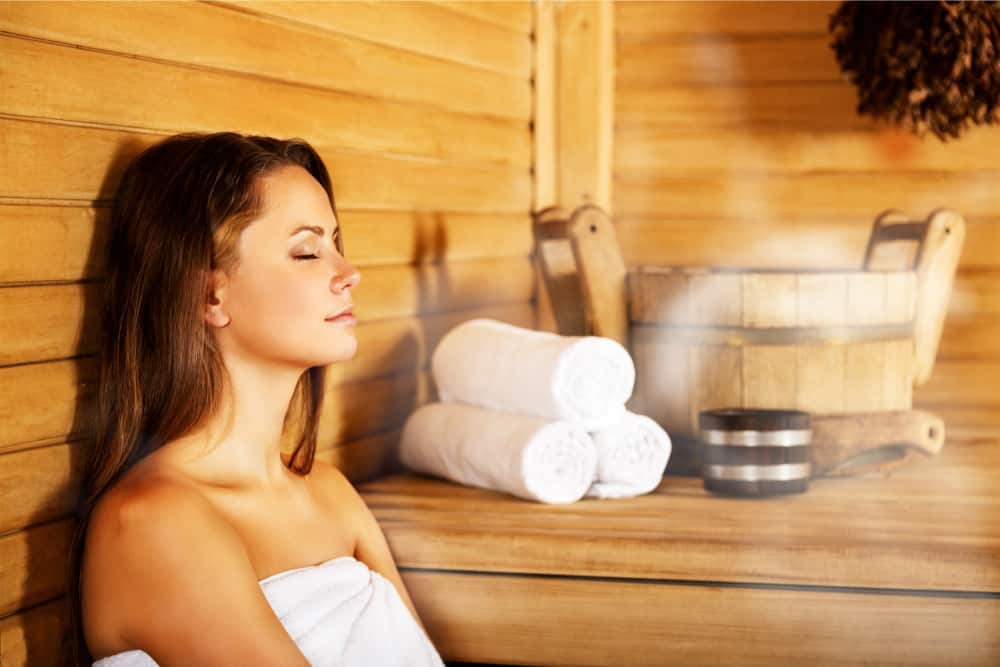 Recommendations go from 15 minutes to 30 minutes.
20 minutes is most common for traditional saunas while infrared saunas typically meet the limit at 30 minutes.
The reason these times are so short is because the sauna is very intense! Even if it doesn't feel like it, your body is working hard to maintain your temperature and sweat profusely. You lose a lot of water (up to 2 liters in 30 minutes) so staying in the sauna for longer will seriously dehydrate you.
The best time to leave the sauna is when your 20 or 30 minutes are up.
Optimum Time for Sauna Health Benefits
If you're a beginner, the optimum time will start off being around 10 minutes, before it gets too much. Take regular breaks and over time your body will grow more accustomed to sitting in the sauna. Regular sauna goers (2 to 3 times per week is recommended) will be able to sit in the sauna for up to 45 minutes per session, broken up by cooling periods.
In traditional saunas, the optimum time could vary depending on where you sit, as different seats in the sauna will have different temperatures. Infrared saunas maintain a steady temperature throughout.
Creating a Sauna Circuit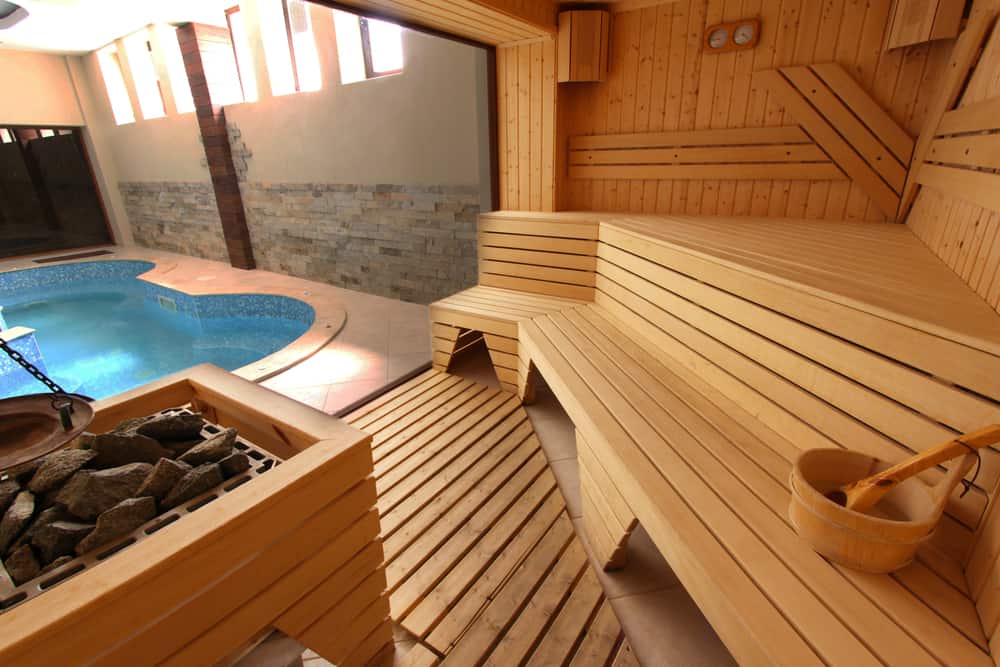 It can be a bit frustrating, only being able to sit in the sauna for 15 to 20 minutes at a time. Luckily, creating a sauna 'circuit' is an easy and safe way to help increase the amount of time you can spend in the sauna.
Hydrate your body and get ready to sit in the sauna (no clothes or jewelry).
Enjoy the sauna for 15 minutes or however long you need to.
Cool off with a cold shower, dip in the lake or cold-water pool, or even jump into the snow!
Hydrate your body and get ready for the sauna again, then repeat the whole process 2 or 3 times.
Why Do This?
We won't lie to you, the first time you jump into a cold shower after sitting in the sauna, you're going to yelp! It's your body's natural response to the freezing cold water. It takes time and repetition before your body and mind find the cold shower super relaxing after being in the sauna.
The cold water brings down your body temperature back to normal, so you can safely go back into the sauna without overheating. It also washes away the sweat and toxins you expelled and closes your pores to prevent those toxins, sweat, and dirt from soaking back in.
When Is the Best Time to Go to The Sauna?
The best time is when the sauna has recently been cleaned and is already up to the right temperature. Early morning and late evening are good and popular times to head to the sauna. You can let go of your stress, take a cleansing shower afterward then get ready for the day or a peaceful nights sleep.
It's best to go to the sauna after waiting an hour after your last meal. Don't go on a full stomach as the heat can make you feel a little bit queasy.
It's also really important that you don't consume any alcohol before or after going to the sauna. Both alcohol and the sauna will dehydrate your body and the alcohol will impair your senses – you might not realize it's time to get out of the sauna!
What Happens if I Stay in The Sauna Too Long?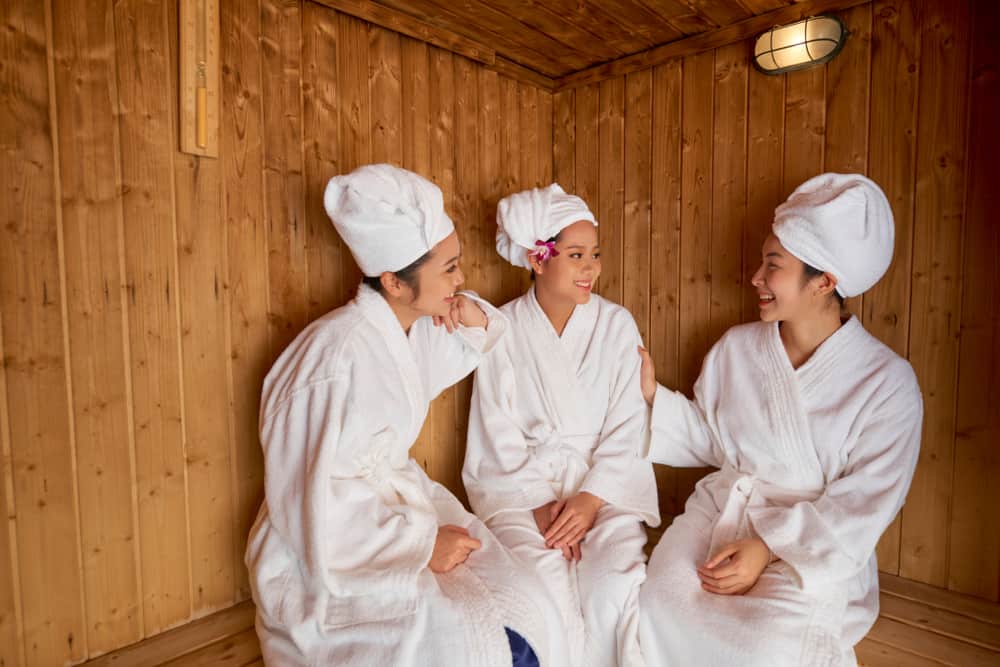 The longer you stay in the sauna, the hotter your body gets and the more you sweat to compensate. This dehydrates you! If you feel any of these symptoms, it's time to leave the sauna even if you haven't stayed as long as you wanted:
Dizziness
Light-headed
Significantly increased heart rate
Sudden fatigue
Difficult breathing or "panting"
Uneasiness, feeling unwell, or just a strong desire to leave the sauna – don't force yourself to stay if you don't feel up to it. Listen to your body and mind.
Be aware that a sauna improves circulation in healthy people… but those with blood pressure problems or heart problems should talk to a doctor before spending any time in the sauna, no matter how long.
Is Long Term Sauna Use Good for Me?
Yes, evidence suggests that sitting in a sauna regularly can do some good things for your body and mind. As we covered in our article about how many calories you burn in a sauna, the number you burn is quite small. The real benefits of sitting in the sauna regularly are:
Improved circulation.
Sweat out toxins, dirt, and bacteria from your pores (which is great for acne).
Speed up muscle recovery after a workout.
Relieve stress and tenseness.
Help you get a better nights sleep.
Summary – Short but Sweet Sauna Sessions are Key!
You might spend up to 40 minutes in the sauna after a workout… but never more than 30 minutes in one go! Remember to spread out your sauna sessions with plenty of breaks to rehydrate your body and cool down. Listen to your body and only sauna for as long as you feel comfortable.
Also Read: Why Do I Feel Sick After a Sauna?