Whether it is mineral buildup, limescale, mineral deposits, or crusty gunk, everyone has their name for this universal ill that affects many U.S. homes on a regular. If you are a person who likes to keep your home in sparkly clean tip-top shape, then we can bet that hard water stains are a familiar foe.
Hard water is significantly higher in minerals like calcium and magnesium than regular soft water. As a result, when hard water evaporates, it often leaves a caked whitish mineral residue on surfaces. This residue can quickly pose a threat to your home cleaning efforts as well as home appliances like water heaters that work with a waterline.
However, where the pain of hard water deposits is most felt is in your kitchen and toilets where they can quickly build up in sinks, tubs, bathrooms, and floors. Other frequent victims of hard water stains include fittings like faucets and showerheads.
Nevertheless, with the right maintenance tips, hard water stains should quickly become a thing of the past in your home, or at least quite easy to manage.
How to Remove Hard Water Stains?
While several commercial products designed to tackle hard water stains, home remedies like vinegar and hydrogen peroxide often work quite as well. One of the best tools for combating hard water stains is cheap, white vinegar and water. However, make sure to use natural white vinegar as other types of vinegar won't work.
Removing Light Stains
To tackle minor hard water stains on your home surfaces, use the following steps.
Mix equal parts of white vinegar and water in a spray bottle to create an effective anti-hard water residue solution
Spray the vinegar solution thoroughly unto the surface with hard water deposits. Vinegar will work on most surfaces, including glass and ceramic floor tiles, toilets, sinks, and bathtubs. However, using vinegar on wood is a no-no. This is because porous surfaces like wood are susceptible to damage from cleaners like vinegar that have a high acidic content.
Wipe down the surface with a washcloth to remove any hard water stains. Typically, light stains should come off quickly with one wipe. Alternatively, instead of spraying, you can soak the rag in the vinegar solution and then use it to clean your surfaces.
Rinse the area with clean water, squeegee it clean, and dry the surface with a clean cloth to prevent any spots.
Removing Tougher Hard Water Stains
For tougher hard water stains spray white vinegar unto the spots and let it sit and soak in for a few minutes. Alternatively, you can soak a washcloth in the solution and drape it over the surface for a short while. Then you can proceed to clean the surface as you would one with light stains
If that doesn't work, you can try mixing vinegar with Borax to create an even more potent cleaning solution. Then apply the mixture to the surface then scrub with a non-scratch sponge after letting it soak for an hour. Alternatively, you can brush down the surface with 0000 steel wool or ultra-fine sandpaper for even more cleaning effect.
In rare cases, the buildup may be tough enough to withstand the measures mentioned above. Here, we advise that you default to any commercially available cleaner with hydrochloric acid. However, you should only use this as a measure of last resort. When handling HCL, make sure to use gloves and other safety gear and keep the room adequately ventilated at all times.
Removing Hard Water Stains from Faucets
Over time, as you use your bathroom and kitchen faucets, hard water stains can begin to collect on the taps and make the fittings look old and dirty. To rid your valves of hard water deposits and stains:
Soak a washcloth in white vinegar and drape it over the stained fitting, ensuring direct contact with all hard water stains
Leave the washcloth to sit for at least an hour so the vinegar can soak in
Remove the washcloth and scrub the faucet with a non-scratch sponge and enough water to avoid damaging the faucet's finish
Repeat this process until the valve is squeaky clean and free of any hard water mineral deposits
Removing Hard Water Stains from Faucet Aerators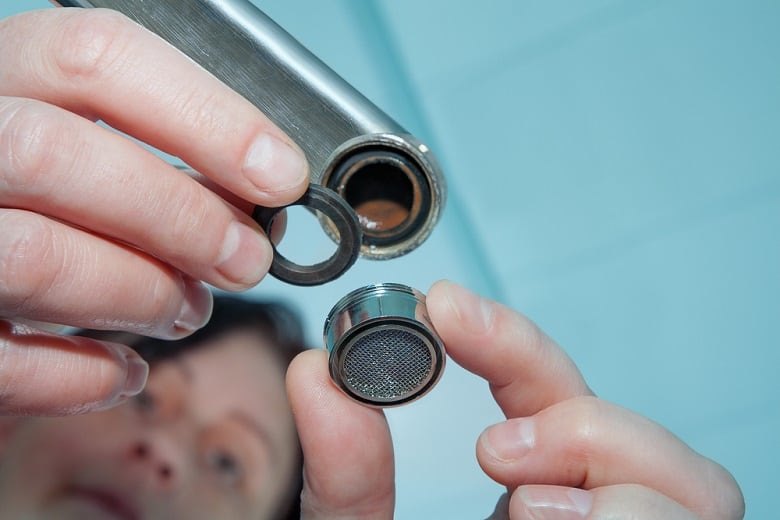 When hard water deposits begin to accumulate in your faucet aerator, it can significantly impact your water flow and water pressure negatively. If you start to notice erratic water flow or reduced pressure, you could be dealing with an aerator clogged with hard water stains.
To rid your faucet aerator of hard water stains:
Disconnect the aerator and disassemble it
Soak all parts of the aerator in white vinegar for at least an hour
Scrub the aerator components with an old toothbrush to dislodge any remaining deposits
Rinse the pieces with water thoroughly
Reassemble and screw the aerator back onto the faucet
Test faucet to see if your water flow is back to normal
How to Prevent Hard Water Stains?