Saunas and steam rooms have proven over the years that they are exceptional when it comes to relaxation and numerous health benefits. People all around the world have observed the ways of the Scandinavians and their dedication to saunas, and have studied the steam baths and steam rooms of ancient Greece and Rome. Both saunas and steam rooms have, therefore, become synonyms for health, self-care, relaxation and quality time spent on improving one's inner and outer beauty. However, the battle of the titans was inevitable; the world has become divided, as one side is all about the saunas, while the other side cheers for the steam rooms. Because both seem equally beneficial and relaxing, we've decided to take a look and decide which one is actually better for you.
What is the Sauna?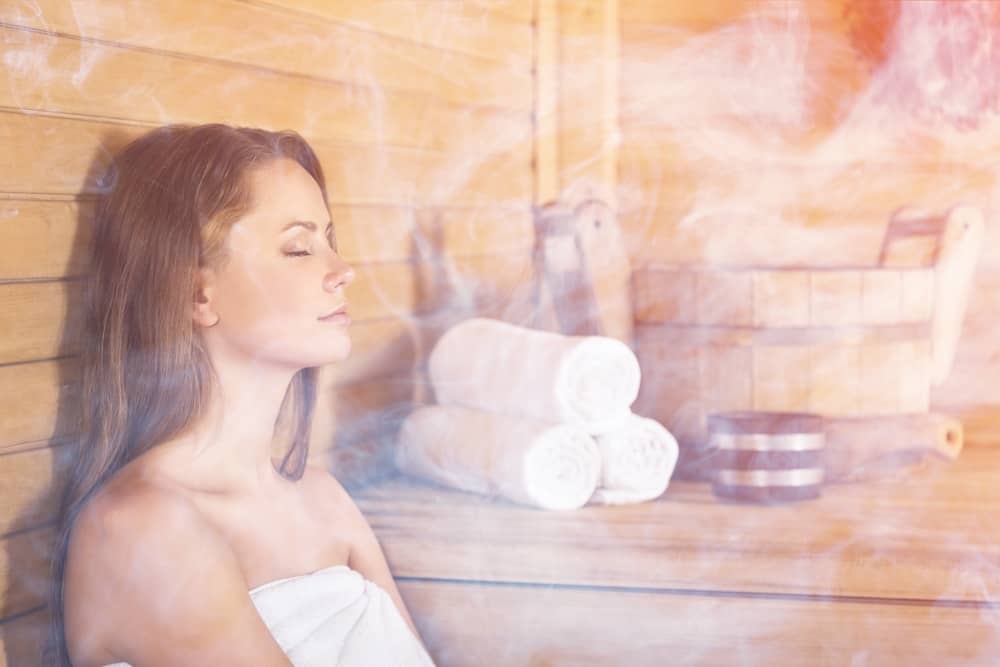 What started as a Finnish bath, has quickly turned into Japanese sentō, Russian banya, Turkish bath, and North American sweat lodges, nowadays universally known as the sauna. Sauna is a form of social bathing and has been around for thousands of years. The principle of the sauna revolves around sweat bathing in a very hot room (70°C-100°C, or 158 °F – 212 °F) for 10 to 20 minutes. The sauna is shared by several other people and is usually followed by a cold shower or water plunge, as they do it in Finland and the neighboring, Baltic countries. There are two types of saunas; the regular sauna where the air inside is warmed, and the infrared saunas where one can use warm objects, like heated stones, which are then poured on with water to create clouds of steam. This process, in turn, increases the temperature in the room, but the steam quickly disappears. Both types of saunas are made of wood and have wooden walls and seating. Saunas usually offer both wet and dry sessions, and have a stove located inside that generates all the heat.
What is a Steam Room?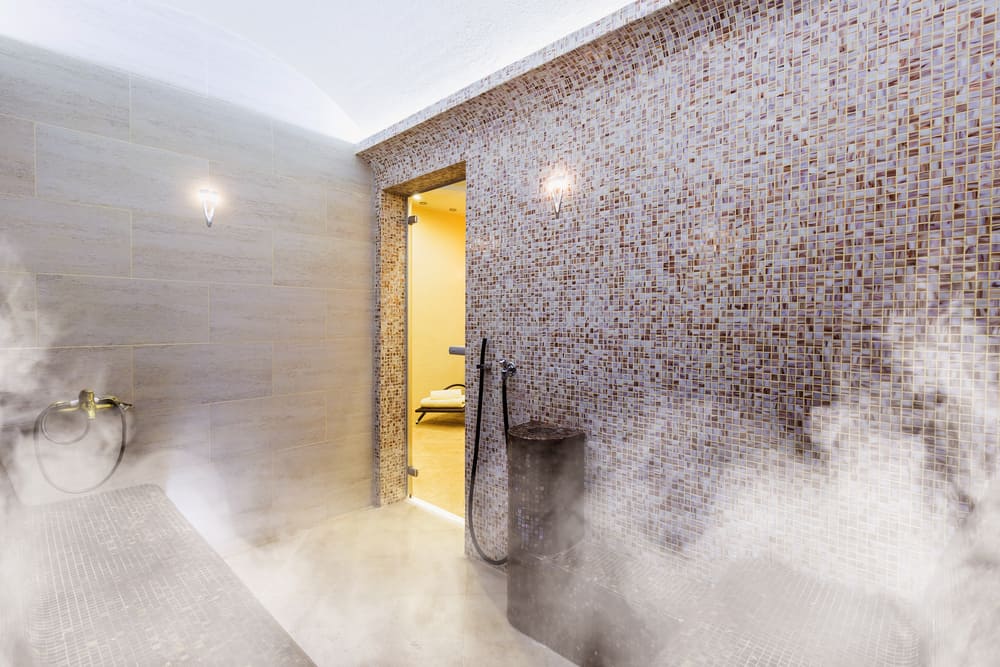 Steam rooms and steam baths/showers see their origin in southern Europe. They can be traced back to ancient Greece and Rome as well as Turkey and parts of Russia. Unlike saunas, steam rooms are made from tiles, or another similar material that is not affected by humidity, like wood is. Steam rooms are also usually designed for exceptionally hot and wet health treatments, where the temperature remains around 115 to 120° F (40°C). The temperature, however, doesn't fluctuate like in the sauna, since the steam rooms are made of tiles or glass, and retain the temperature due to the condensation of the walls. This makes steam rooms feel much hotter than saunas, and usually induce more sweating. The humidity in the steam rooms can reach 100%, and they also have an external steam generator. Unlike saunas, people visiting steam rooms don't usually use towels, however, in public steam rooms (like the steam rooms at the gym) it is recommended to use one.
Health Benefits and Risks between Sauna and Steam Room
Benefits
When it comes to health benefits, saunas and steam rooms have a pretty much same effect on our bodies. Saunas are, however, preferable when it comes to muscle stimulation or reducing stress and blood pressure. Saunas have also proven excellent when it comes to cardiovascular health and hormone regulation. On the other hand, steam rooms are preferable in regards to detoxification or the relief of asthma-induced chest congestion and sinus irritation. Both are known to cause perspiration, through which the body releases toxins and salt. Those who visit saunas or steam rooms regularly are also known to have beautiful and healthy skin. The humidity and warmth in both places help the skin cleanse and rejuvenate; the skin also gets rid of all the impurities and imperfections, as it does with people who have acne. Some people have also claimed that saunas and steam rooms have helped them get their diet in control and also to lose weight. However, there is no scientific proof that could support this claim, but the heat, in general, has been known as a natural appetite reduction.
More: The Best Detox Teas Out There
Risks
On the other side, when it comes to the risks of using saunas and steam rooms, we can say that there are few concerning ones. Studies have shown that saunas and steam rooms can be very stressful for the organism. By being exposed to a higher temperature during the wet or dry sauna and sweat rooms, there is an increase of systolic blood pressure, reduction of thermoregulation mechanisms and overall strain during passive heating of the body. Moreover, because of the high humidity percentage, there are difficulties in the evaporation of the sweat from the surface of the skin, which can slow down the removal of the heat from the body.
When it comes to other downsides of saunas and steam rooms, it is important to mention the risk of dehydration. The thermal stress during saunas and steam rooms cause rapid dehydration, especially in the dry saunas. It is, therefore, important to stay hydrated by drinking water before and after using a sauna or steam room. Furthermore, exposure to high heat can cause headaches, uncomfortable and improper breathing as well as athlete's foot and fungus dues to the microbes in these rooms.
So, which is better?
The choice between saunas and steam rooms seem to be depending completely on one's personal preferences, needs, and abilities to handle the heat. For example, dry saunas are much better for people who do not like moist heat and who are more sensitive to a higher temperature. On the other hand, those who prefer and can handle a constantly high temperature should use steam rooms. Furthermore, we cannot ignore the risks of using both, so one should decide which is better, sauna or steam rooms, according to their health. If a person struggles with high or low blood pressure, it is recommended to use saunas and avoid steam rooms. However, those who deal with respiratory problems, like nasal congestion or sinus congestion, may prefer steam rooms or steam baths. It is also important to mention that people who suffer epilepsy, who use tranquilizers, antibiotic or consume alcohol should avoid steam rooms completely. As mentioned above, steams rooms regain a constantly high temperature, which can trigger epileptic attacks and other adverse effects.
Precautions for Saunas and Steam Rooms
If you're pregnant, you should not be visiting saunas or steam rooms as they can negatively affect the development of the fetus.
Those who have consumed alcohol beforehand should not be visiting saunas or steam rooms.
If you start feeling uncomfortable or lightheaded, immediately leave the sauna/steam room.
Make sure to stay hydrated as it is easy to dehydrate during sauna or steam rooms.
Consult your medical professional about taking medication and using saunas/steam rooms. It is usually advised not to visit these places while on antibiotics or tranquilizers.
Conclusion
Generally speaking, saunas and steam rooms aren't that different when it comes to their health benefits and overall experience they provide. Both are a part of the centuries-long tradition and have proven to be outstanding relaxation and calming methods. However, there are definitely risks that come with exposure to high heat and humidity which everyone should be aware of. For those with health issues, infrared, or wet saunas should be a safer and better option overall. For those whose health is perfectly fine, the choice between saunas and steam room is completely their own. It is only important to look into both options carefully and then choose wisely.