From Katana-wielding ninjas and samurais to King Arthur's Excalibur, the presence of swords in almost every legend is a testament to how much these blades have permeated our fantasies.
Yes, most swords, at first glance, may strike you as mostly unremarkable. However, watch a hero demonstrate authentic swordsmanship with a majestic sword once, and you will instinctively understand why these weapons are so deeply rooted in our collective consciousness.
By their in your face phallic design, swords symbolize power, protection, strength, courage, and authority. Since these weapons take a great deal of practice to master, they also make excellent symbols for discipline and mastery, knighthood, and chivalry.
Furthermore, on a more archetypal level, swords represent the power of will and intellect to reveal, conceal, unite, or to discriminate. Hence, these blades feature, in various forms, and with different abilities, in a wide range of legends from different cultures around the world.
In the biblical creation story, a flaming sword formed a fence around Eden that separates man from the tree of life. In Greek mythology, Zeus's adamantine sword is how Perseus slew Medusa. More recently, the legendary Excalibur of Arthurian legend serves as the proof of Authur's lineage and his claim to the rightful sovereignty of Britain.
However, away from fantasy, swords also have deep and extensive practical roots.
Thanks to their efficiency in man to man combat, swords were the battlefield weapon of choice from the ancient Mesopotamian empires to the European wars of the early 20th century. These weapons played a role in World War I and even featured in the Second World War where they served mainly in ceremonial use or as jungle machetes.
Origin and History of the Sword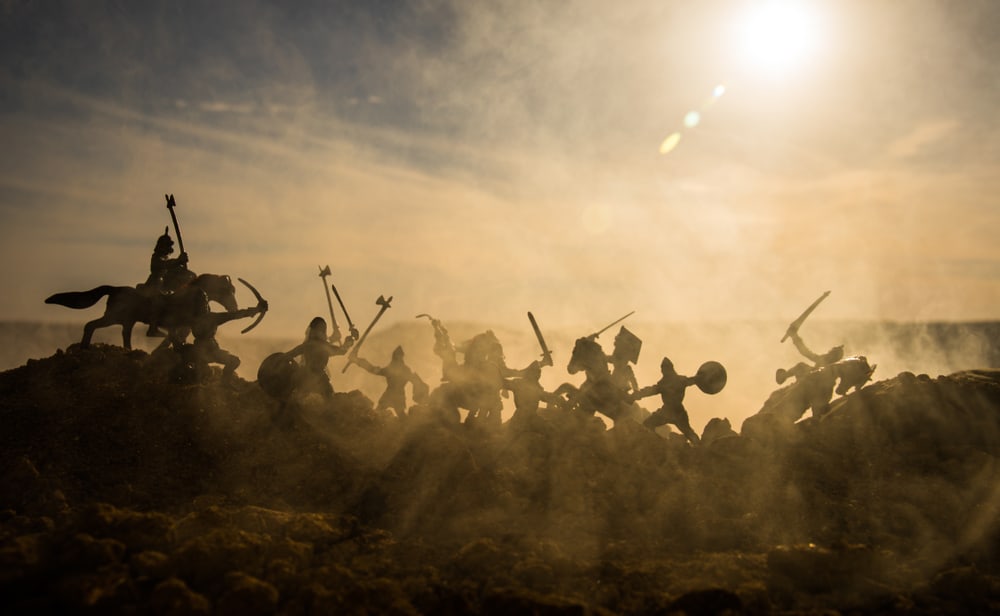 The first swords developed from the evolution of the dagger, a knife with two cutting surfaces. Unlike a traditional blade, daggers provide an increased ability to inflict damage as you can attack with both sides of the weapon singly or simultaneously.
Consequently, swords were a natural progression as they provide significantly more reach. Thanks to their more extended profile, they also allow for new forms of executing an attack like slashing or thrusting the point.
However, because of a lack of suitable materials, swords were impractical for most of history, up until the beginning of the Bronze Age (around 3000 BC.) Even then, the swords were only slightly elongated daggers as bronze had its inconsistencies.
Compared to other metals common today, bronze has a relatively low stiffness level (Young's modulus.) Hence, bronze swords that were significantly longer than daggers were prone to bending on minimal impact.
The first weapons that can be classified as swords without any ambiguity first appeared in the Late Bronze Age. Some of the first authentic swords (24 inches or longer) were first discovered in Minoan Crete and was dated by archeologists to about 1700 BC.
These new class of swords came from the discovery that bronze can be strengthened by adding tin and arsenic.
The Bronze Age swords were replaced by the also short but relatively stronger Iron Age sword. These iron weapons, in turn, gave way for the Roman Army spatha, the predecessor of the European Middle Ages sword and the Old English Sword.
During the Middle Ages, swords morphed into the classical arming sword with crossguard that is the template for many modern swords.
Morphology of a Sword
A sword is a bladed weapon usually with two cutting edges intended for slashing or thrusting. Furthermore, the key differentiating factor from other blades is that a sword is longer than a knife or dagger.
However, the precise definition of the term varies across geographic regions as well as across different periods of history. The blade may be straight or curved, may be designed for thrusting or slashing, or may have one or two sharp edges.
Nevertheless, all swords have the same basic structure. A sword consists of a blade and a hilt. Most swords also come with a sheath to cover the edge when not in use.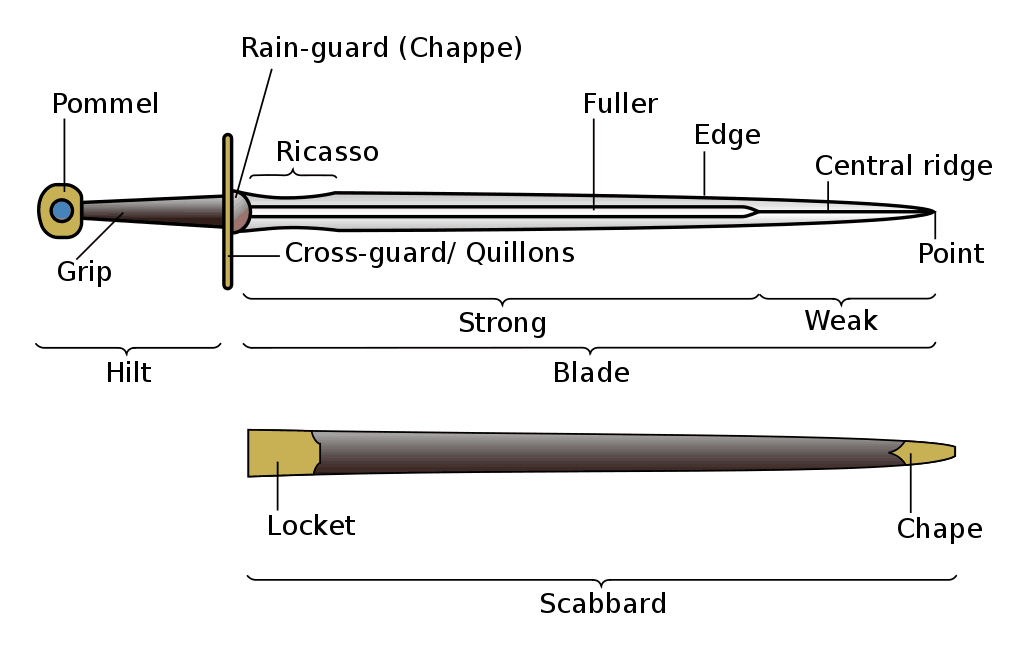 Blade
The blade is the most prominent and defining part of any sword. Hence, variations in blade type and length are the most common way to group these weapons into types and classes.
Across time and region, there is a broad variation in the type and shape of sword blades. However, swords are often classified into three categories based on function: cutting blades, thrusting blades, and slashing blades.
Cutting blades are designed for thrusting attacks. Hence, these swords are broad and thin to facilitate maximum impact. Cutting blades also often have fullers which further lighten the blade for easy maneuverability, albeit at the cost of some of the blade's stiffness.
Dedicated thrusting blades are more massive cutting blades with a thicker profile. These blades are characterized by a strong taper and a sharp point for maximum efficiency.
Cutting and thrusting blades are excellent for close combat as they provide significantly more maneuverability in tight quarters compared to slashing swords.
Slashing blades, on the other hand, are long thin blades that are made for slash attacks.
However, many swords from history were in actuality compromise designs that tried to incorporate elements for both slashing and thrusting.
Furthermore, the earliest iron blades featured rounded points due to the limited metallurgy of the time. Hence, these swords were mainly good as slashers, although they were still sufficient for thrusting against light armor. However, with improvement in technology, and armor designs, blades became stiffer, narrower, and sharper to inflict more damage by ramming the target.
Finding the right balance between cutting and thrusting elements makes for the perfect warrior weapon. However, there are many possible design solutions; hence, the many types of swords that existed in the Middle Ages and Early Modern History.
Hilt
The hilt is the collective name form the parts of the sword that is not the blade. The hilt is the lower part of the sword that lets you handle and control the edge.
This part of the sword consists of a grip, the pommel, and a simple or elaborate guard.
The pommel is an enlarged fitting at the top of the handle of the sword. This fitting served as a practical way to keep the sword from slipping out of hand. Pommels also served a decorative purpose.
In newer swords from after the 10th century AD, the pommel became heavier and served as a counterbalance to the blade that allowed for more fluid handling of the sword. The bottom of the sword can also be used as a blunt force weapon from close range.
Depending on the preferred aesthetics of that period, pommels can take a variety of forms that include crescents, disks, wheels, oblate spheroids, or animal heads.
The grip is the handle of the sword; the portion which the hand wraps around during use. This section is typically made of wood or metal and is often covered with untanned sturdy leather or sharkskin.
The guard, on the other hand, is a section just above the grip that prevents the hand from sliding up the sword during thrusting movements.
During the Middle Ages, guards became more elaborate, with additional loops and curved bars or branches to further protect the hand. By the 17th century, guards that incorporate a robust shield that surrounded the blade out to a diameter of up to two inches were quite common. These guards are known as cup-hilt.
You might like this video:
Scabbard
The most popular accessories for the sword are the holder, or sheath, and the sword belt.
Scabbards form the housing for swords when they are not in use. Over the years, scabbards have featured a variety of materials that include leather, wood, brass, and steel. Leather sheaths are often protected from the blade's point by a metal tip called a chape.
A sword belt, on the other hand, is a waist belt attachment for the sheath.
11 Types of Swords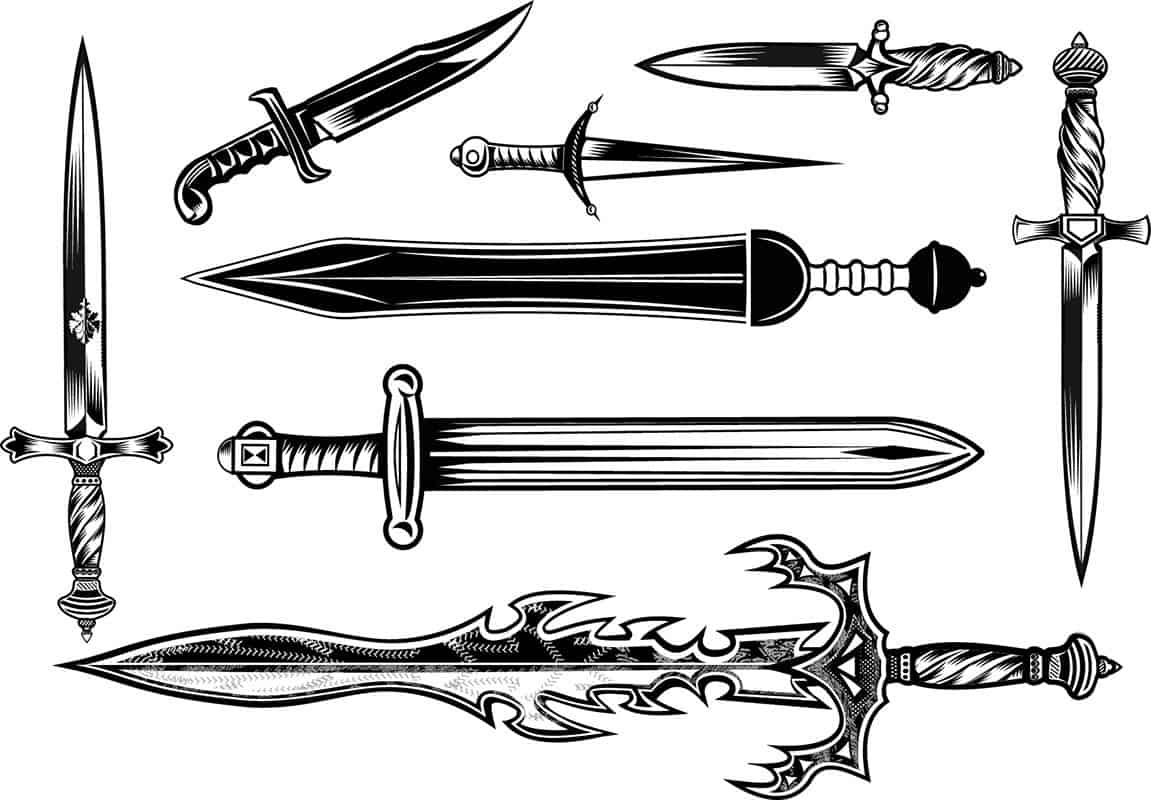 Any attempt to classify swords into various set types is sure to encounter nomenclatural problems.
First, hundreds of sword types exist from different eras of human history and various locations around the world. Consequently, there was no universal consensus on specific types of swords. As a result, historical terms like broadsword and longsword were often used to label weapons of similar appearance but of different historical periods, regional cultures, and fabrication technology. These terminologies also usually did not pay regard to their intended use and fighting style.
Secondly, in most historical cultures, a sword was called "sword" in their native language without regard for its specific features.
Although the English language terminology used in the classification of swords is imprecise, it is no doubt a great way to understand the types of swords. While the classification scheme has varied widely over time, it has always grouped swords by blade type or by hilt type.
1. Two-handed Sword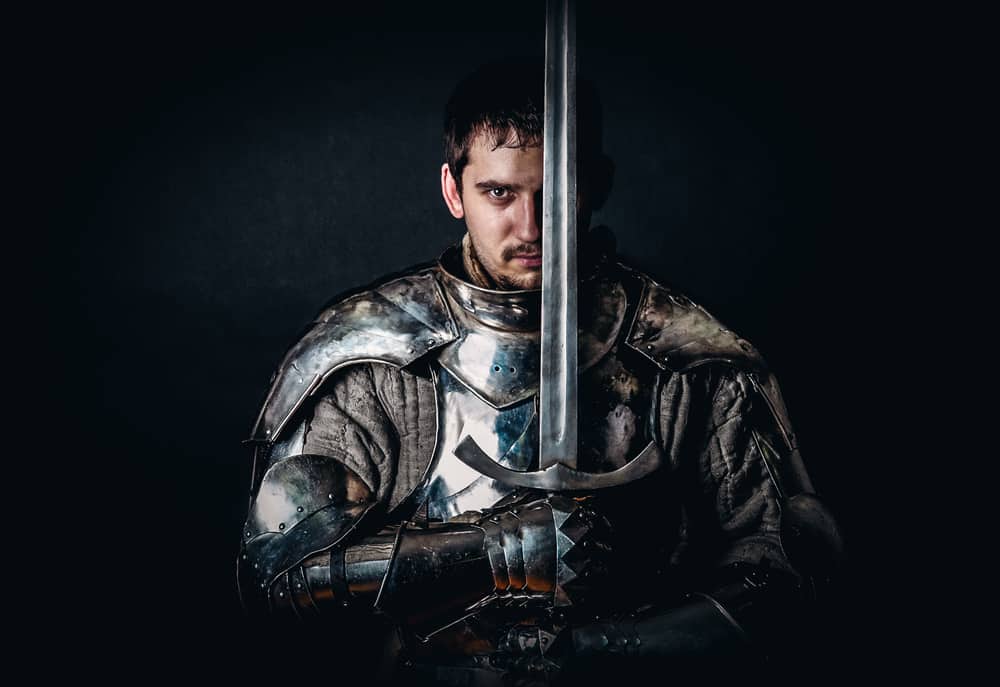 The term two-handed sword is a general term that applies to any large sword fashioned for use primarily with two hands. Hence, any of the following types of swords can fit into this category if they are large enough.
2. Greatsword
Greatswords are blades that are related to the long swords of Europe and Asia during the Middle Ages. The greatsword featured prominently in the Renaissance, albeit a few older swords like the Scottish Claymore bear a keen resemblance.
These oversized weapons can range anywhere from 63 to 71 inches in length and are often as tall as a full-grown man. Greatswords were too heavy to be wielded with one hand; hence, they typically featured a large grip for two-handed use and added leverage.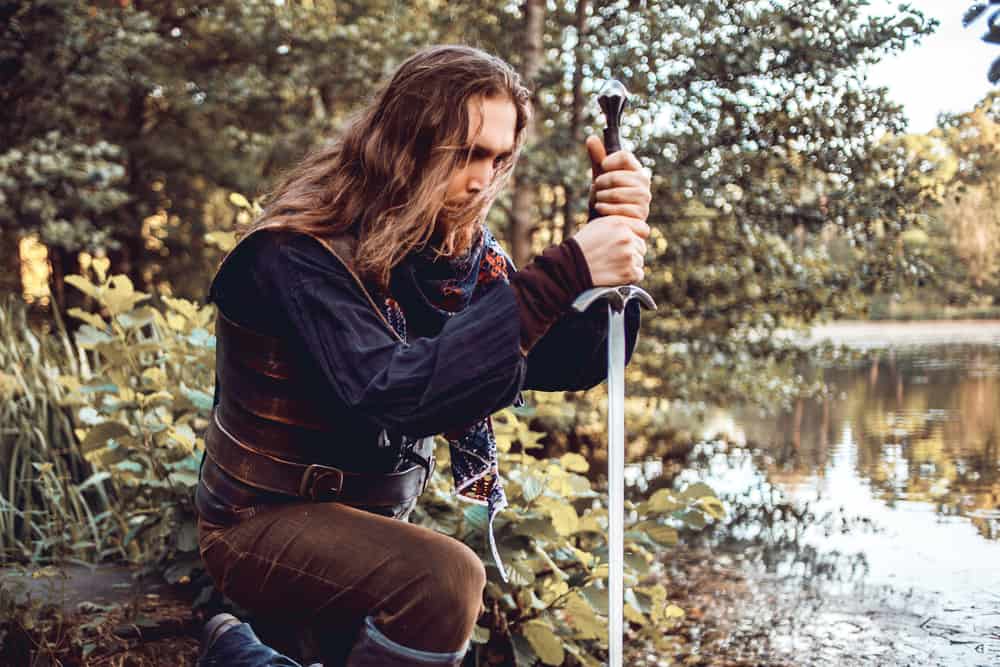 3. Claymore
The Claymore is an early Scottish version of a greatsword with a unique two-handed grip or a basket hilt.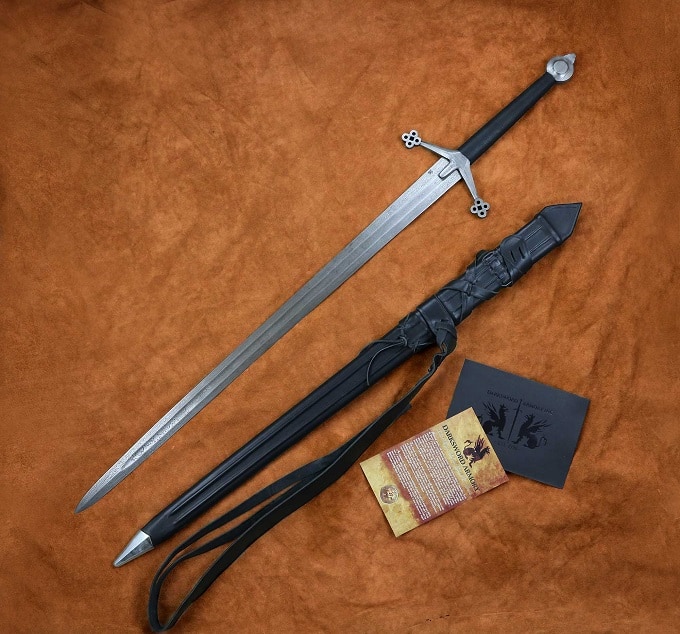 4. Zweihänder
The Zweihänder ("two-hander") also known as the Doppelhänder ('double-hander') or the Beidhänder ('both-hander') is a German two-handed sword modeled after the longswords of the Late Middle Ages. The sword gained prominence in the early decades of the 16th century where it was used by German mercenary soldiers.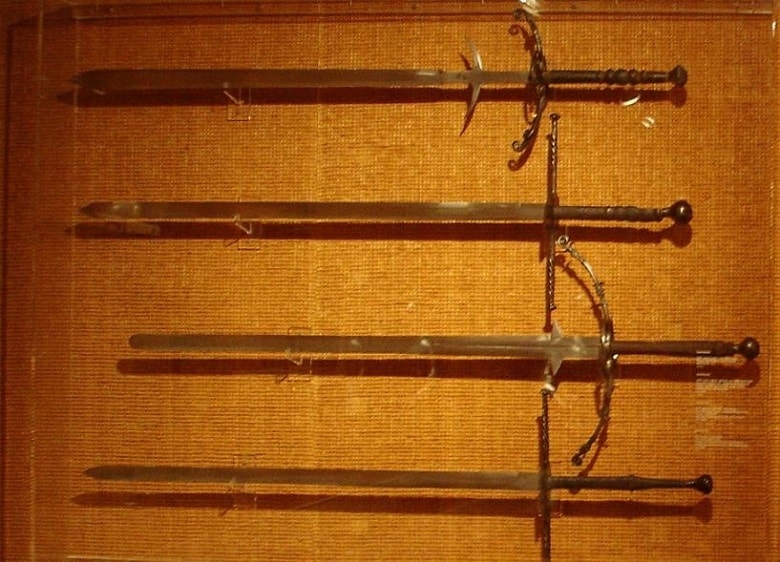 5. Swordstaff
The Swordstaff (svärdstav) is a 16th-century Scandinavian medieval weapon made by sticking a sword blade to the end of a staff. Hence, this weapon gives the user the power and utility of a sword with the reach of the spear.
Swordstaffs have a considerable advantage over spears as their blade edge make them excellent for close combat too. Furthermore, their greater length means they can generate more force in an attack compared with standalone swords.
6. Double-edge and Straight Swords
These are double-edged swords that typically feature a straight, long blade.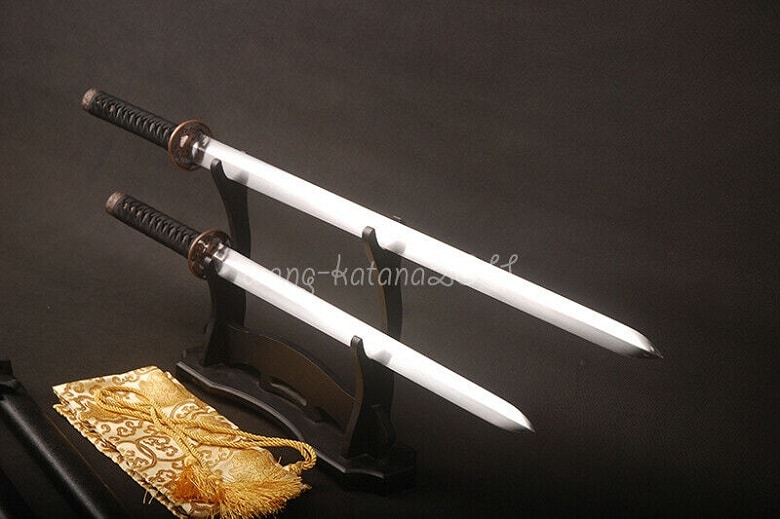 7. Longsword
The term longsword applies to several late Medieval and Renaissance weapons that are often designed for use with both hands. However, a few variants can also work with one-handed use.
A longsword is typically longer than a short sword and a bastard sword.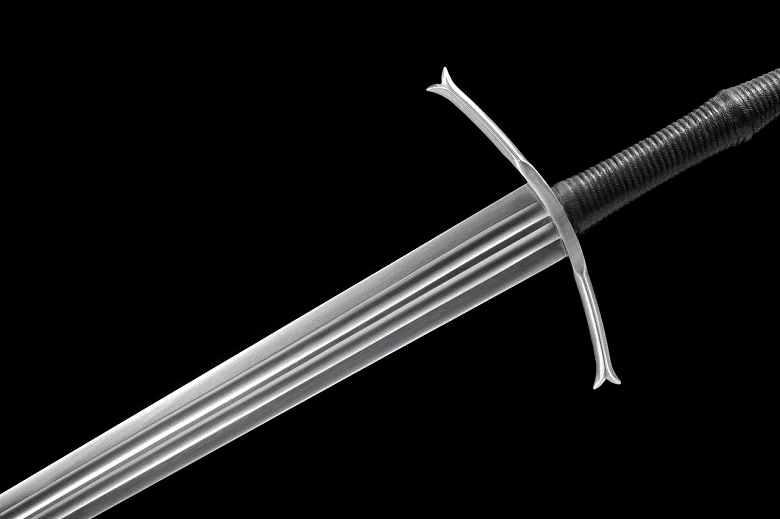 8. Jian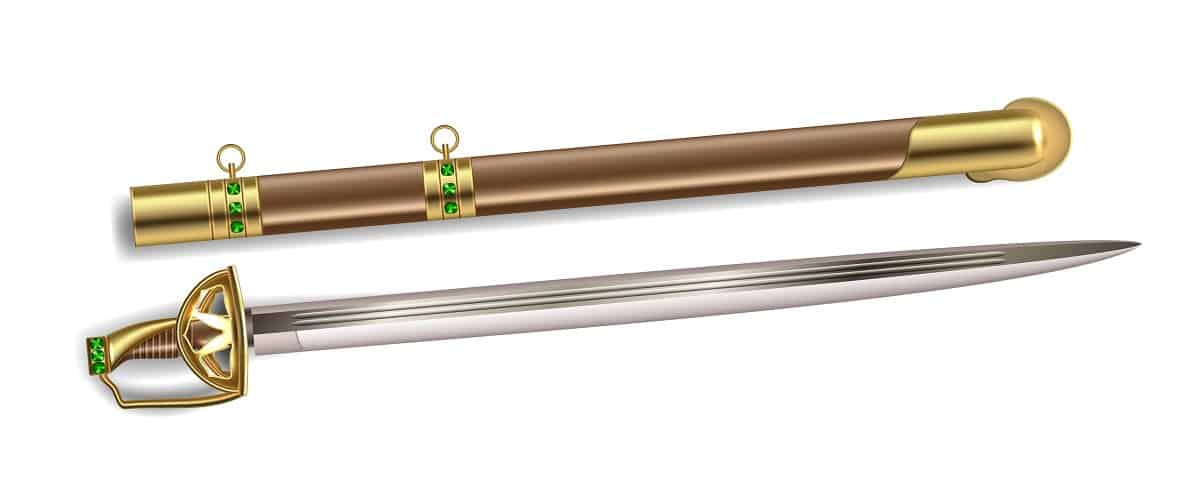 Jian is a straight sword that has been the blade of choice in China since ancient times. The first sources that mention this sword date back to the 7th century BC. The one-handed version is traditionally about 18 to 31 inches in length, while the larger two-handed versions can vary widely.
9. Long Knife and Short Sword
Many long knives and daggers, especially ancient variants from before the development of quality steel are often classified as swords. Popular Iron Age short swords include the Roman Gladius, the Scandinavian Seax, the Scottish Dirk, and the medieval Baselard.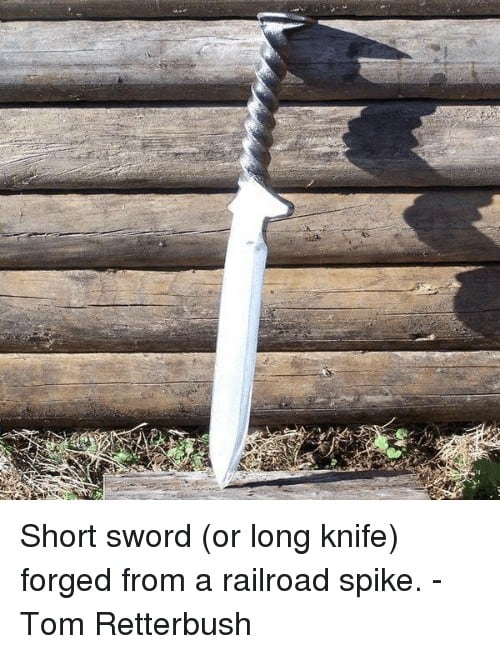 10. Edgeless and Thrusting Swords
These are weapons that are often labeled as swords but work more like a tool for direct, blunt force. Edgeless swords do not have any sharp edges. Hence, they do not fit into the hacking and slashing techniques used with traditional swords.
Were edgeless swords excel is for rapid thrusting as their short build facilitates enhanced agility and precision. Furthermore, these swords can inflict significant damage as some of the best pieces are capable of piercing iron armor.
Famous edgeless swords include the legendary Spartan Xiphos, the French smallsword, the German Panzerstecher, and the European Rapier.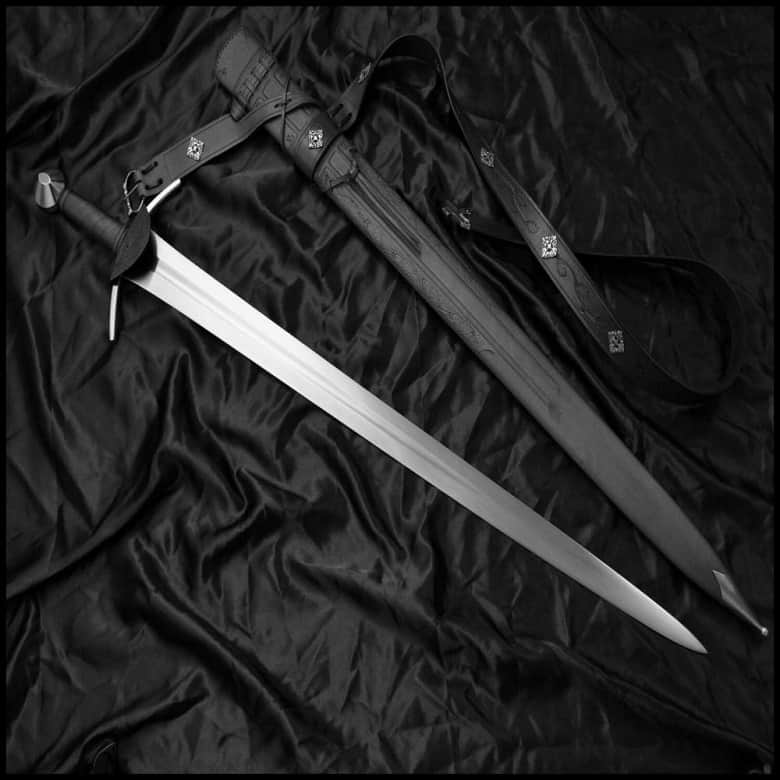 11. Single-edge and Curved Swords
These are thick or curved bladed swords that feature a single cutting edge. These swords are typically designed for slashing attack, chopping items, severing limbs, or for broad sweeping actions. The dull side of the blade was often used for defensive action and blocking techniques.
Famous swords in this category include the Chinese Dao, the Japanese Katana, the Greek Kopis, and the many variants of the modern Sabre.