Are you tired of spending a small fortune on your eyeliner only to have it fade before the end of the day? Are you sick of spending money on liquid eyeliner that smudges and runs when it gets wet? If this applies to you, you're likely in the market for a new product, one that gives you the features you want without breaking the bank.
It is easy to spend a lot of money on liquid eyeliner. Makeup, in general, is very expensive and if you purchase the wrong product the first time, you're stuck buying another one unless you happen to find a product that lets you return the item.
Eyeliner is a makeup product that can tie an entire look together. You can create the perfect cat eye or winged look for a dramatic or bold look. Conversely, you can use the liner to create a simple, sophisticated line for a more natural feel. Either way, some key features are constant whether you are looking for a bold or low-key look. A good eyeliner can include all of these integral features. And you can purchase that perfect eyeliner without spending a lot of money.
How did we choose these eyeliners?
We've created this top 10 list by keeping several key features in mind. There are countless liquid eyeliners on the market. However, they are not all created equal. You likely want a liner that is easy to apply, will stay put, and won't break the bank to purchase. You can spend almost any amount of money on makeup products, particularly eyeliners, but spending more does not always translate to purchasing a better or longer-lasting product. Here, we've highlighted the liners that will give you the most value while also giving you the features you want.
Top 10 Best Eyeliners 2020
[$0-$10]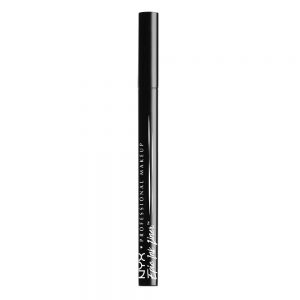 Waterproof
Cruelty-free
Precise Tip
Why We Love It
This budget-friendly eyeliner has great control in the wand and offers highly pigmented color for a dramatic look. The fluidity of the pen gives a great finish and you can control the thickness of the line by the amount of pressure you put on it. So, you can take advantage of both thin and thick lines depending on your look and mood.
It's also possible to achieve a very professional look with this eyeliner. And you can get both a natural look as well as a bold one, depending on the application. If you want to go natural, just press very lightly and sweep gently over the lid. If you want a bolder look, press a bit more firmly. And you can even get a winged look with this liner by starting the pen at the outer corner and moving diagonally up and down. And if you have hooded eyes, this liner will still work to give you a winged look. This liner offers great value given its reasonable price tag.
All day wear
Bold Color
High Pigment
Why We Love It
This liner is very pigmented for a bold look with intense colour. It will withstand the elements, even hot and sweaty summer days. It is both sweat and humidity proof and given that it dries quickly, you don't have to worry about smudges.
White liner tends to open up the eyes so if you want your eyes to appear bigger, a quick trick is to line the inside of the eye with white liner. And this is the best white liquid eyeliner you can get. The applicator on this liner is designed to help you get a precise application that will last all day. So, you can easily use the trick of lining the inside of your eye to create the illusion of bigger, brighter eyes.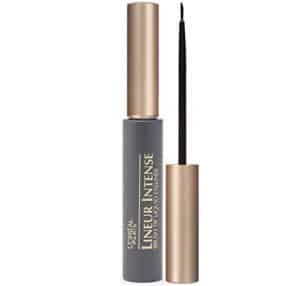 Smudge-proof
Precise application
Long lasting
Why We Love It
This L'Oreal eyeliner offers great precision so you can achieve a clean, smudge-proof look every time. It is no-fuss so you can even apply it when you're running late and trying to get out the door.
This liner helps you get both a thick and thick line and the color is bold and intense for a polished look. You can start the day at the office with a more natural look and easily transition to a nighttime look with a quick, bolder application.
This L'Oreal product is very easy to apply, even for those who are beginners with liquid liner, as the tapered brush allows easy maneuvering, even if going for a more dramatic, or winged look. Press lightly for a less bold, more natural look or press a bit heavier for a bolder appearance. This could easily be considered the best cheap liquid eyeliner.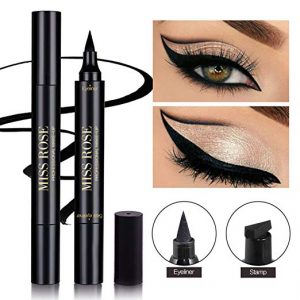 Double-headed design
Waterproof
Smudge-proof
Why We Love It
This liner offers a wing stamp and liquid eyeliner so you can get your desired look with two tools in one, making this a valuable purchase. The double headed design of this liner makes a perfect winged look easy to achieve even for beginners who have trouble with free hand application.
You can get that perfect winged look by following four easy steps with this liner. The stamp gets applied to the corner of the eyes, creating the perfect wing. Then you simply use the liner to fill in the top lash line, connect it to the wing, and fill in where needed to create a great winged or cat eye look. Given the stamp, you can be assured your winged look will be symmetrical on both eyes, something very difficult to achieve without the help of a stamp.
This Shake Beauty liner won't fade over the course of the day or night. It is waterproof, smudge proof and sweatproof. So, it will last all day in the office and still get you through a night out after work. This is the best liquid eyeliner for cat eye, as it makes the look so easily achievable.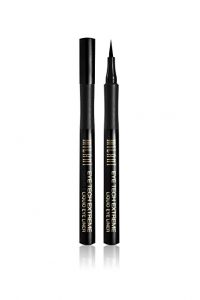 Waterproof
Non-Feathering
Easy to apply
Why We Love it
This Milani liner is very easy to apply, with a tip that is the perfect length. It isn't too long that its unmanageable. The black color is highly pigmented and doesn't fade as some other liners do. You'll find that this color stays put throughout the whole day without losing any pigment. It goes on easily and dries to a nice matte finish, making it perhaps the best matte liquid eyeliner.
If you want a more natural look, just put the liner on with a bit of a lighter hand. And if looking for a bolder, nighttime look, just press a bit more firmly. The pen-like feel make it very easy to apply and the fine felt tip is easy on your eyelids. So, you'll know when your pressing firmly enough for a more dramatic look.
There is no need to keep going over your liner either. One stroke will get you all the long-lasting color you need. There is no pulling, skipping, or fading.
[$10-$20]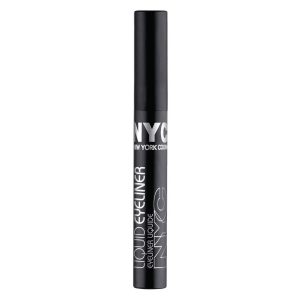 High precision
Fast drying
Smudge-resistant
Why We Love It
This liner from New York Color is great for anyone on the go. It goes on easy, dries quickly and resists any smudging. You can easily apply and go quickly. And with a very budget-friendly price, this liner is worth much more than its price tag.
The color with this liner is very deep, creating a bold look. The applicator allows for a good degree of precision and given the smudge-resistance; you'll likely get the right look on the first try. It goes on smooth and dries to a perfect matte finish.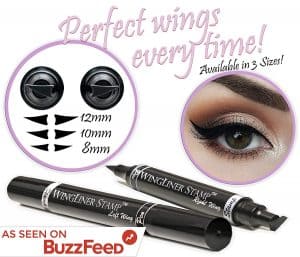 Waterproof
Cruelty Free
Smudge proof
Why We Love It
This Lovoir liner is ideal for anyone looking for an easily achievable, yet perfect-looking winged design. The wingliner stamp prevents uneven wings. You'll get the perfect, symmetrical wings every time even if you have shaky hands while applying. This is a great product for beginners who haven't quite mastered wings free-hand just yet.
To master the winged liner with this product, you simply stamp the wing and fill in the line. The formula is vegan friendly and cruelty free. It is also waterproof and smudge-proof. So, not only will you get the winged look right on the first try, it will last the full day and night without reapplication.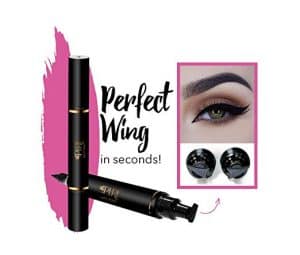 Smudge-proof
Waterproof
100% Money-back guarantee
Why We Love It
This liner makes free hand wings a thing of the past. You can just stamp on the wings and go. And the package comes with 2 stamps so you don't have to replace it quite as quickly. The wings will be symmetrical and consistent every time so you don't need to worry about filling them in using free hand.
The wings made with this stamp are both smudge-proof and waterproof so you can stamp them on and go and they will last the whole day long without you needing to reapply. This liner will also help you get the look much quicker than if you were trying to do so free hand.
And one of the very best features of this product is that if you aren't happy for any reason, the manufacturer will refund the purchase within 30 days hassle-free. So, if you typically freehand your wings and want to try a stamp, this is a great product to give a try. It could easily be considered the best liquid eyeliner for beginners. You can try stamped wings without any risk since you can return for any reason.
[$20+]
Waterproof
Marker-like tip
Thin & Thick lines
Why We Love It
You get great precision and variety with this Stila liner. This is a luxury product without a very expensive price point. You can create both thin, precise lines as well as bolder and thicker lines for a more dramatic look. Simply change the pressure applied and hold the wand at an angle and you can control the thickness of the line to change up your look.
This product goes on easily so you won't experience any pulling or skipping and it will last all day long. The color dries quickly and it won't smudge so you can go from day to night with no effort at all. It is the best long lasting liquid eyeliner by far.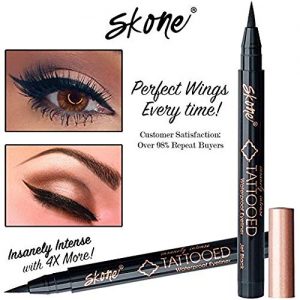 Waterproof
Smudge proof
Swim/Workout Proof
Why We Love It
You can apply this liner once in the morning and wear it all day without reapplication. That includes working out, running, or swimming without having to do any touch-ups. And those who use this product come back for more, as it has a 98% repeat buyer rating.
This liner is very quick to dry and it won't smear or run on you either. It doesn't dry out and you can create a variety of looks with this liner. Take it from natural during the daytime to a bold nighttime look with ease. Just apply at a different angle and level or pressure. Create winged looks, cat eyes, or simple lines with ease. The felt applicator is easy to move and use and the point is crisp and clean for easy application.
The manufacturer also guarantees that there is no animal testing used in creating this product.
Eyeliners Buyer's Guide
Here, we've reviewed the top 10 liquid eyeliners on the market. These products present a series of features that make them a step above the rest. Any one of them would make a good choice, but there are a few key features to keep in mind when narrowing down your choice. Some of these features may only be important to some consumers so it's important to keep in mind when you plan to use the products and in what settings. For example, if you want a more natural look, you likely don't need a liner that gives you a bold, winged look. Likewise, if you are looking for an eyeliner that you can wear out at night, you might not want a soft, natural liner. Here, we've highlighted some key features to remember when making your choice.
Waterproof
You don't have to be a swimmer to want a waterproof liquid eyeliner to be on the hunt for the best waterproof liquid eyeliner. Waterproof also means that your liner won't run if you cry or are caught in the rain. It also means that you won't get smudges when its very humid out and you rub your eyes. Overall, waterproof can feel like a must-have feature with your liner. It helps you prevent the dreaded raccoon eyes. And when its particularly hot out or raining, you don't want to rub your eyes and then have your liner dry that way. When that happens, it is even more difficult to remove. Waterproof liquid liner is simply less-hassle.
Smudge proof
It is easy to rub your eyes while forgetting you are wearing makeup. The last thing you want is to have eyeliner smudged on the side of your face and underneath your eyes. Removing dried on liner is nearly impossible without significant rubbing and pulling. And using smudge proof liner means you won't have to keep worrying about re-applying when you've accidentally touched or rubbed your eyes.
Stamps
Applying eyeliner is a skill and liquid eyeliner is even more challenging to apply than pencil eyeliner. You need a very steady hand and it can be challenging to fix if you don't get it right on the first try. With that said, one of the most difficult looks to master is the wing. It can be difficult to draw on, particularly if you don't have a very steady hand and it can be hard to get the look to be symmetrical on both eyes. Even if you get it perfect on one eye, you have to also apply it perfectly to the other eye to complete the look.
That said, there are some stamps reviewed on our list. These stamps make the winged look easy to master. You simply "stamp" on the wing and then you just have to use the liner to color in the line above your eye and connect it to the stamped-on wing. These stamps are ideal for anyone who struggles with this complicated look. Using a stamp can make you look like you are a skilled makeup artist and it will keep both eyes symmetrical. It takes a lot of the guesswork out of creating a look that typically requires a masterful hand to accomplish.
Sensitivity
If you plan on changing brands or products or are using a new one for the first time, you may want to take into account the specific ingredients used, particularly if you have sensitive skin. Some ingredients can be irritating for those users who have allergies to certain ingredients or who just have a sensitivity to something included in the product. If you do have an allergy, you want to find the best liquid eyeliner for sensitive eyes.
Animal Testing
In recent years, consumers have seemed to become more interested in whether or not the products they regularly use are tested on animals. With makeup products, it is very easy to identify the products that are cruelty-free, as they will have the designation clearly visible on the packaging.
The Leaping Bunny logo on the product means that it does not use any animal testing in any phase of the product's development. You can also always do a search of the product and manufacturer to ensure it is free of animal testing.
If using products that do not test on animals is important to you, keep in mind that some manufacturers can find a loophole to distance themselves from the animal testing controversy that seems to be surfacing. This loophole is known as third party testing.
Frequently Asked Questions
Below are a series of the most frequently asked questions related to liquid eyeliners to help make narrowing down your search a bit easier.
How long can I keep my liner before I need to replace it?
There are general guidelines for how long you can keep using a makeup product before it needs to be replaced. For liquid eyeliner, the guideline is that you should replace it in 6 months. This is the same guideline for mascara. For pencil eyeliner, you can wait up to 3 years before you need to replace it.
What is third party testing?
Third party testing is a loophole that manufacturers can use when trying to distance themselves from the animal testing controversy. What it means is that the company may choose not to test on animals and therefore, the actual product may not have been involved in animal testing. However, the parent company may still perform animal testing. If you are dedicated to only using products that are completely free of animal testing, you'll want to make sure you choose a product that has the Leaping Bunny logo, along with the cruelty-free designation.
How can I keep my liner from drying out?
You can store your liner either horizontally or on the actual tip to keep it from drying out. If that doesn't work and the liner continues to dry out, it may be that it has simply run out and should be replaced. It may also be that you've simply exceeded the shelf life for the product and should buy a new one. Remember that liquid eyeliner should be replaced every 6 months. That is regardless of how often it is used. Whether you've used the product 1 or 1000 times in the last 6 months, it should still be replaced according to that timeline.
Quick Summary