In Finland, the ritual home of the sauna, there are over 3 million saunas for just over 5 million residents. While that may seem like an outrageous ratio, they did have a significant headstart given that the first "modern" saunas first appeared here.
With the rapid rise of wellness culture here in the U.S, saunas are spreading rapidly. While we may not usurp the Finnish ratio any time soon, in 2012 we already had over a million saunas and counting.
However, most of these American saunas are built into spas and gyms. Consequently, access to them comes with a monthly subscription that can often reach a very American premium of $50.
Outdoor saunas offer a relatively cheaper way to get the same sauna experience, for a fraction over time. Plus these units bring the added convenience of never having to leave the comfort of your home.
Effects of Sauna Use
In the past century, saunaing has spread from a handful of regions to most countries of the world. In many places, saunaing is championed for both health, beauty, and ritual purposes. Based on research from the experts, several positive health indicators have been associated with regular sauna use.
However, there are also some risks associated with sauna use, especially prolonged sauna use..
Research Report on Potential Benefits
According to one study on the effects of regular sauna use on internal health, the practice has a significant positive impact on overall health. The study found a correlation between increased frequency of sauna use and a reduced risk of cardiovascular disease, sudden cardiac arrest, and all-cause mortality.
This study confirms the long-held belief by sauna enthusiasts that sauna use aids the heart and improves circulation.
Multiple studies have also linked regular sauna use with the following benefits:
Lower markers of inflammation in the blood
Reduced risk of high blood pressure
Lower risk of pneumonia infections
Reduced risk of dementia and Alzheimer's disease
Promoting regenerative processes
Physiotherapeutic effects for faster recovery from injuries
Associated Risks
For safety reasons, sauna users should keep every sauna session under 20 minutes. The even stricter recommendations by many sauna regulatory bodies put the preferred time spent in the sauna at 10 minutes or less.
While sauna user can reap enormous health benefits, extended stays in the sauna can lead to harmful and potentially fatal consequences. Staying in the sauna for more than 20 minutes can easily lead to hyperthermia, heatstroke, or even death, even for experienced sauna users.
However, the risk of dying in a sauna is minimal.
You are more likely to suffer from dehydration, especially after vigorous exercise and not getting enough electrolytes. Dehydration risk also increases with people who are drunk or on a hangover.
Extended sauna sessions can also be potentially dangerous for older people, children, pregnant women, people with heart disease, those prone to seizure attacks, and people with alcohol or cocaine withdrawal.
Saunas and Weight Loss
Check any online beauty mag, and there's a high chance you will see saunas being touted as an excellent weight loss tool. However, while saunas do help jog the heart and provide several health benefits, their impact on weight-loss is negligible.
According to one report by Harvard Medical School, you typically only lose about 1 pint of fluid during a regular sauna session which all but makes up for the weight discrepancy post-sauna.
Hence, a few glasses of water after your session should quickly get you back to your regular weight.
Advantages of Getting an Outdoor Sauna
Space
If you plan to build your own sauna unit, making space for one indoors may constitute a space problem. However, outdoor saunas circumvent this problem as they both tough enough to face the elements outdoors and easy to modify to replace a room indoors.
Convenience
With an outdoor sauna, you no longer have to drive a couple of miles to get that authentic sauna experience. Outdoor brings that complete sauna feel to your doorstep without detracting from the experience.
You get the use the full sauna whenever you want, and depending on your preferences; you could have the unit entirely to yourself. However, outdoor saunas often come in 4-6 person models that are large enough to fit the entire family and get the party started.
Privacy and Hygiene
You only need to experience a home sauna once to appreciate the superior privacy it brings. No more prying eyes. Just you, a partner, and maybe some smooth jazz.
Outdoor saunas also give you full control over the hygiene conditions of your sauna spot. With spa saunas, the power is entirely out of your hands, and you only have to hope they get things right.
Adjustability
Outdoor saunas give you the ability to customize your experience and truly make it your own. You can optimize for wood type, floor material, and even roof height. During use, you also get the choice of what specific temperature you want your sauna at, as opposed to spa saunas where you have to work with temperature ranges.
Outdoor Sauna Cons
Price
Getting your own full feature home sauna does not come cheap. Most outdoor saunas cost in the $2000 to $5000 range; hence, these units are a considerable price investment. However, while the initial cost may be steep, the fact that you are getting a full-sized sauna experience more than makes up for it.
Operating Cost
While these units bring the ultimate in sauna experience and added convenience, they also come with the consequence of maintenance and operation logistics. Unlike with regular sauna subscriptions where you walk in and walk out when done, with your home sauna unit you must account for expenses like electricity bills and repairs.
To get an idea of how much electricity your sauna will consume, consider the kilowatt rating of the included heater.
Less Mobile than Portable Saunas
Compared to portable saunas, outdoor units require significantly more space and are harder to move.
Types of Outdoor Saunas
When shopping for an outdoor sauna, one vital factor to consider is the type of heater the unit uses. There are three main types of outdoor saunas to choose from based on their heating element:
Traditional Electric Saunas
Electric heaters are what you will find in most spa and gym saunas. Hence, if you want to retain that traditional steam sauna feel, you should opt for this option.
Electric outdoor saunas use an electric heater that taps into your main to source power for providing uninterrupted full chamber heating. Thanks to their steady supply of heat, many electric-heated saunas can reach a maximum temperature of up to 190° F.
However, one factor to consider when shopping for traditional saunas is the kilowatt rating of their heater as this can significantly affect their power consumption. Many of these units have heaters that can range from 4kW to 8kW. Higher rated heaters, though more expensive to run, will provide more thorough heating and help prevent cold spots.
Infrared Saunas
Infrared saunas are the latest craze in the sauna world and for a good reason.
Infrared Saunas feature a more energy-efficient system that heats your body directly without affecting the surrounding air. Their power efficiency and their dry nature (since they don't use steam) make infrared saunas a hit with both users and manufacturers. Infrared saunas are available as both outdoor, portable, and spa sauna units.
The way these units work is that they use a heating element that uses an infrared light wavelength to create heat. Infrared rays can heat the molecule of water in your body directly making for more efficient use of generated heat. Hence, this kind of heating element can warm your skin instantly without warming up the surrounding air.
Infrared saunas heat up instantly and use energy efficiently. Hence, a temperature range of only 120° to 140°F is often sufficient to power the most intense sauna sessions. Consequently, most infrared saunas have a maximum temperature that rarely surpasses 160° F.
One crucial factor to consider when shopping for infrared saunas is the number of heaters included in the unit. For larger saunas, you want multiple heaters to cover the breadth of the chamber as an inadequate heater to size ratio can lead to cold spots.
Wood-Powered Saunas
These types are often also called smoke saunas because they are the only types that use an open flame. The saunas work by burning wood to heat sauna stones that create heat for the chamber.
However, wood-powered saunas are rarely available in the mainstream today and are mainly used by sauna purists.
Other Factors to Consider When Choosing an Outdoor Sauna
Size and Dimensions
Size matters. The size of the unit is one of the most important factors when choosing a new sauna. You don't want one that is too short for you or one that does not have enough space to fit the attendees. Some larger outdoor saunas can take up to 8 people at a go.
Also, for the best installation experience, you must pick a model that fits the available floor space in your courtyard or backyard.
Another thing to consider is that larger saunas often also come with more and larger heaters that enable them to distribute heat more efficiently than smaller units. Furthermore, they also often pack more added features, although they typically come at a premium.
Shape and Design
At first glance, the form and design of a sauna may seem inconsequential as it does not directly affect your saunaing experience.
However, considering that an outdoor sauna will often take a prominent position in your home's landscape. Hence, the aesthetics of your selected unit can make or break the appearance of your property.
Outdoor saunas typically come in two main designs: barrel and square/angular.
Barrel saunas are round chambers that often stand off the ground with support legs, while square units feature straight lines and typically a triangular roof. Depending on your home aesthetic, and the intended location for your sauna, either type might fit right in.
Material
Another factor to consider is the type of wood used in the construction of the unit. Durable outdoor sauna materials include pinewood, hemlock, and cedar. Many design enthusiasts favor hemlock for its good looks.
Since your sauna unit will be braving it in the great outdoors, the durability of the material is also of prime importance. You should also check the strength of other parts such as bands, fasteners, and glass in doors and windows.
For fasteners, your best bet is steel or other rugged materials. All glass fittings included in outdoor saunas must be tempered glass for durability and improved safety.
Ease of Setup and Use
If you plan on installing your outdoor sauna yourself, you should opt for a model that comes preassembled. While this type can be set up in minutes, they often result in significantly higher shipping fees as they require a larger shipping surface.
Alternatively, you can opt for any of the other easy to assemble models or opt for a professional to handle the setup process.
Once set up, most outdoor saunas are relatively intuitive and as easy to use as a traditional sauna unit.
Features
The features available in your unit can make or mar your saunaing experience. Depending on the model you pick, you can get glass doors, LED lights, temperature controls and timers, backrests, towel racks, and additional benches. Some units also feature some form of media system for a more enjoyable experience.
More expensive models also carry more advanced systems like ozone therapy and color therapy.
Operation Cost
Also, remember to factor in the power consumption of the heater(s.) Power-hungry heaters will add considerable load to your monthly electricity bill.
Best Traditional Electric Outdoor Saunas
Almost Heaven Outdoor Sauna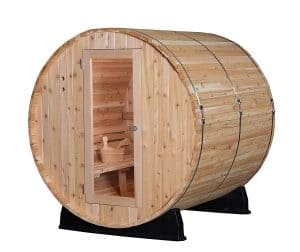 For real quality sauna time with your family or larger groups, this reliable 5-person sauna is your best bet. Almost Heaven is one of the most trusted names in the outdoor sauna industry, and this is their premier sauna maxed out for your enjoyment.
The sleek outdoor sauna features a rustic Western Cedar construction in a ball and socket barrel style. The walls of the barrel are reliable and are sure to hold their own against inclement weather.
With the Almost Heaven Outdoor Sauna, you get a tempered glass door, stainless steel hinges, a bucket and ladle, and a thermometer/hygrometer.
The interior is posh with cozy benches with excellent placement. The interior also features soft lighting to accentuate the mood.
Pros
Aesthetic design and sturdy build
High-quality sauna stones
Cozy interior
With homely soft lighting
Easy setup
Cons
Finlandia Outdoor Sauna with Roof Kit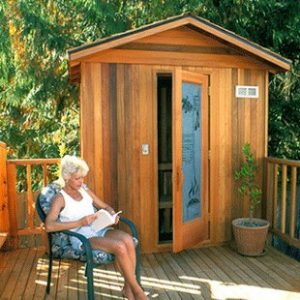 The Finlandia is another eye-catching outdoor sauna that is sure to fit right into any aesthetic. The square-designed unit features a sturdy Western Red Cedar construction complete with matching wood benches and a prehung clear glass 24″ wide door.
For easy installation, the unit comes prefabricated. All you have to do is set up the chamber on level concrete, tile, or vinyl floor, and you are good to go.
With this model, you get a heater with builtin controls, beautiful high-quality sauna stones, a wooden heater guard, a wall light with a light switch, a bucket and dipper, a 0301K thermometer, a headrest for each upper bench, and a bathing sign.
Pros
Aesthetic design and interiors
The unit and part of the benches come already assembled
Sufficient insulation
Cons
Best Infrared Outdoor Sauna
Tucson Monticello 4-person Infrared Sauna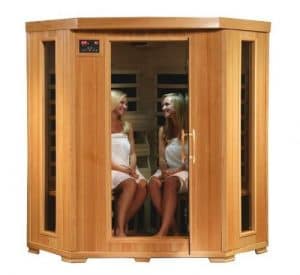 Treat yourself to the care of a state-of-the-art home sauna with the Tucson Monticello 4-person Infrared Sauna. The unit features a solid Hemlock Wood construction complete with a tongue and groove design.
This model from HeatWave Saunas uses the latest in infrared technology to give you high-end sauna performance every single time. The unit includes ten carbon heaters for efficient heating and oxygen ionizer for improved comfort.
You get a touch control panel to adjust the LED lights and temperature, and the unit reaches a maximum temperature of 141° F.
With this outdoor sauna, you get recessed interior lighting, adjustable air vents, towel hooks, a magazine rack, tinted glass, backrests, and a sound system with an audio jack.
Pros
Aesthetic design and interiors
Ten heat panels spread in the floor, back, and side for even heat distribution
Durable build
With chromotherapy bulb
Decent pricing
Cons
Radiant Saunas 2-person Infrared Sauna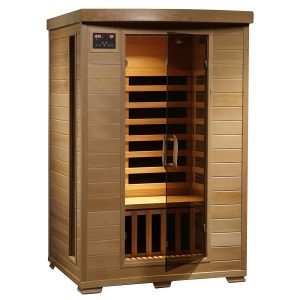 For a more budget-friendly option, check out this class piece from Radiant Saunas. However, don't let the low price fool you. This sauna does not skimp on any of the best features.
The unit features a solid Canadian Hemlock Wood construction complete with a tongue and groove design.
The sauna comes with six carbon heaters strategically positioned to provide streams of warmth in all directions efficiently. Once the unit is active, you can adjust the temperature with intuitive controls up to a maximum of 141° F.
With this unit, you get tinted glass fittings, 8mm tempered glass door, towel hook, magazine rack, backrests and a CD Player with MP3 plug-in, 7-color therapy light, and an oxygen ionizer.
Pros
Aesthetic design and interiors
Six heat panels spread in the floor, back, and side for even heat distribution
Durable build
With chromotherapy bulb
Bang for your buck
Cons
Only large enough to fit two people