Still hauling around buckets of water every time you clean your floors? Every steam mops manufacturer claims to be the answer to all your troubles. Are they any good at shining your maple floors? Let's find out.
The steam mop was initially developed in 2001 by Romi Haan, a South Korean mompreneur, as a way to provide superior cleaning and to take the pain out of the chore.
In a 2015 interview with BBC, she mentioned that her motivation was easing the chore-load of the home parent.
"In Korea, one of the most hated household chores is cleaning the floor," she says.
"Most housewives had to be on their hands and knees cleaning the floor every day, including myself, so I figured I would have to solve this problem."
Her "Haan Steam Mop" hit the mass-market in 2004, selling out in multiple countries and creating a multimillion-dollar cleaning company based out of Seoul. This success stint confirmed the viability and consumer need for this product. Hence, a wide range of competing cleaners have spawned over the years from both new brands and established cleaning industry giants like Shark and Bissell.
Over the years, steamer mops have gained in popularity thanks to rapid improvements of the tech and increased awareness of the public. Who wouldn't take up an opportunity to get rid of all the intermittent hand-wringing, deep bending, and spills? Plus, they are eco-friendly as they clean with just water vapor and do not require any detergent or bleach.
How Steam Mops Work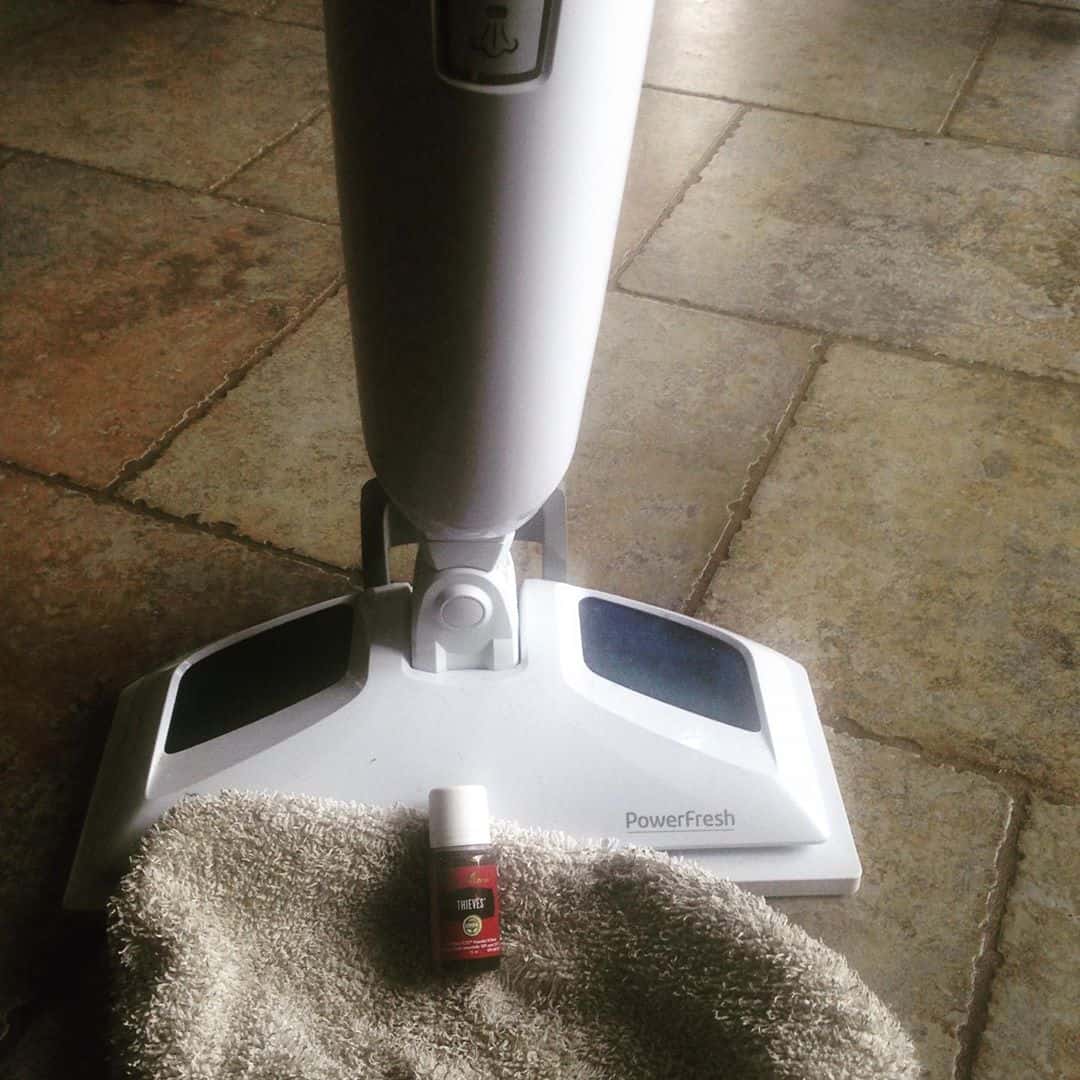 For both hard floors, appliances, and kitchen equipment, steamer mops provide a superior, faster clean. These mops work by harnessing the power of steam to rid your surfaces of deep-seating dirt and grime.
The design of a typical steam mop features a mop head (or dual-sided heads) that sports a microfiber pad, a water tank, and a magic wand for easy control.
When the cleaner is active, the engine heats the water in the tank to as high as 248° Fahrenheit to create a fine mist known as a "dry vapor". This dry mist contains vapor droplets that are smaller and less dense than that of regular steam.
Via at least one jet stream, this dry steam is then pumped to the microfiber pad in the mop head. The pad then uses the power of steam and its scrubbing action to loosen and remove stains and dirt from your floors.
The best steam mops feature two-sided heads (both with microfiber pads) with one head for gentle cleaning and another for tougher stains on hard floors.
Unlike a regular mop, that requires cleaning agents like bleach or detergent, a steamer mop uses just the heat from steam for its cleaning action.
Since the high-temperature dry steam is only about 5% water, your floors dry way quicker than with a regular mop. A high performing steam mop will leave your surfaces spick and span and help restore their original glow.
For hard floors like tiles and hardwood, steam mops are effective and efficient cleaners. They can run through flat surfaces, restoring them to brand new conditions in one go.
Related: Best Vacuums for Tile Floors
Why Steam Mops?
Compared to the traditional bucket and mop combo, steam mops bring a lot of advantages. They are more comfortable and faster to use, and you don't have to deal with large buckets of water or drippy mops. Here are the top advantages a steam mop brings:
Superior clean: With a steam mop cleaner, even tap water can clean the dirtiest surfaces in half the time, and with a little effort. A standard manual mop tends to push a large percentage of the dirt around instead of picking it up. Also, the mop head will dry out faster, interrupting cleaning, and leaving potential untouched spots. A steam mop provides sustained superior cleaning that is guaranteed to outclass your regular cleaner.
No Detergent, No Bleach, No Residue: With a steamer mop, you can say goodbye to all dirt streaks and chemical residue. Thanks to their dry vapor system, steam mops use only water to achieve a thorough clean, leaving your floors chemical-free and kid-safe.
Convenience: Steam mops are light, easy to steer, and surprisingly effective at cleaning tough messes without need for vigorous scrubbing. With steam mops, you also avoid tugging a bucket of gray, soapy water around. Since there's no rewetting or wringing of the cleaner, you also avoid exposing your hands to dirt and germs.
Disinfecting Properties: Steam mops bring the added advantage of purifying germ-killing power. The high-temperature water vapor can kill up to 99.9% of germs and bacteria on your floors. The vapor stream also takes care of dust mites, fleas, and other potential health hazards, making your surfaces safe for playing children.
Other Uses: Aside from cleaning the hard floors, steam mops also perform well as upholstery and cloth steamers. You can also use the squeegee as a glasswasher for windows and mirrors.
Steam Mops Cons
Steamer mops do not come without drawbacks. They are:
Limited by Their Cords and Tanks: A regular steam mops typically comes with a power cord that is between 20 to 25 feet in length. The cord limits the reach of the cleaner and can create logistic problems in large rooms. Also, you have to deal with the hassle of finding an adequately positioned wall socket in every place. Furthermore, the water tank is used up as you clean. So, you may run out of water and need a refill in between cleans.
Distilled Water: Experts recommend you use distilled water with your steam mops. Using distilled water prevents mineral buildup on the heating coils. While distilled water is easily accessible to most people in the country, we can discount the hassle of needing a particular type of cleaning water.
Floor Compatibility: While most steam mop manufacturers claim compatibility with most floor types, in practical use, this is mostly untrue. Depending on your floor type, some/all steam cleaner brands may be a hazard to your flooring and void your warranty. Some ceramic tile manufacturers like Pergo and Armstrong even warn users against using steam mops on their tiles. If you can, you should always check with the manufacturer of your floor before using steam mops.
Burns: Due to the use of high-temperature water in these cleaners, there's always the risk of burning yourself, primarily if you handle them poorly. Hence, you should never let children use steamer mops without supervision.
Selecting the Right Steam Mop: What to Look for
With so many steam cleaner brands on the market today, picking the right steam mop for your home can get confusing real fast. Aside from your budget, other factors you should consider when buying a steam cleaner include functionality, convenience features, and added accessories. Here are the top features you should decide on based on your needs:
Power Cord Length: The power cord length is one of the first features you should check for to avoid interruptions while cleaning. The larger your room, the more cord length you need, unless you are comfortable with switching sockets mid-clean.
On/Off Switch: while a power switch seems like a given to us, some steam cleaners come without them. Be wary.
Steam Control: Your average steam mop comes with an on/off button that activates the one steam setting. If you need more refined controls that let you regulate the steam level, you should opt for one of the pricier steamers that offer steam control. Adjustable steam settings is particularly important with hardwood floors. A steamer with the one button can blast your floor boards with too much steam, warping them, and possibly voiding your warranty.
Removable/Transparent Water Tank: a detachable water tank significantly improves the refill experience. The added convenience of not having to carry the mop around when filling or turning the mop upside down when emptying is worth the dollar. Have a transparent water tank or an onboard water level indicator is also quite handy.
Handsfree Cleaning Pads: Some steam mops have a button-controlled pad release that lets you change the cleaning pad without touching it. These mops help eliminate the risk of burning your hands with hot cleaning pads.
Spare Cleaning Pads: Some cleaners come with additional cleaning pads. Extra pads significantly improve your cleaning workflow as you always have a spare ready when the main gets dirty. However, you can always buy extra cleaning pads if your cleaner does not come with them.
Stand: Like most magic stick cleaners, most steam mops are top-heavy. So, keeping the mop stable when you are cleaning can be a hassle. A mop that comes with a stand that rights the cleaner on its cleaning pad significantly improves convenience.
Compatibility with Your Floor Type: Before buying a steam floor, you should ensure that your floor type can take the steam. This warning is particularly true with hardwood floors. Some cleaners feature ill-designed cleaner heads that can dent your floor molding and trim. Others have scrapers on their heads than can damage your finish. For steam cleaners, you can use on hardwood without the worries, check out our recommendations in the next section.
Best Steam Mops for Hardwood Floors
With the right steam mop, you can give your hardwood floor its first real thorough clean. A steam clean will rid your wood floor of not just surface dirt, but also more persistent grime like liquid stains and any encrusted smuts.
However, before steam-cleaning your hardwood floor, you must ensure that the surface seal is secure. You should check with your installer to confirm that they sealed the hardwood after laying.
Also, a quick test you can run to verify the seal is to drip a few drops of water onto the floor and see how it reacts. If the water beads form on the surface, you are good to go.
However, if the floor absorbs the water, there is no seal or the seal has been damaged. Do not steam a hardwood floor with a broken seal, as this is a guaranteed way to ruin your flooring.
Once you have verified the seal, you are ready to begin cleaning. Based on our research and tests, here are the top three steam cleaners for your hardwood floors:
Bissell PowerFresh
The Bissell PowerFresh is Bissell's premier steam mop offering and the best selling mop on Amazon. With is intelligent design and impressively low price point, the versatile cleaner also provides some of the best bangs for your buck.
With the PowerFresh, you get two perfectly-sized mop pads out of the box. Both mop pads are made from soft microfiber that is easy on your hardwood floor but sturdy enough to catch deep-seated dirt and smudges. The soft padding is excellent for everyday cleaning, while the second is reinforced to handle hardened gunk. Both pads sport rubber scrubbing pads from extra grit. Furthermore, you also get a flip-down Easy-Scrubber brush in the package for even tougher stains like paint smears.
One feature that makes this cleaner especially hardwood-friendly is its mop pad cloth. The mop pad cloth goes all the way around the head, creating a bumper around its hard parts. Hence, you can rest assured that the mop won't damage your floor mold or trimmings.
Pros:
Bumper protection around the head is specially constructed to protect your hardwood floors
Removable water canister brings added convenience
Addon easy scrubber and scrubbing mop pad
Includes fragrance discs to freshen your floors and eliminate odors as you clean
lengthy 23 feet offers increased cleaning range
20 minutes cleaning duration on regular settings, 15 minutes on max mode
No-haze hardwood clean
Full 2-year warranty
Cons:
The cap on the water tank breaks easily
Max mode uses too much water for hardwood
Some users reported durability issues
Related: BEST VACUUM FOR WOOD FLOORS
O-Cedar Microfiber Steam Mop


This Steam mop from O-Cedar is another quality offering that delivers a superior hardwood clean every time. Specially designed for wood floors, the triangular mop head features a microfiber pad cushion that prevents the head from nicking your floor's finish.
The uniquely-shaped mop head is a dream when it comes to fitting in corners. It is a surprise this design does not appear more often. The mop head also swivels 360° for added maneuverability.
At just 5 pounds, the mop is one of the lightest we've tested. With this weight profile, even filling up the 400ml water tank does not make the cleaner hefty.
The O-Cedar Microfiber uses a simple power switch instead of the almost industry-standard trigger. While this removes instant control, it saves your fingers the pain of continually cramping up. You get three steam power settings: low, mid, and high steam, all interchangeable on the go.
Pros:
The triangular head fits corners more closely and covers large areas at once
The mop head swivels 360°
Cushioned microfiber pads
Ample 400ml water tank
Super lightweight at just 5 pounds
3-step heat setting
2-year warranty with the option of extended coverage
Cons:
No water tank indicator or low warning. Also, no auto-shutoff and running the cleaner on empty for too long may damage the steam system
The cleaner pads get stained over time
The plastic build is not reassuring
Shark Professional Steam Pocket Mop


Shark's offering, the Professional Steam Pocket Mop is a reliable performer that brings its A-game every single time. The cleaner comes complete with two extra-large mop pads, a substantial 500ml water tank and sizable 12" mop head for improved coverage. The mopping pads are cushioned and high absorbent to protect your flooring. The pads leave very little moisture after each passthrough.
The monster cleaner head attaches with a quick-release switch and uses a swivel joint that significantly improves maneuverability.
Considering the price of the steam mop, we were a bit surprised to find out that the mop shaft is from aluminum. It is almost impossible to get an aluminum chassis at this price point. Plus, aluminum is not any heavier than plastic, so the mop retains a pretty lightweight profile.
Pros:
Extra-large 12" mop head provides increased coverage
Quick-release switch and swivel joint on the mop head increases convenience
The mopping pads are plush, cushioned, and highly absorbent and are rated to last for up to 20 wash cycles
Ample 500ml water tank
Premium aluminum shaft
3-step heat setting
1-year limited warranty
Cons:
Multiple consumer reviews cite the handle latch as a common weak point
Mop head tend to stain after a few washes
Older versions had some durability issues. The older versions have been phased out, but there may still be a few lemons around
Related: Best Shark Vacuum Cleaner 2019