Best Home Infrared Sauna 2020
Every avid fitness enthusiast intuitively knows the benefits of a good sweat. Based on experiences alone, it is probably easy for you to put two and two together in figuring out the potential benefits of sauna use.
However, what you might not know is that the use of saunas and similar heat setups as a form of therapy dates back thousands of years. In 2001,, archaeologists from Boston University discovered sweathouses that the Mayans used for both ceremonies and for fostering health that date back to at least 900 B.C
Any health practice that has endured this long and even thrives in the modern world must have some root in reality.
Today, saunas are available all over the world. For many Asian and European (many Nordic) cultures, saunaing for a vital part of their routines and is considered an essential component of good hygiene and good health. To put this in perspective, Finland has over 2 million saunas serving a population of only 5 million: more saunas than cars.
Today, in most regions of the U.S, you can quickly gain access to a sauna chamber by getting a subscription to a nearby spa or gym.
However, public saunas do come with a few drawbacks. The typical spa subscription offers you little to no privacy, poor convenience, and the monthly cost can add up quickly.
Alternatively, you can opt for home saunas that affords you full privacy and the ability to select and customize the unit to match your specific needs. Furthermore, most saunas, especially infrared types, are one-off purchases that require little to no maintenance.
If you've been sauna shopping before, you know the wealth of options available on the market. Depending on your needs, you can get an indoor wooden unit, outdoor saunas in both barrel and square configurations, and portable fabric models. You also get to choose from different types of heat generation methods that include electric stoves, wood stoves, and infrared lamps.
More you should know:
What's Home Infrared Sauna?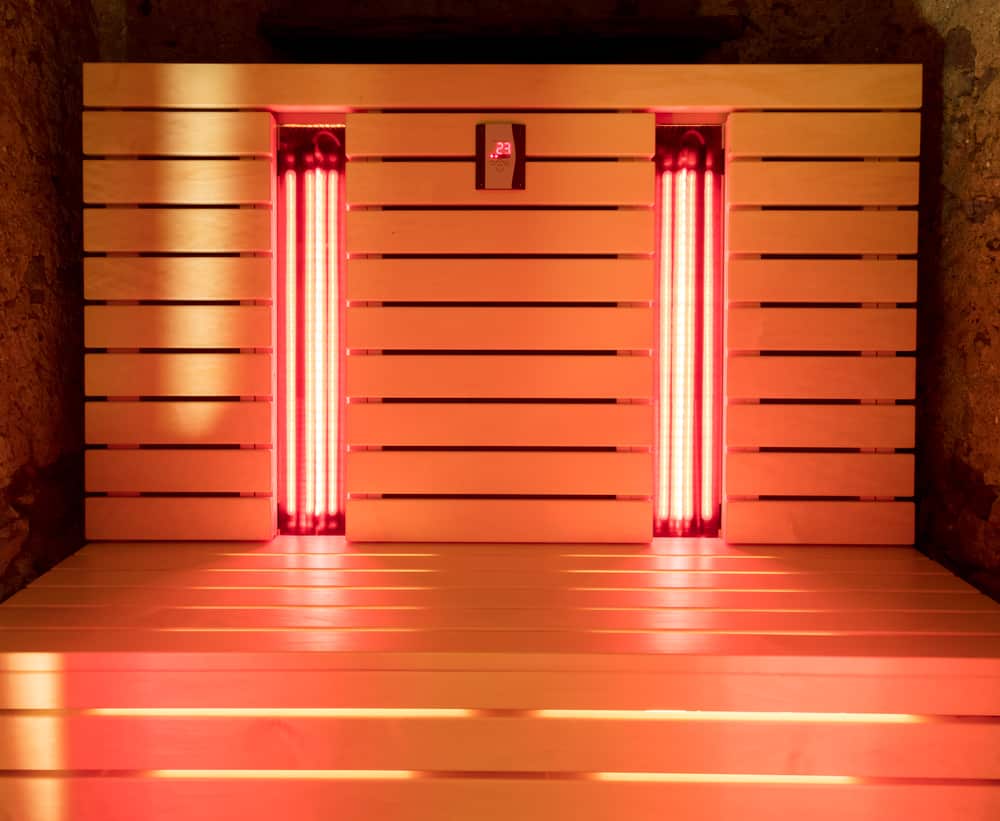 The traditional sauna is a room heated by a stove or fireplace. In these types of saunas, the heater is used to heat a pile of rocks to an extremely high temperature. These rocks then conserve and gradually release heat into the chamber, creating the sauna effect.
With traditional units, during the sauna session, you can toss water onto the rocks to release a burst of steam that increases the room temperature and humidity for a more intense experience. The typical traditional sauna ranges typically between 158 and 212°F.
Infrared saunas, on the other hand, are a newer type of sauna that replaces the electric heater and stones system with an infrared light generator. This infrared heater directs radiant energy at you to raise the core body temperature.
Instead of heating the entire chamber, the stream of infrared rays heat the molecules of water in your body, getting you warm without affecting the surrounding air.
Thanks to their more efficient use of energy, infrared saunas do not need to get as hot as their traditional counterpart. Hence, the typical operating range of an infrared sauna is between 110°F and 130°F, with most units having a maximum temperature limit that rarely exceeds 140°F.
More: Sauna vs Steam Room, Which Is Better?
Why You Should Consider Choosing a Home Infrared Sauna?
Faster Heating
While traditional saunas gradually heat the air around the user, infrared units use radiant energy to heat your body up from the inside out. Hence, infrared saunas get you warm faster than their traditional opponents.
Furthermore, thanks to their use of electromagnetic energy, infrared heaters instantly and get you to the preset temperature in no time. Traditional heaters, on the other hand, have to heat the room incrementally and can take as much as 30 minutes to get the chamber to the required temperature.
Better Heat Distribution
Traditional saunas are notorious for having chambers where the top half is often warmer than the bottom. This heat discrepancy results from the natural tendency for water vapor and hot air to rise since it is lighter than regular air. Hence, the top half of the chamber will typically contain more hot water vapor.
Thankfully, infrared units partially do away with this problem. Since these models use radiant energy, they provide a steady supply of heat in any direction they are facing.
Many infrared saunas feature multiple heating panels that direct radiant energy at the top and the bottom of the chamber to allow for efficient heating of your entire body. Some deluxe units even have floor heating panels. Furthermore, this multiple heating panel setup lets you set different temperatures for different areas of the chamber in some sauna models.
Efficient energy use
If you are worried about the impact of a home sauna on your monthly electricity bill, an infrared unit is your best option. Thanks to their use of radiant energy, infrared saunas do not waste extra energy heating up the entire chamber. Consequently, these types can provide tremendous results with a relatively meagre temperature range of 110°F to 130°F, and this translates to significantly lower electricity usage.
Lower Maintenance
Thanks to their straightforward heating process that requires no stones or steam, infrared saunas require little to no maintenance. For most traditional sauna units, the included heater needs to be replaced at least every ten years, while the heater on many infrared models come with a lifetime warranty.
Additional Health Benefits
Aside from the numerous benefits of regular sauna use, one study suggests that infrared light therapy may confer other benefits. This research by Dr. Beever of the University of British Columbia found limited moderate evidence supporting a positive impact of far-infrared saunas on conditions like rheumatoid arthritis and systolic hypertension.
More: Do Saunas Help with Acne?
Types of Home Infrared Saunas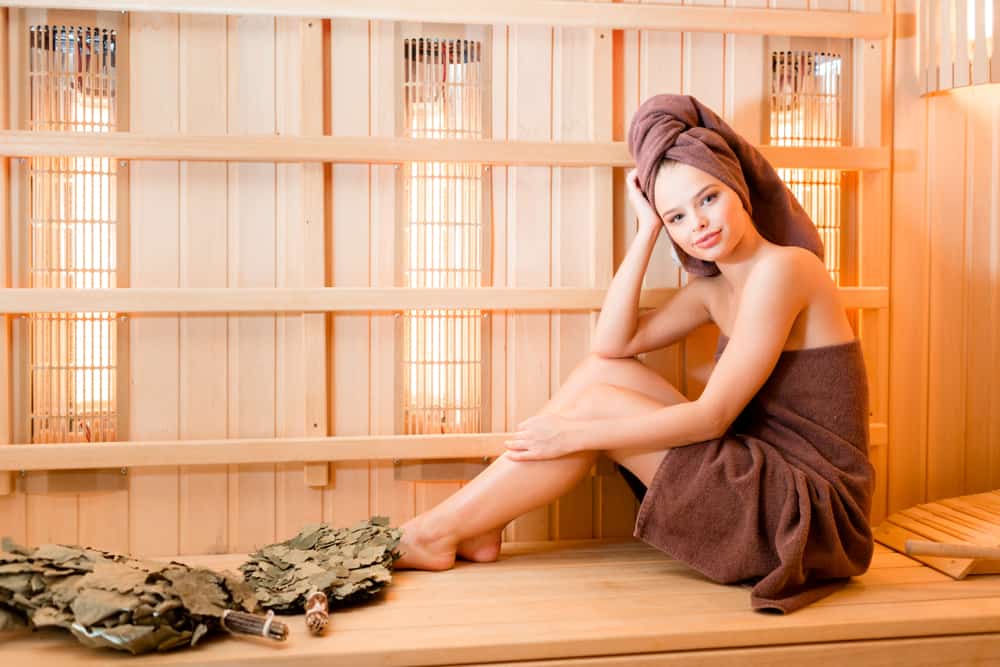 Are looking for an infrared sauna unit for your home?  Depending on your needs, there are three main types to choose from: indoor saunas, outdoor saunas, and portable units.
Indoor Infrared Saunas
Getting an indoor sauna unit will match the spa experience one for one. These saunas are wooden structures that can be installed inside your home, replacing a room with a sauna.
These units bring the added convenience and privacy that comes with never having to leave your home to access the sauna. However, indoor saunas typically cost more and are often harder to install than outdoor models. The amount of available floor space you have indoors also add a limit to the installation process.
Indoor saunas are best installed close to or inside the bathroom where preexisting water and drain line can be readily accessed.
Outdoor Infrared Saunas
Compared to indoor units, outdoor saunas bring significantly more leeway in terms of space and customization.
Outdoor saunas sit outside your home so that you can opt larger units even with a small house. These types feature a similar construction to indoor saunas with a few differences. Unlike the more delicate design of indoor units, outdoor saunas typically feature sturdy hardwood like pinewood, hemlock, and cedar for better resistance against the elements. Also, outdoor models often use a triangular or round roof as opposed to the flat roofs of indoor units.
Outdoor saunas typically come in two main designs: barrel-shaped chambers and square/angular units.
More: Best Outdoor Sauna
Portable Infrared Saunas
Portable saunas, on the other hand, are fabric chambers that bring the ultimate in convenience, affordability, and personalized experience. These small-sized units only create a tiny footprint in your home, plus they can be easily moved around and often folded for secure storage.
These saunas are becoming increasingly popular for their portability, space savings, and extreme convenience. Most portable saunas are made to fit a single occupant.
More: Best Portable Sauna
4 Best Home Infrared Sauna 2020
1. Best 1-2 Person Indoor Infrared Sauna:  Radiant Saunas 2-person Infrared Sauna
Radiant Saunas make some of the best quality saunas in the industry and this 2-person sauna is no exception. The indoor infrared unit packs all the features of higher-end models at a low price that is quite the steal.
On the inside, the sauna is powered by six carbon heaters that blast radiant energy in all directions to ensure you get a thorough saunaing session every single time. All of these heaters can reach a maximum temperature of 141° F to accomodate even the most hardcore sauna enthusiasts.
The body of the chamber is made from solid Canadian Hemlock Wood for enhanced durability and finished with tongue and groove design with reinforced fasteners. The door follows this same sturdy design as it features 8mm scratch-resistant tempered glass.
Special features on this unit include an oxygen ionizer which helps purify the air and 7-color LED bulbs with chromotherapy that help further enhance the relaxing
Radiant Saunas 2-person Infrared Sauna also ships with tinted glass fittings, towel hook, magazine rack, backrests, and a CD Player with an audio jack.
Pros
Aesthetic design and interiors
Six heat panels spread in the floor, back, and side for even heat distribution
Sturdy construction
7-color LED bulbs with chromotherapy
Best bang for your buck
Small footprint that is ideal for small apartments
Cons
Only large enough to fit two people
Some user reviews complain about their heaters dying out early
2. Best 3-4 Person Indoor Infrared Sauna: HeatWave Saunas 4-person Infrared Sauna
If you have enough space in your basement or bathroom and you are down for some intense luxurious pampering, this is the one for you. The HeatWave Saunas 4-person Infrared sauna is a feature-packed unit that is designed to give you the best of everything.
The unit is loaded with ten high-performance heaters in strategic locations to provide reliable heating to all corners of the chamber, even at full occupancy. You can adjust all of these heaters to a maximum temperature of 141°F via an intuitive touch panel that controls several recessed LED lights.
Furthermore, the housing of the unit is both designed for aesthetics and made to last. The chamber features a Solid Hemlock Wood construction complete with a tongue and groove design, and reinforced fasteners. Furthermore, the chamber's design is eye-catching and is sure to accentuate your home aesthetics.
Pros
Eye-catching design is a pleasure to behold
Ten heat panels spread in the floor, back, and side for even heat distribution
Sturdy build
Recessed LED lights with chromotherapy
Excellent price to feature ratio
Cons
The infrared heater takes a while to get to the desired temperature
The Almost Heaven Lucent is a sturdy 3-Person Infrared Sauna that is tough enough to brave the elements, yet matches the performance of more aesthetic premium models.
The rugged sauna chamber is made from Solid Canadia Hemlock Wood and finished with stainless steel fasteners, hinges, and handle to make a sturdy impervious unit. Furthermore, the door is made from reinforced tempered glass.
On the inside, the sauna feature six carbon fiber heaters that shoot infrared light from the sides, top, and bottom to guarantee full coverage. The sauna has a maximum temperature of 140°F, which you can adjust with controls on the wall.
The unit also features recessed chromotherapy LED light bulbs that help to enhance your experience further. Chromotherapy is a centuries-old concept used successfully over the years to cure various diseases
Out of the box, the unit includes a magazine rack, backrests, and a media player with digital audio, Mp3, USB, and radio capabilities to keep you entertained.
Pros
Sturdy hemlock construction with stainless steel fasteners, hinges, and handle
Classic design with no visible fasteners
Tempered glass door and window
Six carbon-fiber extra-wide heaters
Two speakers
Interior light with chromotherapy
Digital and remote controls
Cons
4. Best Portable Infrared Sauna: Durherm Portable Personal Folding Home Infrared Sauna
Going mobile? Durherm is the only way to go.  The Durherm Portable Personal Folding Home Steam Sauna replicates that traditional sauna experience in a small, dainty package that is only 11 pounds!
Compared to even other portable saunas, this unit is super lightweight, plus it folds neatly to allow for secure storage. However, the Durherm Infrared sauna does not skimp out on power or features.
The unit packs three ultrathin, superconductive carbon fiber heaters that can output a temperature range of 104-140 degrees Fahrenheit in 9-degree increments. The sauna also features a time setting that you can adjust with a wired handheld controller for a truly personalized experience. The time settings range from 5-60 minutes with increments up or down of 5 minutes.
Measuring 33 inches wide by 43 inches high, the sauna packs considerable depth for its small weight. As a result, the Durherm Folding Infrared Sauna is roomy enough to fit most full-grown adults with space to spare.
Pros
Roomy and comfy design
Three carbon fiber heaters with a heated footpad
Affordably priced
More portable than most
Lightweight and easy to store
Heats up fast
Watertight with no leaks
With timer
With sports chair
Cons
Construction is less durable than premium models
More: Best Portable Sauna
Factors to Consider When Choosing the Best Home Infrared Sauna?
Size and Capacity
Home saunas range across a wide range of sizes and dimension with one to fit every home. For indoor and outdoor units, the typical size range is between 4 by 4 and 7 by 8 feet. Most regular models are around 5 by 6 feet.
When selecting the best sauna for you, other factors to consider include space and number of users. You must assess the space you have available as well as the number of participants using the sauna per session.
However, if you are extremely limited for space, you may want to go for one of the tent-like portable fabric saunas.
Material
For both indoor and outdoor saunas, the material used in the construction also matters a great deal.
With outdoor saunas, you want hardwood that is sturdy enough to last you a lifetime under the merciless brunt of the weather elements.
However, with indoor units, your concern should shift more towards the finish and how aesthetic it looks. Saunaing is supposed to be a relaxing experience, and we can confirm that beauty helps that goal.
With both types, you also want rugged fittings, bands, and fasteners as well as tempered glass for all doors and vents.
The build material matters less with portable saunas; however, you do want a unit with a high-quality construction that will last you a while.
Aesthetics
To seamlessly incorporate the sauna into your home, for both indoor and outdoor units, you want to select a model that matches your home decor or outdoor landscape. Furthermore, an aesthetic setup is sure to accentuate your saunaing experience and help you get more relaxed.
Ease of Setup: Pre-built vs. Kit
One strong determinant of the type of home infrared sauna you should choose is how easy it is to set up as well as how adept you are at it.
Indoor saunas typically present the hardest challenge, especially if you are converting an existing room. If you are getting a ready-to-assemble kit, many outdoor options are no pushovers either and may require extensive technical skills to setup.
Thankfully, many outdoor and indoor saunas are available in pre-built ready-to-use models that require minimal setup. However, these models are often significantly more expensive.
Most portable saunas are pretty easy to set up and quite intuitive to use.
Maximum Temperature
Most infrared sauna units have a maximum temperature limit that rarely exceeds 140°F. While this figure may seem low, infrared saunas make up for it with a superior heat distribution that warms you from the inside out.
However, if you are a seasoned sauna enthusiast with a high-temperature tolerance, some models may feel inadequate, especially those capped out at only 120° F.
Safety Features
Like with other home appliances, with saunas, safety matters, and you should always take the safety-first approach. Before putting your unit into regular use, you must check for and acquaint yourself with its safety features.
A good home sauna should include a thermometer and a temperature sensor to prevent overheating. A timer is also an excellent feature to have as it helps avoid overextended sauna sessions. Furthermore, the control panel must be intuitive and easy to operate for maximum safety.
Also, you must select a unit with adequate lighting to help prevent accidents. The sauna must also feature a design that allows proper ventilation.
Special Features
Depending on the model, indoor, outdoor, and portable saunas come with a wide range of features. Some units feature foldable chairs, timer controls, handheld remotes, and heating footpads.
Check that the package matches the feature set you need to guarantee the best possible sauna experience.
Sauna Safety
Regular sauna use can provide significant health benefits that include reduced risk of heart disease, improved circulation, and pain reduction. However, the flip side is that misuse of the sauna can lead to severe health hazards.
Overextended sauna sessions or extremely high sauna temperatures can lead to dehydration, heat exhaustion, heatstroke, or even death.
For safety reasons, it is best to keep every sauna session under 20 minutes. For first-timers, you should keep your sessions under 5 minutes and increase it only after you have built a tolerance.
Other precautions you should take when using saunas include:
Hydrate appropriately before entering the chamber, especially if you just finished vigorous exercise or if you say in a dry climate region
Consult with your physician before using a sauna if you have heart disease, irregular blood pressure, or any other ailment that could cause complications
Do not use the sauna on alcohol or during a hangover
Never use a sauna on drugs or medication
Small children, especially those under the age of 5, should not use a sauna.
Exit the chamber if you feel any abnormal discomfort at any time during the session.