Are you troubled by the durability issues of your cordless stick vacuum? Have you been thinking to switch back to a corded design? Well, you are not alone here! Corded stick vacuums are in demand again and it is purely because of the performance and longevity that they have to offer.
There is no doubt that corded models are exceptional when it comes to function and reliability. Just think that you are using your trusty cordless cleaner and when you're about to finish the job, its battery gives you a run for your money when it dies down. You just have to wait until it's all charged up and then you can resume and finish the job.
Without a doubt, they are a lot cheaper as compared to their cordless counterparts. We are bringing you the best-corded stick vacuums that you can find on the market. But first, let's have a look at some of the key features that you need to consider before purchasing such a model in our buying guide.
So let's get going!
9 Best Corded Stick Vacuum We Recommend
The 81L2A PowerEdge doesn't only come with some of the exceptional features but also a very convenient price. You'll love its compact construction that will not take much of your space in the closet. The bagless design allows you to do a mess-free cleaning.
Another feature that we cherish here is its dirt cup which opens up from the bottom and you can easily throw all the contents of it into the trash without even touching them.
Our favorite feature of this cleaner is its cleaning head that comes with a cleaning path of 11.35-inch. Imagine you don't have to deal with going through the same path in parts again and again. It just a huge time saver for all! It has a V-shaped design that allows you to work it around the furniture.
Have you ever dealt with cleaning around the legs of your furniture? The worst-case scenario is to move around your furniture. Well, this cleaner won't let you do that and you can do all the cleaning around the legs with ease.
We were a bit of disappointed with its 20-foot power cord which is just long enough for you to move around in small spaces. The 6-amp motor of this cleaner packs a good punch and for this reason, it can take up a variety of debris without any problem. However, you need to keep in mind that this vac is not designed for rugs and works best on hard floors.
Pros
The V-shaped construction of the floor head ensures that you can easily work around the furniture legs.
A wide clearing path of 11.35-inch is good enough for large spaces.
The motor of this vacuum is powerful enough to work with different types of debris and offers excellent suction power.
The dirt cup is extremely easy to empty and you won't make a mess of it at all.
Swivel steering allows it to reach every nook and cranny of the room.
With its lightweight design, you can go on cleaning for hours.
It comes with a 2-years warranty which is pretty decent for this price.
Cons
Cord length is not suitable for large rooms and spaces.
More: Best Vacuums for Hardwood Floors
This is the cleaner for all those premium quality lovers. If you live in a house that has loads of furniture and you have to deal with a lot of issues when cleaning under it then the Flex Stick is the right option.
The feature that got our attention and which sets it apart from the rest is its MultiFlex technology. With the help of this technology, you can easily reach those tough areas where regular vacs cannot reach. Imagine you won't have to move around your furniture ever again when cleaning! How's that for convenience!
The vac is certified under ASTM 1977. It means that it is capable of capturing 99.9% of the allergens with up to 1 micron. The unit also comes with Active-Glide feature that ensures ease movement either on floors or carpets. The active-Glide feature allows smooth maneuverability, both on bare floors and carpets with dropping the suction power.
The unit comes with DuoClean feature and a bristled brush to ensure deep clean of the carpets. There is a brush roll as well that can pull the large particles in.
It is a good option for you to consider if you have pets in your home. After a whole busy day full of activities when your furballs are on rest mode, you can turn on the cleaner and start cleaning the mess.
This vac unit works effectively to clean out the hair and dander with no problem at all. However, you need to keep in mind that this unit cannot stay upright and you have to hold it for this purpose.
Pros
You can easily use the handheld vacuum for cleaning your ceiling, drapes, curtains, and walls.
The vac is able to trap and capture pet hair and dander efficiently.
It has a flexible design due to MultiFlex technology that allows you to go under the furniture as well as those hard to reach areas.
There are a bristle brush and a brush roll that allows the vacuum to easily perform all its cleaning jobs.
The easy conversion of handheld allows you to use the vacuum for above floor cleaning.
It comes with a 5-year warranty that goes well with the premium quality cleaner.
Cons
Dust cup capacity is too low (0.42Qt) and you will have to do a lot of emptying every now and then.
The cleaner is not that good on thick rugs or carpets.
Related: Best Shark Vacuum Cleaner 2019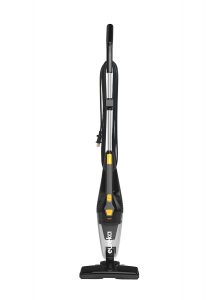 Although corded stick vacuums are cheaper as compared to its other counterparts, still if you're looking for the cheapest option, trust Eureka.
Being budget-friendly doesn't mean that you will have to compromise on a number of features. The 3-in-1 construction works extremely well with the crevice tool.
We loved the fact that this cleaner allowed us to reach out to different small spaces. The best part is that the vac stick only weighs around 4 lbs. This means that you can easily carry it anywhere you like.
Eureka has equipped this cleaner with its signature swiveled steering. This feature improves the overall maneuverability. Just consider that you don't have to carry the burden of your cleaning machine throughout your cleaning project!
This vac also delivers a power-packed performance when it comes to sucking up debris. It is an excellent option for hard floors as well as carpets with low piles. However, it doesn't work very well will high-pile carpets.
The vac features a powerful 2-amp motor and for this reason, it can easily pick up small particles and debris with ease. The length of its power cord is 18-foot and the vac features an XL dirt cup. It comes with a cleaning space of 9.44 inch and is FFP certified. So it comes with all the bells and whistles you need for your cleaning project and yet it comes at such a minimal price, what a treat!
Pros
The lightweight design of this stick vac offers excellent maneuverability.
The motor consumes low power and saves you electricity cost.
This design also features the swiveled steering which man you can easily move it from one place to another.
An equally suitable option that works on hard floors as well as carpets with low-pile.
It only comes with a 1-year warranty which is quite decent but not when you compare it with some of the other entries in our list.
Cons
Not a good option for high pile carpets.
The length of its cord is too short i.e. 18-foot.
The cleaner is not a good option if you have a large home.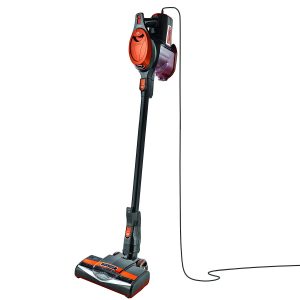 This HV302 Rocket vacuum is popular due to its compact design. It comes with all the tools and attachments that you will need to go through your car cleaning project. Another exceptional feature of this stick vac is that you can change it into a hand vac and do all the cleaning from ceiling to floor.
The thing we loved the most about this cleaner is its 5-year warranty and that too at a very convenient price. It just goes to show the quality that the company offers and how it stands behind its products.
The ergonomic handle of this vacuum features fingertip controls and you can easily switch from carpet to hard floor in no time. The vac comes with double storage options as well. You can either store it the way it is or you can fix the hand vacuum with the wand's bottom.
You can also secure it directly to the wall mount. This will come in handy if you only have to do a lot of cleaning in one particular room. But that not it, due to the swivel steering, you can easily maneuver it around the house in a smooth motion. So you can cover multiple rooms.
Pros
It has a very lightweight construction that allows you to use it for hours.
You can easily convert it into a hand vac and clean your curtains and drapes.
It comes with two different storage options. You can either secure the hand vacuum with the wall mount or at the wand's bottom.
This vacuum also enables you to effectively clean and detail your car.
With the fingertips controls, you can easily switch from carpet to hard floor.
It comes with 5 years warranty which is exceptional for this price range.
Cons
This unit is heavy and you will feel tired after using it for long hours. So it is better to complete the cleaning job in small stages.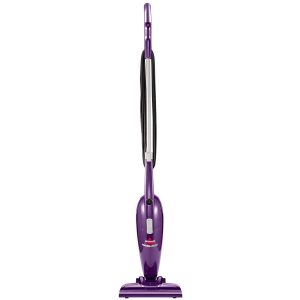 The entire focus of this vacuum model is to provide convenience to users. It has a very lightweight and comes in three color combinations. You can either opt for your favorite one or you can go with the décor. Well, that's something you might not consider that important. But if your vacuum cleaner matches the decor then why not!
You can easily convert it from the stick vacuum into a hand vacuum and reach out to those overhead areas. The compact design of this vac ensures ease of storage and use. So you can do the entire room from the top to bottom with the Featherweight vac.
It comes with a 15-foot power cord which might make you put your hands on the hips. But the catch here is you can reach out to different places using the hand vac. However, it's still not a good option for room to room cleaning and you will have to do a lot of plugging and unplugging.
Your purchase will also come with a variety of upholstery ad attachments. Because of its compact and lightweight construction, you can also use it on stairs.
Pros
Your purchase will include a crevice tool that allows you to reach small spaces or tight corners.
It has a lightweight and compact design that allows you to use it on stairs.
Easy to empty dustbin reduces your workload.
You can either use it has your stick vacuum or can also convert it into your hand vacuum.
You can conveniently store it wherever you like.
With its multi-tool, you can use it for every floor type.
It only comes with a 1-year warranty.
Cons
It performs better on the hard floor as compared to carpets or rugs.
The length of the cord is too short n is not a good option if you want to do multiple rooms in one go.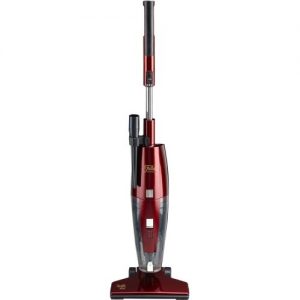 The Spiffy Maid vacuum is the best when it comes to switching between floor surfaces. This model allows you to easily manage hard floors as well as carpets and rugs. There are not many options available on the market that can conveniently work with both types of floors.
Even some of the high priced models lack this option. It is this feature that has made us fond of this cleaner from Fuller. Just think how easy it would be for you or your partner to move around in different rooms and either on carpeted or bare floors! It already feels like heaven, no!
It is equipped with a powerful 9-amp motor that can easily suck dust, dirt, and debris. Its 30-foot cord allows you to easily roam through your house with the vac doing all the cleaning tasks. You can also use the crevice tool that can rest on the wand without any issues which by the way is awesome!
This vac features HEPA filtration and you can conveniently empty your dirt cup in this unit without any problem as well. If you live in a house that has different types of floors then this is the option you need to go for.
Pros
The unit comes with a 9-amp motor that features excellent suction power.
With its long length of cord, you can easily move around different rooms for the cleaning purposes.
The unit features a HEPA filtration system and ensures 99.9% cleaning of allergen and dust particles.
Your purchase will also include a crevice tool to reach out within the tight corners.
The unit itself has a very compact and lightweight construction for ease in maneuverability and convenient storage.
It comes with a 1- year warranty that is good enough for such a price range.
Cons
It is slightly on the noisier side so those of you in your house who don't like appliances make noise, be prepared!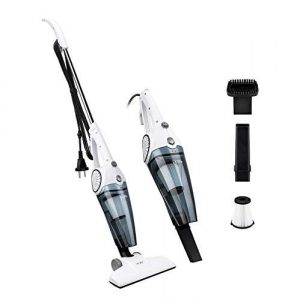 This vacuum features a 600-watt power motor that is protected with a smart overheat feature. It will automatically cut the power off when the unit is not in use. This feature also helps in conserving energy.
It has an outstanding steering feature that you hardly find in any of the above machines. You can steer it around left or right 360-degrees and 90-degrees on front.
Your purchase will also come with a dusting brush that allows you to gather all the hair and dirt with ease. This stick vac comes with a 0.8 liter of dray capacity for dirt. It is good enough for you to clean one room at a time. But we still think that if you are not used to cleaning your bin that frequently then it is going to cause you a lot of trouble.
The stick vac boasts HEPA Cyclone Filtration system that can generate a good amount of suction power and cleans up to 96%. It also contributes to the production of a very small amount of noise.
We didn't like the fact that this vac comes only with a 30-day money back guarantee instead of a warranty.
Pros
The HoLife stick vac has a motor that can produce less noise but better performance due to HEPA Cyclone Filtration mechanism.
Works quietly with less than 80 decibels.
The overheat protection will save this machine from getting burned.
The bag of this vac is removable and is of 0.85L capacity.
You can also use the brush to pick up hair as well as dirt manually.
The steerable handle allows you to rotate it 360-degree on sides and 90-degree on the front.
Cons
Its 12.8 feet long cord is not long enough.
The suction power of this vacuum also tends to deteriorate with the passage of time.
It doesn't have a warranty and comes with a 30-day money back guarantee which by the way we think is the worst aspect of this vac.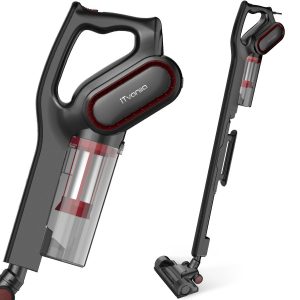 Make your rooms free of pet dander with this vacuum cleaner. The sleek looks of this cleaner not only feel great to the eye but its compactness enables you to store it with full ease. That's not all; the cleaner from iTvanila also comes with HEPA certification. The cyclonic filter locks in the dust and releases fresh air.
With its 15kpa powerful motor, you can lock in even the tiniest dust particles. The 180-degree brush goes under all types of furniture.
Getting rid of dander is not it's the only job; it is also suitable if your home features hard floors and minimum of carpet flooring.
It can easily take of pet hair and dander in no time. The length of its cord is six meters and it is equipped with a 5-amp motor that can get the job done in no time. It's all about convenience and facilitation with this vac here!
Pros
The stainless steel filter makes the cleaning job convenient.
The compact design allows you to store it conveniently.
The combination of strong engine and suction power makes it an excellent option to remove pet hair.
It has a very powerful filtration system that can quickly suck up all debris that comes in its path.
The 20-feet long cord ensures that you can easily roam through your home without an issue.
Cons
It is not an ideal option for depth carpet cleaning jobs.
It only comes with a 1-year warranty which is not enough especially if you compare this cleaner with some of the top entries in this list.
Related: Best Vacuum for Pet Hair
Features to Consider Before Buying Corded Stick Vacuum
Corded stick vacuums feature a conventional design that's all about the good old plug 'n' play style. There are so many brands out there and choosing which one suits you the most can be a difficult job. Therefore, we are presenting you with a list of some important things to consider before buying a corded stick vac for your home.
Keep in mind that if you are going for a corded stick vacuum then the length of the cord needs to be at least 20 feet. It will make sure that you can move around in your house with a vacuum from one room to another without having to plug into different sockets.
Look for the models that come with cords over 30 feet long. Such a length will be more practically useful in large houses with plenty of rooms. In case of a long cord, don't forget to look for a rewind feature that will enable you to retract.
As you will be doing a lot of cleaning with it, your stick vacuum needs to come with adequate floor head width. This width can differ from one model to another. Stick vacs come with a head that is slimmer as compared to the upright vacs.
The typical length of a stick vac needs to be around 8-inch, anything smaller than would take more time for cleaning. If you're too worried to clean the edges then look for the V-shaped head. It works well for the cleaning in the tight corners.
You have to consider how a particular model is going to feel in your hand. This is a highly subjective matter and preferences tend to vary from person to person. You can decide it for yourself whether it feels comfortable and whether it has an ergonomic design. The height and length will depend upon your comfort level with a design. It is better for most users to go for a stick vac that is looped. It must be cradled in a manner that it easily cradles the palm.
Amps don't define cleaning power
The corded stick vacs don't come with a powerful power to do professional cleaning. They are designed to achieve small scale cleaning with efficiency. Many models that you will find come with a motor power that ranges between 2 to 8-amps.
One more thing is that amperage in the case of stick vacs doesn't mean the cleaning capacity. But in most cases, you can easily get the job done with any amount of amperage.
The primary reason behind the lightweight design is the small battery, just like the one in a cordless version. But the lightweight design really adds functionality to this product. You can easily move it through tight corners. It also means that you can haul it down your stairs and can easily move it around from one room to another. The weight of the vacuum cleaner is important when it comes to ease of use. Lightweight design features are practical as well for the people who suffer from mobility problems.
Dirt cups or dust bags don't make the unit heavy and for this reason, you are free to go for cleaning of any room size. These large sized containers will ensure that you don't have to go and empty your canister every now and them. If you want to go for a bagless model then make sure that you choose a model whose dirt cup empties out from the bottom. It will keep the indoor air of your home cleaner.
Conclusion
Are you still not sure, which one fulfills your needs? Trust our editor's choice and go with the PowerEdge 81L2A stick vac from Bissell. It comes with a 20-foot long cord and it has 11.35-inch cleaning capacity that is in V-shaped. This means that this vac can easily clean around the legs of your furniture. Its bin is very easy to empty and it is an excellent option for your home is you have hard floors. The 6-amp motor of this stick vac has the ability to produce a powerful suction that can take care of all the debris in no time.
Happy stick cleaning!